Looking for some fun Thanksgiving games to play with your family?! Thanksgiving Pictionary is a great way to fire up imaginations all season long -or- save it as something special for Thanksgiving Day!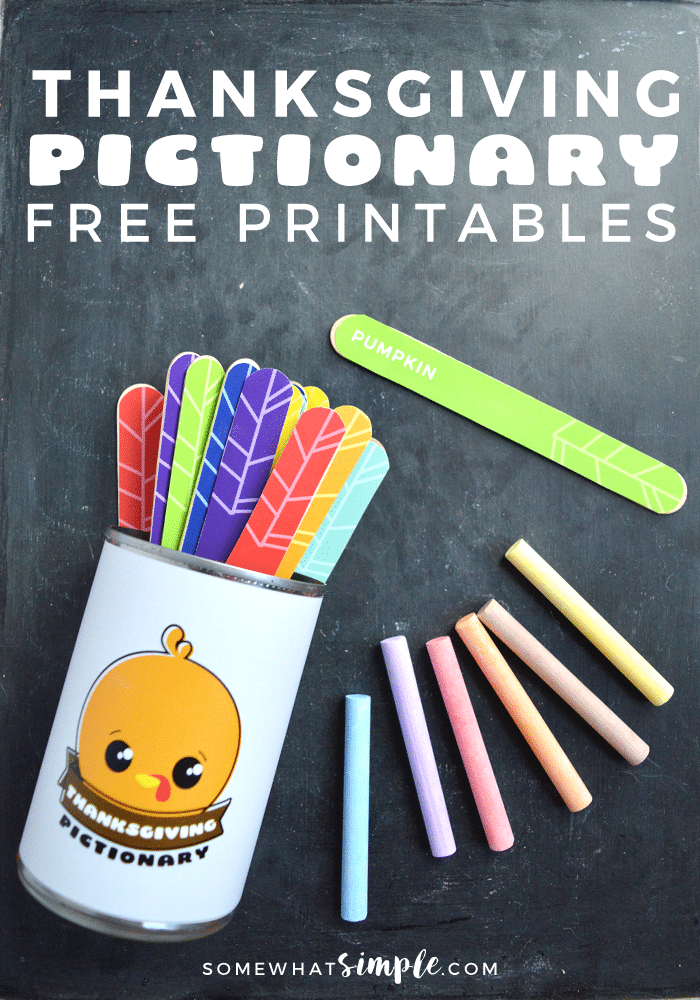 With Thanksgiving just a couple weeks away, I thought I'd share with you an easy craft and game idea that is perfect to entertain your little Thanksgiving guests- Thanksgiving Pictionary! This cute activity uses a darling printable turkey with printable craft stick "feathers" that couldn't be more festive and fun. All you need are a few items, and you've got a darling craft that provides hours of entertainment!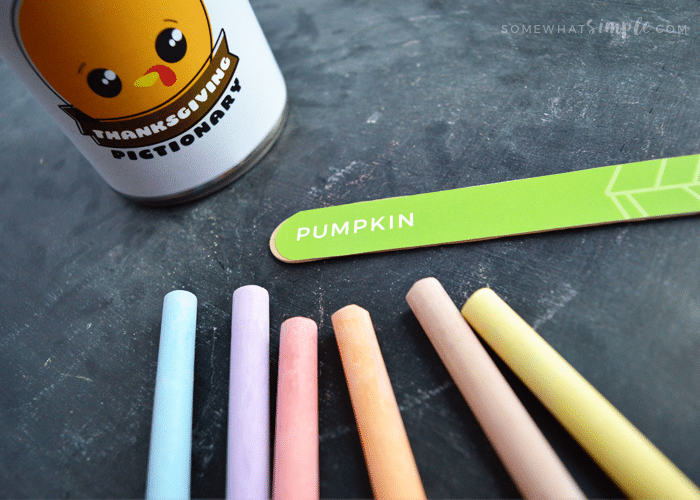 MY LATEST VIDEOS
Thanksgiving Games – Turkey Pictionary
supplies:
Thanksgiving Pictionary Printables (download below)
Empty tin can
Craft sticks
Glue or tape
Marker (optional)
Items to draw with (paper, pencils, chalkboard, etc) when you play Thanksgiving Pictionary!
Black sharpie marker
DIRECTIONS:
First print off your label and word feathers.
If you want to, use the "blank" labels to add more words to your pile by writing on them with a sharpie.
Glue or tape your word feathers onto craft sticks.
Glue or tape your turkey label onto the empty tin can.
Place your word feathers into the can, and begin playing Pictionary!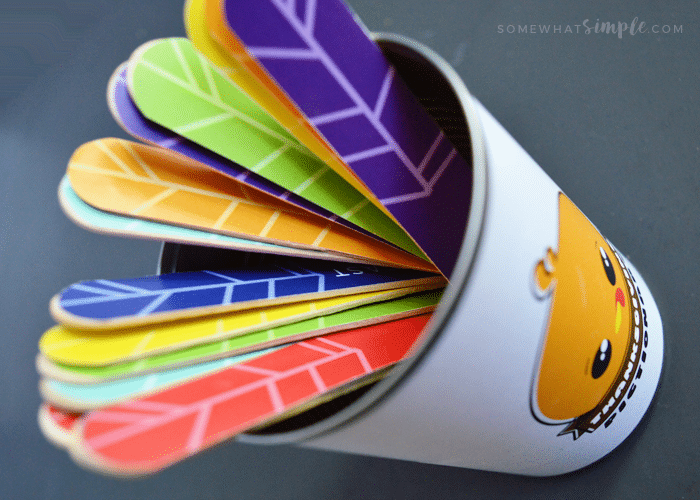 Nothing says Thanksgiving like a cute little turkey with brightly colored Popsicle stick feathers!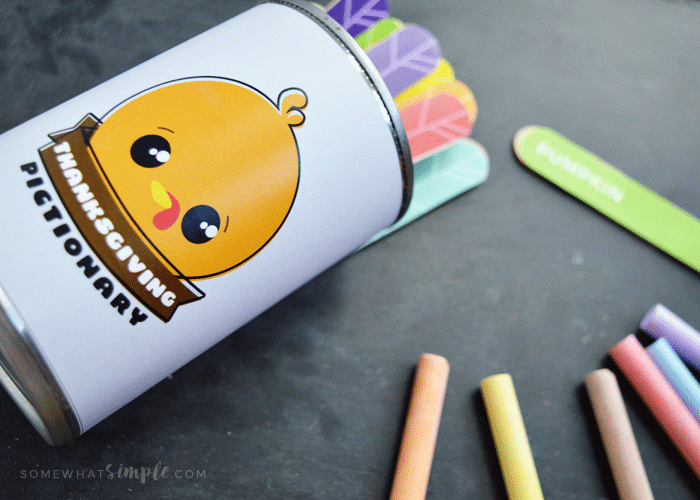 We use this little game all season long, but we especially love it ON Thanksgiving! What a great way to keep the little ones entertained while dinner was finishing up! Just gather all the kids around and let them take turns choosing a stick and drawing on a fun chalkboard, whiteboard, notepad, etc. See who can guess what it is first!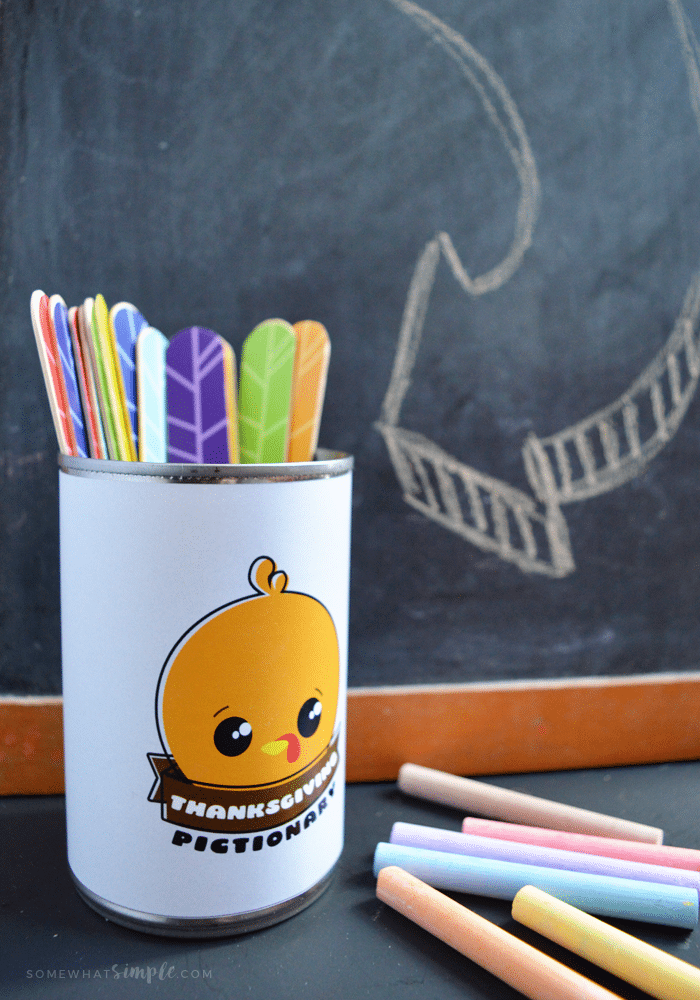 Ready to get your game on?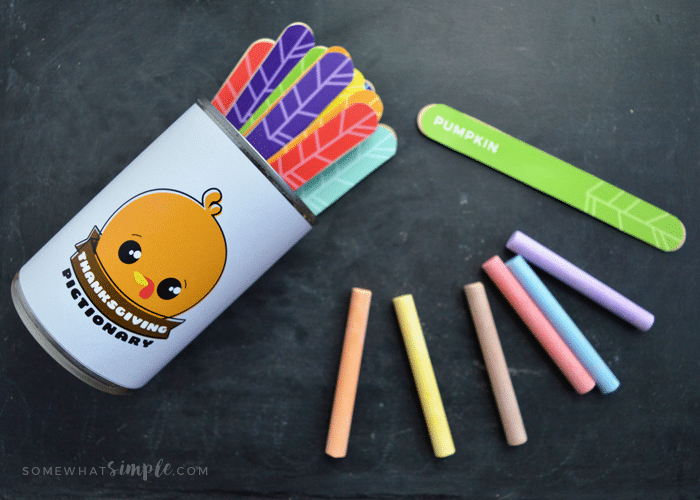 Happy Thanksgiving!
. . . . .
This post originally published on Somewhat Simple in November 2013, but was updated with new images and printables in 2017