Tie dye sugar cookies are a fun and colorful treat for summer.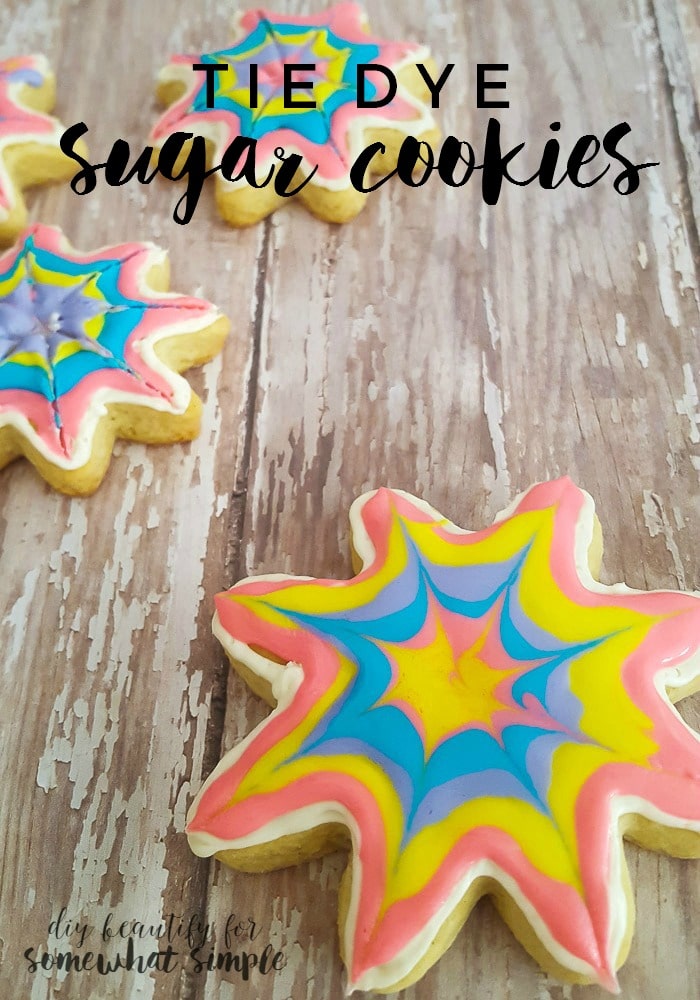 While the iconic nature of tie dye is popular all year long, those bright colors are especially fun during the summer months. These colorful tie dye cookies are simple to make, even if you're not a whiz in the kitchen!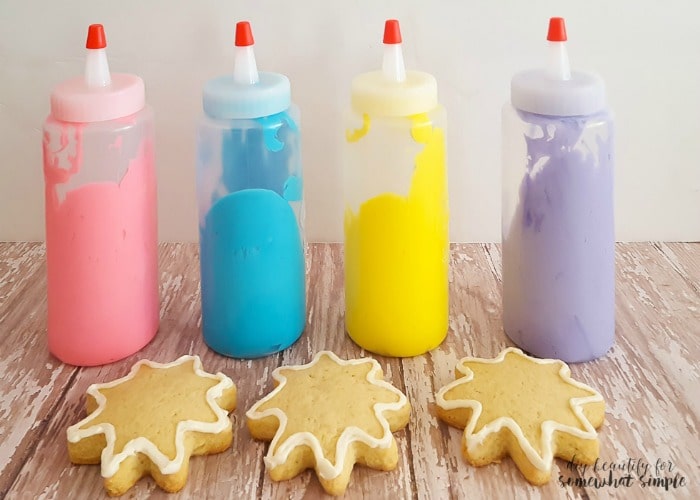 TIE DYE SUGAR COOKIES
INGREDIENTS:
baked sugar cookies, cooled completely (The recipe I used is HERE)
gel food dyes
plastic squeeze bottles
frosting – pre-made or this delicious one HERE
plastic baggie or piping bag
#1 or #2 frosting tip
skewers or toothpicks
DIRECTIONS:
Spoon a couple tablespoons of plain frosting into plastic bag fitted with round tip.
Pipe around the perimeter of the cookie with the white frosting. This barrier will prevent the rest of the frosting from dripping off the edge of the cookies. Let dry for several minutes.
Meanwhile, prepare the colored frosting. Decide on the colors you want for your tie dye effect. Divide frosting between bowls and mix with the gel colors (gel dyes are very concentrated, and a little goes a long way!)
Transfer colored dyes to squeeze bottles.
Microwave squeeze bottles of dyed frosting, one at a time as you use them. You don't want to completely melt the frosting, just soften it enough to be able to flood. I did 8 seconds at 80% power in my microwave. Once they were warm, when I needed to reheat, I did just 3 seconds.
Shake the bottle a little, then turn upside down and trace on the inside of the white outline of the cookie. Don't squeeze too hard as softened frosting will flow out quite easily.
Repeat with other colors (warming bottles in microwave first) until the cookie is filled in.
Using a toothpick or skewer, drag frosting from the center out to create a tie dyed effect on the cookies.
Here are the steps in picture form: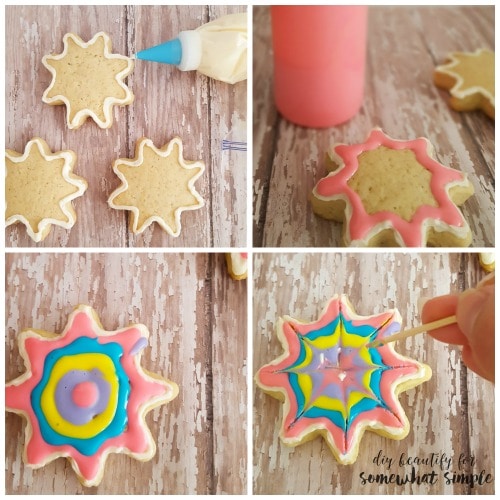 Tip: do just one cookie at a time as frosting dries fairly quickly and won't spread as well.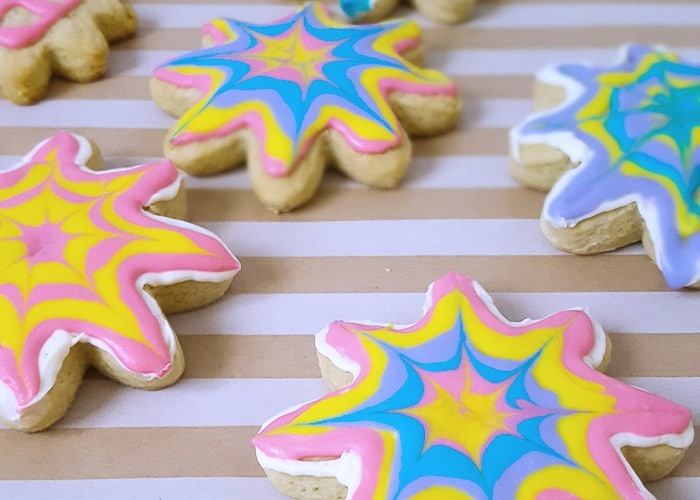 Use your imagination! It's such fun to decorate these tie dye cookies, you'll be a little disappointed when you get to the last one.
Except then it's time to eat them, and they are SO good!