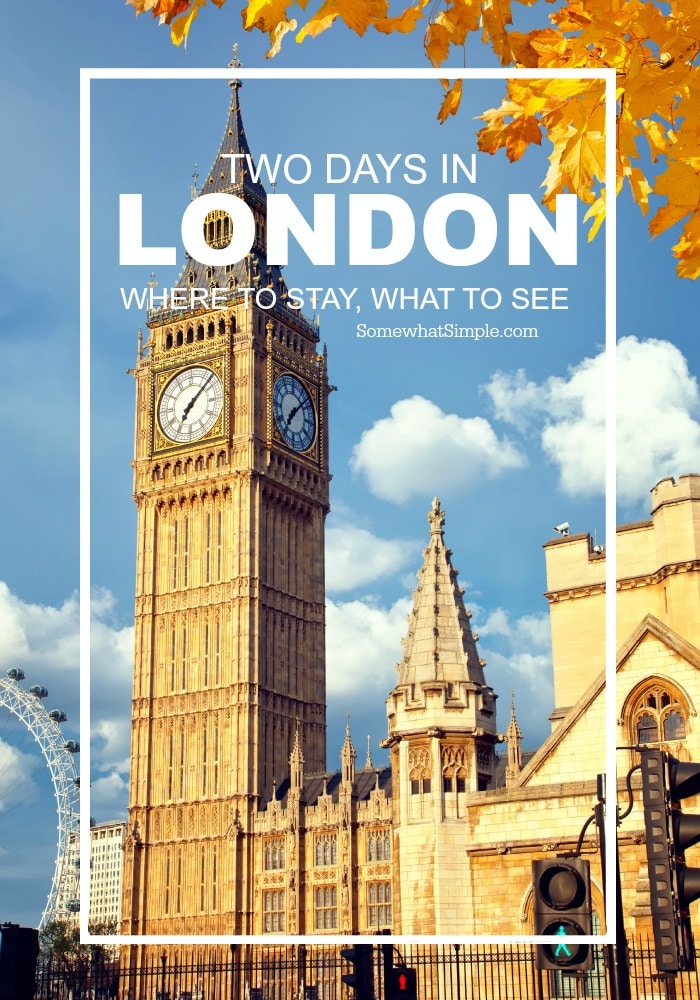 If you plan to travel to London, this guide will help you see all of the major sites in just 2 days!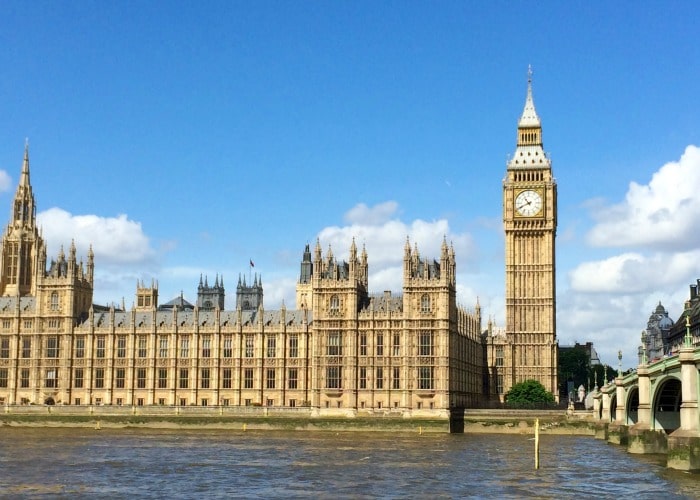 Travel to London – See it All in TWO Days!
My husband and I just returned home from a ten-day trip around Europe. It was an AMAZING trip, packed full of things to do and countries to see. We visited 5 countries in those 10 days, and each place was so much fun! You can find the details of our entire trip here. Our first 2 days on this trip were spent in London, and while 2 days may not seem like a ton of time to take in all sights that this great city has to offer, I am going to show you how we saw and did everything on our London checklist!
Two Days in London – Where to Stay, What to See
We took an overnight flight from the US to London and landed around 6am. Once we went through customs and collected our bags, we headed to the subway station at the airport- London's Underground. For £6 per person, you can take the subway for approximately 45 minutes straight to the heart of London. (We took the Picadilly line to the Picadilly Circus station and it dropped us off just a few short blocks from our hotel.)
And speaking of our hotel….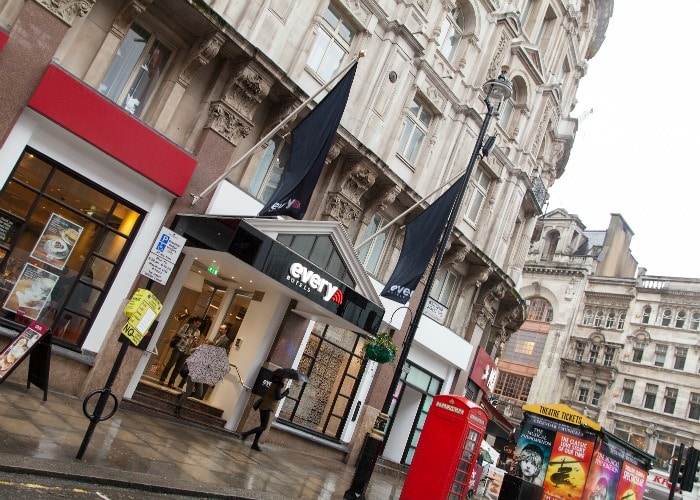 If you're looking for an affordable, clean hotel with friendly staff in THE BEST LOCATION when you travel to London, I recommend staying in the Every Picadilly Hotel.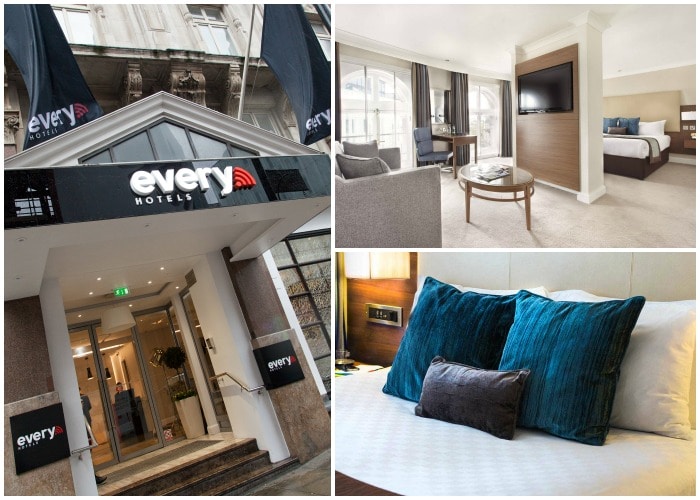 This hotel was perfect! We really could not have picked a better location… unless the Queen were to invite us to stay at Buckingham Palace or something. The Every Picadilly Hotel was central to everything we did- 1 block from the theater where we saw a Broadway show, just a couple blocks from the the subway station, a 5 minute walk to Trafalgar Square. There was shopping and tons of restaurants close by…. it was absolutely perfect!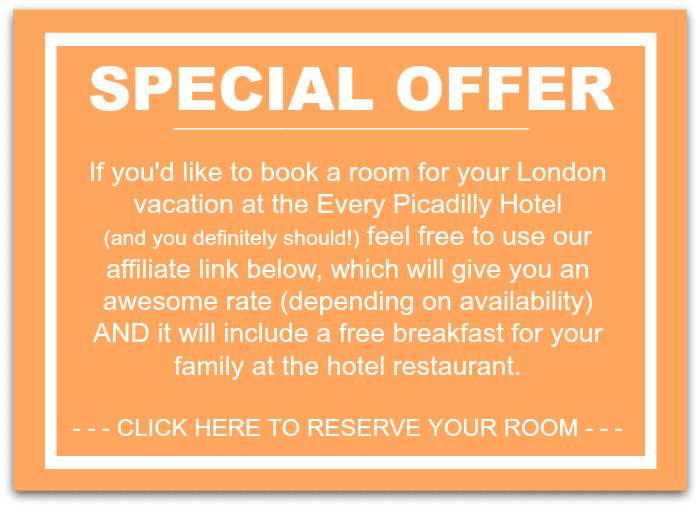 In addition to your hotel, there are 2 other items I suggest you purchase that will make your trip to London absolutely amazing! (Affiliate links and coupon codes just for Somewhat Simple readers are listed below.)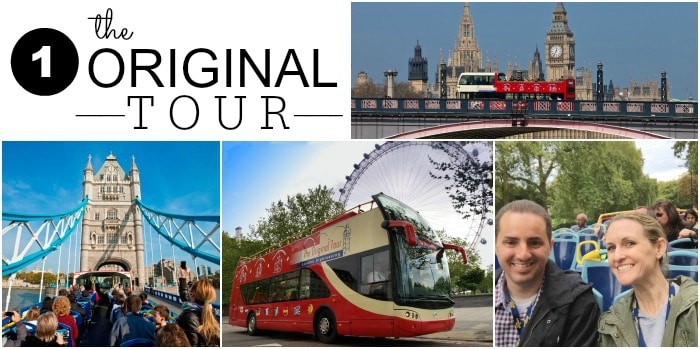 First, The Original Tour.
These are those famous red double-decker buses that let you hop on and hop off at various tourist spots all over the city. Not only do these buses offer reliable transportation to all the major hot spots in London, they also have tour guides or audio guides on every bus that gives great insight and information about everything you will see on your bus ride. I learned some interesting facts about buildings and monuments that I would have otherwise over looked. It was fantastic!!!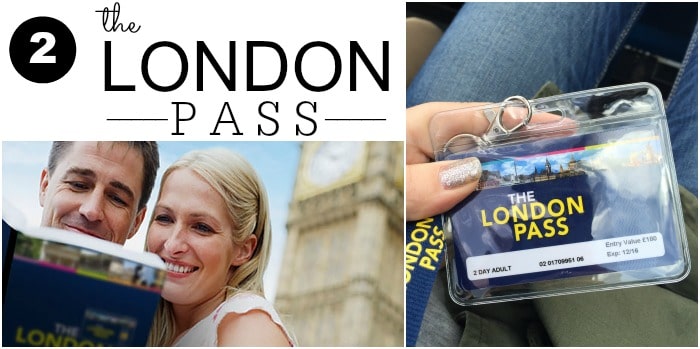 Second, London Pass.
The London Pass provides access to more than 60 top London attractions including Westminster Abbey, The Churchill War Rooms and the Tower of London. (I will show you some of the places we went using our pass in the pictures below.)
My husband is a big-time money saver. He doesn't like to spend money on anything unless he knows it is absolutely going to be worth it. So, before our trip, he calculated all the admission prices of the places we really wanted to visit and ran it against the cost of the London Pass. To be honest, the numbers were really close. BUT here are the 2 reasons we chose to get the pass:
To See MORE: We figured we might do and see even more than we originally planned if we knew we had access to those places. If we would have stumbled across a location where we had to pay admission, it might have discouraged us from going inside. Instead, we kept the London Pass Guide Book (free with purchase of tickets) on us at all times and looked at all of our options of admission and discounts for every area we were in. We saw so much more than we originally planned.
Convenience: This was actually more of a benefit than we even realized. Most places had a long line to purchase tickets and an even longer line to get inside. With the London Pass, you get a "speed pass" through those lines and don't have to wait nearly as long. (We actually didn't wait longer than maybe 2 minutes in a line with our pass- it was awesome!!!)
A One-day London Pass is £52 for adults and £35 for a child (5 – 15 years). A Two-day London Pass is £71 for adults and £52 for children. (They also have 3 and 6 day passes available.)
Visit www.londonpass.com to see details on all of the featured attractions.
SIDE NOTE: Because we loved our London Pass so much, we also got the Paris Pass too! Our Paris Pass included:
Free access to more than 60 of the city's top attractions
A Metro pass for unlimited travel on the Metro, buses and RER express trains
Discounts on meals and shopping
Priority access at the busiest sites to avoid queues
A free guidebook
Seriously, The Paris Pass was worth it for this reason alone: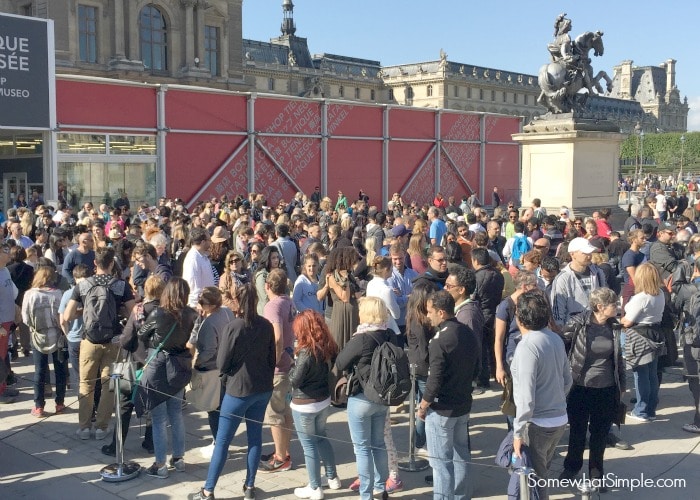 This crowd of people are waiting in line to get inside The Louvre. We heard that during some of the busiest travel times, visitors can wait in a line up to 4 hours long! On this particular day, I would have guessed the main entrance line was at least 1 hour, maybe 2. The crowd was massive. Our Paris Pass allowed us entrance through a different line where we walked right through security without waiting at all. Not even 1 minute.
If you have limited time when you travel to London, I'd suggest you plan ahead to some degree to make the most of the pass- there are full lists of included attractions and tours at www.londonpass.com and www.parispass.com.

Ok, so once you have your Original Tour transportation and London Pass ready to go, here are the things you can do and see in London – in just 2 days!

Westminster Abbey: This Cathedral is amazing! It is crazy to think about all the important events that have taken place here- Coronations, royal weddings, funerals… it was really neat to see!
The London Eye: If you're not afraid of heights, this is a great way to see the city!
Kensington Palace: In case you weren't aware, Princess Kate and I are destined to be best friends. She just doesn't know it yet! Kensington Palace is a royal residence of the British Royal Family since the 17th century, and is the official London residence of the Duke and Duchess of Cambridge. Today, the State Rooms are open to the public- and I LOVED walking the halls that royalty once walked!

Parliament & Big Ben: Such a classic London site!
The Churchill War Rooms: This place was AMAZING! Go underground to Churchill's secret bunker where he directed World War II. Definitely one of my top 3 things to see!
Buckingham Palace: I thought this was where the Queen lived, but I was told she stays more at Windsor. But still, you gotta see Buckingham and get a view of the guards. It's a London classic!

Speaking of Buckingham Palace: while there you might enjoy watching The Changing of the Guards. They put on quite the show!
See a Show: We were not thrilled with the show we chose to see- I don't even want to publicize it here by telling you the name. (We left during the intermission.) But there are a bunch of great shows to see and I hear you can get some great deals on tickets from the kiosks in Picadilly.
Trafalgar Square: A beautiful memorial to England's heroes.

Harrods: The famous department store!
The Tower Bridge: One of the most recognizable bridges in the world! Enjoy the breathtaking views of the Thames River and the bridge below as you walk over the new glass floor.
The Tower of London: I think that was my favorite! I loved everything about it- especially the Crown Jewels. It was amazing seeing the crowns and scepters and priceless pieces from British Royalty. I loved this place!
In addition to all the must-see sites, we also had plenty of time to stroll the streets, relax in the parks and enjoy the scenery! (Walking through St. James Park was beautiful!) The beautiful buildings, the monuments of history… London is truly an amazing place to visit!