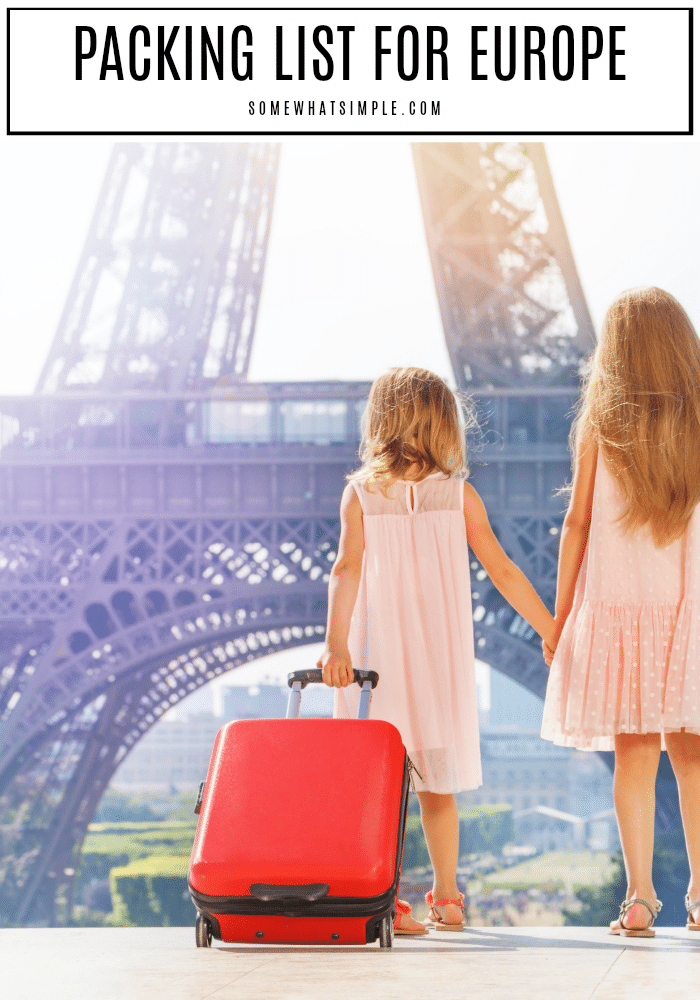 Our simple packing list for Europe has everything you need and tips on how you can fit it all in a backpack! If you're not sure what to pack for your trip to Europe, we have you covered.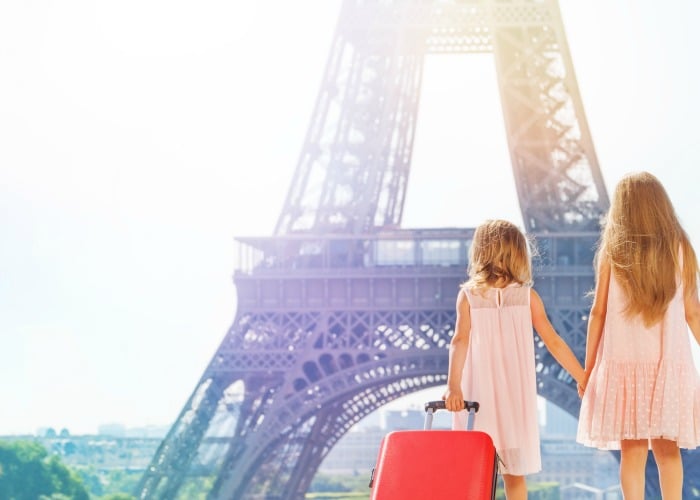 Somewhat Simple has partnered with CardRatings for our coverage of credit card products. Somewhat Simple and CardRatings may receive a commission from card issuers. Opinions, reviews, analyses & recommendations are the author's alone, and have not been reviewed, endorsed or approved by any of these entities.
Packing For Europe
Two years ago, my husband and I took our 5 small kids to Europe. We traveled to 6 cities in 8 days and it was seriously the best travel experience our family has ever had! When people hear that we took our whole family to Europe, they usually have a ton of questions –
Where did you go and what did you see?
How did you afford that?
Are you crazy?
Yes, but it's a healthy crazy… I think!
How did you pack your whole family in backpacks for an entire week?
Get ready, I'm going to tell you all about my packing list for Europe.
Simple Packing List For Europe
It's true. When it comes to traveling to Europe, I am kind of the queen of packing light. I don't love walking the old cobblestone streets with a rolling suitcase and I don't think you need a new outfit every day. Plus, getting on and off the trains and subways is hard enough (especially with kids!) – why add more stress and weight to a situation by carrying luggage?
I've been to Europe twice and have only brought a backpack. We have another trip planned for next spring where I plan to do the same. Here is my simple packing list for Europe; including tips of what you should bring and what you should leave at home.
What To Pack For Europe
1. A Good Backpack
Me and my 4 younger kids all took a regular school-sized Jansport backpack. (My little ones actually took a cheaper school backpack from Walmart or Target that totally did the job!) Jansports are a good quality, light-weight option that were totally sufficient for our things.
My oldest son took a small hiking backpack. At age 13 he was 6 feet tall and wore a size 11 shoe, so he needed a little extra room!
My husband took a larger hiking backpack that held all of his clothes, plus anything extra for our family, like toiletries and such. He was the only one who had to check his backpack on our flight over there. But it was still a nice option to be able to put on his back so his hands were free, and it traveled just fine on the trains and subways.
2. Clothes
Pants – Wear a pair, pack a pair.
Shirts – 1 shirt for every 2 days you plan to be gone
Shoes – Wear a good pair of tennis shoes and pack a smaller pair (even sandals). On the off chance something happens to your good pair of shoes, the sandals will be sufficient to get you to the nearest shoe store.
Socks – 1 pair for each day
Underwear – 1 pair for every 2 days
PJs – one pair
Clothing Packing Tips
We all wore jeans, which were fine, but I would consider bringing a pair of pants that would dry easier if you get caught in the rain like we did.
I didn't pack shorts because it wasn't hot enough. Also, many churches and museums won't let you in with shorts, so keep that in mind.
I pack all of our clothes in gallon size ziplock bags. We suctioned all of the air out, which cuts down on space, BIG TIME! Plus, my kids can more easily dress themselves when I have each outfit for them planned and packed together. Packing in bags is also useful to keep dirty/smelly/wet clothes away from the clean clothes. The only items that don't fit in bags are bigger kids/adult pants. Even adult shirts can save space when packed in plastic bags.
Don't forget to leave ALL of your expensive jewelry at home!
3. Toiletries
Toothbrush + Toothpaste
Hairbrush + Hair ties (Think "Pony tail every day!")
Travel hair gel or spray (this was for my boys)
Deodorant
Makeup – I LOVE makeup and rarely go outside without it – but don't overdo this! Any more than a handful of essentials is too much and shouldn't be on your packing list for Europe!
Sunscreen
Medication + Vitamins – Don't forget any prescriptions you have. I always bring Childrens Tylenol and cough medicine too… just in case!
Travel sized Dry Shampoo (if you're hair is as bad as mine is!)
Travel First Aid Kit – again, you're in Europe, not the jungle, so a few band-aids to cover blisters until you can get to the corner market is totally sufficient!
Women's personal items (tampons / pads)
Glasses / Contacts
Dental floss
Hand sanitizer
Nail clippers / emery board
Chapstick
Toiletries NOT to bring
blow dryer / curling iron / straightener – seriously, put your hair in a pony tail and call it good!
big, expensive hair products – these take up SO MUCH SPACE!
shampoo and conditioner – all hotels have them, and they are not awesome, but they do the job. If you're super worried about this, buy a travel sized conditioner and leave the rest at home.
Bath towel
4. Weather-Related Gear
Jacket – 2 of our 3 trips to Europe were in late September / Early October and it was COLD! We each wore long sleeves and never left the hotel without our jackets! I'd suggest getting a packable jacket – we LOVE them and are a must for your packing list for Europe! They are totally warm and pack down to the size of a shoe! Consider a water resistant jacket with a hood.
Poncho – a few packable ponchos would have totally come in handy a couple days on our last trip. You can find them at the dollar store and they don't take much space in your backpack at all! Totally worth getting the disposable ones because then you can throw them away when you're done and you don't have to repack a wet item.
Umbrella – If you have a small umbrella, you might want to bring it. We didn't bring any but ended up buying some from street vendors in Florence when we got caught in a storm. They were only $5-$10, so I personally would rather have space in my bag than pack one, but I just want to throw that out there in case you have an awesome travel umbrella you can fit in your backpack.
Hat / Beanie
Sunglasses
5. Documents, Money, and Travel Info
Travel Documents – any travel reservations / vouchers
Passport – You'll obviously need this for international travel. Consider packing a photocopy of your passport to help you get replacements more quickly if the originals are lost or stolen.
Drivers License – the only time we ever drove in Europe was when we rented a car in Ireland. But you'll always want to have ID on you. Avoid taking your passport whenever possible to avoid having it stolen or lost. (We would leave our passports in the hotel safe while we were out sightseeing)
Money Belt / Passport Pouch – Something you can hide under your clothes to hold your passports and credit cards / money. Europe is known for its pickpockets, so having your valuables completely concealed is a must! You could lose everything except your money belt and still finish your trip.
Money – Bring a credit cards that doesn't charge an annual fee, and enough cash for the first two days of your trip.
Money Tips
Bring a credit card that doesn't charge any foreign transaction fees. My favorite travel card that I take everywhere when I travel internationally is the Chase Sapphire Preferred. Right now you can earn a 60,000 point bonus, which are worth $750 towards travel when redeemed with Chase Ultimate Rewards, if you spend $4,000 or more in the first three months the account is open. This card has no foreign transaction fees so it's a perfect card to use all over Europe.
We also used our Chase Sapphire Reserve card to book our flights to Europe and when we ate at restaurants while we were there because this card give you 3x point for travel and restaurant purchases and doesn't charge a foreign transaction fee.
I've noticed that it's become very common for stores abroad to offer to charge your card in U.S. dollars when they swipe your card. While your credit card won't charge you the foreign transaction fee, the exchange rate the store will give you is typically a worse deal than just paying the fee. The best way to pay for things abroad is to simply have a credit card that doesn't charge you a foreign transaction fee and have the store charge you in the local currency
Why bring your ATM Card? This one will depend on each bank/type of account you have so it is important to check with your bank before you leave. OUR bank lets you withdraw cash from any ATM in the world with no fees and you get the best exchange rate. If you have a similar account, you only want to bring enough cash to get through the first day or two of the trip and then withdraw as you go. The reason being is that if you go to your bank's branch in the US and pull a bunch of foreign cash, the exchange rate they give you is equal to them charging you a 10% fee. Plus you don't need to walk around with a wad of cash in your backpack.
6. Electronics Packing List
Cell phone – Every cell service charges different rates when overseas so be sure to check your rates before you leave. We have Verizon and they charge $10 per day to use your plan internationally. Even if you don't want to pay to have cell service in Europe, my phone was the only camera I brought. I just kept it in airplane mode and it was perfect!
Laptop – not necessary, but nice to have in the hotel at night to check on reservations / things to do for the next day.
Chargers and Batteries
Portable charger – you'll have limited cell phone charging time and if you use your phone camera and Google maps like we do, a portable charger is a must!
Selfie Stick – I brought this as a joke and ended up using it all.the.time. There are a few places that wont let you use it, but it was nice to not have to ask a stranger to take our picture all the time!
Outlet wall adapters – Voltage is different in Europe, so you'll need an adapter for all your chargers. Also, hotels have limited outlets! Get a wall adapter with multiple outlets so you can charge everything you need each night in the hotel.
Kindles for the kids (more info on this below!)
Headphones- You can't listen to your kindle on a plane or train without it! My husband loves his noise-canceling Bose headphones. It's a mean trick he plays on me when we travel together. 😉
7. Miscellaneous Items On Our Packing List for Europe
Not necessary, but totally helpful –
Plastic Ziplock Bags – I bring these in a variety of sizes everywhere, just in case! They a flat and pack nicely and are ideal for your carry-on liquids, leftover snacks / food, wet clothes etc.
Duct Tape – Duct tape can help fix a torn bag or shoe and it offers great peace of mind in an emergency. Rather than bringing a whole roll, wrap some around a pencil to conserve space in your backpack.
Laundry Soap – I never anticipate doing laundry on vacation, but if I find myself at a hotel or apartment with laundry facilities, I like to take advantage of it… just in case! (Plus coming home with less laundry to do is always a bonus, right?) I prefer to bring just a couple Tide Pods, or a plastic squeeze bottle of liquid laundry soap. In a pinch, you can use hotel shampoo to wash clothes in the sink, or bring a few Shout wipes for spot treatments. It's better to come prepared, especially when traveling with kids!
Insect repellent – We've only visited big cities in Europe, so I've never had to use it. But if you're venturing out on some unbeaten paths, it might be a good item to pack!
Water bottles. Water in Europe is safe to drink, so we would stop at a corner market for a bottle then refill it throughout the day. (No use bringing one with you from home!)
European Packing List Tips For Kids
8. Entertainment for the Kids
We didn't pack a ton of things to keep our kids entertained on the flight. We took a red-eye on the way over and made sure they slept. On the way home they were fine with the in-flight entertainment and playing on their Kindles. Load up on movies and apps before you go. It's small enough for the kids to keep in their own backpacks and might be the best entertainment you'll ever spend money on! Plus they're not very expensive, so if they get lost or broken it won't be the end of the world.
Don't Pack These
A ton of electronics. 1 small kindle loaded with games, movies and books is fine!
Toys and books. Those are heavy and take too much space in your backpack.
9. Umbrella Stroller
With the amount of walking you'll do in Europe, it's best to come prepared for little kids with tired legs. Instead of packing our nice double stroller for this trip, my husband and I each pushed a cheap umbrella stroller for our 2 and 4 year old. Not only was it great to give our little ones a break from walking, it was also one less kid to account for on the busy streets. We'd buckle them in and were good to go!
Our other kids also had something to hold onto when crowds were crazy, which offered peace of mind to all of us! The wheels on a cheap umbrella stroller weren't my favorite, especially on the brick streets found everywhere in Europe, but they were totally sufficient. And we literally paid $20 for each of them, and they were worth every penny!
10. Baby / Essentials
Diapers + wipes + bottles, sippy cups + food and special snacks etc.
More European Travel Tips
We hope this packing list will help you in deciding what to pack for Europe! Is there anything we forgot that you would recommend bringing? If so, leave us a comment below and let us know. Have fun on your trip, and next time, take me with you!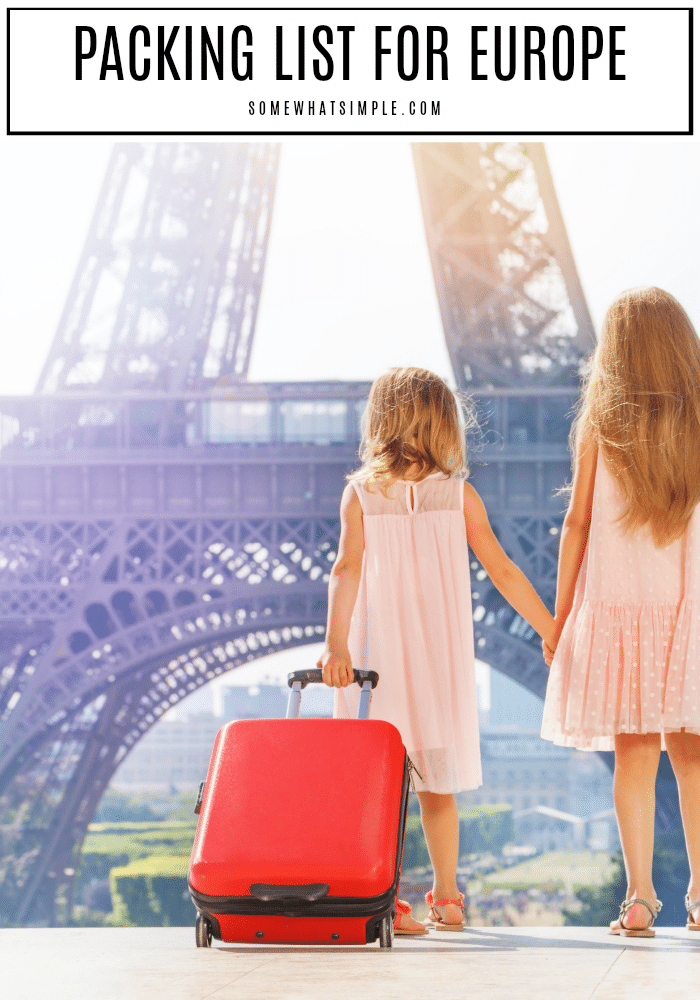 Somewhat Simple has partnered with CardRatings for our coverage of credit card products. Somewhat Simple and CardRatings may receive a commission from card issuers.
Responses are not provided or commissioned by the bank advertiser. Responses have not been reviewed, approved or otherwise endorsed by the bank advertiser. It is not the bank advertiser's responsibility to ensure all posts and/or questions are answered.