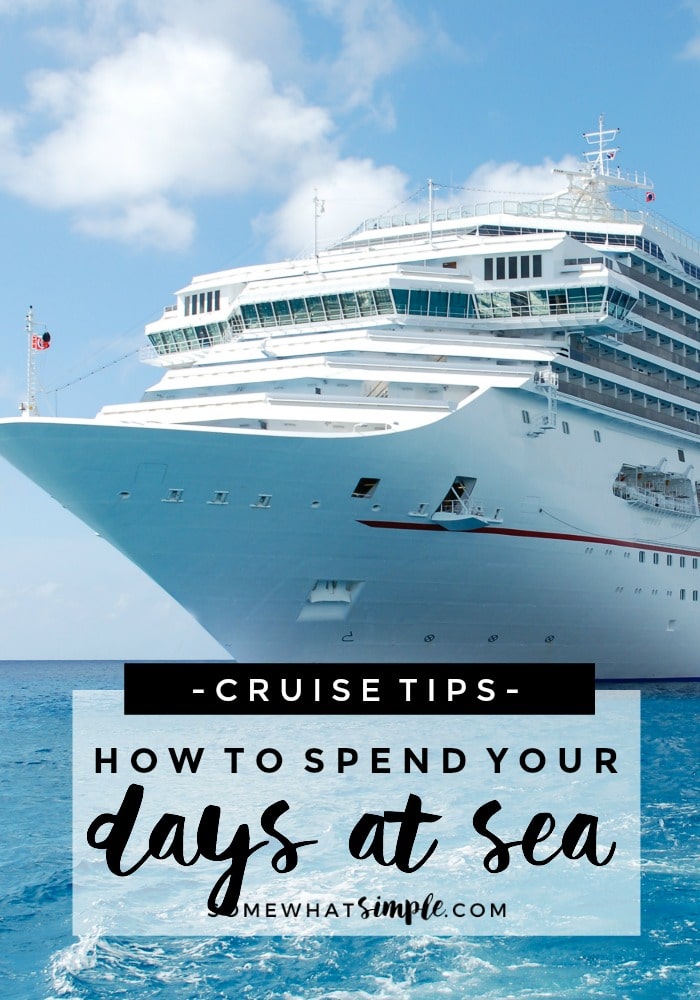 There has been at least one day at sea for every cruise I've been on. If you're like my husband and don't like sitting by the pool all day, these ideas are for you. These fun cruise tips will help you make the most of your days at sea!
Whether you're setting sail for Freeport, Bahamas, the Cayman Islands or Roatan, Honduras, these tips will make cruising the best it can be!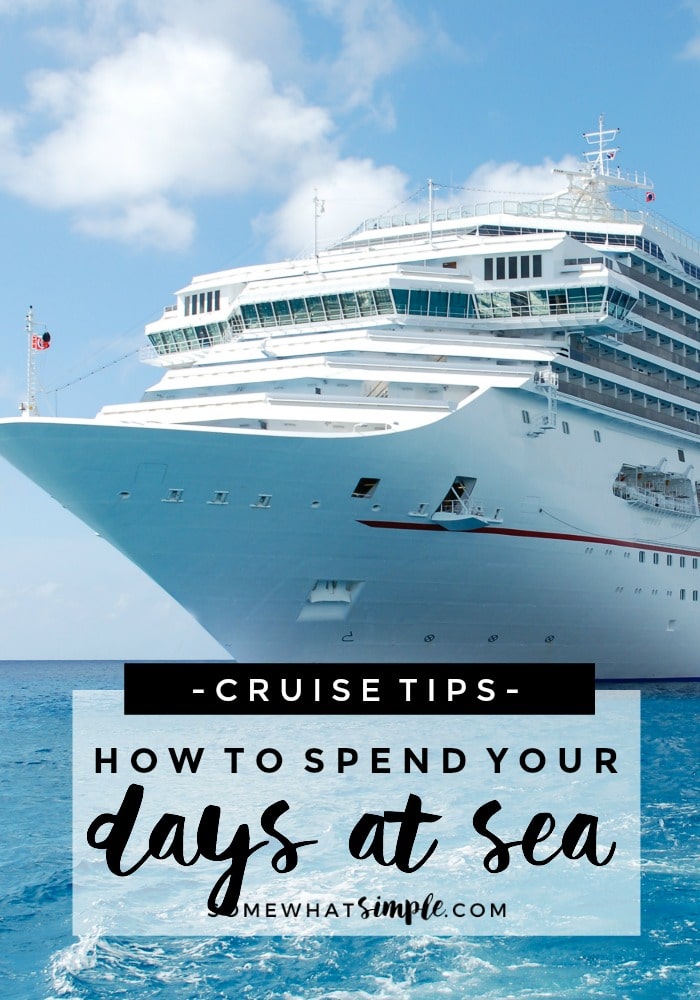 Cruising is such a great way to see a few different places all over the world. The food is fantastic, the service is amazing, and the ports of call and the excursions are definitely memorable. But with so many attractions and amenities on-board, there's no reason why your days at sea have to be any less extraordinary!
Sea Days are basically just how they sound, the days you spend at sea while getting from port to port. How many sea days you have depends on your itinerary. Some itineraries have only one or two sea days while fourteen day cruises may have as many as eight.
If you're wondering what you can do to fill all those hours at sea, have no fear! The cruise lines do a really good job making sure there are tons of activities for you to do while sailing. Some are more fun than others, and we definitely have our list of favorites. Take a look –
Tips for Going on a Cruise – How to Spend Your Days At Sea
Attend Cooking Demonstrations
Cruises have definitely jumped on the bandwagon with the foodie trend. On most cruises, you can find cooking demonstrations on everything from sushi to popular desserts. Learn how to make popular menu items from renowned chefs, then indulge on all the delicious foods that were demonstrated. (Food + entertainment at its finest!)
Play Trivia
Not only is trivia fun, but if you are smarter than everyone else you can also win a prize! Trivia topics vary but some of the most popular games are 80's music, country music, movie soundtracks, and tv shows. Also, not all trivia is just the staff asking questions. Sometimes they have huge trivia challenges that include music, dancing, and fun.
More Great Cruise Tips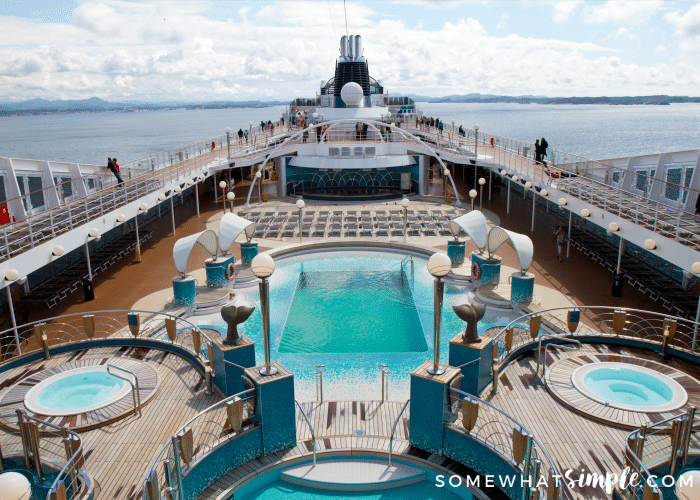 Enjoy The Hot Tub or Take a Swim
Every ship has a hot tub and there is nothing more relaxing than grabbing a drink and lounging some time away in the hot tub. If soaking in the heat is not your thing, you can swim in one of the many pools. While you're sitting by the pool, you have to order a Dirty Monkey mocktail, they are my absolute favorite!
Enjoy A Show
All cruise ships have shows with a full entertainment staff that go above and beyond to entertain you. There are usually a couple of shows to choose from each night, a musical and a comedy show. We like to see the musical in the early evening and then hit the comedy show later on. (And don't forget to hit up the midnight buffet for a snack while relaxing under the stars!)
Go To The Spa
If pampering is your thing, then you will love spending your sea day at the spa. Cruise lines offer everything from full body massages to hair services. You can also get teeth whitening, wraps, and on some lines you can get botox. If you can't afford a spa day, look in your daily activities newsletter. Sometimes they offer free demos of products that you can try. It is a great way to get a little pampering without spending a lot of dough.
Eat At A Premium Restaurant
While 90% of the food on your cruise is free, there are some cruise lines that offer premium restaurants. They will typically charge between $25 and $35, and the cuisine is superior! You will order an appetizer, main entree, sides, and dessert and your meal will often take up to two hours from start to finish. It is well worth the time and money, and it is a great way to end your sea day!
Attend A Party
When the night falls, the ship ramps up the tunes and the fun. Almost all the sea days have a party of some sort, and th3ey usually have a fun theme. Depending on what party you attend, there may be either a band or a DJ. And not only is there some great music, but the cruise director is usually on hand to show you a few new dances, throw out shirts, and make the party better than ever!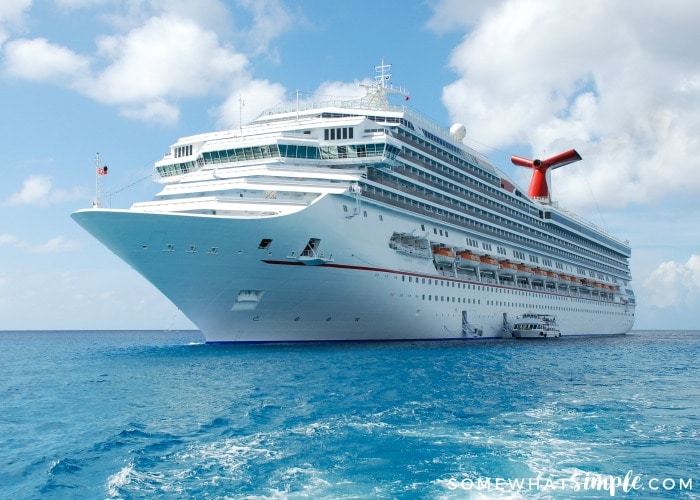 Sea Days can be just as much fun as port days. I love ordering breakfast, sitting on my deck, and looking through the daily activities to find what I want to do. No two sea days are alike and each one can be a unique kind of fun!
What are your favorite cruise tips?
Leave us a comment in the section below!