This delicious and fun yogurt bar is so easy to put together, and makes a perfect after school snack or special breakfast!
This post is sponsored by Everywhere Agency on behalf of FAGE; however, all thoughts and opinions expressed are my own.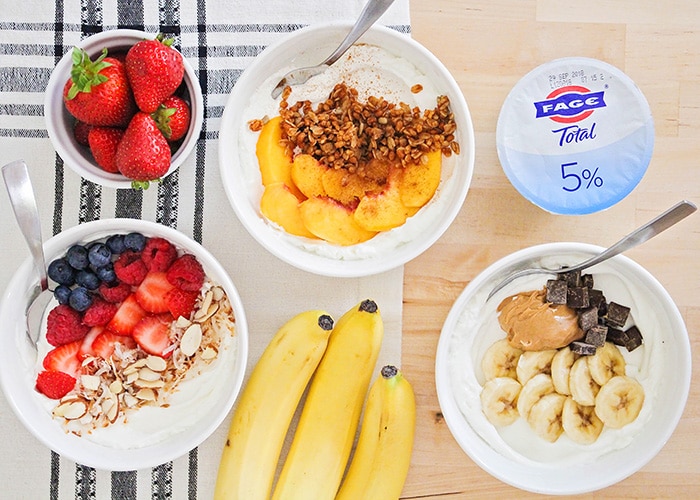 Easy Yogurt Bar
Now that school is back in session, my family is once again facing off with the perpetual dilemma of the after-school snack. My kids come home from school absolutely STARVING and convinced that they will have withered away completely before dinner time rolls around. It's easy to give them a handful of crackers or a package of fruit snacks, but they'll be hungry again in 10 minutes (and probably cranky by then, too).
I much prefer to give them a healthy snack that also has some protein to keep those little tummies full and satisfied until meal time. This fun and delicious yogurt bar is always a favorite! I love that everyone can assemble their own healthy yogurt bowl exactly to their liking. It's a total snack win!
How to Make a Yogurt Bar
Setting up the yogurt bar is easy and fun, and you can make it as simple or elaborate as you like. Choose a variety of healthy toppings, set out your yogurt, and let everyone dig in!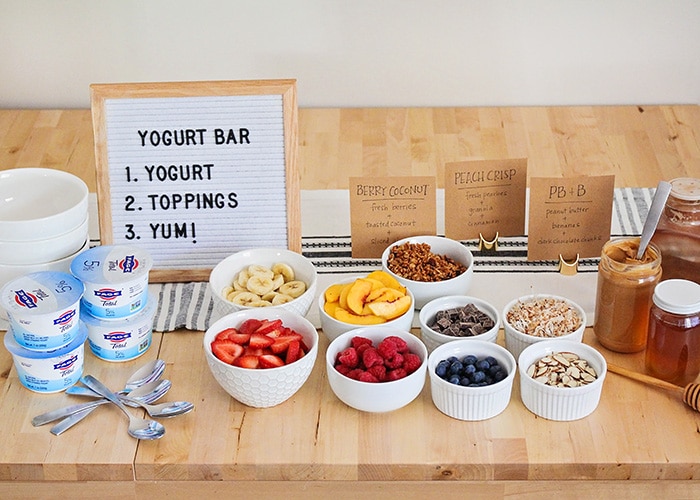 Since yogurt is the foundation of the yogurt bar, it's definitely important to use a good one! We love using FAGE Total 5% Plain Greek Yogurt. It's so thick and creamy, and made with only milk and live active yogurt cultures. It has no added sugar, is a great source of calcium, and is protein-rich, too. FAGE yogurt is also Non-GMO Project Verified, and gluten free. It's a choice you can feel great about serving your family!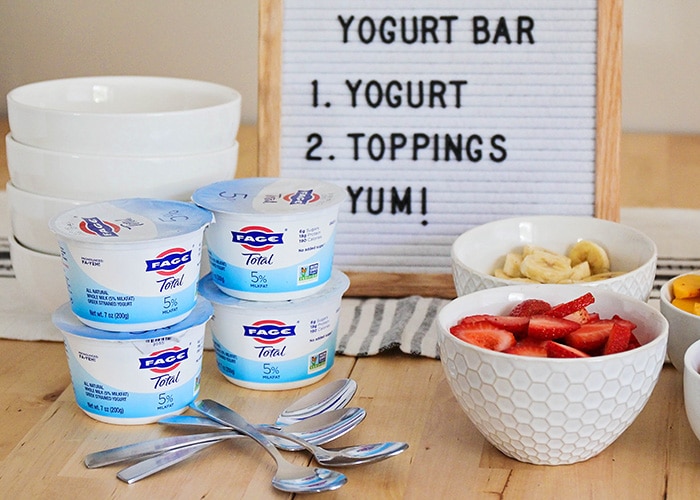 Yogurt Bar Toppings
The sky is the limit as far as toppings go! Add a variety of healthy and flavorful toppings to the table, and let each person choose the toppings they like best! Some of our favorite toppings include:
nuts
fresh fruit
dried fruit
coconut
nut butters
honey
granola
Each person in my family has a different flavor combination that they love, so I thought it would be fun to make some little cards to show how to construct each combination.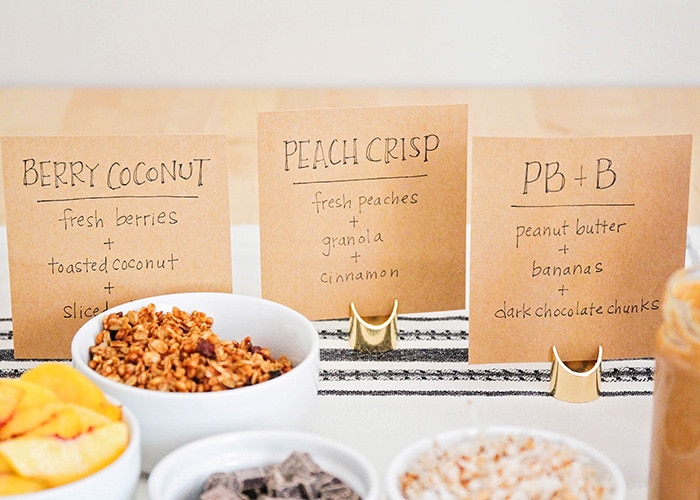 Peanut Butter and Banana
This one is my husband's favorite! He loves pretty much any combination of peanut butter and chocolate, so this one is right up his alley. We layered on some sliced bananas, a dollop of peanut butter, and a few dark chocolate chunks, then finished it with a little drizzle of honey. So yummy!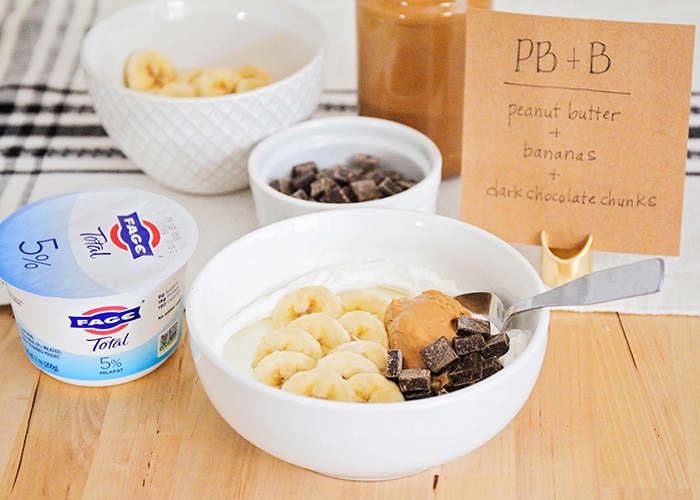 Peach Crisp
This one is my favorite, because it tastes like my favorite dessert from childhood! I added sliced fresh peaches, cinnamon granola, and finished it with a sprinkle of cinnamon. It tastes just like dessert, but much healthier!
Berry Coconut
This one is my daughter's favorite, since she can never get enough fresh berries. We added fresh sliced strawberries, raspberries, and blueberries, with a sprinkle of toasted coconut and some sliced almonds. Delicious!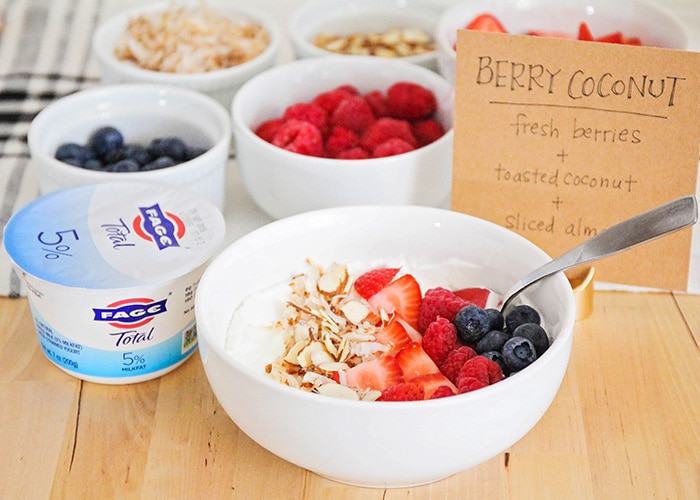 This yogurt bar makes a fantastic afternoon snack, but it would also be perfect for a fun brunch, or at a baby or wedding shower! It's also a great way to get even picky eaters interested in eating healthy food. I've found that my kids are way more willing to try new foods, and to eat healthier foods, if they help prepare them. They are always so proud of themselves when they can help make their own snack!
For more information about FAGE, be sure to visit their website.
To find FAGE yogurt at a store near you, click here for the store locator.