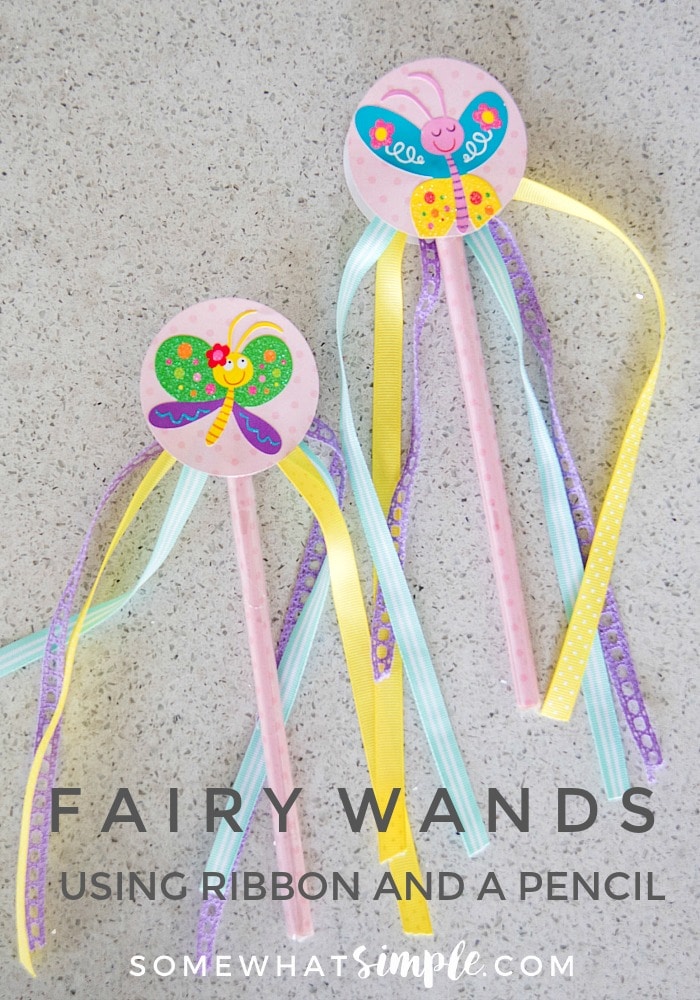 Every little girl needs their own wand, right? Make your own fairy wand with a pencil + ribbon!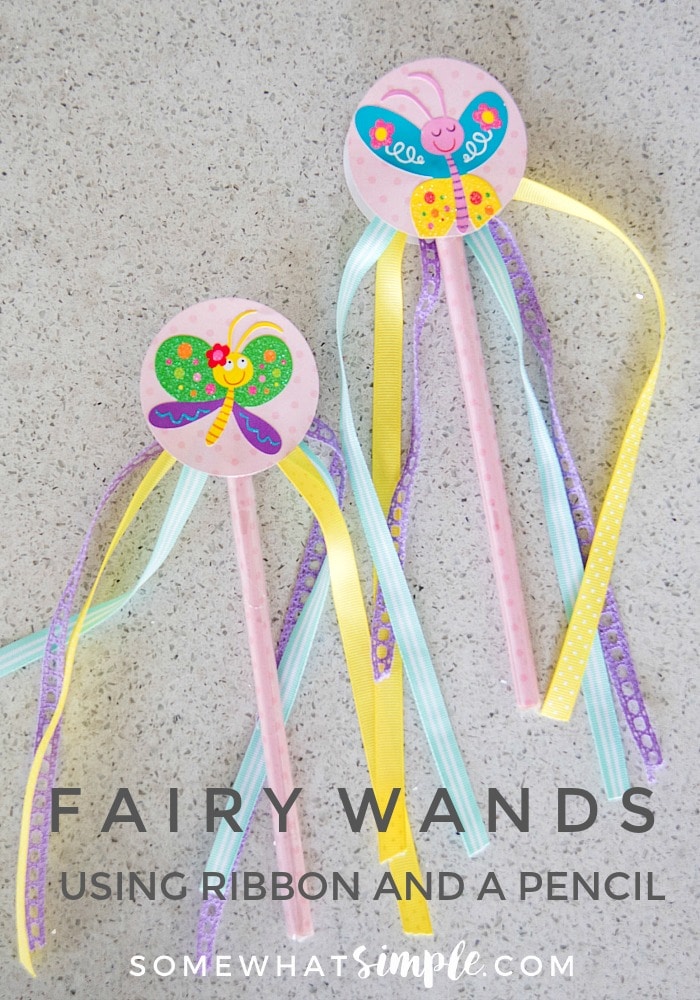 My 4 year old is as girly as they come. Last week she was playing dress up and she was decked out in fairy princess gear from head to toe. As she danced and pranced around the room, I noticed she had a regular old #2 pencil in her hand that she was using as a wand. Not only did this clash with her other fairy princess attire, but it hit me that among all the tutus and tiaras in the dressup box, we had no magic fairy wands! Enter Fairy Supermom and save the day with a little magic of her own…
Butterfly Fairy Wand Tutorial
SUPPLIES –
pencil
scissors
clear packing tape
thumb tack
glue gun
butterfly stickers, optional
DIRECTIONS –
Cut a strip of your scrapbook paper to the length of the pencil (not including the eraser) and about 1 inch wide.
Secure the scrapbook paper to your pencil with a thin strip of tape. Cut another strip of clear packing tape to the length of your pencil and a bit wider than your strip of paper. Roll the taped paper tightly onto the pencil and secure with the overlapping tape. Now your pencil looks like its laminated, and maybe the paper won't get as ruined in the mouths of little princesses casting magical spells!
Cut some ribbon to the length you want (mine were about 7 inches long). You can cut as many ribbons as you want.
Assemble the ribbon how you want it by sticking one ribbon at a time through the push pin. Push a tack into the eraser and secure it by adding some hot glue around the edges.
You could stop here, but my daughter insisted on having a "butterfly wand", so I added a topper with a butterfly sticker. To do this, I cut 2 circles out of a piece of scrapbook paper, placed the butterfly stickers on each circle, then glued the circles to the top of the pencils with some hot glue.
And POOF! 1 fun butterfly fairy wand and 1 happy little fairy princess!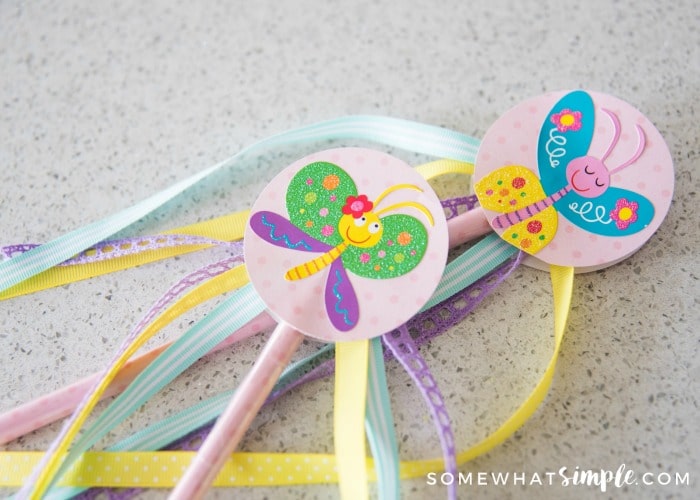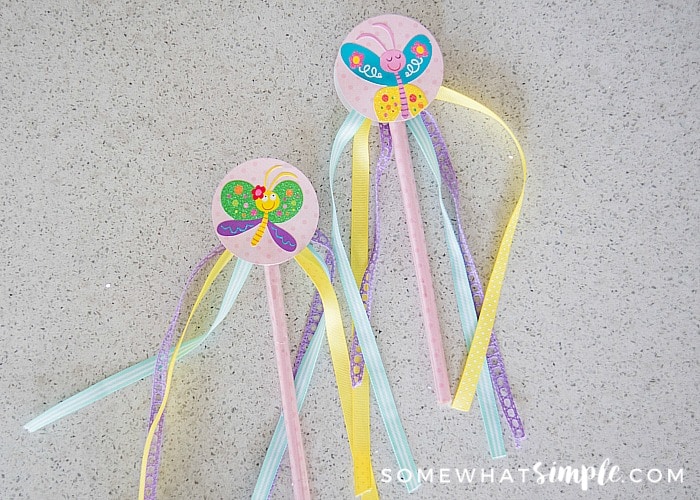 This post originally published on Somewhat Simple in September 2010. It was updated in February 2017.
Our readers also enjoyed these kid activity posts: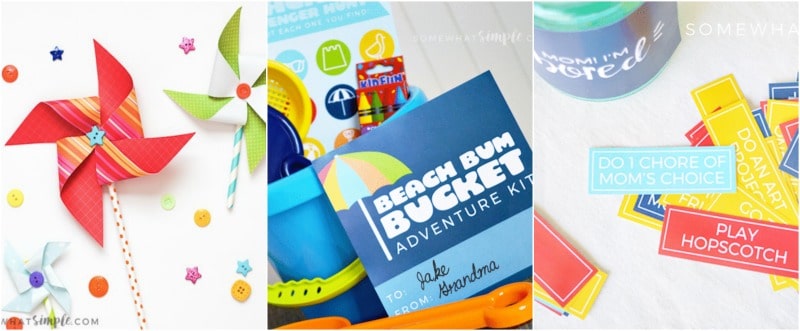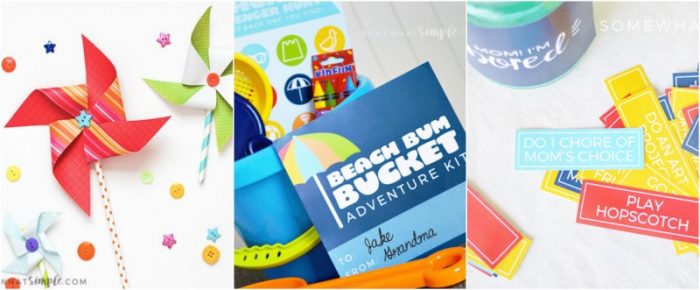 Paper Pinwheels // Beach Bucket Adventure Kit // Mom, I'm Bored! Jar