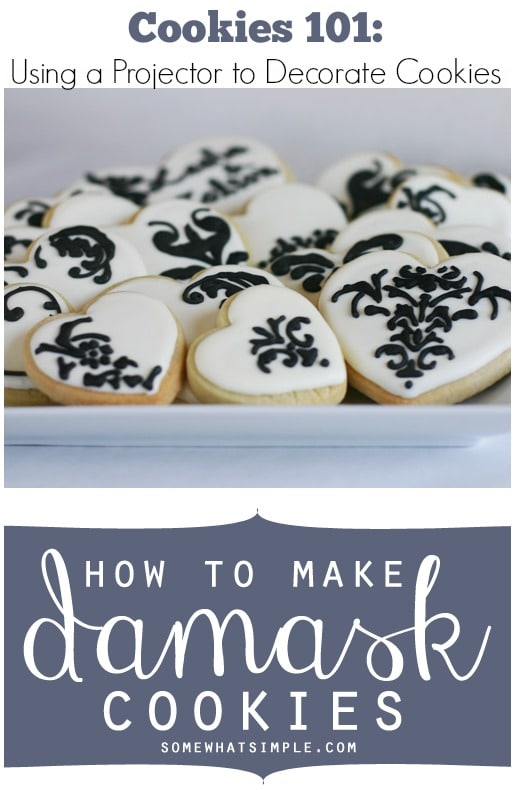 Are you ready to take your cookies from cute to classy? These damask cookies are the perfect treat to "wow" your guests at a holiday party, birthday or wedding!
If you are an artist, then you will have no problem making fancy flourishes on your cookies. I, however, am not an artist.  So let me reveal my secret weapon to you…the Kopykake Projector. It is meant for projecting images onto cakes and cookies, or for use in other "artsy hobbies". It is a bit of an investment, but I took the plunge and use it all the time for my favorite hobby…cookies!  I have also made it useful around the house and painted some fun canvases with it.
For today's tutorial I want to show you the damask decorated cookies I made for a family wedding and how simple it can be decorating cookies with a projector.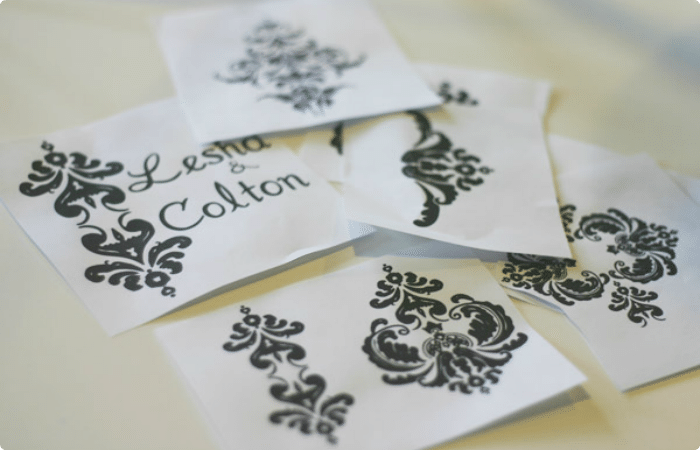 Start out by making some sugar cookies with simple white icing. While you are waiting for the icing to dry completely, print out your favorite patterns to be just a few inches wide. I had 3 different sized heart cookies and a handful of designs to add some variety. You can obviously make as many as you need or want!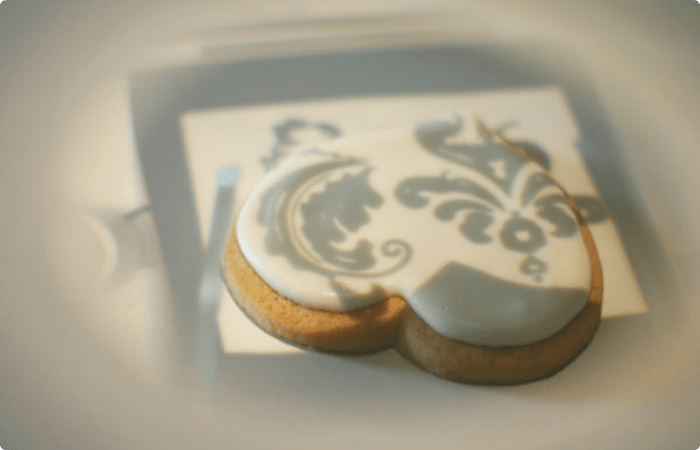 Once dry, place your cookie under the projector and adjust the design to be the size you want, in focus.  (The projector can make your design larger, or smaller.) Then play around with the placement of the flourish, turning the cookie under the projector to get it exactly in the right spot.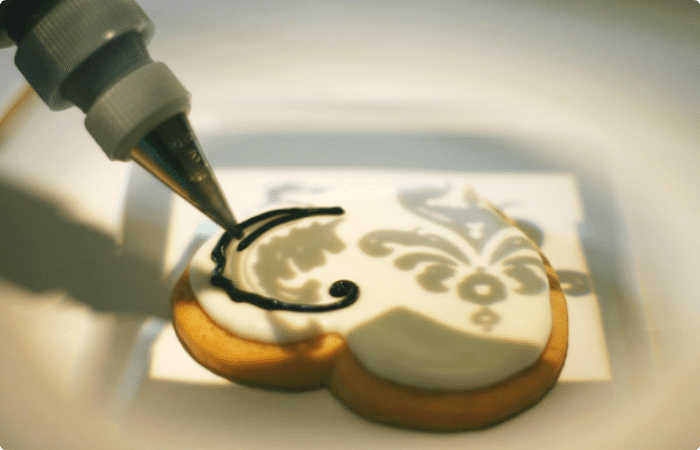 Now, grab your squeezie bottle with a #2 tip on it and trace right over that image.  The frosting in it is a medium consistency, about a 10-12 second frosting.  (To see what I'm talking about, go here.)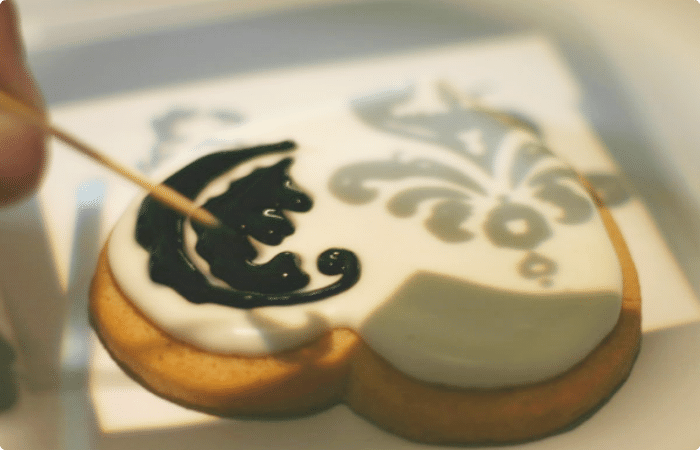 Then you can use the best tool in sugar cookies, a toothpick, to pop any bubbles, smooth out peaks or even move the frosting around to meet the design more exactly. When you're finished polishing your designs with a toothpick, let them dry.
I made a handful of each version until I had miles of sugar cookies.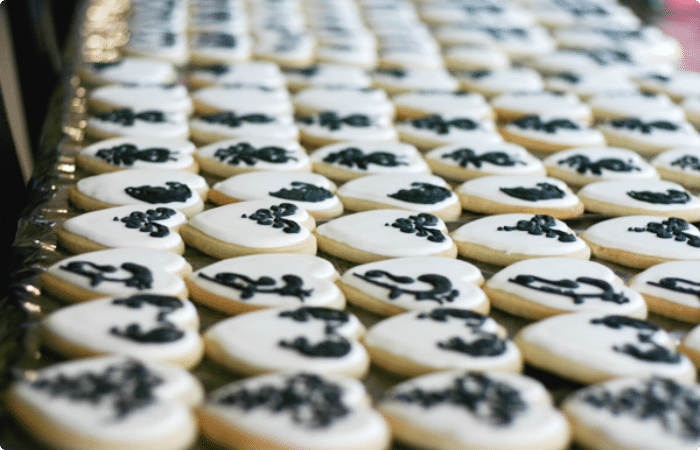 (Ahhhh, such a beautiful sight!)
And there you have a simple, heart-shaped black and white damask cookie!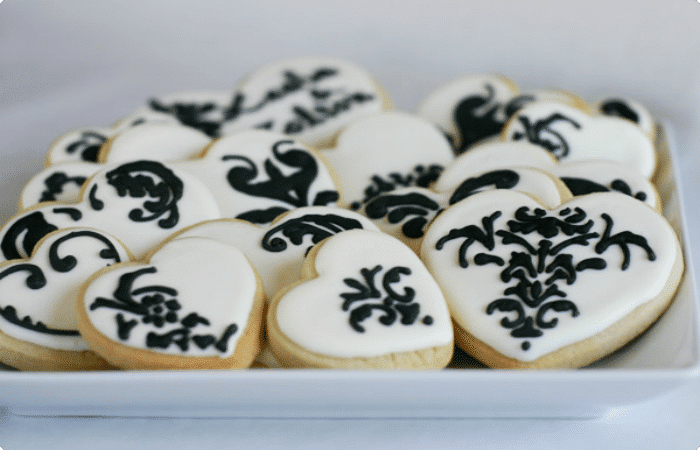 I liked the damask design so much, I did it again in a more "cutesy" way for a baby shower.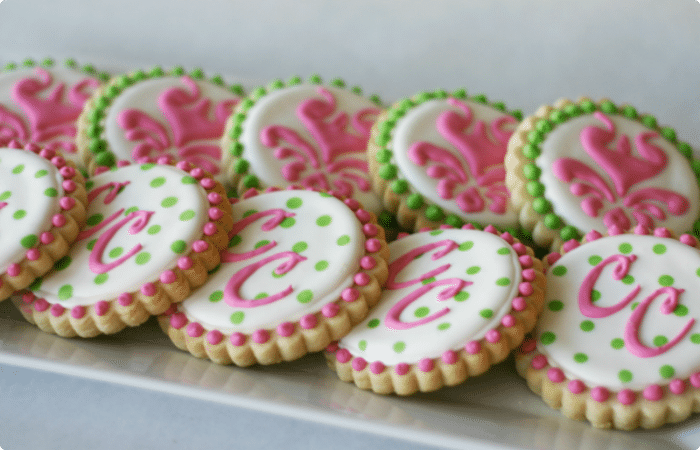 So the secret is out! A projector can be a quick shortcut to fancy flourishes for your special occasions!
What do you think?
About the Author: Ashleigh is the creative mom of three and blogger from Bee in Our Bonnet . Ashleigh spent a few years blogging on Somewhat Simple as our Baking Contributor.
This post originally published on Somewhat Simple in July 2011