These rich and buttery Valentine Shortbread Cookies are so fun for Valentine's Day! Simple enough that the kids can help, and so delicious too!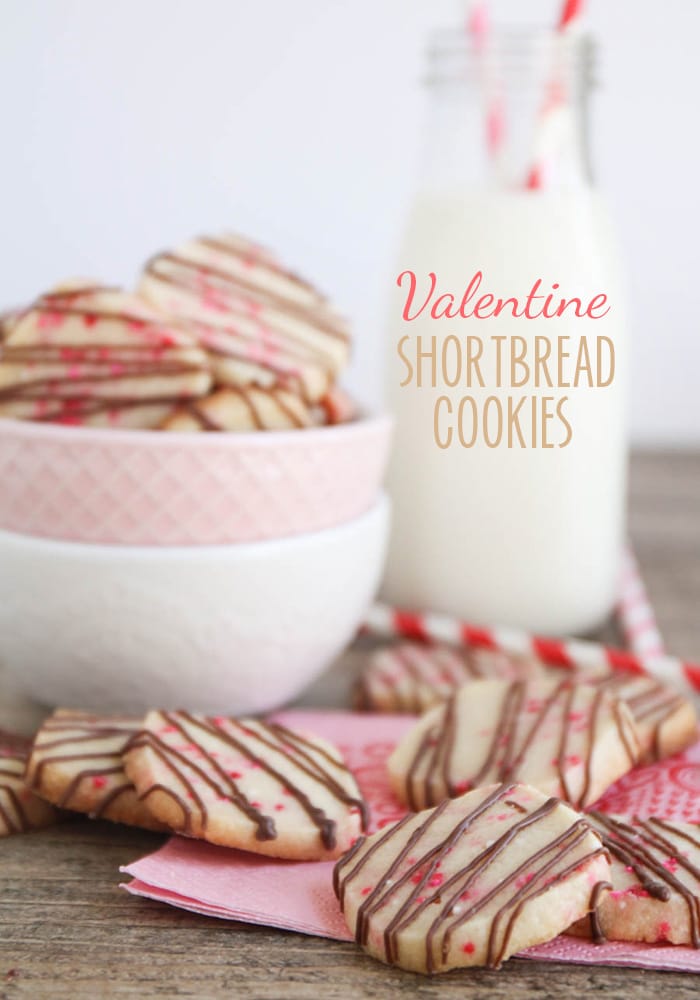 Are you excited for Valentine's Day? It is my favorite holiday! We go all out at my house… I decorate the living room with heart garlands, make a delicious breakfast for the whole family, and leave fun presents on everyone's plates to show them I love them. I also get really excited about baking Valentine's treats! In previous years I've made Valentine funfetti sugar cookies and soft frosted sugar cookies, and I think it's pretty safe to say that cookies are one of my favorite ways to celebrate. These Valentine shortbread cookies are a new favorite, and were a huge hit with the whole family. They turned out gorgeous, and I love that they're so festive and perfect for V-day!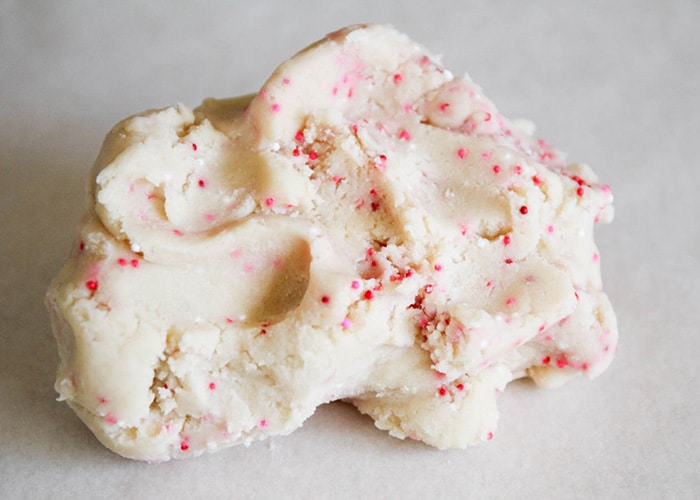 I don't know what it is about sprinkles, but they just make everything much more fun! The dough has only a few ingredients, and comes together really quickly.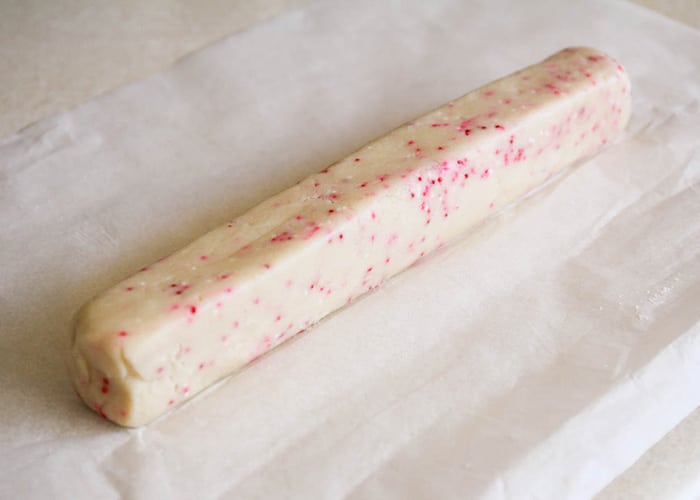 I rolled the dough into a log, then shaped it into a square by pressing on top with a cookbook, then flipping and pressing again. From here, the dough goes into the freezer to chill.
After about thirty minutes, the dough is ready to bake. The shortbread cookies are pretty great straight out of the oven, but I wanted to make them extra special by drizzling them with some chocolate. Everything's better with chocolate, right? These delicious and elegant cookies are perfect for making your Valentine's Day extra special!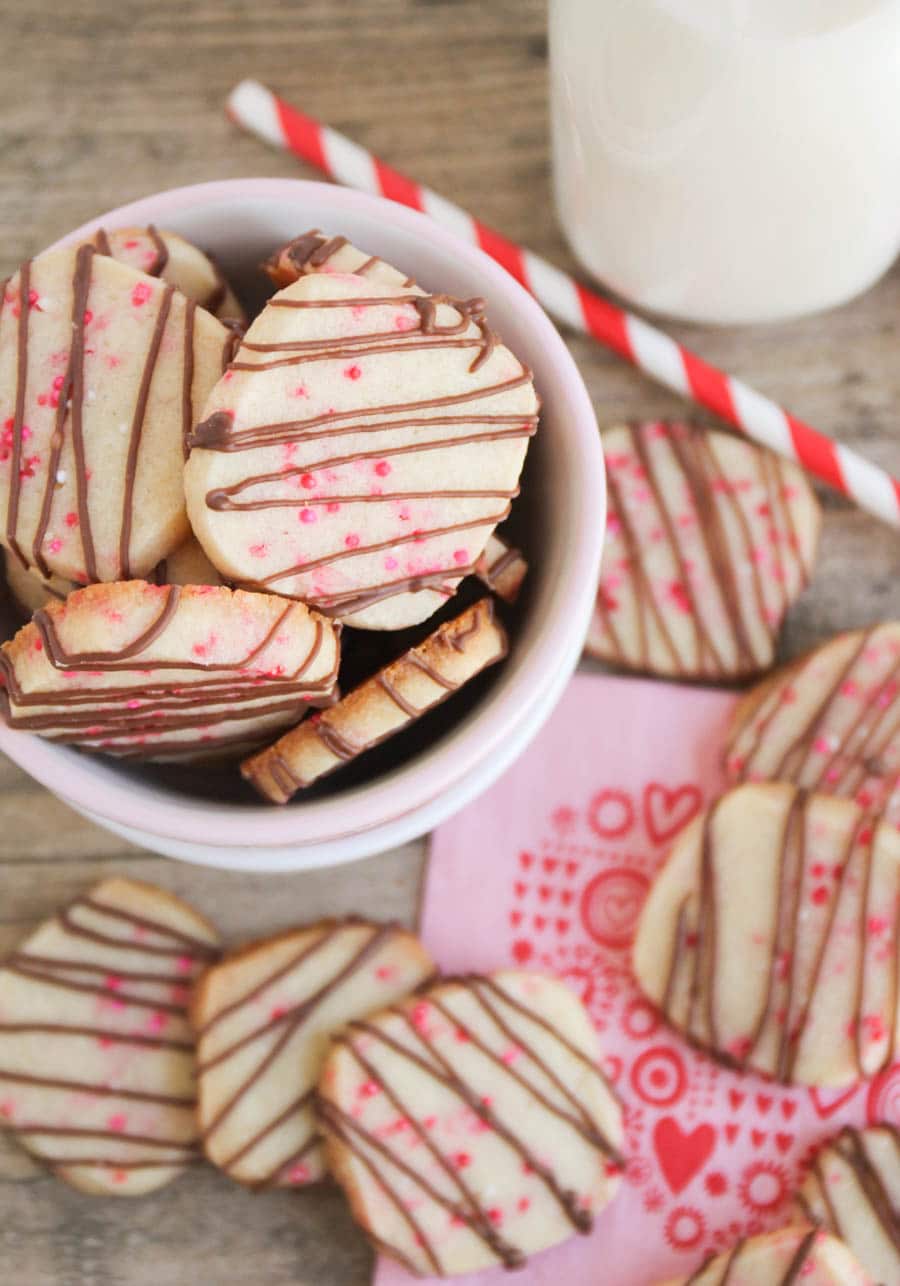 VALENTINE SHORTBREAD COOKIES
INGREDIENTS:
1 cup butter, softened
1/2 cup sugar
3 tablespoons honey
2 cups flour
pinch of salt
2-3 tablespoons Valentine sprinkles
1/2 cup melting chocolate (I used melting wafers)
DIRECTIONS:
In a medium bowl or the bowl of a stand mixer, beat together the butter, sugar, and honey until light and fluffy. Add the flour and salt and mix to combine. Gently stir in the sprinkles. (Your dough should be about the consistency of sugar cookie dough.)
Shape the dough into a log that is approximately 1 to 1 1/2 inches in diameter and wrap in plastic wrap or parchment. Using a cookbook and the counter, flatten two sides of the dough, then flip the dough and flatten the other two sides to form a square shape. Freeze the dough for 30 minutes (or refrigerate for 2+ hours).
When the dough has chilled, preheat the oven to 325. Slice the dough into 1/4 inch thick squares, and place on a baking sheet lined with parchment or sprayed with cooking spray, placing one inch apart. Bake 15-20 minutes, or until lightly golden on the bottom. Remove and let cool.
When the cookies have cooled, heat the chocolate in the microwave on 50% power for 30 second intervals, stirring in between, until smooth. Pour the chocolate into a ziplock bag or piping bag. Snip off a small piece from the corner of the bag, and drizzle the chocolate over the shortbread cookies. Let cool completely before serving.