This versatile Gold Banner printable is something you'll want to keep handy! All 26 letters of the alphabet are included, so this printable is super useful! Print out the letters you need and create your very own banner for any occasion.
Need a banner for a birthday? No problem! Need something for that bizarre holiday no one but your family celebrates? No problem! The gold stripes and dots are perfect for any holiday or celebration!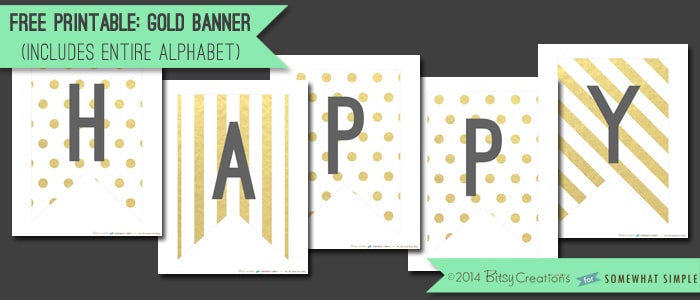 Some things to note:
– The file is a 26 page PDF. It's huge. I'm sorry to say it will take you some time to download. Please be patient.
– The file is also zipped to save space. You will need to unzip it before you can access the PDF.
– Each piece of the banner (each letter) is one full page–a standard 8.5 x 11 inch.
– I found it best to print on cardstock for durability.
– You can even then laminate the letters for use in the future.
– You can choose to punch holes and string through or tape ribbon to the back of each banner piece.
– This is for personal use only. It may not be changed or resold.

Download your Gold Banner Printable Here

Hack Your Routine!
FREE E-COURSE
5 Time-Saving Tips for Crazy Busy Moms