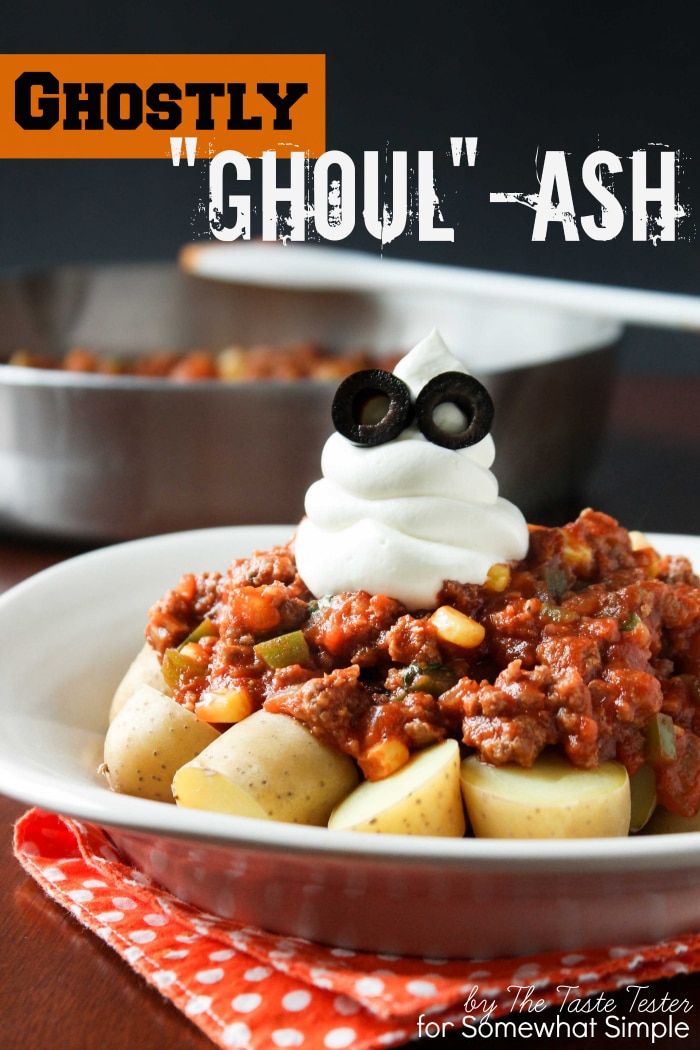 Are you looking for a fun Halloween dinner that your family will love? One of my favorite fall comfort foods with a Halloween twist – Ghostly Goul-ash. This easy goulash recipe whips up in 30 minutes or less!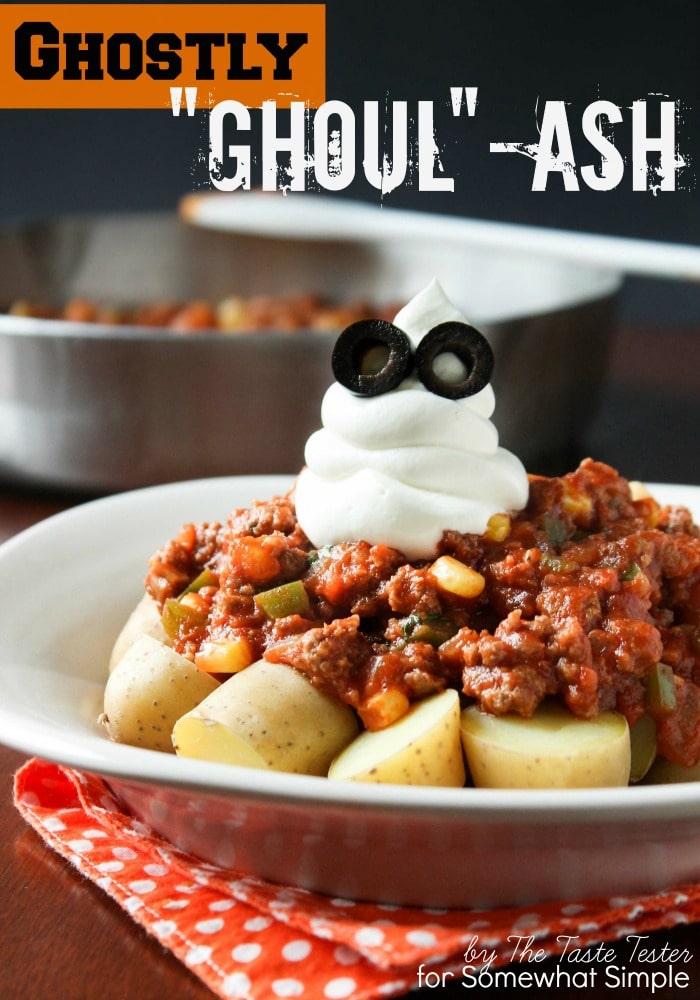 I'm so excited to share one of my favorite fall comfort foods with a Halloween twist- Ghostly Goul-ash. The thing I love about this goulash recipe is that it whips up in 30 minutes or less but tastes like it's been simmering away all day long (now that's my kind of weeknight meal).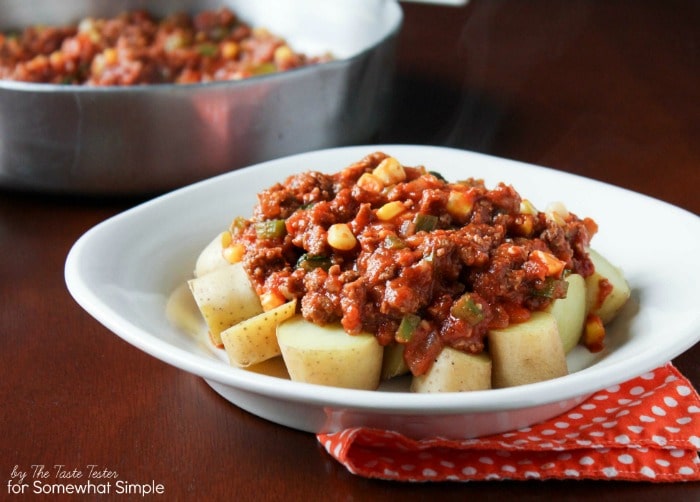 My mom used to make this for us on Halloween and she'd always call it ghoul-ash. I think it was her way of making sure we got something hearty and healthy in our bellies before we went trick-or-treating. Whether you make this on Halloween with piped sour cream ghosts, or whether you just make it for a warm, comforting meal on a cool fall day, this stew doesn't disappoint!
An Easy Goulash Recipe – Ghostly Ghoul-ash
Serves: 4
Ingredients:
1/2 tablespoon olive oil
1/2 onion, diced small
2 cloves garlic, minced
1/2 green pepper, diced
1/2 pound ground beef
1 (15 ounce) can tomato sauce
1 tablespoon tomato paste
1/2 cup frozen corn
1/2 teaspoon salt, plus more to taste if needed
1/8 teaspoon black pepper, plus more to taste if needed
pinch of red pepper flakes (optional)
2 tablespoons minced fresh basil
Baked, steamed, or mashed potatoes or cooked pasta for serving
sandwich size zip top bag, sour cream, and sliced olives to make ghosts (optional)
Goulash Directions:
Heat oil in a large saucepan over medium high heat. Add the onion and cook, stirring occasionally, for about 3 minutes or until the onion starts to soften. Next, add the diced green pepper and cook for about 3 minutes more. Add the garlic and sauté for 1 minute longer, stirring constantly.
Add the ground beef to the pan. Break it up with a wooden spoon as it starts to cook. Brown until the meat is almost fully cooked (about 5-8 minutes or so).
Add the tomato sauce, tomato paste, salt, pepper, red pepper flakes, and frozen corn. Bring to a low boil, then reduce to a simmer over low heat. Cover and let sauce simmer for 10 minutes, stirring at the 5 minute mark. At the very last minute, stir in the fresh basil.
Serve hot goulash over baked potatoes, mashed potatoes, steamed potatoes, or cooked pasta.
If desired, fill a sandwich size zip top bag with about 1/3-1/2 cup of sour cream. Squish the sour cream into one corner of the bag. Snip that corner of the bag off with a pair of kitchen scissors and pipe little sour cream ghosts, about 1 1/2 tablespoons each, onto each serving of goulash. Arrange two slices of olive on each ghost to look like eyes!
Halloween Goulash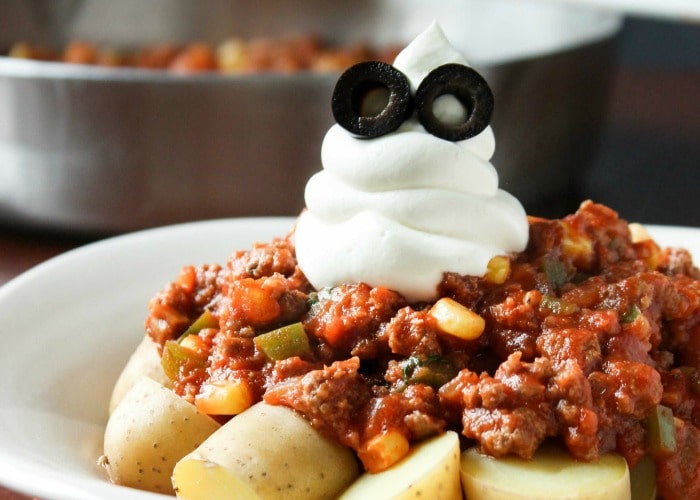 ENJOY!
ABOUT THE AUTHOR: Amanda Jenks is the delicious blogger from The Taste Tester. She was on the contributing team of Somewhat Simple in 2013.
For more Halloween Food ideas, check out these posts: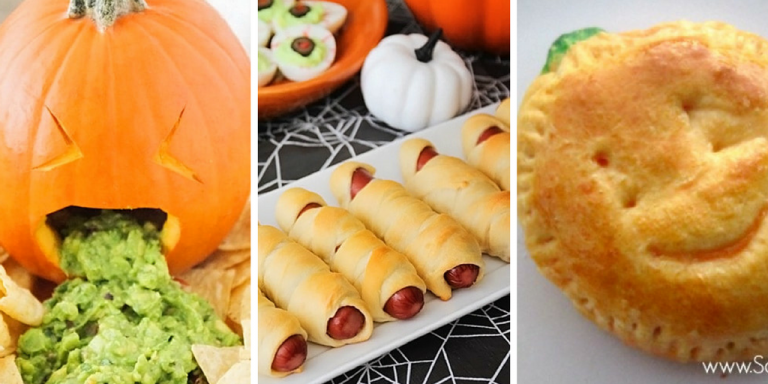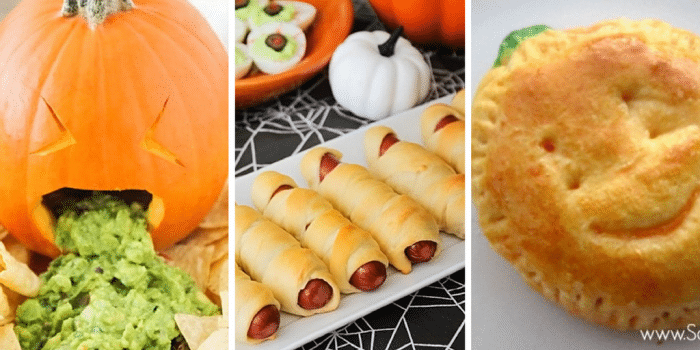 Barfing Pumpkin Guacamole // Mummy Dogs // Pumpkin Empenadas
This post originally published on Somewhat Simple in October 2013