Send the kids out to trick or treat with full bellies! Pumpkin Empanadas are a festive, filling Halloween dinner that are easy to make!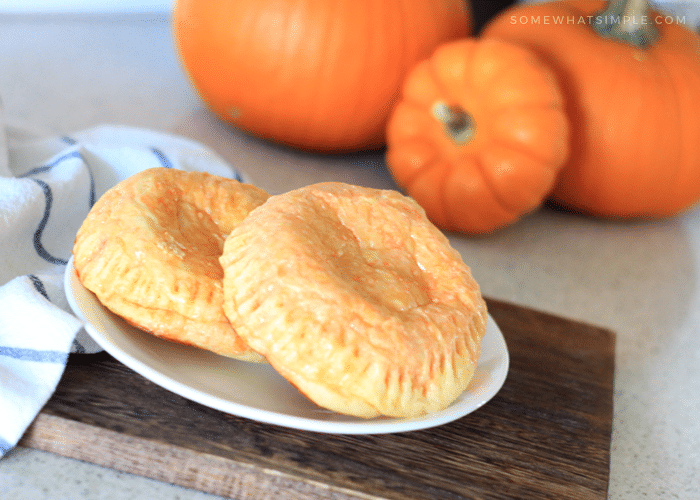 Easy Pumpkin Empanadas
Halloween dinners can be hard. The kids seem to be extra anxious to get in their costumes and head out trick-or-treating, so no one feels like eating a hearty meal.
I've made these simple pumpkin empanadas the past several years on Halloween for my kids, I think it is practically a tradition! They are super simple to throw together, not to mention a fun, EASY way to get them to eat something half-way decent before they go trick or treating and have a candy overload!
The filling for these empanadas is just a kid-friendly ground beef mixture that you can certainly change up to your liking! I have a Chicken Empanada recipe I LOVE, and I think a more traditional Spanish beef empanada is also amazing, but for Halloween night being as hectic as it is, I like to keep it simple with some seasoned ground beef and cheddar cheese. Simple and delicious!
We like to serve these Pumpkin Empanadas with –
Halloween Dinner – Pumpkin Empanadas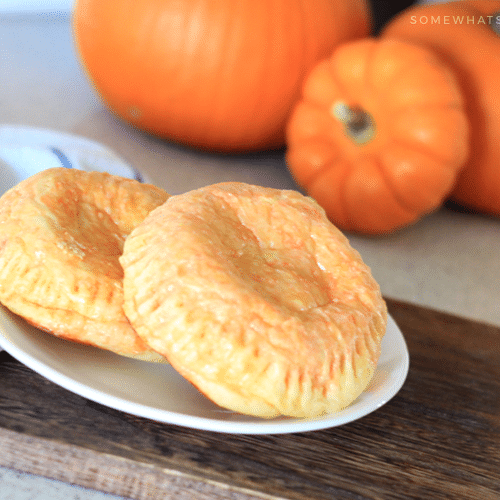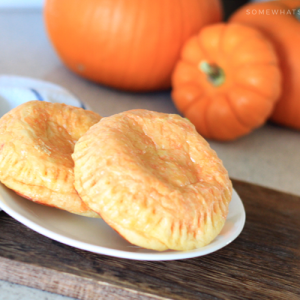 Halloween Dinner - Pumpkin Empanadas
Send the kids out to trick or treat with full bellies! Pumpkin Empanadas are a festive, filling Halloween dinner that are easy to make!
Ingredients
1

lb

ground beef

1/4

yellow onion

diced

1

packet

taco seasoning

2/3

c

water

Approx. 2 cups of cheddar cheese

shredded

2

packages of 8 refrigerated biscuit dough

I used Pillsbury Grands

1

egg

Red & green food coloring
Instructions
Preheat oven to 350  degrees. Line a cookie sheet with foil or spray with non-stick spray.

Brown your ground beef over the stove. Rinse and drain.

Add your diced onion and let the meat mixture start to cool down.

Press down on each biscuit with your hands, making them bigger and flatter.

Spoon a heaping spoonful of beef mixture into the center of each biscuit, leaving a space around the entire edge.

Sprinkle some cheese over the top of the meat.

Place another flattened biscuit over the meat-topped ones. Then, using a fork, press and seal the edges.

Pinch a small portion of the dough and stretch outward just a bit to form the stem of your pumpkin.

Add 1 drop of red food coloring into a small bowl with the egg and mix well to turn the egg wash orange. Brush the orange egg wash over the entire face of the pumpkin.

Add some green food coloring to a paper towel and dab the "stems" to turn them gree

.

Bake for 12-15 minutes or until heated through and the biscuits aren't doughy.
Recipe Video
Recipe Notes
If you have your own recipe for the meat filling, by all means, use it! I have a family favorite that is more authentic to the Latin taste, but this is just an easy, quick alternative! If you add the meat mixture to the biscuit dough while too hot, the biscuits will start to melt and become a sticky mess, so let it cool for bit to avoid this. These pumpkins may not look that orange when you brush them with the egg mixture, but don't worry- they get darker when they bake!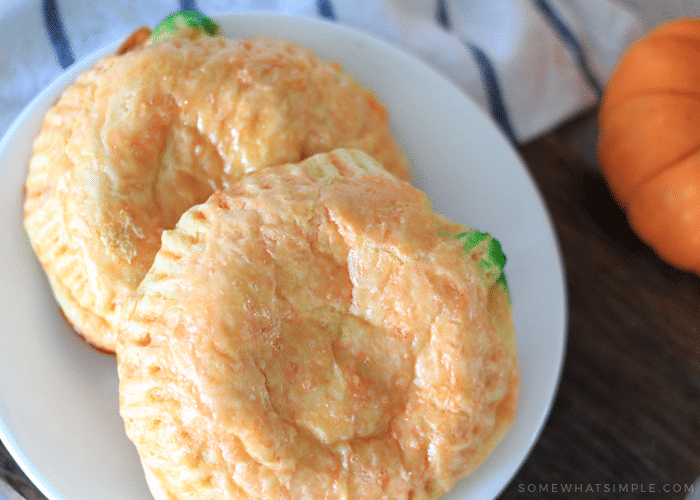 OPTIONAL – If you're feeling extra creative, try cutting out Jack-O-Lantern Faces in the dough before baking  them! (Last time I did this, the faces looked creepy to me… and I didn't mean for them to be! The kids got a kick out of it, but I prefer them face-less. 😉