With a few basic craft supplies, create this fun hug card to "give a hug" and welcome a new baby to the family or send to someone you love!
This is a sponsored post for Huggies® written by me. All opinions are my own. Thanks for supporting our sponsors so we can continue to provide creative content to Somewhat Simple.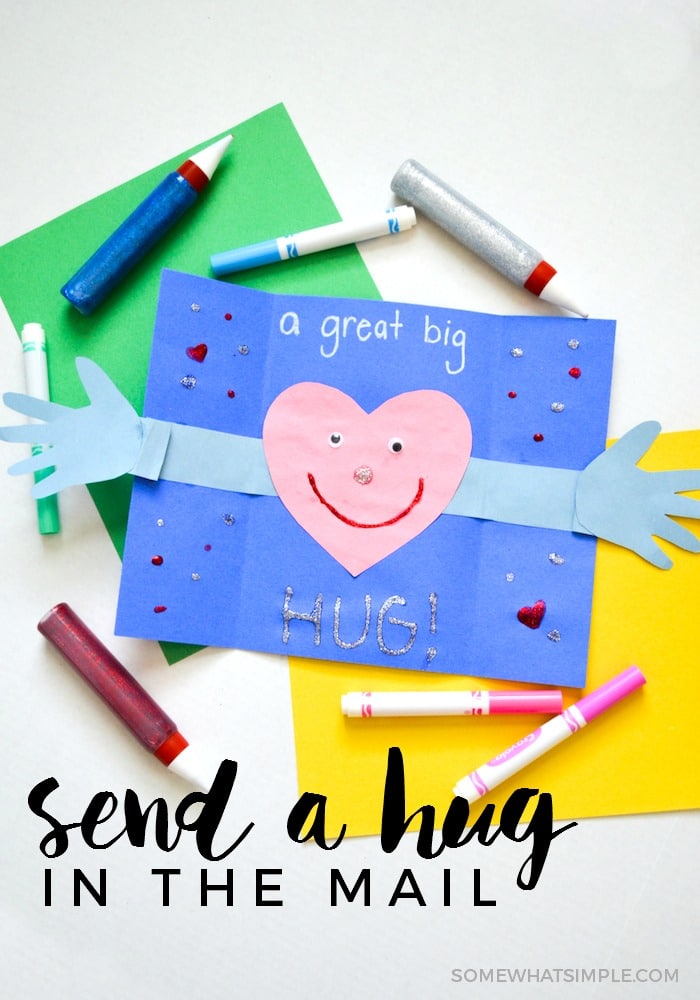 Babies are put into their parents' arms right after they are born. Hugging helps to create a bond between parent and child – one that is vital to the healthy development of the child.
I remember the very first time I was able to hug and kiss my little guy as he was put into my arms. Those hugs have evolved over the past few years and he now understands what it means to give and get a hug. Sometimes it's a hug to cheer him up and help wipe away the tears and sometimes it's a hug because we are so proud of him for something he did. My favorite hugs, though, are the ones that come out of nowhere – especially when he is the initiator!
It's always fun to get the kids involved in craft projects that come from the heart, and what better way to welcome a new baby with a hug card that does just that!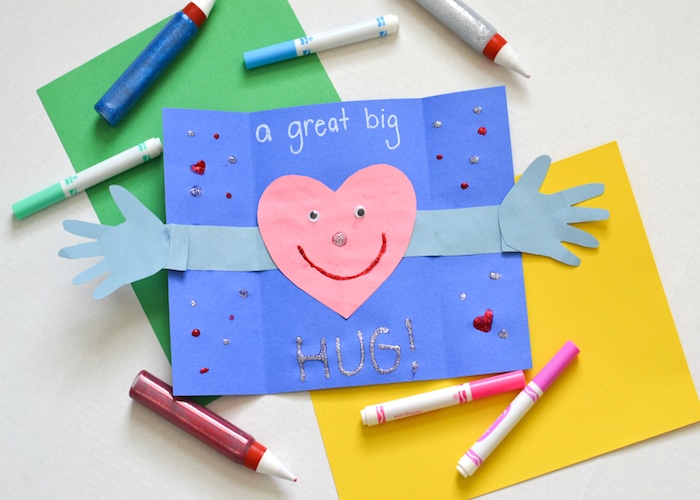 GIVE A HUG CARD TUTORIAL
MATERIALS NEEDED:
construction paper
scissors
glue
markers
googly eyes (optional)
glitter (optional)
DIRECTIONS:
Fold one piece of construction paper to create two flaps with the middle section a little bit larger.
Have the kids trace their hands onto another piece of construction paper. Younger kids might need a little help with this step.
Cut out a heart, the hand shapes, and two long rectangles which will be the arms.
Glue the heart to the middle section inside the card.
Next, glue the hands to the arms. Glue one arm on each side of the heart. Create a face on the heart.
Decorate the inside and outside of the card with markers, glitter, etc.
This is such a fun project for all ages! It makes a cute, little keepsake for an older sibling to make for a new baby joining the family. As a new parent, those first hugs are so important, which is why I made sure to use Huggies diapers because they are inspired by hugs from parents.
Hug + Babies = Huggies.
Their diapers and wipes help keep babies' skin snug, dry and protected. With a little one on the move, I can trust Huggies diapers to keep up with him!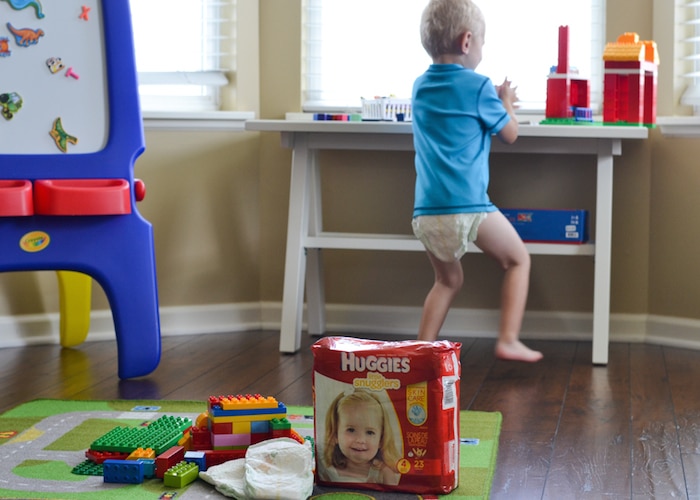 The birth of your baby, a reunion with a loved one – what is your most memorable hug story?
Leave us a comment below – we'd love to hear about it!
Huggies® believes deeply in the Power of Hugs. The simple, loving act is proven to support babies' emotional and physiological well-being. Huggies® diapers and wipes are inspired by a parent's hug, – to nurture baby with care, cradle baby in comfort and surround baby in protection. Make sure you embrace baby's bottom with Huggies® Little Snugglers Diapers to deliver our best skin care to help keep baby's skin clean and healthy. Learn more at . #HuggiesCouncil
This post is sponsored by Huggies. All opinions are 100% our own.