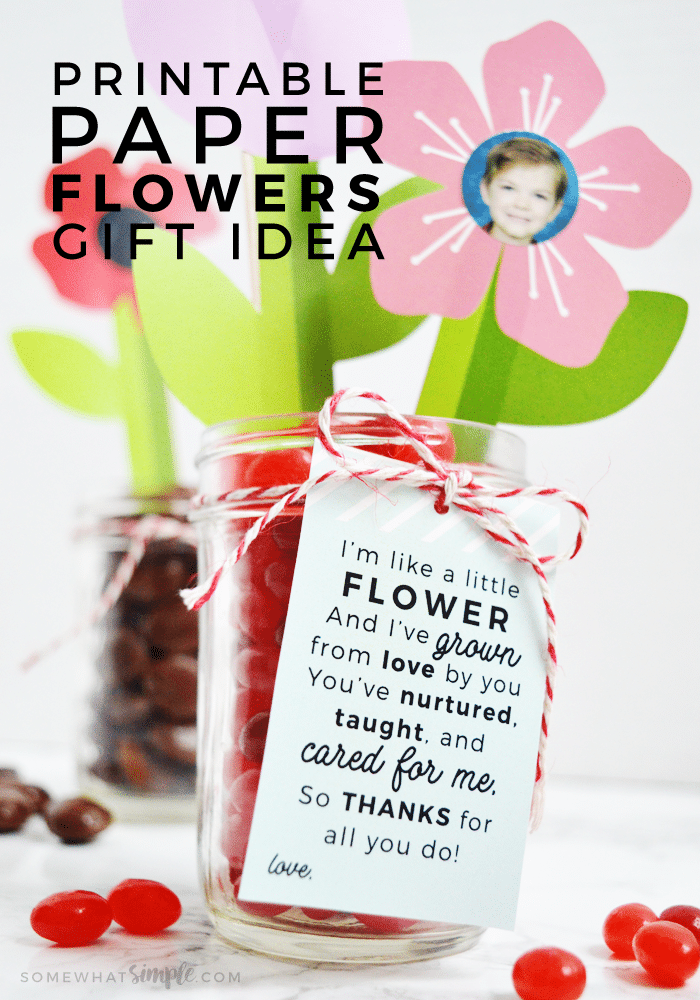 This printable Flower Craft idea is the perfect way to tell someone how much you love and appreciate them!
Here are a few more craft ideas your kids will love – Wooden Spool Dolls, Yarn Crafts, Grandparent's Day Craft, and Vinyl Crafts for Kids,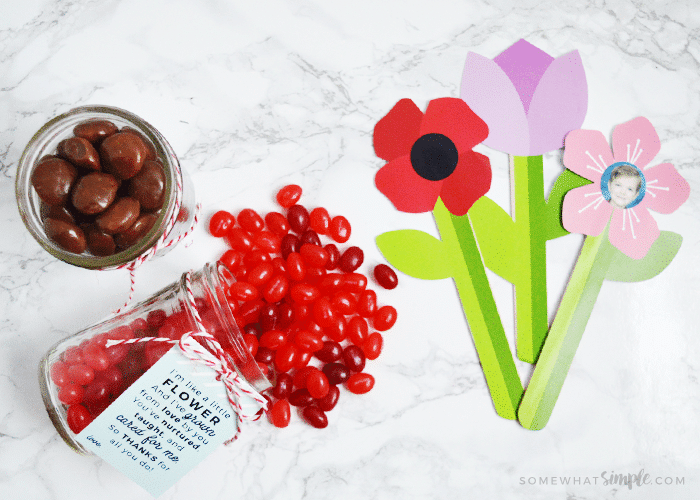 Darling Flower Crafts
If you're looking for some simple and easy flower crafts to do with kids, these papercraft flowers are so much fun! This idea was such a huge hit with the kids, as well. They work great for Mother's or Father's Day or birthdays, Teacher appreciation, Grandparents, or even just a fun craft with the kids for spring/summer!
Here are some other gift ideas you might enjoy:
Flower Craft Gift Idea
Paper Flower Craft Supplies:
jumbo craft sticks
glue stick
scissors
ribbon or string
small mason jar, or flower pot
Flower Pot Printables (download below)
pictures of your kid's faces, optional
pen or marker
any type of filler for your jars or pots: candy, beans, actual dirt, etc.
Flower Craft Directions:
First, print off our Flower Pot Printables – you don't need to print off on card stock. Regular paper works just fine.
Cut out your flowers and tag (if giving as a gift).
On the flowers, you can add a picture of the child, draw a small picture, or even write a note.
Next, glue the craft sticks onto the back of the flowers.
If using the quote, have either you or the child write their name after "love", punch a hole in the top, and thread a string or ribbon through, then tie it around the jar or pot.
Fill your jar/pot with whatever you've chosen to add, push the craft stick flowers in, and you're done!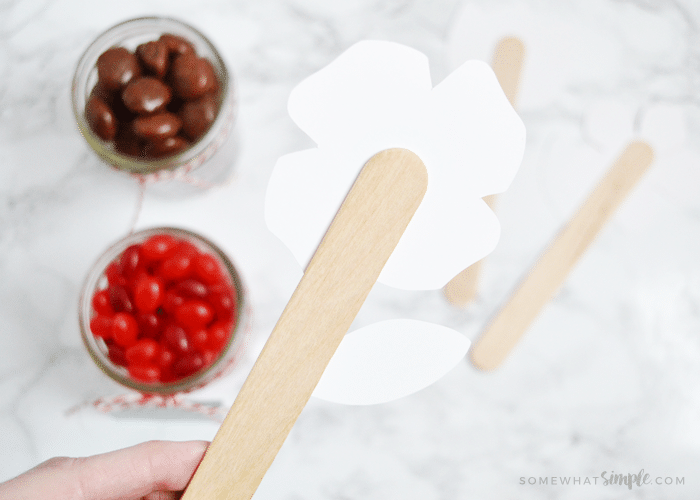 Just line up the craft sticks with the printable flowers – they line up perfectly!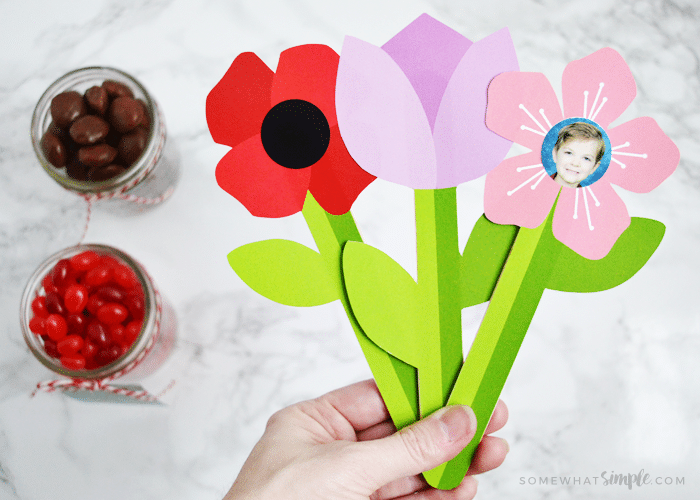 The circles on the flowers are exactly 1″ wide, so I would highly recommend using a 1″ circle punch to make your life ultimately easier. 😉 The big purple tulip would be a perfect place to write a little note.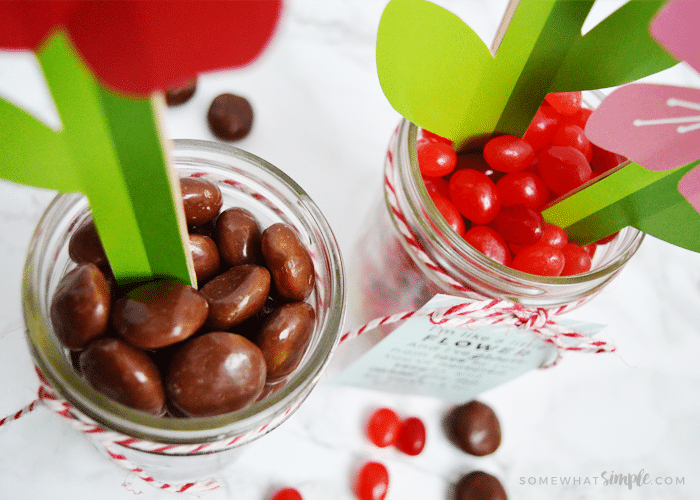 I loved the bright colors of the 'just reds' Starburst jellybeans, but I also liked that the Milk Duds looked more like dirt. So naturally, I had to do both!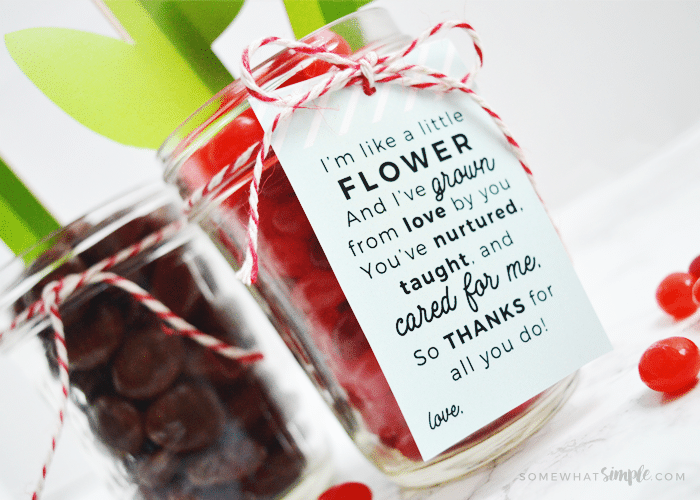 And how sweet is this quote tag?!?! I love it!
Want to make your own paper flowers?
Enter your name and email address in the form below for immediate access to the printable flowers + quote.
I hope you enjoy making these as much as we did!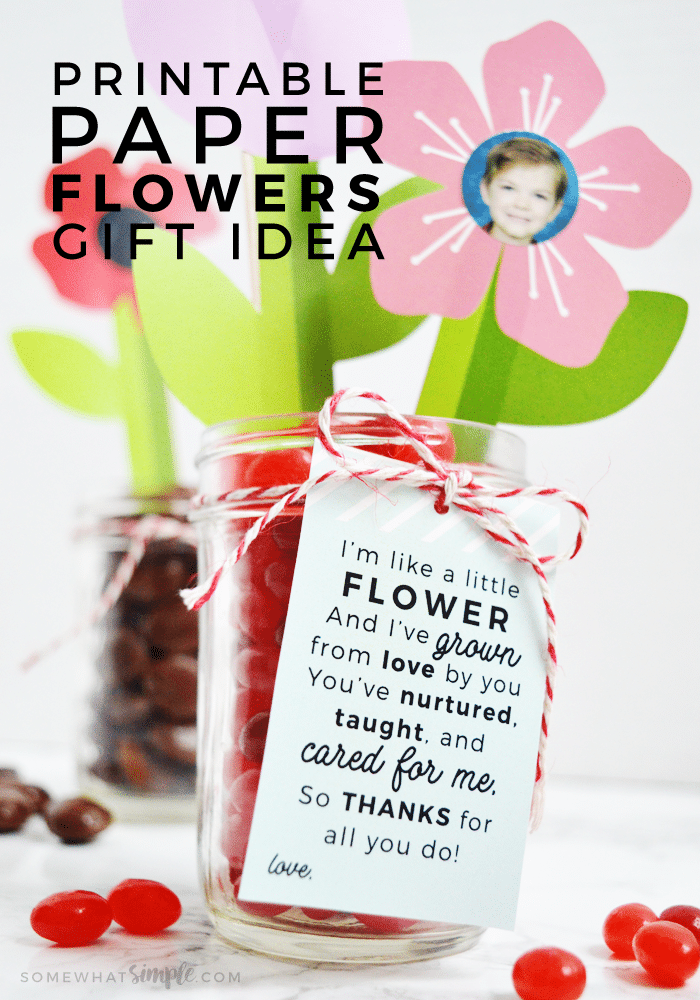 Looking for more Flower Pot Crafts?
If you have any more flower pot crafts you'd like to share, leave us a comment in the section below!
Happy Spring!