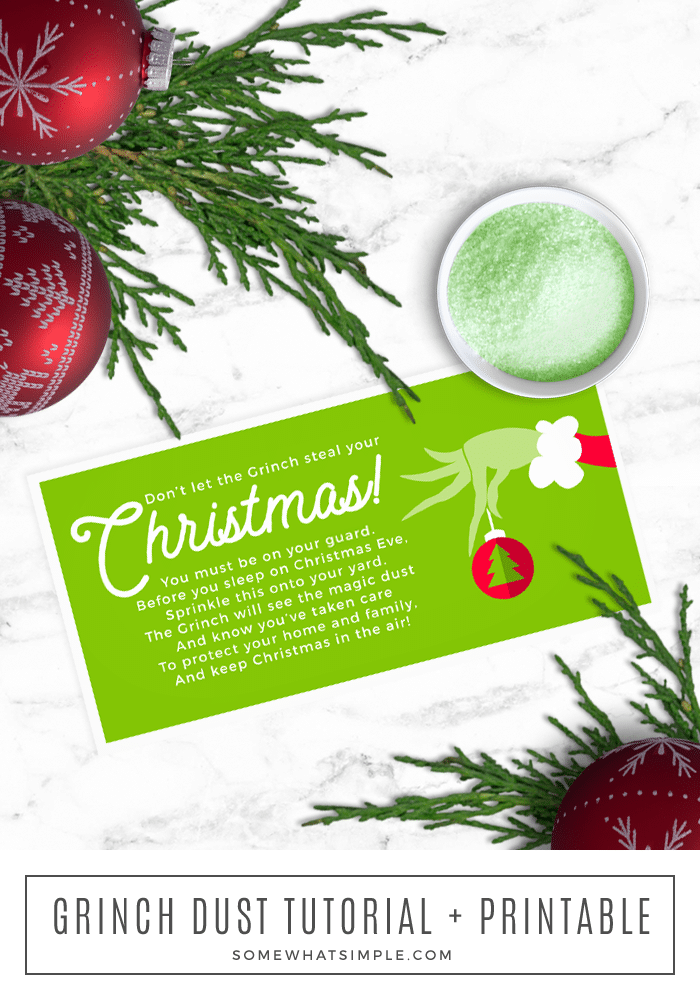 Kids will get a kick out of making and using this magical Grinch Dust! Grab our free printable tags and 2 ingredients from your kitchen and you're on your way to creating a super simple, yet fun, Christmas tradition!
I've been the room mom for my kids classrooms plenty of times over the years, and planning the class holiday party is always the biggest event of the year! We've made Snowman Rice Krispies, played Roll a Snowman, and we've learned about different winter celebrations from all around the world. This Grinch Dust idea is what my 1 grader's class made last year with their room mom, and it is stinking fantastic! Totally easy, and totally fun!!!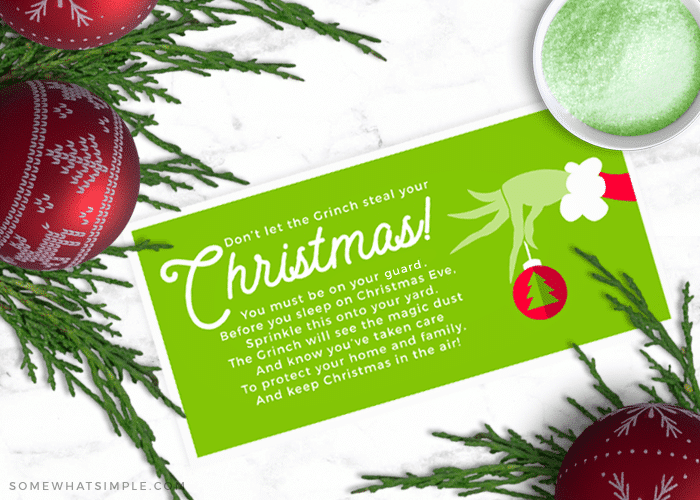 How To Make Grinch Dust
We've got a fun, insanely easy, activity here for you. And the best part is, it's eco-friendly and won't hurt any plants or animals outside! In fact, if you live where it snows (here in AZ we don't know what that is) 😉 you can have the kids sprinkle it on the sidewalk and they'll think you're the best parent in the world! (But really they've just done your de-icing without realizing it! This is what we call a win-win.) #YoureWelcome 😉
How it Works –
You make the Grinch dust and sprinkle it in your yard to keep the Grinch from stealing your Christmas! Here is was the printable says –
Don't let the Grinch steal your Christmas
You must be on your guard.
Before you sleep on Christmas Eve
Sprinkle this in your yard.
The Grinch will see the magic dust
And know you've taken care,
To protect your home and family
And keep Christmas in the air!
Grab the kids (this also makes a GREAT school room activity), grab your 2 ingredients, a baggie, and our adorable tag, and let's get started!
Grinch Dust Activity For The Whole Family
supplies:
salt
green food coloring (you can use gel or liquid)
ziplock plastic bag
printable tags (download link below)
stapler or tape to attach the tags
directions:
Print off and cut out our adorable Grinch Dust tags.
In your plastic bag, dump a good amount of salt into it.
Add a few drops of food coloring (we did 3), and then seal your bag up real tight.
Let the kids massage the food coloring into the salt. Don't get frustrated! It takes a little time, but it TOTALLY works!
You can transfer the Grinch Dust into different bags or containers, and then attach your tags – a stapler would be easiest for the bags. 🙂
And that's it! Let the kids sprinkle it in the yard (or driveway for you snow-living peeps) on Christmas Eve for a fun activity that doesn't take up any extra time.
Ready To Make Your Own Grinch Dust?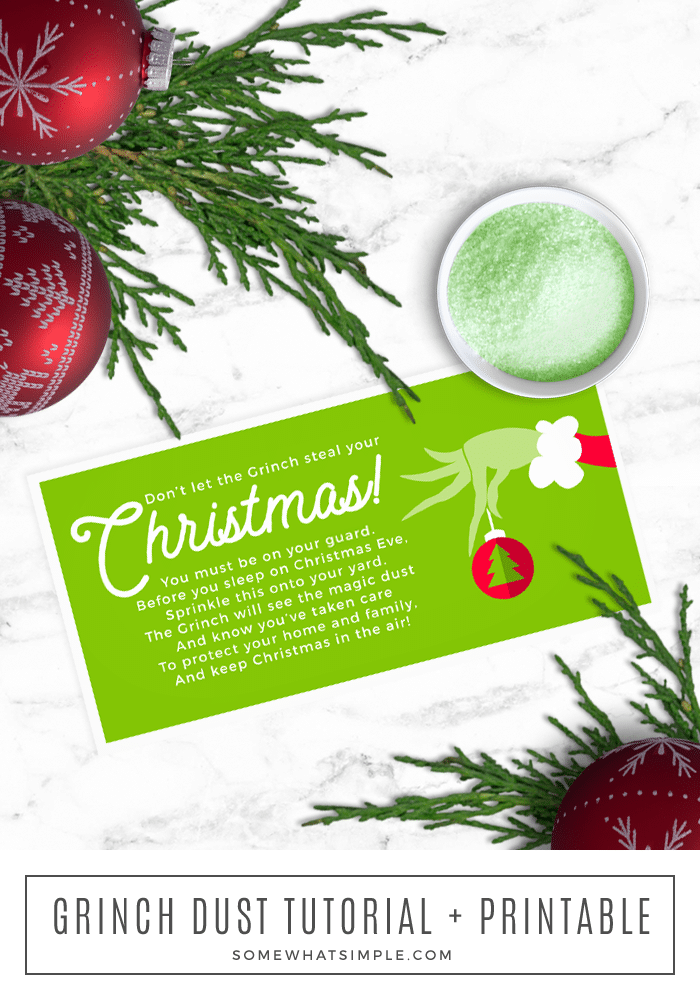 Have a great holiday weekend!!