A traditional Irish Blessing for wedding ceremonies and special occasions. 3 different printable designs, so pick your favorite to frame for your home or office.
Here are a few more printable quotes we love – St. Patrick's Poem, Hot Air Balloon Printables, and Attitude + Adversity.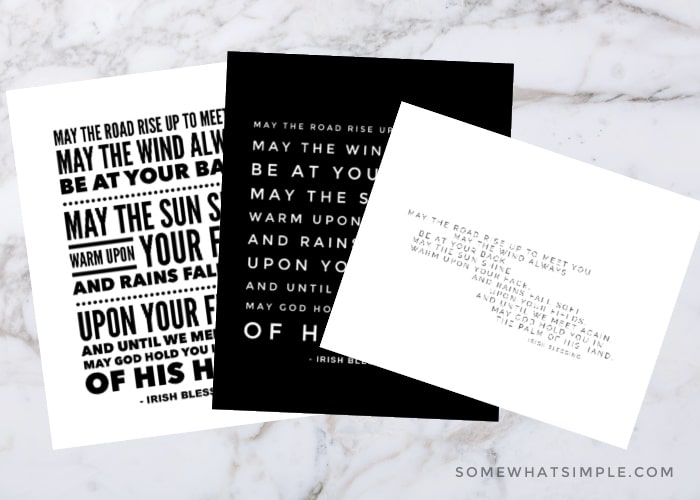 What is the traditional Irish Blessing?
My mom had recently asked me to create a printable of the traditional Irish blessing. The words of this quote are beautiful –
May the wind be always at your back. May the sun shine warm upon your face; the rains fall soft upon your fields and until we meet again, may God hold you in the palm of His hand.
Pretty, right? I've always loved this saying, and it's perfect to display for St. Patrick's Day!
What is the Irish blessing used for?
While traditional Irish blessings are commonly shared at weddings, funerals, and other family gatherings, so many Irish blessings have been written over the years that you can find one for almost any life event! Here are a few of my favorites –
Well wishing –
May there always be work for your hands to do,

May your purse always hold a coin or two.

May the sun always shine warm on your windowpane,

May a rainbow be certain to follow each rain.

May the hand of a friend always be near you,

And may God fill your heart with gladness to cheer you.
Funny –
May those who love us love us.

And those that don't love us,

May God turn their hearts.

And if He doesn't turn their hearts,

May he turn their ankles,

So we'll know them by their limping.
Irish Blessing Printable
I wasn't exactly sure the style my mom was wanting her quote to be, so I created 3 different designs and let her pick her favorite! While her favorite ended up being the white minimalist one, I'm putting all 3 out here in case you fancy one more than the others! Here are the 3 different Irish blessing designs –
Irish Blessing #1 – Black with White Lettering
Irish Blessing #2 – Horizontal White with Black Lettering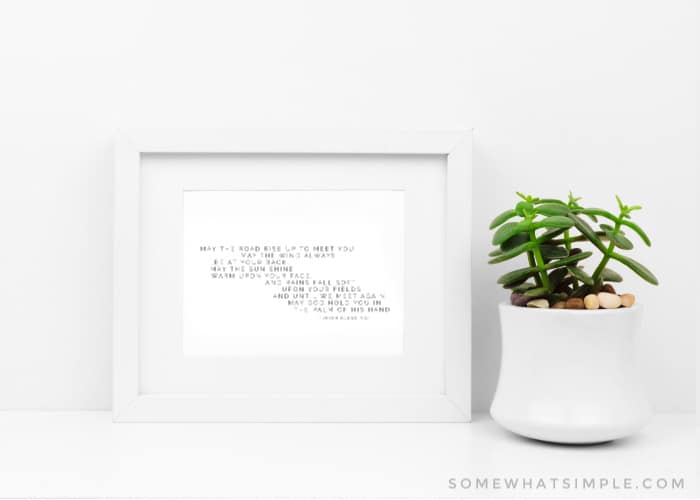 Irish Blessing #3 – Vertical White with Black Lettering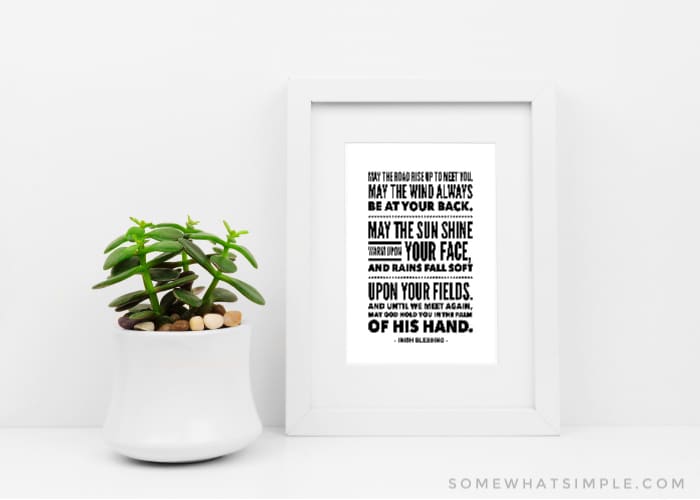 Ready to download your?
Enter your email address in the form below for immediate access. Each printable is sized to fit an 8×10 frame, but feel free to shrink them down to whatever size you need. The white ones can be printed on any color paper you'd like, to best match your spring / St. Patty's decor.
I hope you enjoy these free printables! Feel free to share it with your friends + family! Have a fantastic St. Patrick's Day next week!