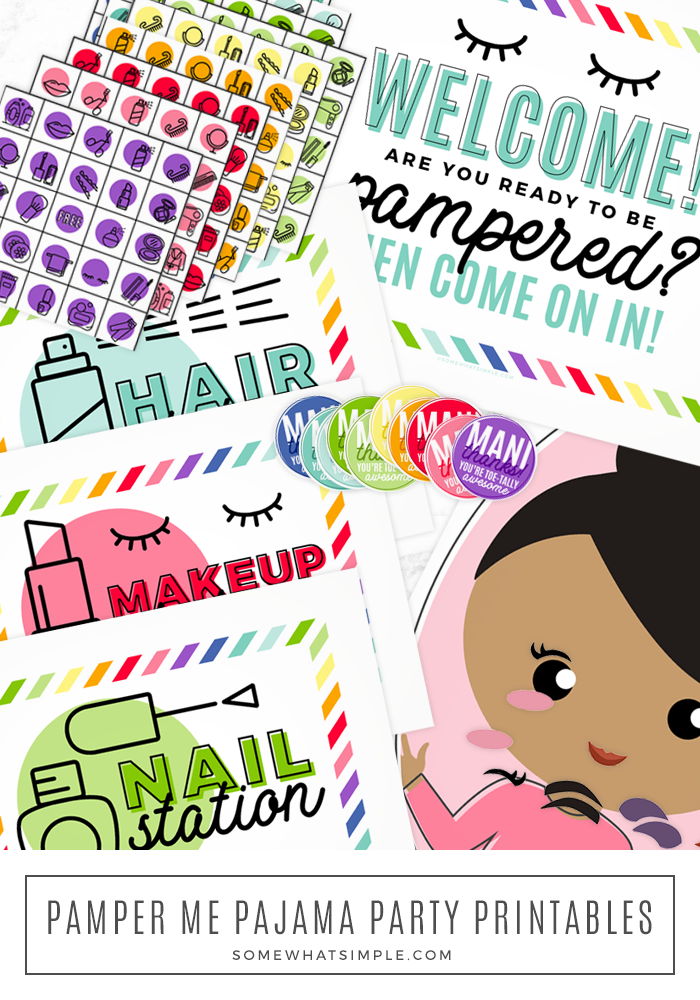 Put on your PJ's and get ready to party! This Pamper Me Pajama Party is a fun and SIMPLE birthday party that every little girl will LOVE!
Looking for more birthday party ideas? Here are a few of our favorites – A Simple Princess Party, Creative Birthday Cakes and Mermaid Party Invitations.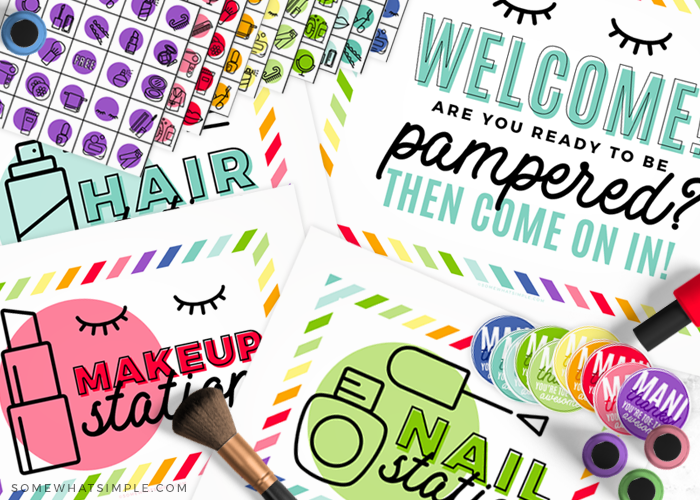 Pajama Party Ideas
In lieu of having a group of little girls stay over for the night, Addie and I planned a darling Pajama Party for her 6th birthday that was simple, fun, and done in 2 hours! This party was a great way to experience the excitement of a traditional sleepover, without the over-nighter part. It's perfect for little girls that aren't quite ready to stay over night, and for moms who'd prefer not to stay up too late! 😉
In addition to having her guests come in their cozy PJs, Addie thought it would be fun to do makeup, hair and nails. The girls had a BLAST, and Addie loved every second of it. Keep reading for all the details, and grab the party printables at the end of this post!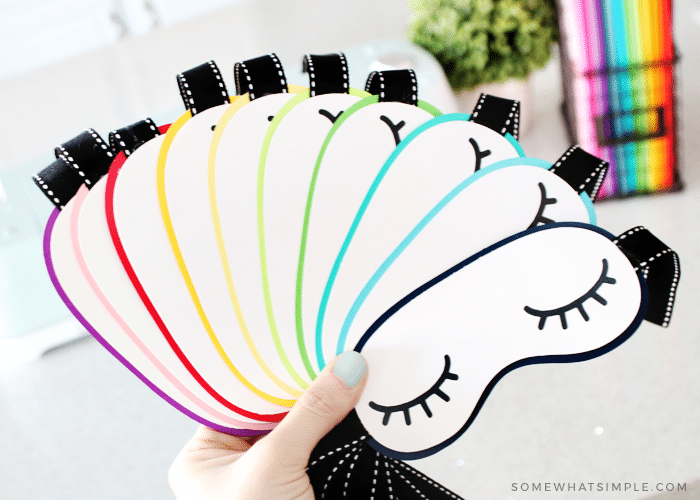 How to Host the Perfect Pamper Party
We decided to run with the "PAMPER ME" theme and made some cute sleep mask invites. We made these with our Cricut using vinyl and cardstock, but our party pack comes with a printable version if you find it easier to just print and go!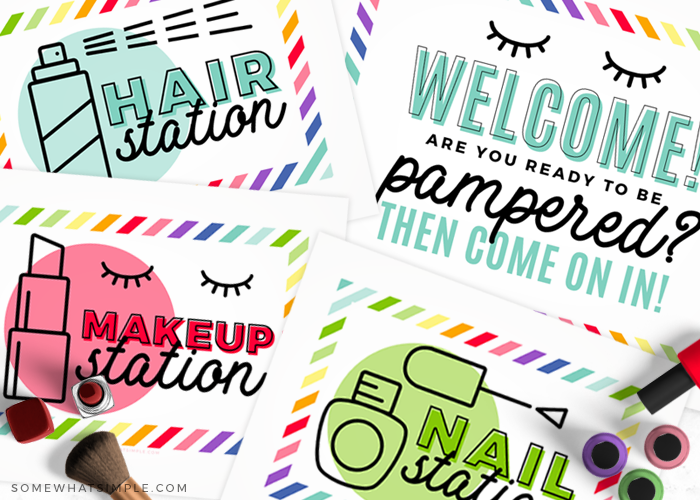 Upon arrival, guests were greeted by a Welcome Sign on our front door. Once they entered, they saw 3 fun stations for Makeup, Hair and Nails.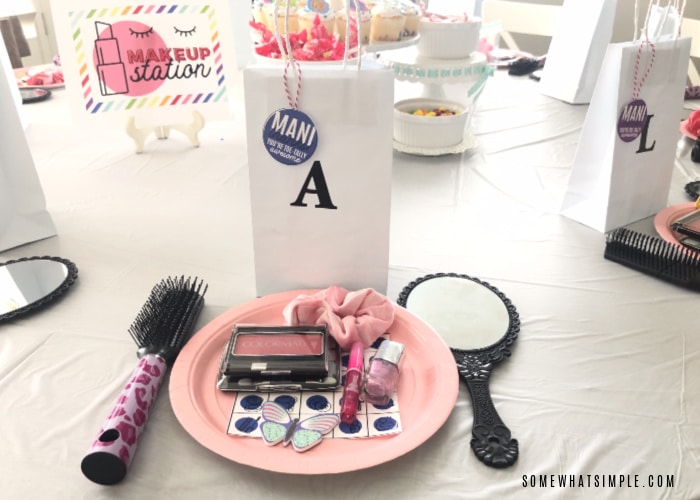 The makeup station was at our dining table. We set one spot for each girl, marked by a gift bag with their initial. At each spot, we set out a handful of goodies from the dollar store –
blush
eyeshadow
lip gloss
handheld mirror
hair brush
scrunchie
nail polish
emery board
These goodies served as the party favors, and the girls thought it was the coolest thing ever! While the girls did their own makeup, my daughter and I did their hair and nails at the counter, one at a time.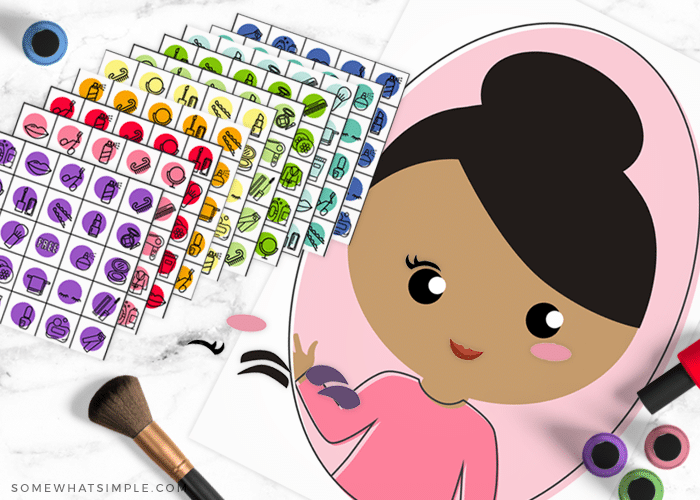 After their makeup, hair and nails were done, we played 2 games – Beauty Bingo and "Pin The Makeup on the Girl".
Once the games were done, we opened presents, had cake and ice cream, and then it was just about time for the girls to go home. This party was so simple, but so fun!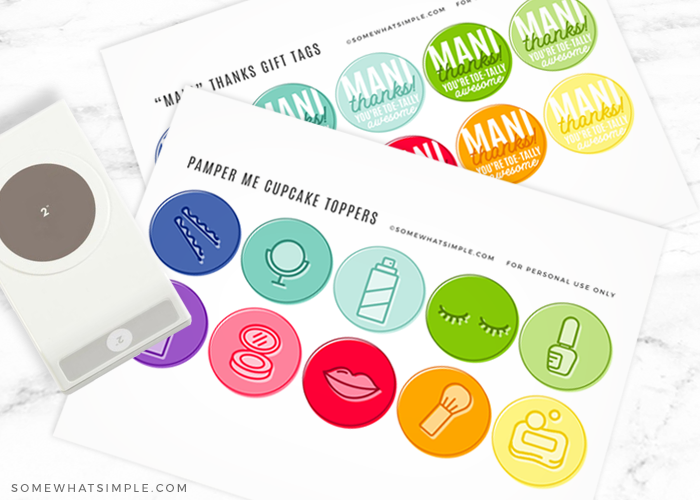 Pajama Party Printables
We hope this party has inspired you for your daughter's next birthday!
Click HERE to grab our Pajama Party Printables.