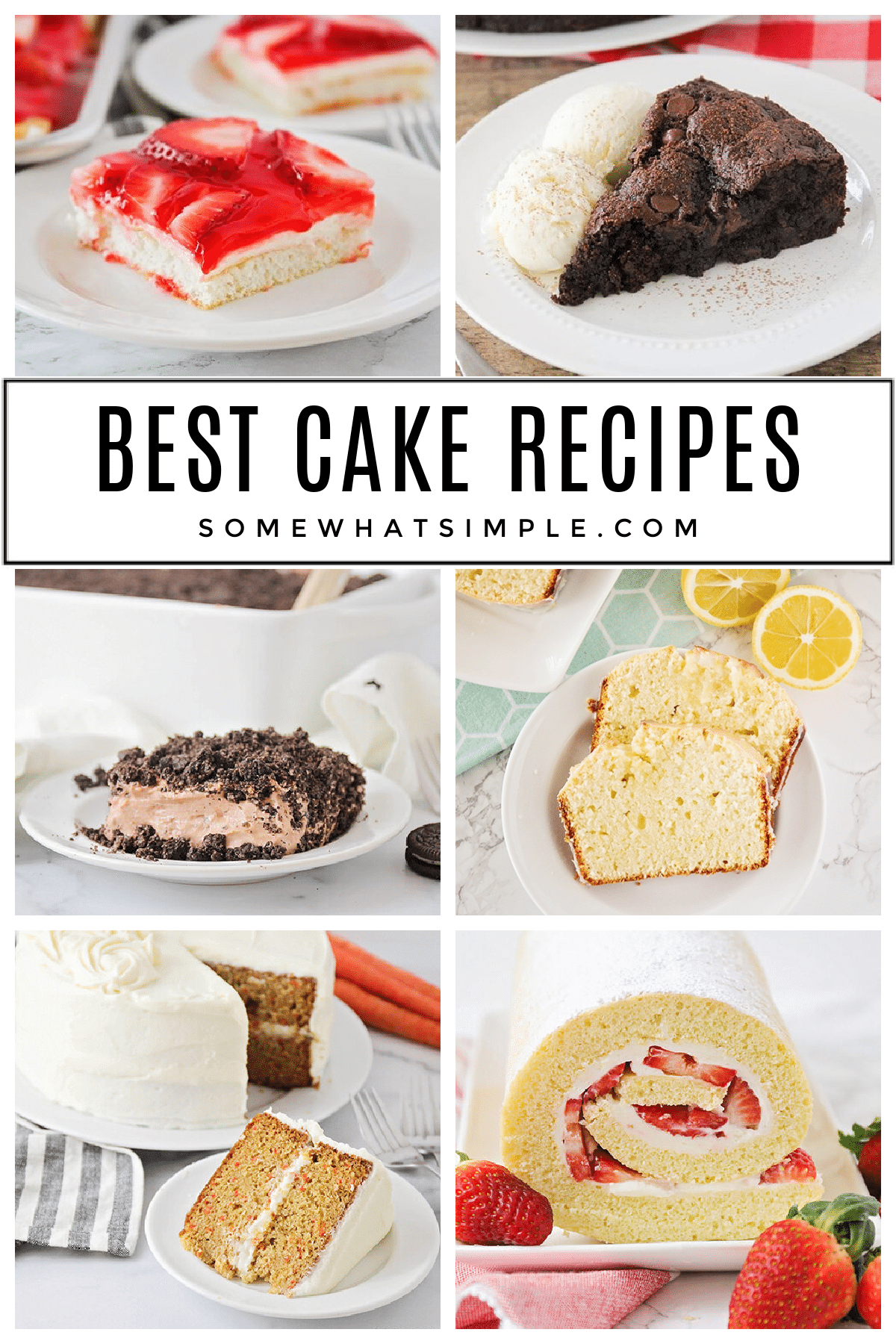 Have your cake and eat it too! Here are 20 of our favorite cake recipes for every season and celebration!
Take your simple cake recipe to the next level with our Cream Cheese Frosting Recipe, a sweet Raspberry Buttercream Frosting, and our tips about fancy frostings and fillings.
Whether you're celebrating a birthday, anniversary, or national holiday, or you just want to treat your family to a sweet treat on a random afternoon, there's not much better than a perfectly baked homemade cake!
Today we're sharing over 20 Best Cake Recipes that are perfect for those moments when you need a cake for any reason, or for no reason at all! These are our reader's favorite recipes for chocolate cakes, white cakes, carrot cakes, cheesecakes, and more!
The Best Cake
While there are many factors that go into declaring a specific recipe "The Best Cake Recipe", there is certainly not a "one-size fit's all" when it comes to cakes. A deliciously moist chocolate cake is the most popular worldwide, but everyone has their own preference – with frosting or without, a sheet cake or a layered cake, vanilla vs. chocolate, etc.
Here on Somewhat Simple, the most POPULAR cake recipe is actually a Lemon Cupcake Recipe – have you tried this one yet?
20 Favorite Cake Recipes
Even though that cupcake recipe is the most popular on this site, lemon isn't always everyone's favorite flavor… and that's ok! If lemon cupcakes aren't your thing, here is our list of 20 more! We have something on this list for everyone, – chocolate cakes, yellow cakes, white cakes, and even a dairy-free cake that tastes AMAZING! I'm sure at least one of these will strike your fancy!
Take a look –
Chocolate Cakes
White Cakes
Yellow Cakes
Seasonal Cakes
Celebration + Birthday Cake Recipes
Ice Cream Cakes
Sheet Cakes
Pound Cakes + Bundt Cakes
Cheesecakes
More Sweet Treats
Here are a few more mom-approved treats that are perfect for all birthday parties and celebrations!
There are plenty of favorite cake recipe that didn't make our list – do you have any to add?
Leave us a comment in the form below, we'd love to hear all about it!