Strawberries and cake are two beautiful things! Put a layer of cream cheese filling between them and you have… tasty beautiful things! Strawberry Cake in a Jar! This is one of my mom's old recipies, but I've added a twist as I baked them in individual portions! I've seen so many adorable desserts in a jar (like on Our Best Bites), and I thought this recipe would work well in a jar too!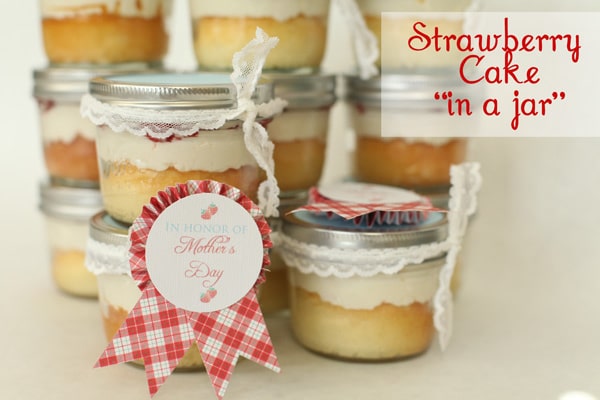 For the cake: My mom used to use a betty crocker white cake mix, which is good and easy! I have made it with this, with the cake mix, a pound cake recipe, a vanilla cupcake recipe, and this time I used Martha's white cake. I use my ice cream scoop that is a little bigger than the regular cupcake size.
For the cream cheese filling: Whip up 8 oz. of cream cheese with 2 cups powdered sugar. Add to that, 12 oz cool whip or 1 pt. freshly whipped cream. (I prefer the real whipped cream).
For the strawberry layer: Mix 1 pkg of Danish dessert (strawberry flavor) with 2 cups cold water. Then heat it in a saucepan, bringing to a boil and stirring with a whisk. Let it boil for one minute. After it cools, add 2-3 cups of chopped strawberries.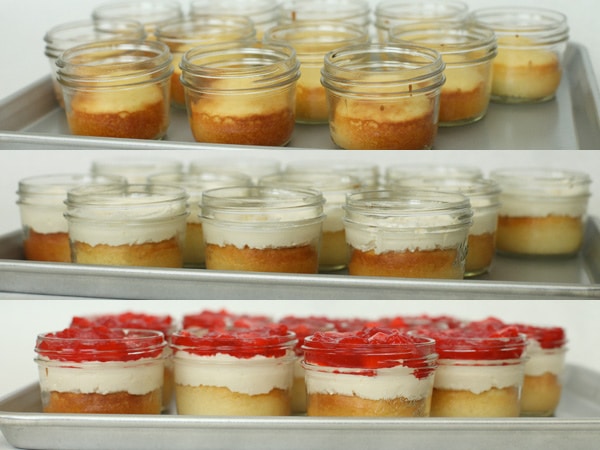 Tips:
Here is a picture of the danish dessert, so you know what you're looking for at the store. 🙂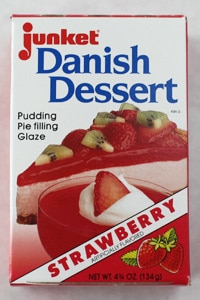 My mom used to make this recipe in two 9×13 pans. Using half the ingredients in each pan. I found that with the half pint jar, it made about 20 jars worth, with a bit of filling and strawberry left.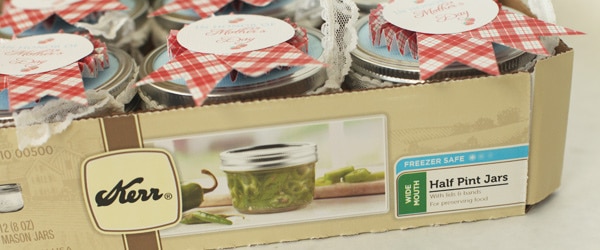 When you fill the jars, use ice cream scoops and try not to get any on the sides of the jar. Can you see where there is a little cake batter streak on one of these? Also, I used a different ice cream scoop to put the filling in, then I used a spoon to flatten it out, trying not to get cream on the top part of the jar. The cake domes a little and I could've trimmed it so it was perfectly flat, but it didn't bother me when you couldn't tell from the outside of the jar.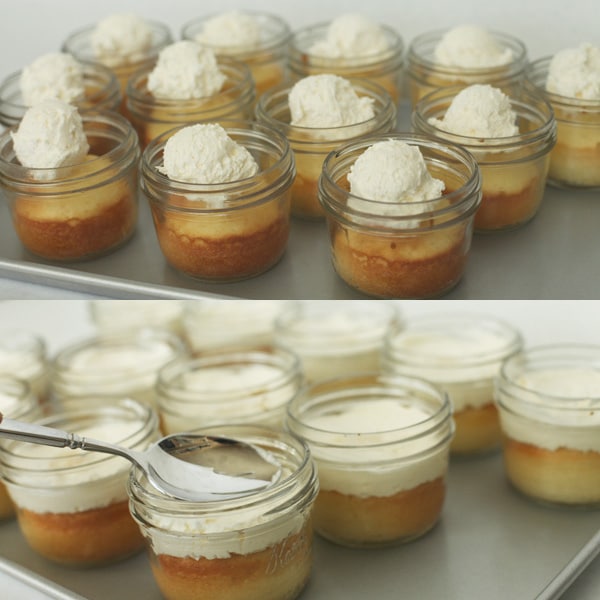 The only trick when putting the top layer in was not to overfill. I wanted just enough so it was totally full, but not spilling over when I put the canning lid on.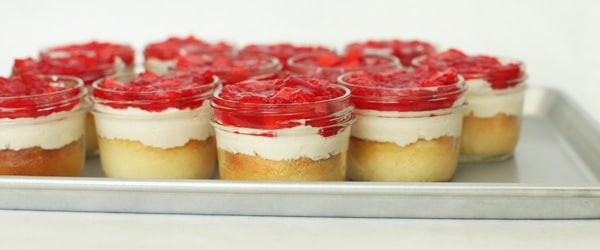 After I put the metal lid on, I put a piece of cut cardstock on then screwed the rest of the lid on.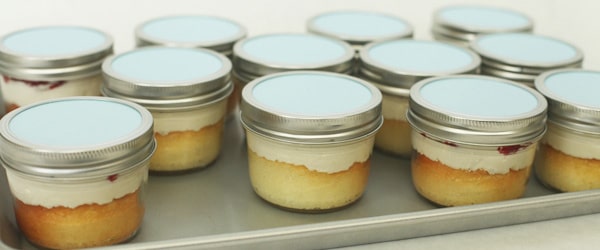 I fancied them up with a little paper embellishment and some lace. I stuck it to the blue paper with a little dab of hot glue. It looks homey, and feminine and perfect for mother's day, I think. And I think my mom would've loved the idea of this cake in a little jar!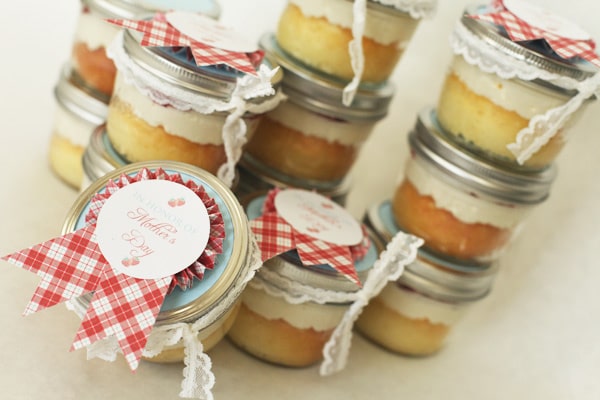 I love giving out these little pre-porportioned gifts and I think you will too!
If you'd like to find more baking fun, check me out on pinterest, Facebook, or at home on my blog!
Spread the love, pin this image: