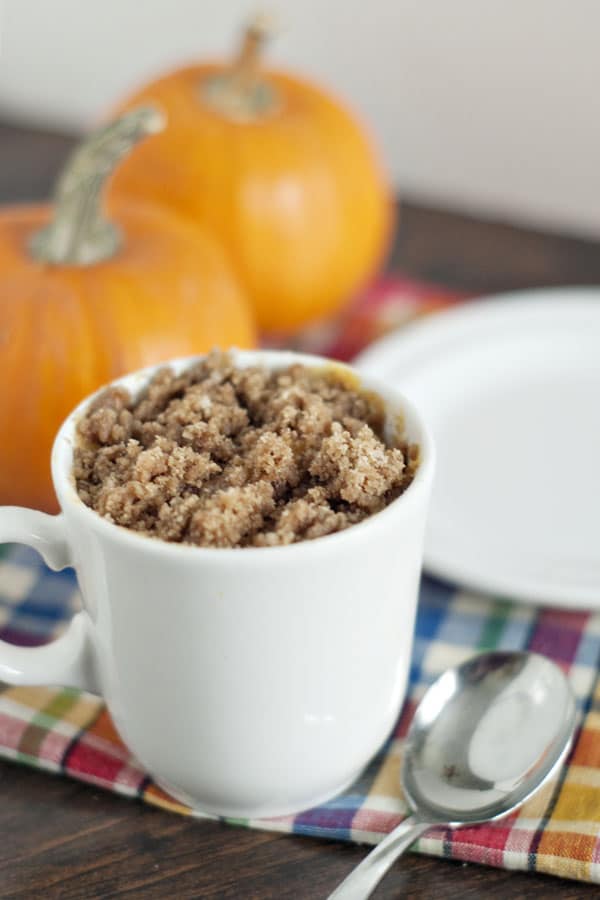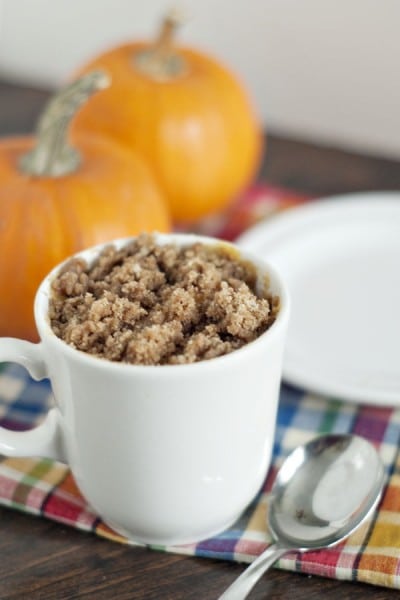 October 1st should be a holiday: National Now-Its-Acceptable-To-Eat-Pumpkin-In-Everything-Day. It seems like we all just wait around twirling our thumbs patiently waiting for it to be our turn to sip on pumpkin flavored lattes and cookies. Am I right?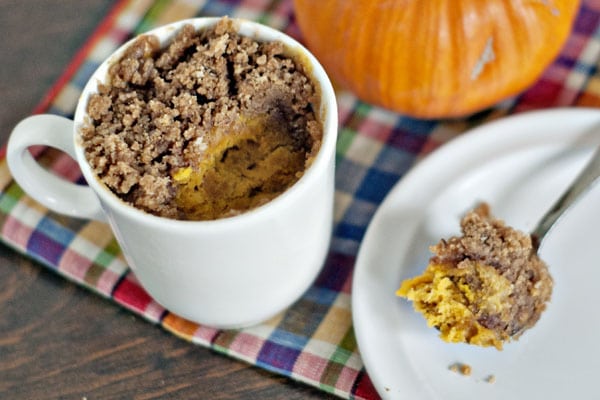 I usually don't like to follow the crowd too much, but for pumpkin I'll do just about anything. So today I'm sharing a recipe for a single-serve pumpkin coffee cake that can be make in the microwave in under 5 minutes.  The non-pumpkin version of this recipe has and continues to be one of my most popular recipes and this one doesn't disappoint either.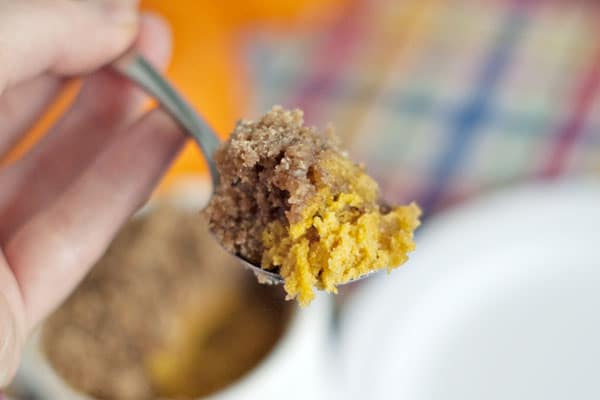 Mix up a few ingredients, top it with streusel, pop in the microwave for a minute and you've got yourself a warm, autumn-spiced coffee cake that will curb even the strongest of pumpkin cravings for at least a few hours.
Enjoy!
Pumpkin Coffee Cake in a Mug
Ingredients:
Cake:
1 Tbsp butter
2 tbsp sugar
2 tbsp pumpkin puree
vanilla extract, few drops
1/4 C All Purpose flour
1/8 tsp baking powder
pinch of salt
pinch of ground cloves
Streusel:
1 tbsp butter
2 tbsp flour
1 tbsp brown sugar
1/4 tsp cinnamon
Directions:
In a mug soften 1 tbsp of butter in microwave, about 5 seconds. You don't want it melted, just soft. Stir in 2 tbsp of sugar and mix until well incorporated. Stir in pumpkin, vanilla (just a tiny bit, we're talking drops), flour, baking powder, and pinch of salt and cloves; stirring until just combined. Use the back of your spoon to smooth it out in the bottom of the mug.
Want struesel? Of course you do! In a separate, small bowl, combine 1 tbsp of butter, 2 tbsp of flour, 1 tbsp of brown sugar, and 1/4 tsp cinnamon. Use your fingers to to pinch the butter and mix it in with the other ingredients. When it starts to look like lumpy sand (appetizing, eh?) and all ingredients are combined, pour on top of cake batter in mug.
Cook in the microwave for 50-80 seconds depending on your microwave. At 1 minute, my microwave cooks it perfectly. It will look just barely set on top. You don't want to overcook it and things tend to get ugly fast in the microwave. I suggest cooking it 50 seconds, and then in 10 second intervals checking after each interval until done. Eat white it's still warm. Once it cools off, it tends to lose some of it's magic!