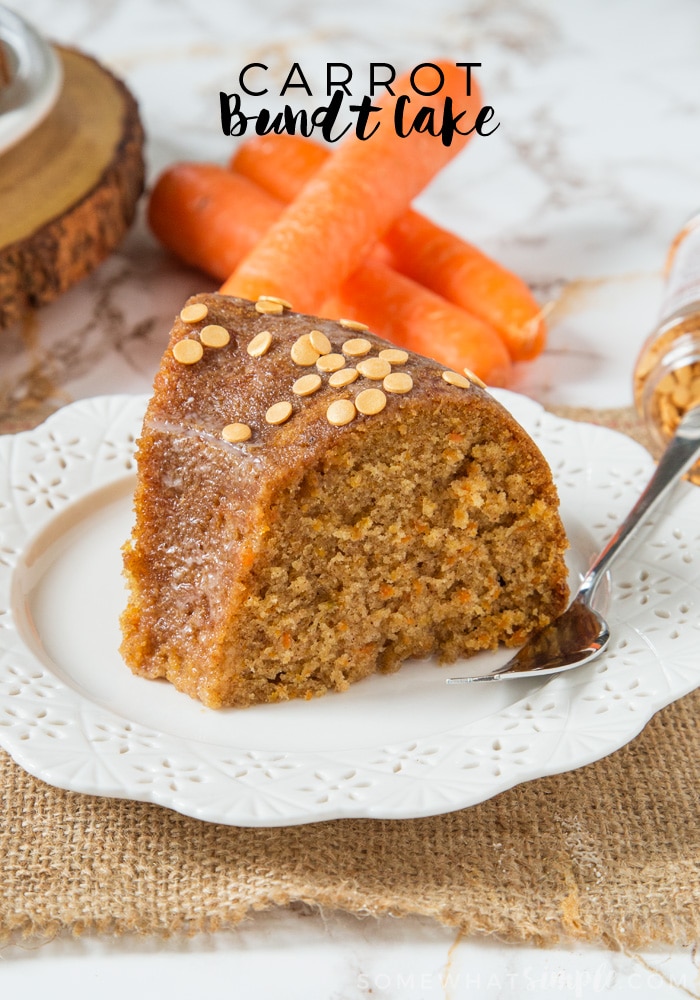 A super soft and flavourful Carrot Bundt Cake topped with a sweet glaze; perfect for an afternoon snack or just because you fancy cake!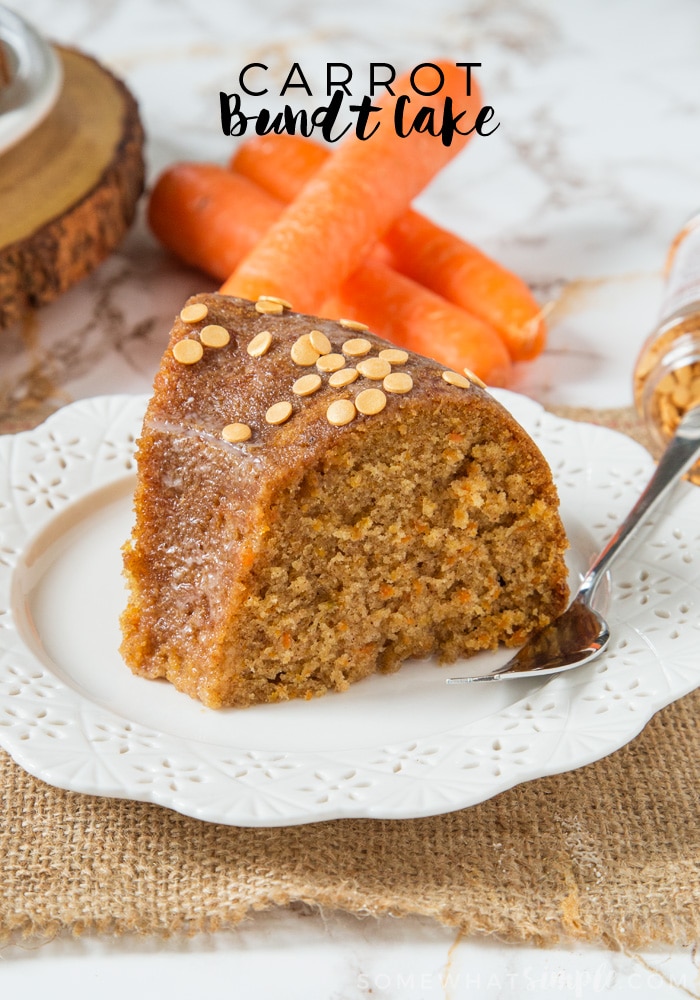 Spring is probably my favorite season because I adore Easter, lemon desserts, strawberries… any type of carrot cake… Which brings me onto today's recipe – Carrot Bundt Cake. With this cake I feel like I've come full circle. Years ago when I had just moved into my own house and could barely bake or cook, carrot cake was the first cake I ever made!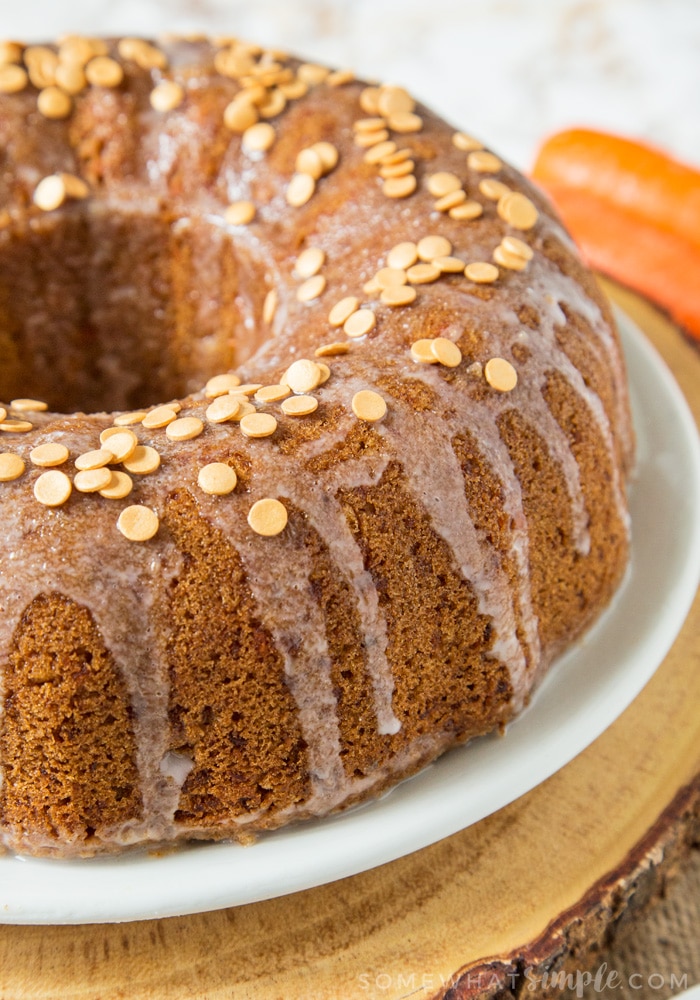 There's something so warming, so comforting about a lightly spiced, soft and tender carrot cake. It might be my favourite cake flavour ever. And it always taste better on the second day when those flavours have had time to meld together a bit, which means this is the perfect make ahead cake before a family gathering!
There's two whole cups of grated carrot in this cake, along with 2tsp cinnamon and oil to keep the cake soft. Since it's baked in a big Bundt pan, it does take a while to bake; but it's so easy to make and the decoration is simple too!
CARROT BUNDT CAKE
SERVES 12 | TOTAL TIME: 2 HOURS
INGREDIENTS –
for the cake:
1 cup (240ml) vegetable/sunflower oil
1 and ½ cups (300g) light brown sugar
3 large eggs
1tsp vanilla extract
2 and ½ cups (350g) all purpose flour
2tsp ground cinnamon
1/2tsp ground ginger
2tsp baking powder
1tsp baking soda
Pinch of salt
2 cups (300g) shredded carrot
for the glaze:
1 cup (120g) powdered sugar, sifted
2tbsp water
Sprinkles for decoration, optional
DIRECTIONS –
Preheat the oven to 350F/180C and spray a Bundt pan with cooking spray. Make sure to really spray it well, you don't want your cake to stick! My Bundt pan was 9 ½ inches across.
Place oil, light brown sugar, eggs and vanilla extract into a large bowl, and mix on medium speed until well combined and smooth, around 1 minute.
Add in the flour, spices, baking powder, baking soda and salt and mix on low until the mixture starts to come together.
Add in the shredded carrot and mix on low until well combined and there are no lumps of flour. You want all the carrot to be coated in cake mixture too.
Pour the mixture into your prepared pan and tap a few times on the worktop to release any air bubbles and make sure the mixture is level in the pan.
Place in the oven for 45-55 minutes (mine took 50 minutes) until risen and an inserted skewer into the centre comes out clean.
Leave to cool in the pan for at least an hour before placing a plate over the top of the Bundt pan and inverting the cake onto the plate. Leave to cool completely before glazing.
Once cool, whisk the powdered sugar and water together until smooth. Spoon the glaze over the cake, I went around the top in a circle and allowed the glaze to fall down the sides.
Decorate with sprinkles, if desired; I used some gold circles just to add a bit of prettiness!
Carrot Cake Bundt tastes better on the second day and will keep covered, at room temperature, for 5 days.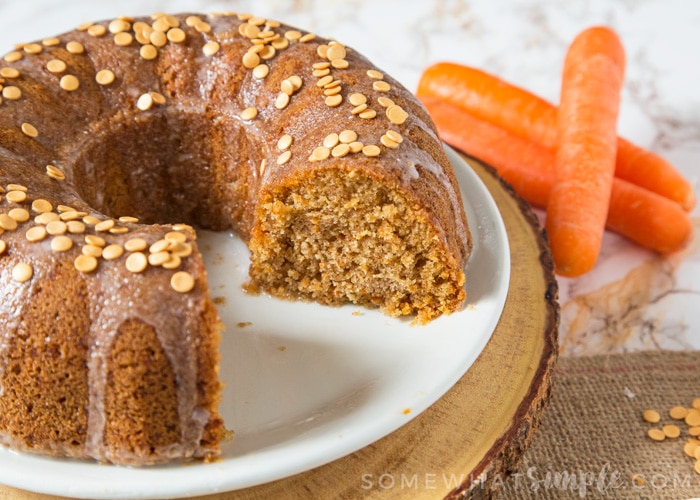 If you loved this post, you may also love these:

Lemonade Chex Mix // Bird's Nest Easter Cookies // 3 Ingredient Lemon Cookies