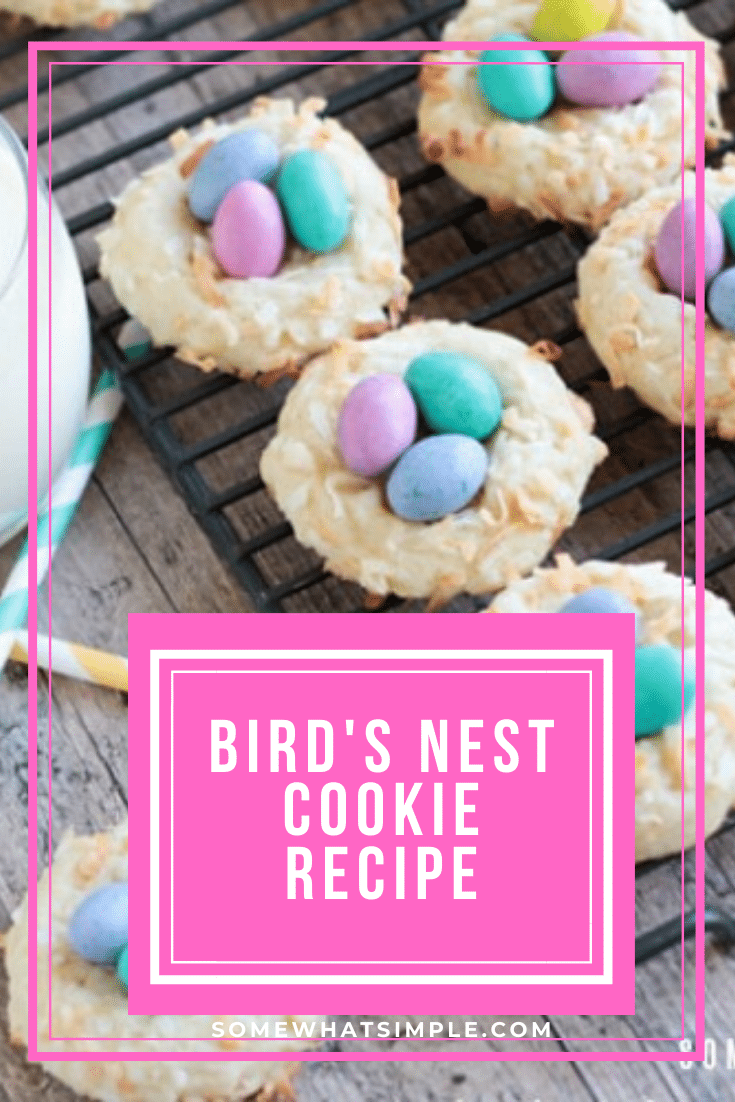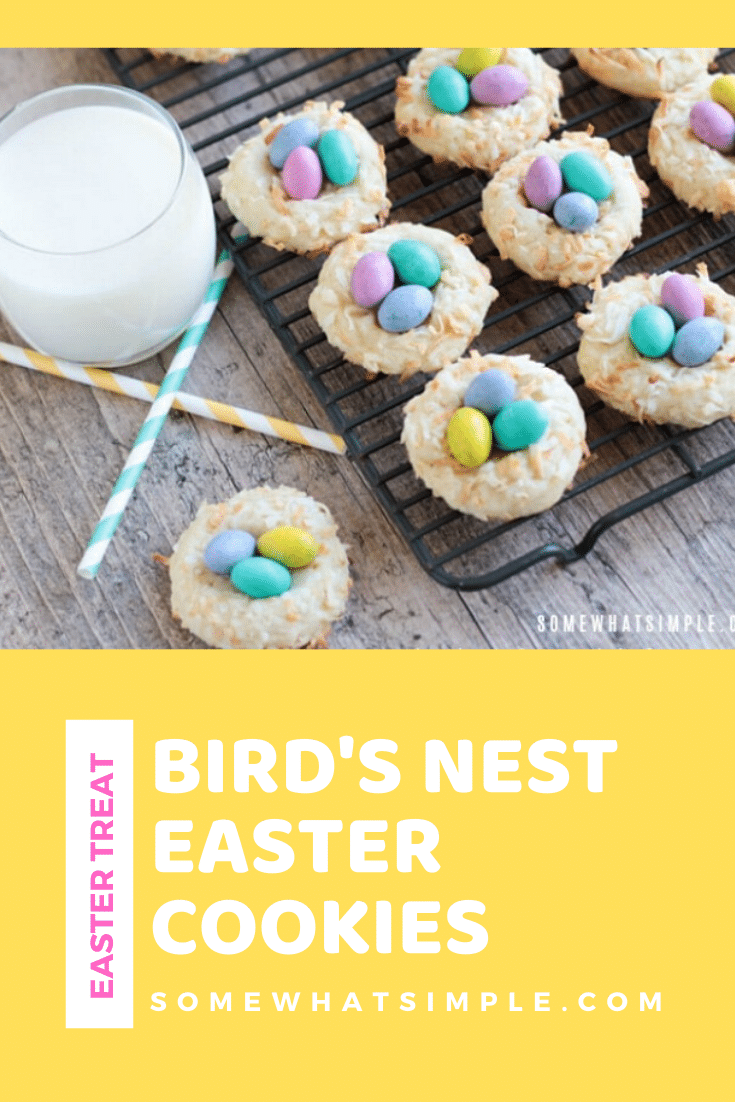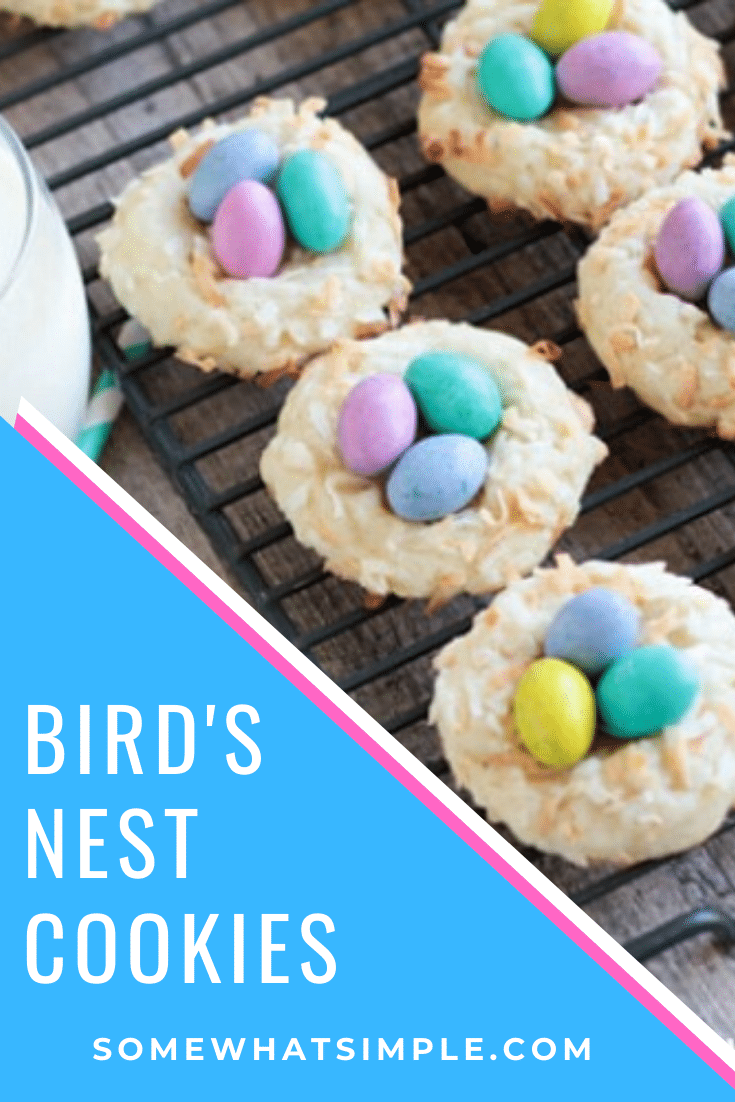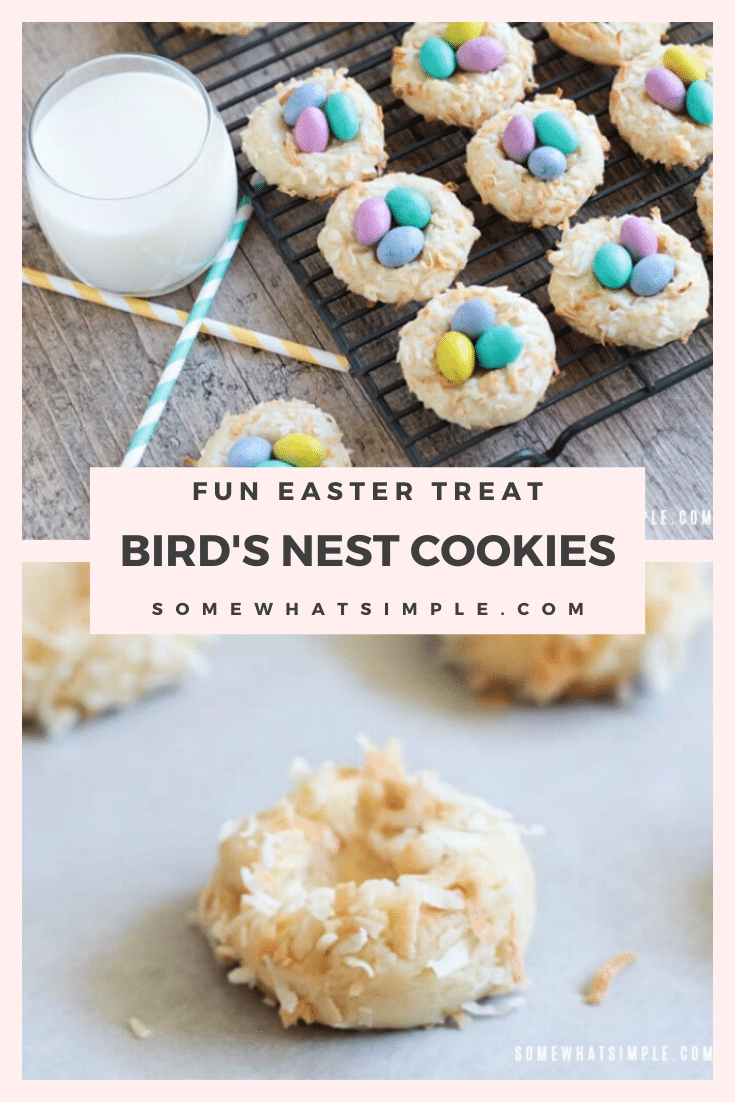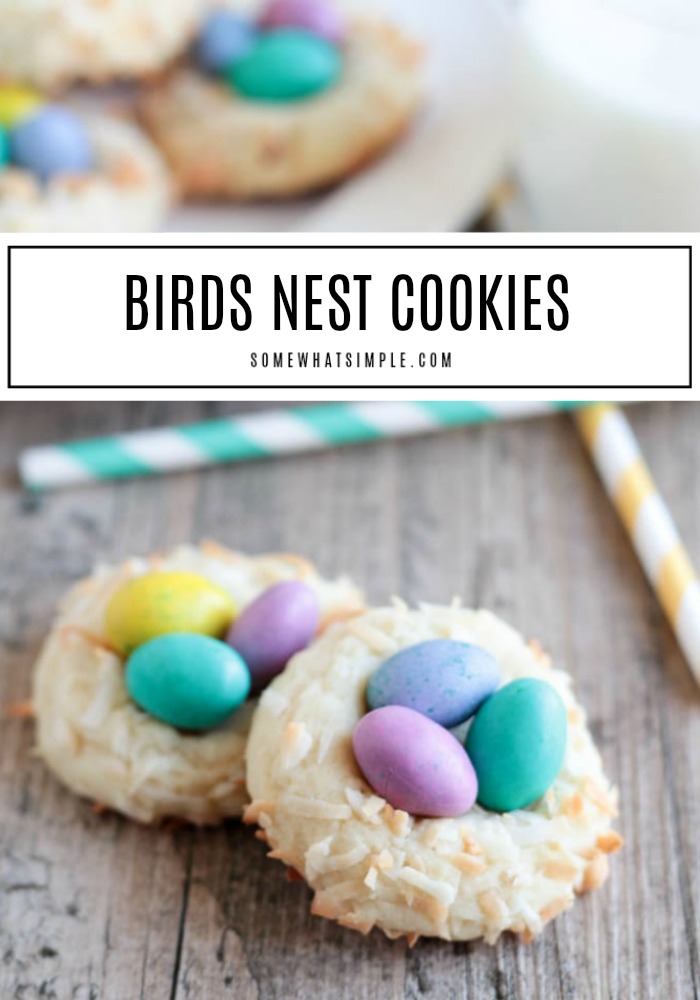 Bird's nest cookies are completely adorable, and they are super delicious and easy to make! These adorable cookies are perfect way to celebrate the beginning of Spring or to be serve during the Easter season.
Making treats for each holiday is one of our favorite ways to celebrate! Melted Snowman Cookies at Christmas time, Cupid Floats for Valentine's day, and delicious Witch Hat Cupcakes for Halloween. I've had a hard time coming up with a fun treat for Easter, but when I saw these bird's nest cookies I knew they would be perfect!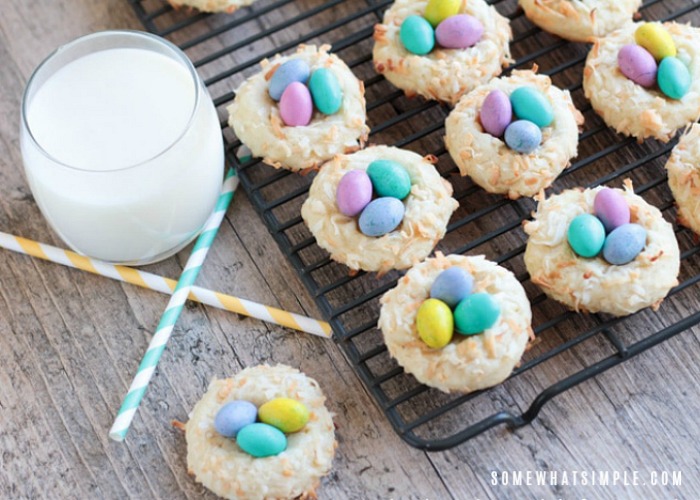 Easy Bird's Nest Cookies
I love spring time! The weather is finally starting to warm up and new blossoms are beginning to bloom all around with gorgeous new colors. It's also a great time to be in the kitchen making fun, brightly colored recipes that are easy to make and taste amazing!
Bird's nest cookies are a perfect spring treat to make with the kids. They can help with adding ingredients, rolling the dough in the coconut, and adding the cute eggs on top. My three year old was particularly excited about these, and she kept giggling to herself over how funny it was to make cookies that look like nests!
How to Make Bird's Nest Cookies
First, preheat your oven to 300 degrees F
Spread the shredded coconut onto a baking sheet and place in the oven for about 15-20 minutes
Shuffle the coconut periodically so that it toasts evenly
Remove the coconut from the oven and let it cool completely
Now increase the oven temperature to 350 degrees F
In a large mixing bowl, beat the sugar, butter, egg and vanilla together until smooth
Add the flour and salt to the mixture to create a thick dough
Scoop out rounded tablespoon-sized balls of dough and then roll them in the toasted coconut
Place the balls of dough on a baking sheet and then press your finger down in the center of the ball to create the bird's nest affect
Bake for about 12 minutes or until the the cookies are a light golden brown color on the bottom
Once the cookies have cooled, place the egg candies in the middle of the cookies and enjoy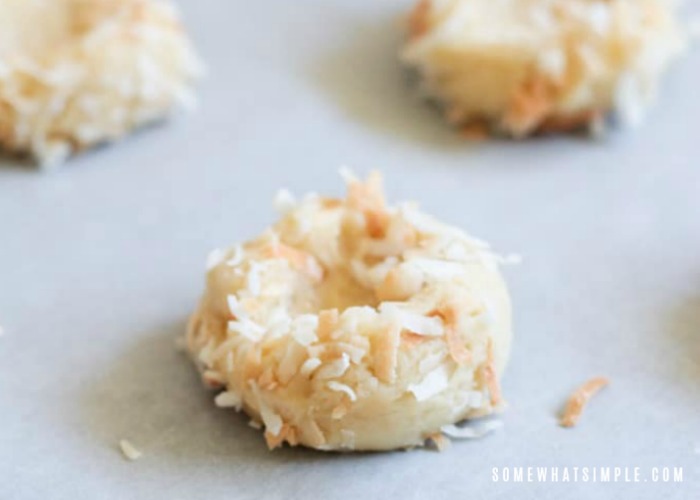 Tips For Making Bird's Nest Cookies
If you'd like to save a step and make this recipe even easier, you can buy shredded coconut that is already toasted. These do have more preservatives to keep them fresh, so I prefer to toast my own but it is an option.
Try to make the balls of dough the same size so the cookies will cook evenly. If you don't like to "eye ball" them, try using a small ice cream scoop to keep them uniform.
If you find that your cookies are burning on the bottom try moving the oven rack up inside the oven. If they're still burning on the bottom before they are fully cooked, you make need to replace your cookie sheet.
Make sure your cookie have fully cooled before you place the candy eggs inside or they'll melt the chocolate candy.
How To Store Bird's Nest Cookies
If you have any cookie nests left over, place them in an airtight container to keep them fresh. If you store them at room temperature, they should stay fresh for at least three days. If you want to keep them longer than a couple of days, then you'll need to freeze them. In either instance, you'll want to store the cookies without the candy eggs and then just add them to the nests before you serve them.
More Easy Cookie Recipes
Bird's Nest Cookies Recipe
Once you've had a chance to make these adorable Easter cookies, leave us a comment below and let us know how they turned out or tag us on social media because we always love to see what you've been up to in the kitchen!
Bird's Nest Easter Cookie Recipe
Bird's Nest Cookies are completely adorable, and they are super delicious and easy to make!
Ingredients
Instructions
Preheat the oven to 300. Spread the coconut in a single layer on a baking sheet and toast, shuffling occasionally, until golden brown (about 15-20 minutes). Remove from oven and let cool.

Increase the oven temperature to 350. In a large bowl or the bowl of a stand mixer, beat together the butter, sugar, egg, and vanilla until smooth. Add the flour and salt and mix to form a thick dough.

Scoop rounded tablespoon-sized balls of dough and roll in toasted coconut, pressing the coconut into the dough. Place the balls of dough on a lightly greased baking sheet and press down in the center with your finger to make an indent.

Bake 11-13 minutes or until lightly golden brown on the bottom. Let cool and top with candy eggs.
Nutrition
Other Notes