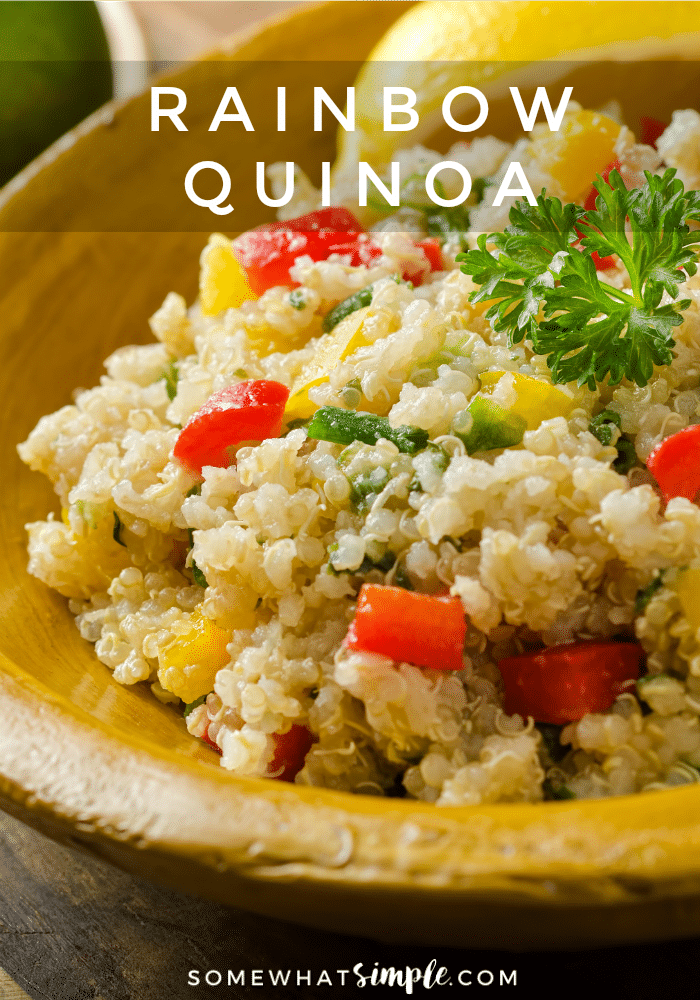 Wholesome, healthy eating doesn't have to be a challenge or take up too much time! This delicious rainbow quinoa recipe is versatile, healthy and super easy to make!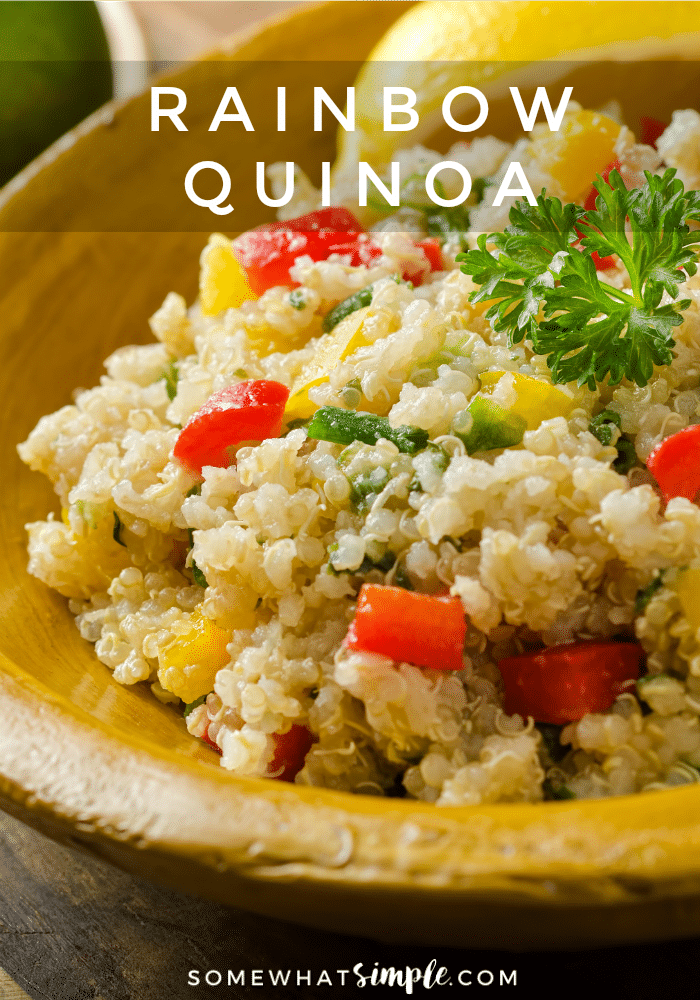 Spring for us means soccer, baseball, dance, piano recitals, school projects and more! And that means that if we are not really on top of things, our goal of wholesome foods can be sacrificed to the convenience of frozen pizza and cereal.
This rainbow quinoa is here to help, and simply mastering the fundamentals of this recipe will allow you to make a bunch of different variations for dinner! (See our favorites below!) We even have a couple of tips to get your picky eaters to eat it –
Dice your vegetables small. The colors of this dish are intriguing for kids and if you dice those veggies small enough, hopefully your kids will see color, not a vegetable and eat them with less of a fight.
Rinse the quinoa. By rinsing, you remove a bitter coating on the grain and thus make it more flavorful.
How To Make Rainbow Quinoa
Yields about six adult servings
INGREDIENTS –
1 ½ cup dry quinoa, any color
2 ½ cups water
1 tablespoon extra virgin olive oil
2 cups diced zucchini or squash
1 cup diced red or yellow onion
2 cups diced bell peppers
2 cups eggplant, diced
½ teaspoon salt
3 cloves garlic, minced
¼ cup basil, chopped
pepper
DIRECTIONS –
Wash quinoa in a colander with cold water for 30 seconds or so.
Cook quinoa in rice cooker or over the stove.
Rice Cooker Method- add only 2 1/2 cups of water.
Stove Top Method- add 3 cups water to the quinoa. Bring it to a boil and then reduce to a simmer for about 15 minutes. It will be done when the tail of the seed is visible; it will be light and fluffy.
Heat oil in a pan on medium high. Add onion and a pinch of salt. Cook onion about 1 minute and then add peppers. Sauté them both for another minute.
Add the eggplant and then sauté the mixture for 3 minutes before adding the zucchini and another pinch of salt.
Cook everything for about 3 minutes until vegetables are soft and starting to brown or crisp.
Finish by adding garlic and then sauté for about 30 seconds.
Remove the pan from heat and mix it into the quinoa with basil. Season with salt and pepper to taste.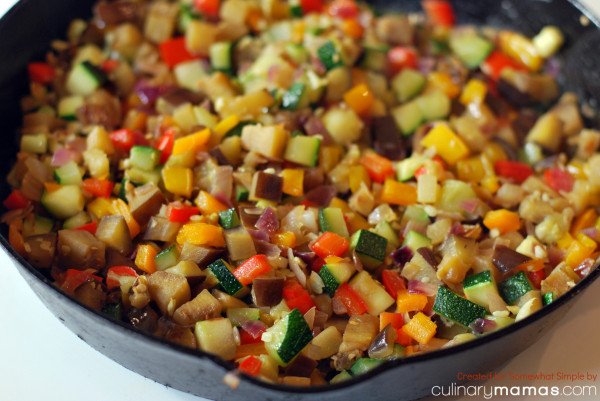 VARIATIONS –
There are so many different, delicious ways to eat this… especially since it makes a large amount. Have chicken pesto quinoa day one and teriyaki quinoa day two! Here are some quick recipes –
Chicken Pesto Quinoa:
Add 1/4 cup diced sun dried tomatoes when you add the zucchini. After you have mixed in the quinoa with the vegetables, add 1/4 cup prepared pesto and two cooked, chopped chicken breasts.
Rainbow Asian Quinoa:
Omit the basil, add 1/4 cup of our favorite teriyaki sauce to the finished dish and add a couple of cooked, chopped chicken breasts. For a go-to teriyaki sauce try either Trader Joes, Soyaki, or Very Very Teriyaki from the grocery store.
Rainbow Quinoa Salad:
Top a couple of cups of mixed greens with the rainbow quinoa and dress the salad with a few tablespoons of our homemade salad dressing and some cooked chicken.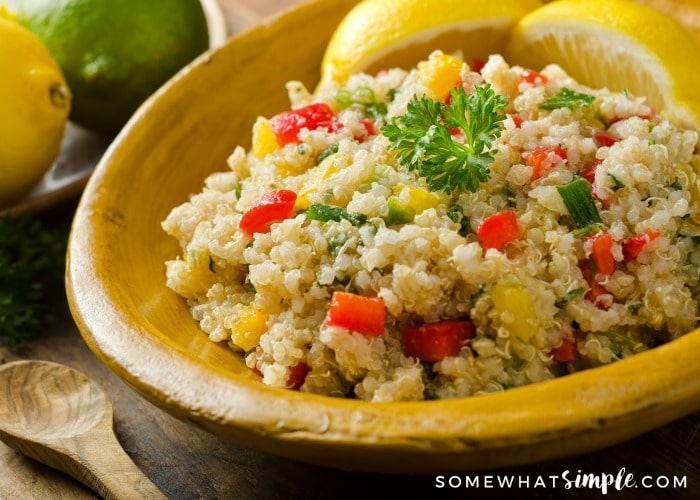 We hope this helps you stick to your healthy eating goals on those crazy days!
ENJOY!
. . . . .
ABOUT THE AUTHORS – Kristen and Camille are the delicious duo from Culinary Mamas. One of their goals is to help families cook up wholesome, healthy dinners that kids actually eat. The Culinary Mamas were contributors to Somewhat Simple in 2014.
For more delicious side salads, check out some of our favorites below: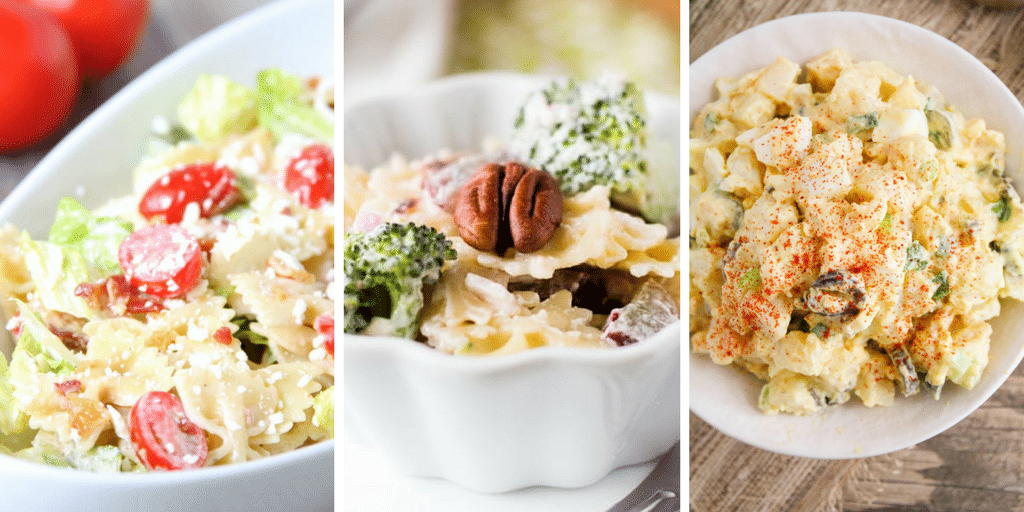 BLT Pasta Salad | Broccoli Grape Pasta Salad | Basic Potatoes Salad
This post originally published on Somewhat Simple in March 2014.