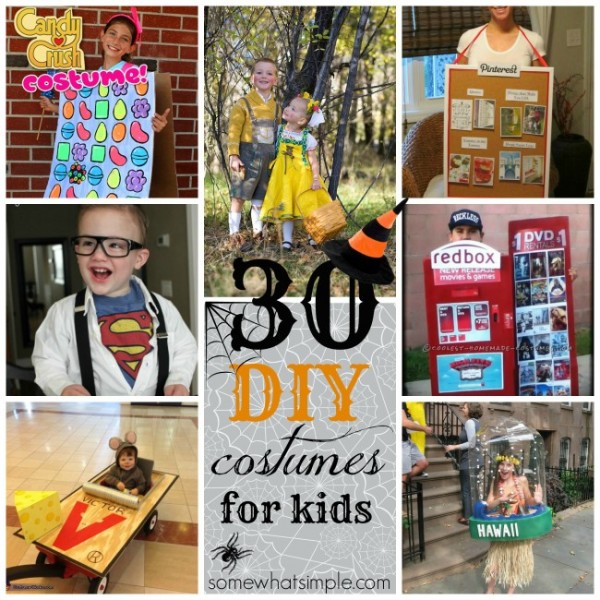 If you're anything like me, you start thinking about Halloween Costumes about a week before Halloween.  Certainly not far enough ahead to make a large getup or super fancy costume, but you still want to help your kids have the best costumes they could imagine, right?  This is where Pinterest comes in really handy!  Give me Pinterest and about three nap times and I can whip up a pretty mean costume!  To make things easier for YOU, I've rounded up 25 amazing DIY Halloween Costumes that can be made in just a few nap times!

Baby Harry Potter  ::  Eonni's World
No-Sew iPhone Costume  ::  eat.sleep.Make
Monsters Inc. Boo ::  Out Life As The Hodges

Stick Figure  ::  All For The Boys
Peanut MnM's ::  Spoonful.com
Sunmaid raisins  ::  Katherine Marie Photography

Kissing Booth  ::  Costume Works
Spaghetti & Meatballs  ::  Costume Works

Crazy Cat Lady  ::  Costume Works
Gumball Machine  ::  Costume Works

Red Box  ::  Coolest Handmade Costumes
Starbucks Vanilla Latte  ::  Costume Works 
Audrey Hepburn Style  ::  via Etsy

Alice in Wonderland  ::  Misha Lulu
Candy Crush  ::  Alpha Mom
Cabbage Patch Doll  ::  Costume Cuties

Edward Scissorhands  ::  Instructables
Hansel & Gretel  ::  The Wright Family

Willy Wonka  ::  More Than Words Can Describe
Popcorn Vendor  ::  This Place Is Now A Home
Where The Wild Things Are  ::  Lil' Sugar

Pinterest Board  ::  Parties For Pennies

Coppertone Girl  ::  A Party Style
Clark Kent ::  Wait Till Your Father Gets Home
Hack Your Routine!
FREE E-COURSE
5 Time-Saving Tips for Crazy Busy Moms