This delicious chicken asparagus pasta comes together quickly and makes for a perfect hearty spring meal. So easy to make and the whole family will love it!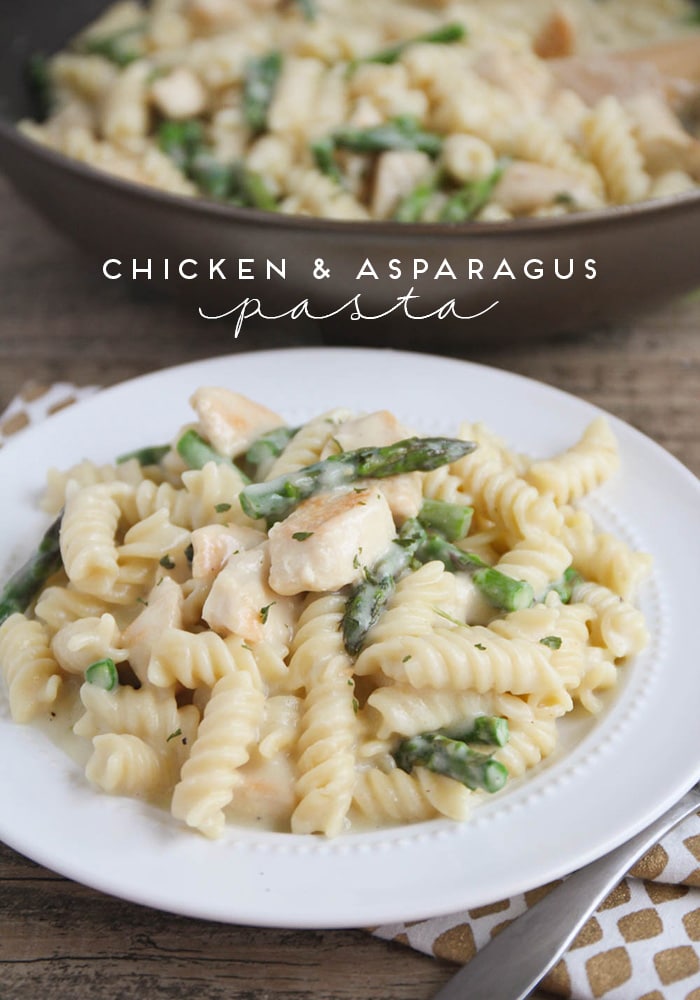 Every spring, I get so excited about all the fresh fruits and vegetables that are suddenly available. After a winter of eating apples, bananas, and oranges, suddenly there are fresh berries, melons, and mangos at the grocery store! One of my favorites among the spring produce is the fresh asparagus. This week I found it on sale for $1.39 a pound at the grocery store, and knew it needed to make its way onto my dinner table pronto! I whipped up this quick and delicious chicken asparagus pasta in less than thirty minutes, and it was a huge hit with the whole family!
You'll start by browning your chicken breast, then sautéing the asparagus until tender. I love how bright green and vibrant it is!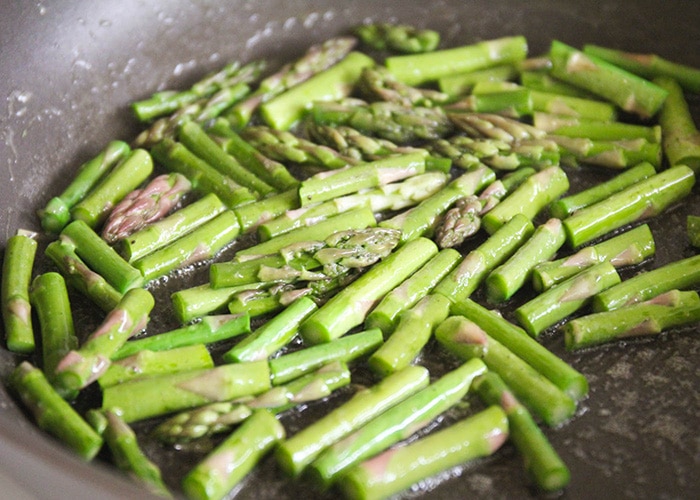 Next you'll make a delicious and creamy parmesan sauce. Try not to eat it all with a spoon before the pasta is cooked. 🙂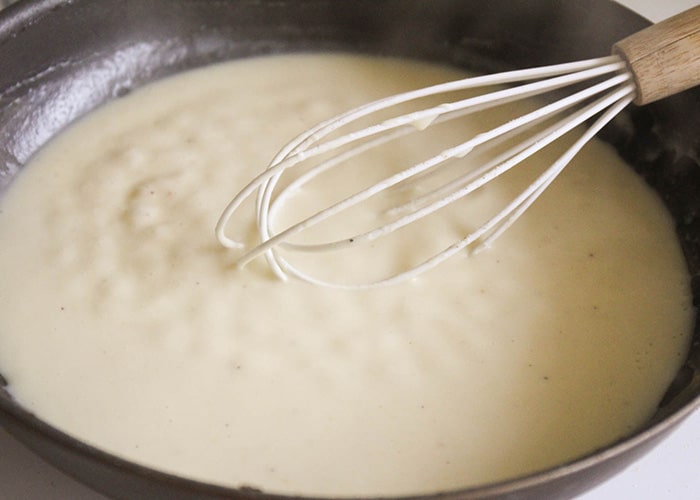 Finally, you'll toss the delicious sauce with the chicken, asparagus, and rotini pasta. It's a one dish meal that's filling yet light, and sure to please the whole family!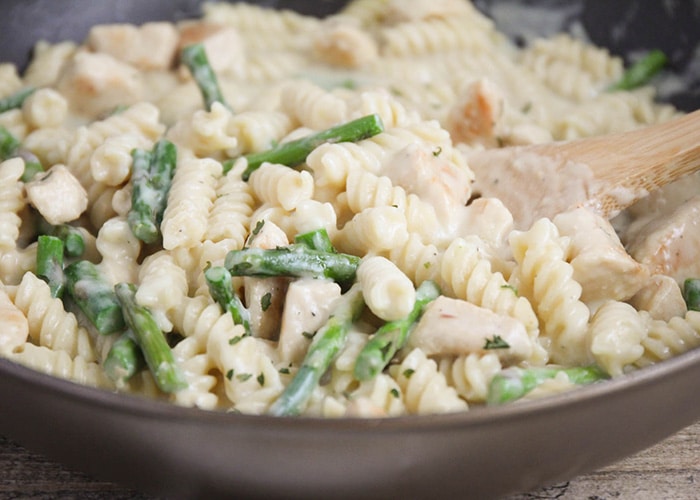 This chicken asparagus pasta has definitely been added to the list of favorite family dinners at our house. For more delicious and easy pasta skillets, check out my cheesy chicken and broccoli pasta and my garlic parmesan chicken penne pasta!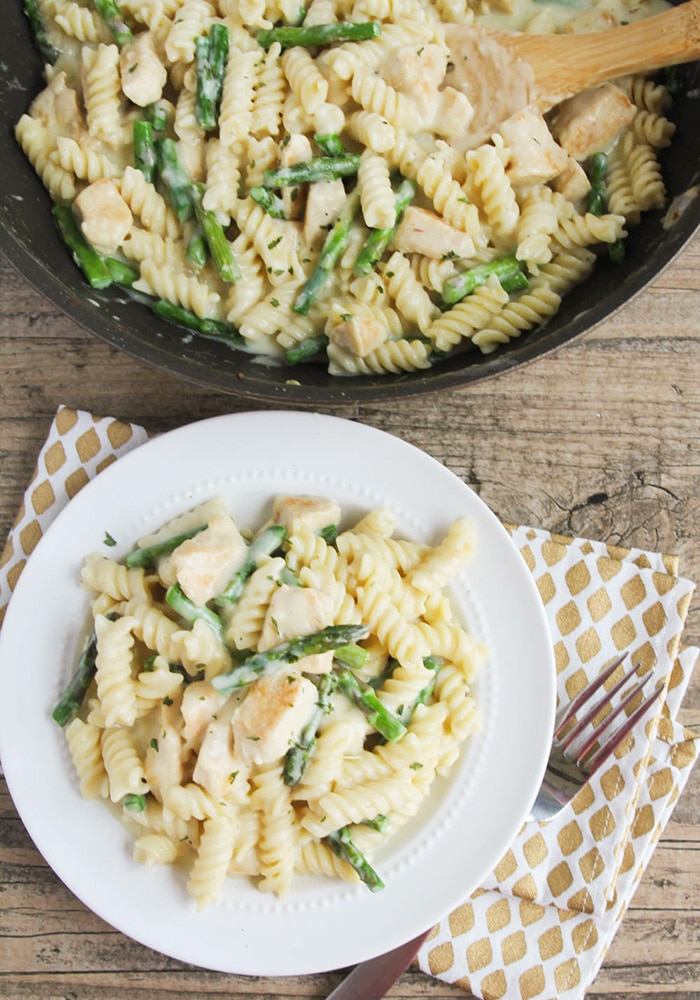 Chicken Asparagus Pasta
INGREDIENTS:
1/2 pound rotini pasta
2 chicken breasts, cut into cubes
4 tablespoons butter, divided
1/2 pound fresh asparagus, trimmed and cut into pieces
2 tablespoons flour
1 cup chicken broth
1 cup milk
1/4 cup half and half or greek yogurt
1/4 cup grated parmesan cheese
1 teaspoon salt
1/4 teaspoon pepper
DIRECTIONS:
Cook the pasta according to package directions, then drain and set aside.
While the pasta is cooking, heat 1 tablespoon of butter in a large skillet over medium heat. Add the chicken to the pan and cook until golden brown and cooked through. Remove to a plate and set aside.
Add the asparagus to the skillet and sprinkle with a pinch of salt. Saute until bright green and tender, then remove from the skillet.
Return the skillet to the heat and add the remaining three tablespoons of butter. When the butter has melted, whisk in the flour to form a paste. Cook 2-3 minutes, or until golden. Slowly add the chicken broth, whisking constantly, followed by the milk and half and half. Let cook until thickened and starting to bubble. Remove from heat and whisk in the parmesan cheese, salt, and pepper, until the parmesan is melted.
Return the skillet to the heat and stir in the chicken and asparagus, until heated through. Serve hot and enjoy!