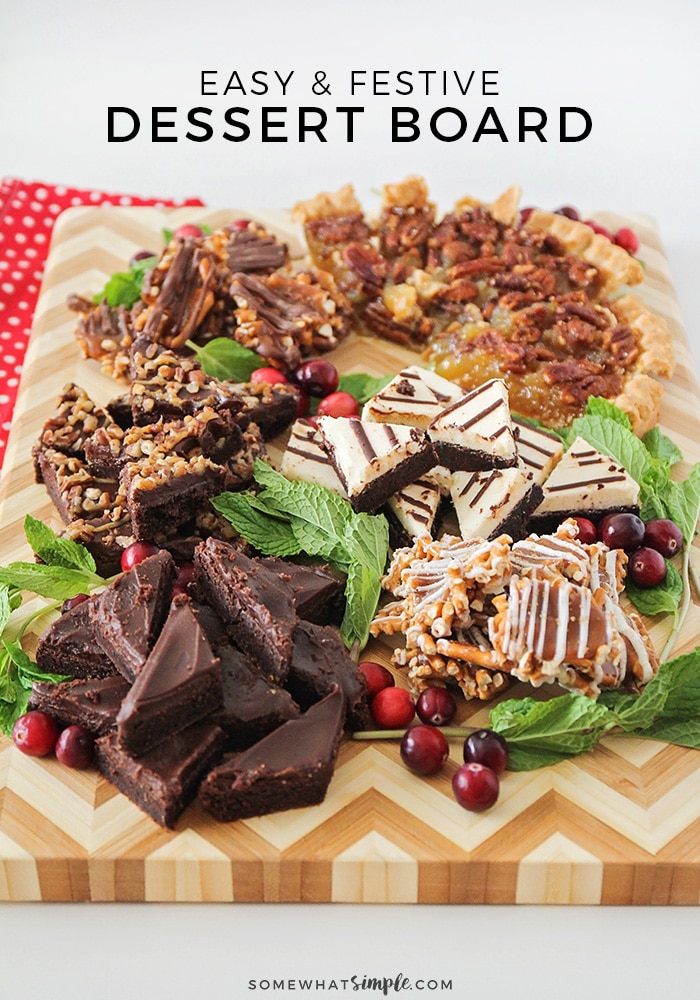 This beautiful and elegant holiday dessert tray is so easy to put together, and perfect for entertaining your holiday guests!
Looking for more holiday desserts? Here are a few that are sure to please – Christmas Crack Toffee, Red Velvet Cake Mix Brownies, and Easy Chocolate Tart with Pomegranates.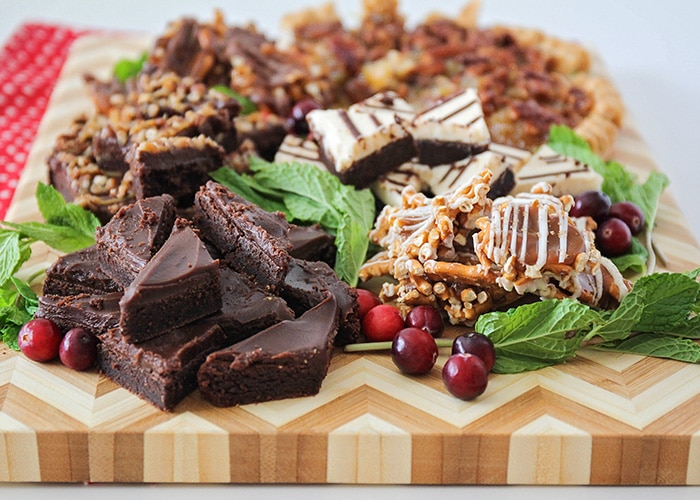 Christmas Dessert Sample Platter
Are you looking for a unique and fun holiday dessert for a crowd? Look no further! This holiday dessert board is perfect for entertaining, and so easy to put together. It's loaded with a variety of dessert favorites, all assembled together on a colorful and festive tray for easy snacking. It's perfect for parties, and easy to customize with all of your favorite treats!
I absolutely love a good dessert spread at a party, but my problem is that everything looks so good and I always want to try some of each dessert. This holiday dessert board solves that problem by presenting all of the treats in bite-sized pieces, perfect for sampling. It's a fun way to enjoy all of your dessert favorites!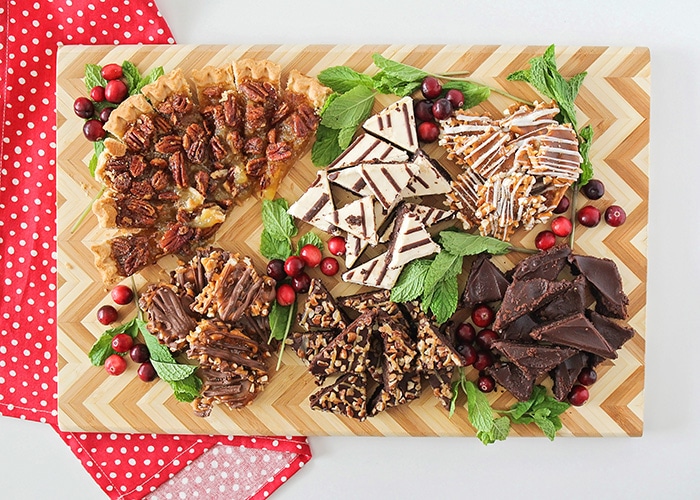 How to Make a Holiday Dessert Tray
While I would love to have the time to make six different homemade treats, sometimes that's just not in the cards! Don't be afraid to use your local grocery store bakery for a great variety of delicious and decadent treats!
You will need –
6 or more desserts / treats*
1 board or tray (I used a cutting board from Walmart)
fresh mint leaves (rosemary also looks great!)
fresh cranberries
* Some of my favorite store-bought treats to use for this dessert board are Brownie Bites, Peanut Brittle, Chocolate Covered Pretzels, and a Pecan Pie.
Directions –
Cut your treats into bite-sized pieces
Arrange them in clusters on your board.
Tuck in some mint leaves to fill the empty spaces.
Add some fresh cranberries for a pop of color.
This holiday dessert tray took me less than five minutes to put together! Holiday entertaining doesn't get any easier than that! If you're looking for a healthy appetizer to start your party, you should also try our Ultimate Veggie Tray. Leave us a comment below and let us know what you serve on your dessert tray.