Spring is officially here! That means it's time for flowers, pastels, flip flops, (allergies), and Easter cookies too! Today I want to show you that an egg cookie cutter, (or a metal circle that you smashed into the shape of an egg), is all you need to create 3 fabulous kinds of Easter cookies. Here is how: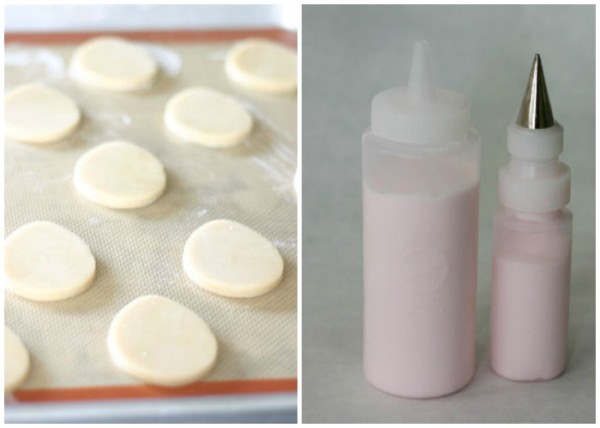 1. Bake and cool your egg-shaped cookies, and prepare you icing. I posted my recipes and instructions for sugar cookies and royal icing here. Remember that you need 2 different consistencies for each color that you want to use.
2. You will use the thicker icing to make a border. This will make your edges nice and precise. With the thinner icing (add water), you will fill in, just full enough not to go over the edge.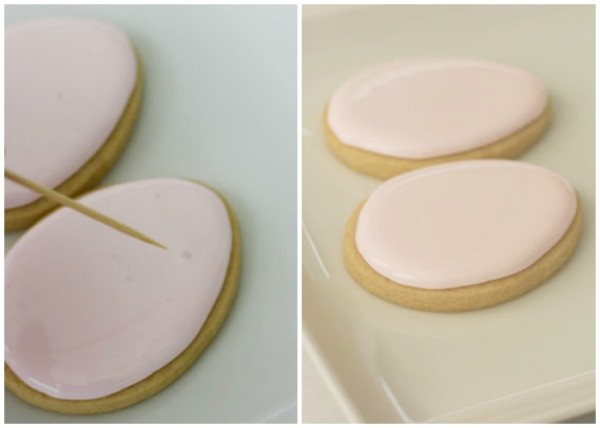 3. Then you will need to pop the bubbles with a toothpick, right away. You only have a minute or two while it's really wet to do this, otherwise it will leave a blemish in your smooth icing. I like to quote Tommy Boy if that happens, "That's gonna leave a mark."
4. So now you're ready to decorate your nice smooth eggs. But here are a couple things to remember:
If you decorate with your thin icing now, it will meld into the base layer and end up flat.

If you let it dry for about 8 hours, they will have more dimension.
Here is what I mean-
I decorated these eggs right away with some really cute polka dots- see how smooth these dried:
You could probably stop there and impress your Easter bunny with these cute eggs!
But if you let the base layer dry and then decorate the cookies with your stiff frosting (the ones you made the border with), your frosting will be raised, like this:
These are pretty cute, but I thought they for sure needed something, so that's when disco dust entered the picture: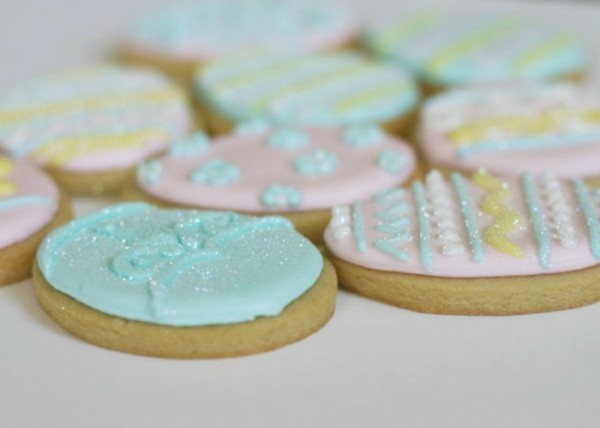 Some of these have a light sprinkling of disco dust all over the cookie. Some have it on the embellishments. The disco dust will stick to all layers that are wet or even slightly wet. If your base layer has dried for a whole day, then you can sprinkle your disco dust on the wet icing, and brush the excess off with a clean, dry paint brush.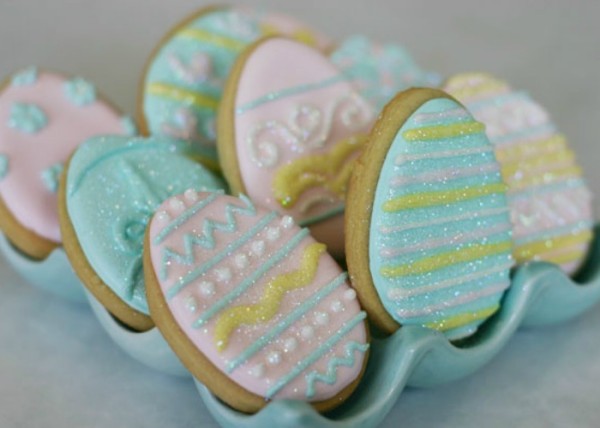 Ahhh, I love a glittered egg! You could just stop here. But if there are more cookies and icing left, you may as well go for it!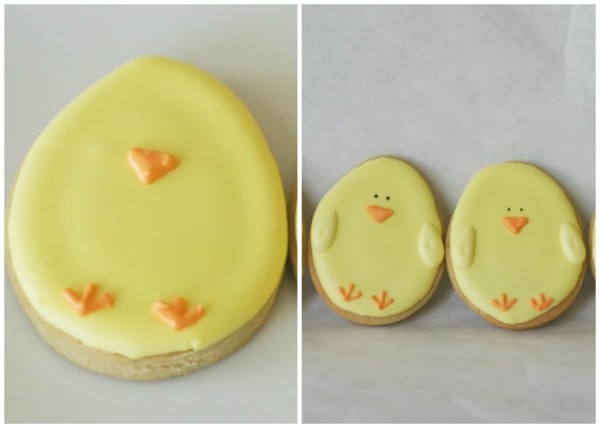 Some of my yellow eggs were dying to be chicks. I mixed up a little bit of stiff orange frosting and gave them a nose and feet. Then I gave them some eyes and wings. I did these eyes with an edible ink pen, but you could easily mix up some black frosting if you don't have one.
And here is a combination of the chick and the egg cookie: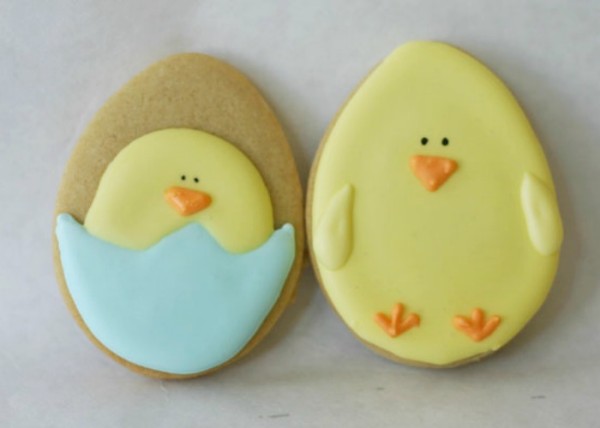 Now if you're in the mood for some spring flowers, you can whip up a batch of tulips with your same egg cutter. Before I baked them, I used a sharp knife to make the tops of the eggs look like a tulip. I put sticks in them because I wanted to put them in a bouquet.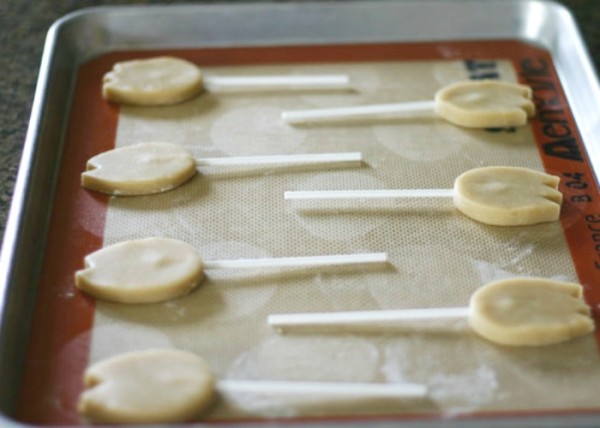 After they were baked, I did a base layer (outline and fill like I did with the eggs) and let it dry. Then I came back and outlined the tulip and sprinkled with some pink sanding sugar. This added some fun dimension without more color.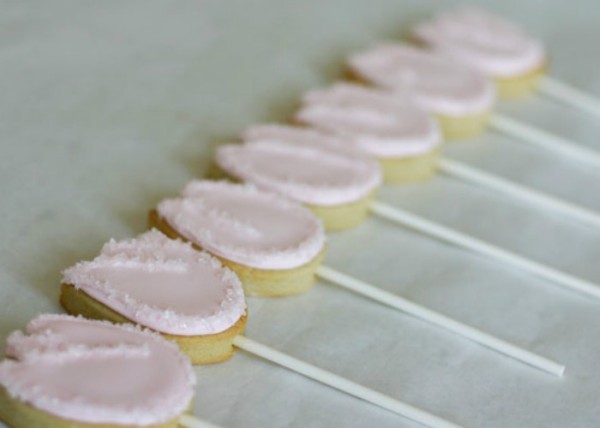 Then I put them in a pot with some foam in it. I also tied a green ribbon around the base of the cookie to act like a leaf. I always love to have tulips on my Easter table!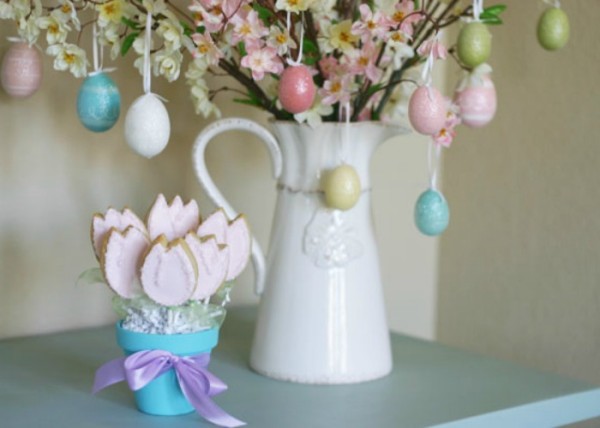 So there you have it! 3 for the price of one! So go get an egg cutter (or if your store is out, get a metal circle and lean on it) and decide which one you want to make!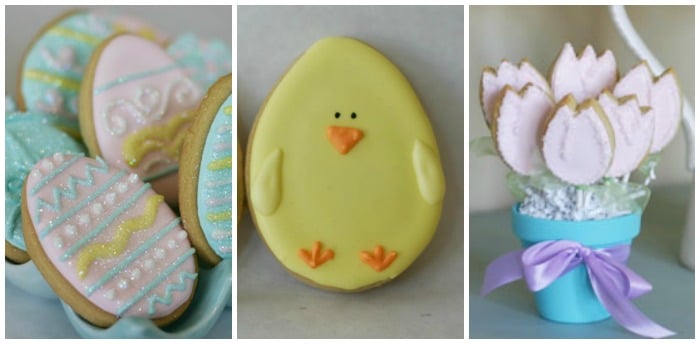 About the Author: Ashleigh is the creative mom of three and blogger from Bee in Our Bonnet . Ashleigh spent a few years blogging on Somewhat Simple as our Baking Contributor.
This post originally published on Somewhat Simple in March 2011