We've got the perfect (and most adorable) Cookie Swap Kit + tips to make your next holiday cookie exchange party a huge success!
The holidays are here – it's time to celebrate! We love a good White Elephant Party, and we never turn down the chance to play our favorite adult party games – but a holiday cookie exchange is a favorite and festive way to gather with friends for a night of delicious fun!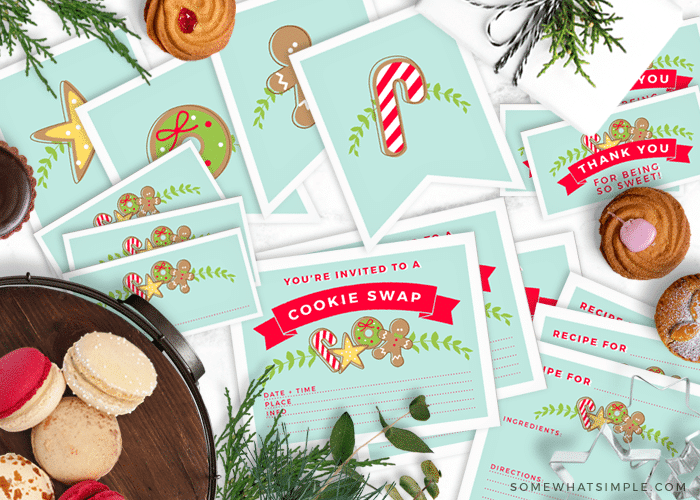 How To Host A Holiday Cookie Exchange Party
Have you ever had high hopes of hosting a cookie exchange, but just didn't know where to start? Well we've got your back! We are going to share with you all of the information you need to know about hosting a cookie exchange (or cookie swap) so you can get started with your planning.
The whole idea behind a cookie exchange (besides getting a bunch of your girlfriends together for a fun time) is to get your hands on a variety of holiday cookies without going through the trouble of baking them all yourself. This is perfect for those who love to give cookie gifts during the holidays.
Cookie Exchange Rules
Each guest should bring several dozen of the same type of cookie. Decide on a number before hand so that everyone brings the same amount. You can tell them to bring a dozen cookies for every person at the party, or about 3-4 dozen cookies total.
At the exchange, everyone will share their cookies and take home the same number they brought. So you'll come to the party with 5 dozen chocolate chip cookies, but you'll leave with a 5 dozen different cookies.
Easy Christmas Cookies for Cookie Exchange
What is a cookie exchange without the delicious cookies? Click the links below for some yummy, EASY cookie recipes that would make a great choice to share at a cookie exchange.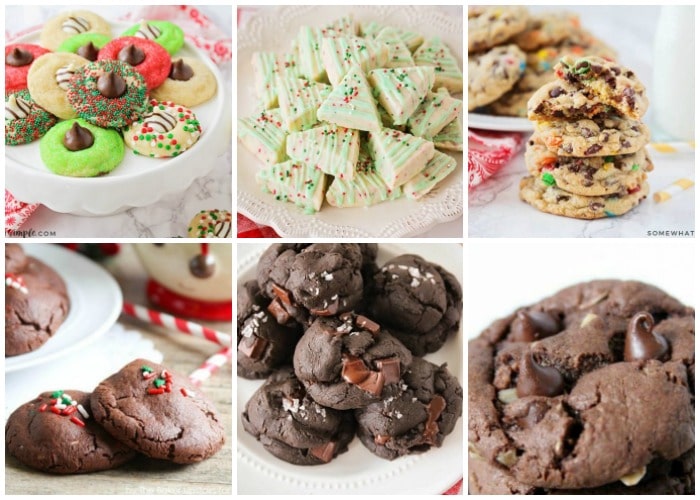 Shortbread Christmas Cookies – The Best Shortbread Cookies!
Chewy M&M Cookies with Vanilla Pudding Mix
Funfetti Chocolate Sugar Cookies
Salted Dark Chocolate Peanut Butter Cookies
Devil's Food Cake Mix Cookies Recipe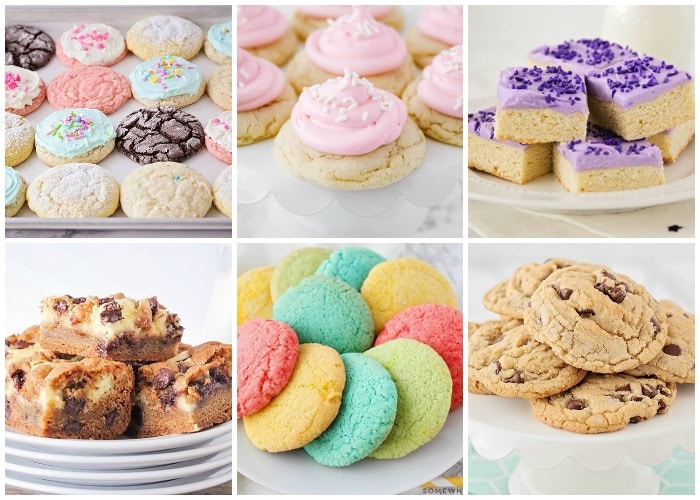 3 Ingredient Easy Cake Mix Cookies
The Best Sugar Cookie Bars Recipe
The Best Chewy Chocolate Chip Cookies
Cookie Exchange Invitations
Every great party starts with a great invitation. Grab our darling invites from our Cookie Swap Kit! (Download below)
Cookie Exchange Ideas
Every party needs a little holiday flair! We've included a darling banner in our Cookie Swap Kit – just print out as many pennants as you need!
Each guest should bring along a copy of their cookie recipe to share. When you send out your invites, you can include one of our matching recipe cards, or just have them available at the party!
Each guest may want to bring some baggies along to help bring their cookies home. Or provide festive paper plates or gift bags for your guests to transport their loot!
And if your guests want to know the name of each cookie their taking home, we've got some cookie place cards in our kit for each guest to put in front of their treats! Just have a stack on the table with a pen and they can fill in the name of their cookies.
And lastly, wow your guests by sending them home with a fun and festive favor to say "thanks" for coming! We have matching gift tags that you can just print, cut out, and attach to a party favor! (a cookie cutter, mini whisk, etc. would make great gifts to give each guest.)
Ready To Host Your Own Holiday Cookie Exchange?
Have you ever hosted or been to a cookie exchange? What was your experience? Share your tips or ideas in the comments.