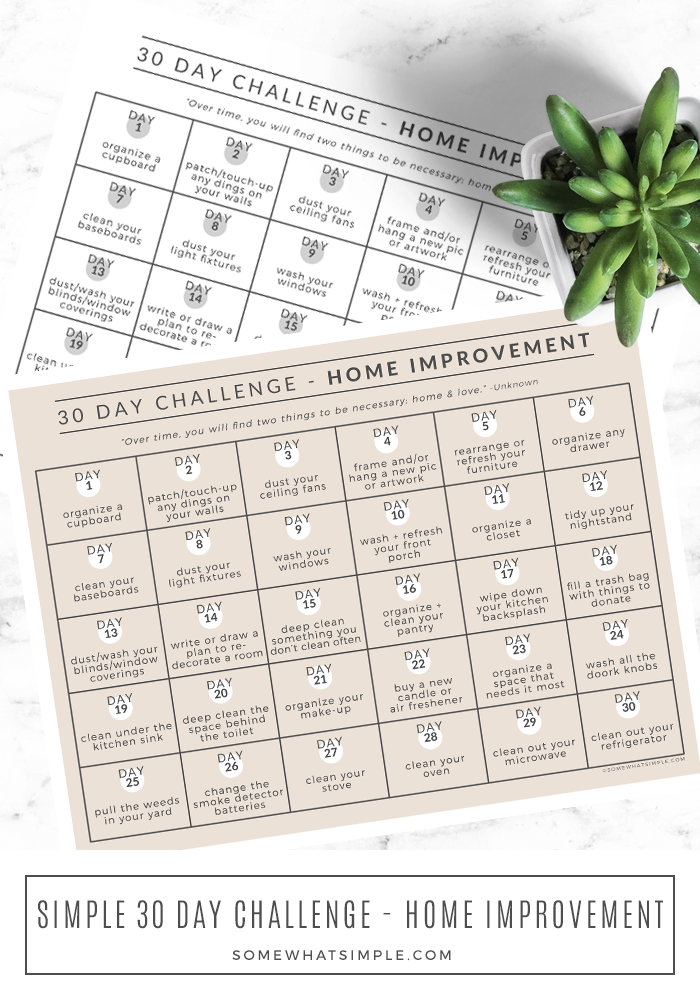 Get your home looking as good as new with our 30 Day Home Improvement Challenge! 1 simple task a day for 30 days… are you in??
Home Improvement Calendar
Ready to get your home looking better than ever, tackling spaces you haven't had the time (or energy!) to get to?! We created this 30-day challenge to help refresh those spaces, and it can all be done in one month's time!
30-day Challenge
How to get started:
First, print off our Challenge printable (download below), and place it in a spot where you can easily see it, and stay motivated.
Commit. Make this a priority. I promise that you'll thank yourself later.
Get the family involved. The more the merrier!
Think of a reward. Treat yo'self when you've completed this challenge! You deserve it!
Project Ideas
In this 30 day challenge, we're going to tackle spaces that are both big and small. Some of the ideas will only take a couple of minutes and others will take a little longer. However, at the end of the 30 days, your house is going to look better than ever! Here are a few of the things we're going to do this next month.
Tidy your nightstand
Wipe down your kitchen Backsplash
Clean under your kitchen sink
Organize a closet or cupboard
Buy a new candle or air freshener
Fill a trash bag of things to donate to Goodwill
…and so much more!!!
More Easy Cleaning Ideas
Home Improvement Challenge Printable
And that's basically it! Not so bad, huh? Are you ready to start on this 30-day challenge? Download our printable calendar and get started. We have a color version and a black and white version if you want to save your printer's ink.
Let's do this! Leave a comment with any other tips or tricks you might have – we'd love to hear what people have had success with! Happy de-cluttering!