Scrunchies Are all the rage and you won't believe how easy they are to make! Learn How To Make A Scrunchie in just a few minutes!
How To Make A Scrunchie
I grew up with my mom teaching me how to make scrunchies, headbands, hair bows (I'm looking at you plastic bows with small objects inside), but when the trend faded out, I moved on, never to look back.
Or so I thought.
I never imagined in a million years that I would be teaching my daughter the same things my mom taught all those years ago!
More Easy Hair Ideas
Here is the written tutorial on how to make a scrunchie –

How To Make A Scrunchie In Minutes
Scrunchie Supplies:
fabric strips cut to 3.5 x 22 inches
measuring tape or ruler
chalk or colored pencil (to mark your fabric)
scissors
thin elastic, 7-9 inches long*
matching thread
safety pins
straw (You can use paper or thicker plastic ones – the bendy straws were not great, but would work in a pinch)
sewing machine or needle (these can totally be made by hand stitching!)
iron
*To measure the correct length of your elastic, wrap it around your wrist.
Scrunchie Directions:
Measure your fabric using a measuring tape and marking with chalk. Cut it out.
Measure and cut your elastic. Set aside
Lay your fabric flat, then fold over one of the short ends of the fabric, approx. 1/4 of an inch, and sew a straight line along the edge. Repeat on the other side.
Sew a straight line down the long side.
Now you have a tube of fabric that is inside out. To flip your fabric, slide a straw inside the tube, then secure it to one of the ends with a safety pin. Push the safety pin end of the straw into the hole of the fabric, then pull through.
Once flipped, detach your straw and iron your fabric strip flat.
Attach 2 safety pins to the end of your elastic (one on each side) and pin one of them to one of the short ends of your fabric.
Then thread the other safety pin through the fabric hole until it comes out the other side. Now you have a tube of fabric with elastic inside, coming out of both ends.
Carefully unpin the elastic from the fabric and tie the two ends of the elastic together in a knot.
Remove the safety pins from the elastic, and then tuck one fabric end into the other.
 Carefully sew the ends together with a straight stitch along the fabric edge that shows.
Cut off all your long threads, and you're done!!
It may seem like a lot of steps, but they don't take much time at all! Once you get the hang of it, you will be a Scrunchie PRO, knocking them out in less than 10 min each!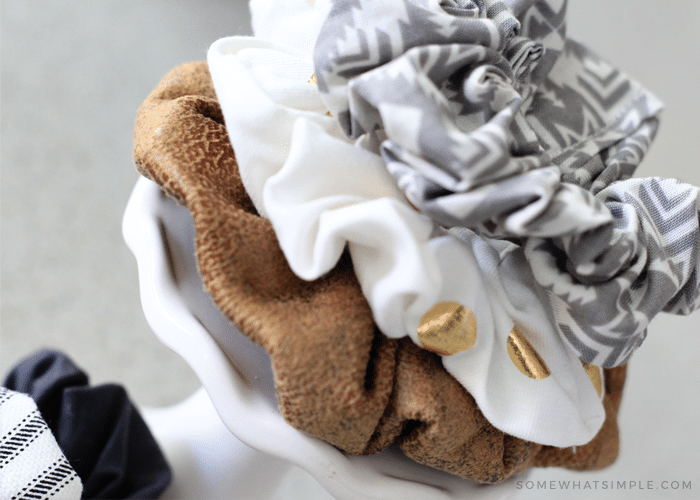 We recommend using a linen-like cotton fabric for beginners. A knit will be more difficult because of the stretching that happens. But once you master How To Make A Scrunchie, you can totally get creative with the different fabrics! We made a faux leather one and it's seriously my favorite! (Just make sure you have the correct sewing needle in your machine to handle it. And go SLOW. So worth it.)