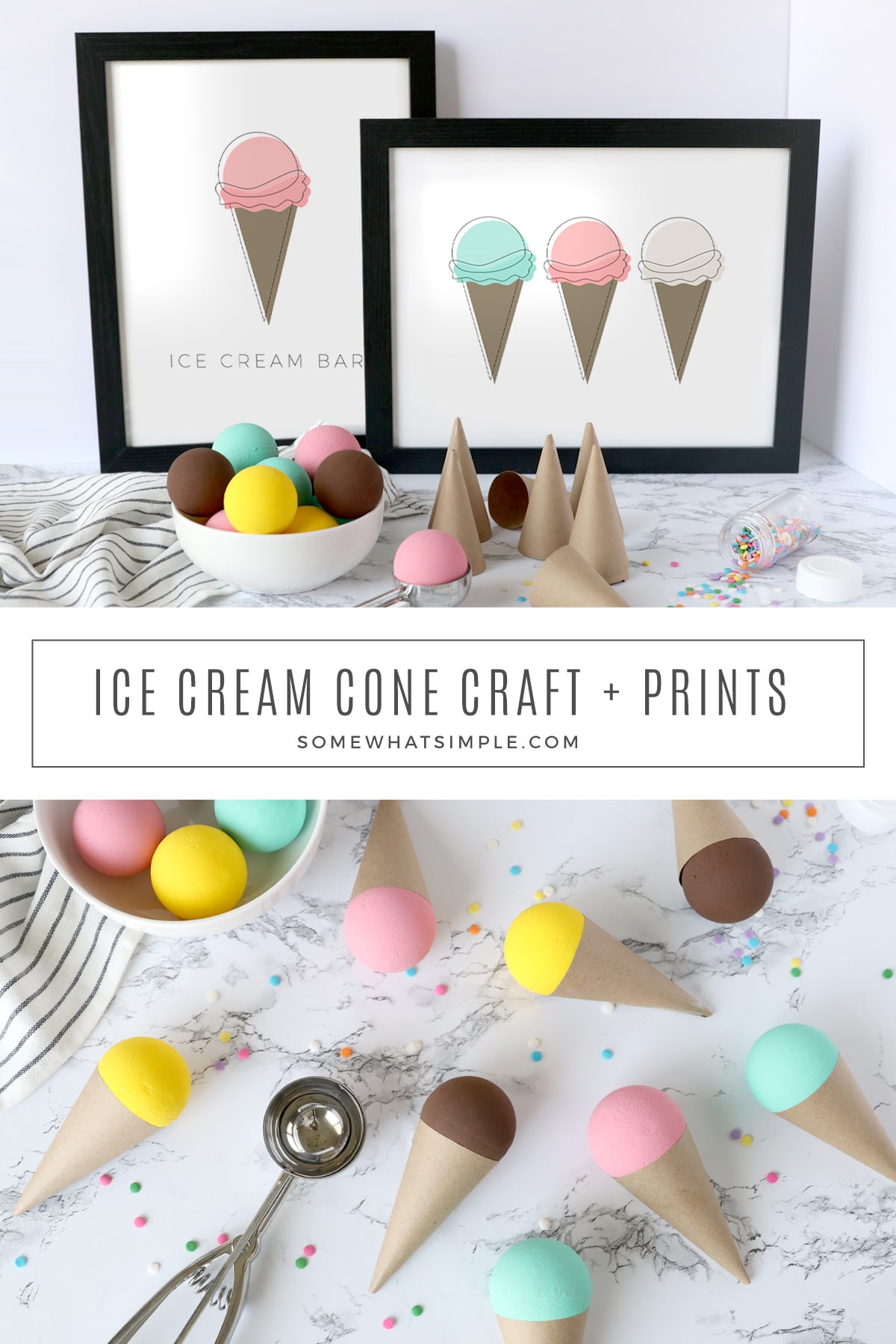 This ice cream cone craft and play is a perfect activity for a rainy day, or when it's just too hot to go outside! If your kids love crafting and pretend play, this ice cream cone craft is a must-do!
Here are a few more summer crafts we think you'll love – Paper Pinwheels, Glitter Slime, and Build a Monster Free Printables.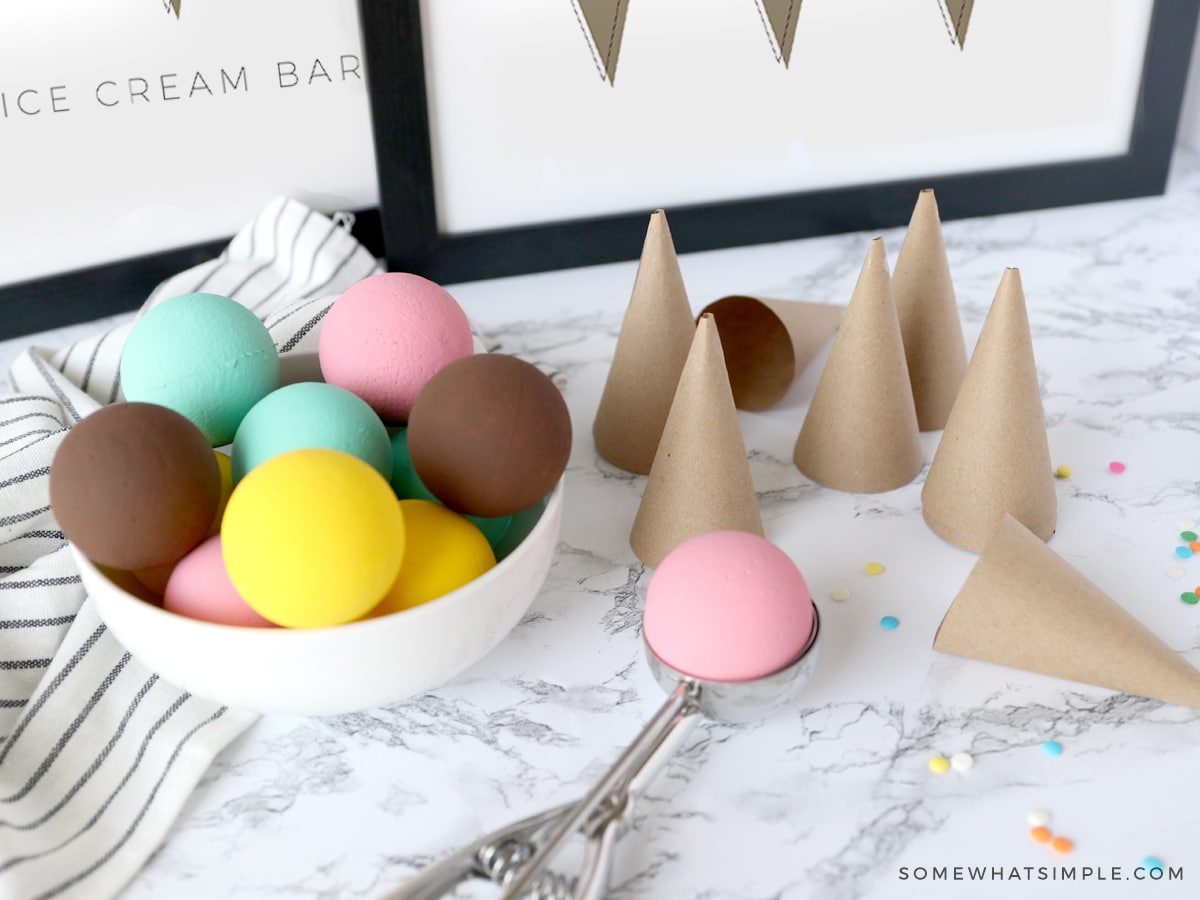 Most of my kids' artistic creations are plastered on our fridge until recycling day before being quietly sent off to a new life. I keep a small amount, but most of their crafts are more about the process of creating than the sentimental clutter of the piece itself. But this ice cream cone craft keeps the entertainment going because they can actually play with it afterward!
Here's how to make it –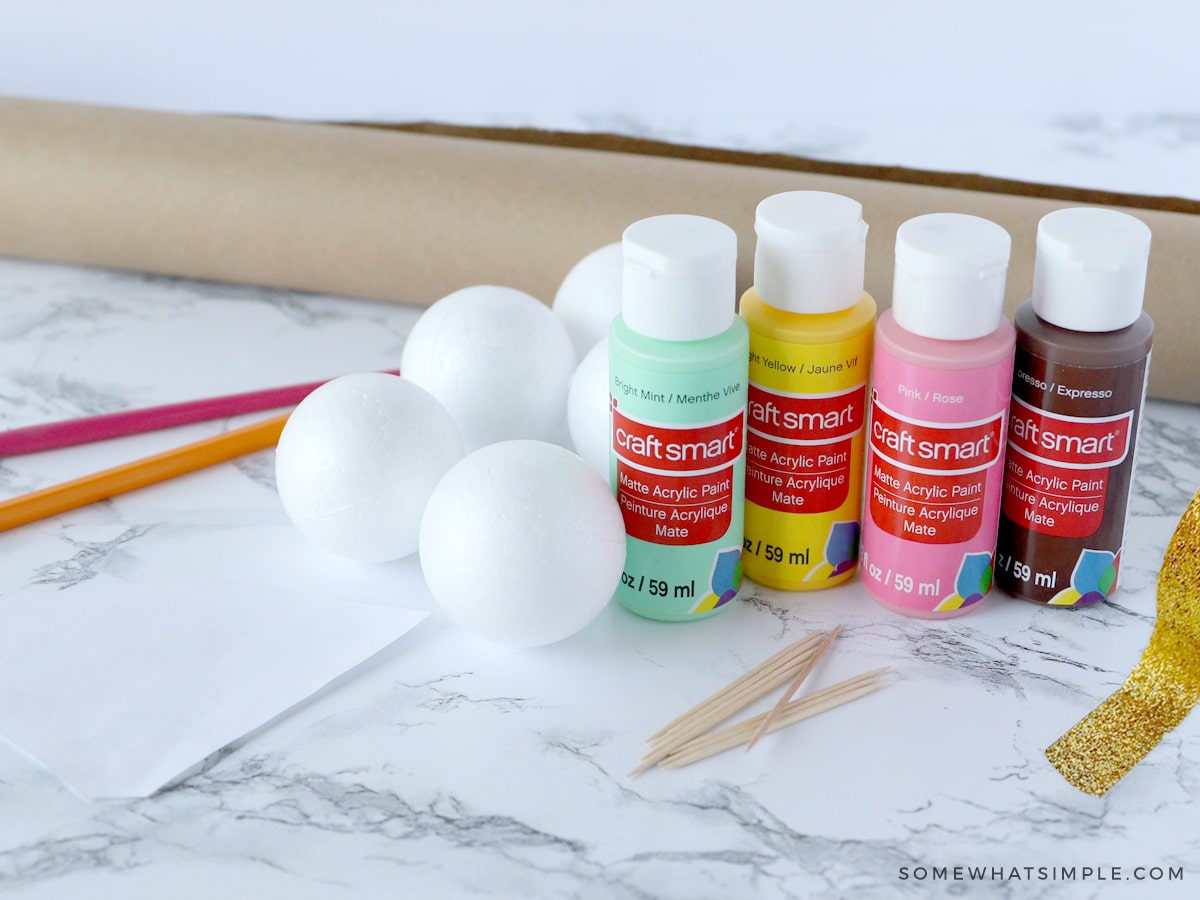 Paper Ice Cream Cone Craft
You only need a few inexpensive supplies to make this cute craft, so bring the kids along to the store with your supply list and have fun picking everything out.
SUPPLIES –
paint in a few ice cream colors. I used pink, yellow, mint, and brown paint
paintbrush
cereal box
toothpicks
brown construction paper or kraft paper. Or you can use white paper and color it with a brown crayon.
pencil
scissors
tape
cone stencil – we included one in our printable pack (download below)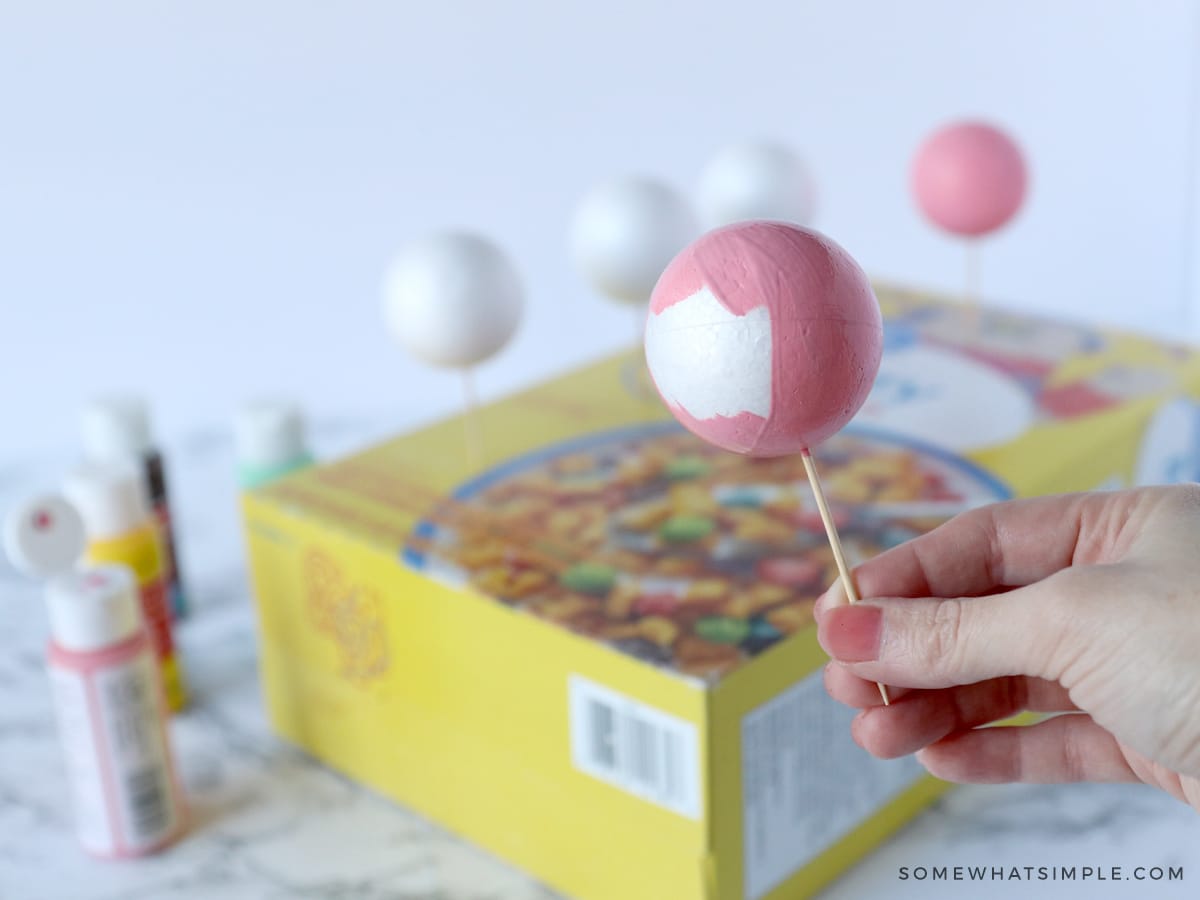 INSTRUCTIONS –
1. Stick a toothpick in your foam ball and paint the entire surface. Stick the toothpick into a cereal box to dry.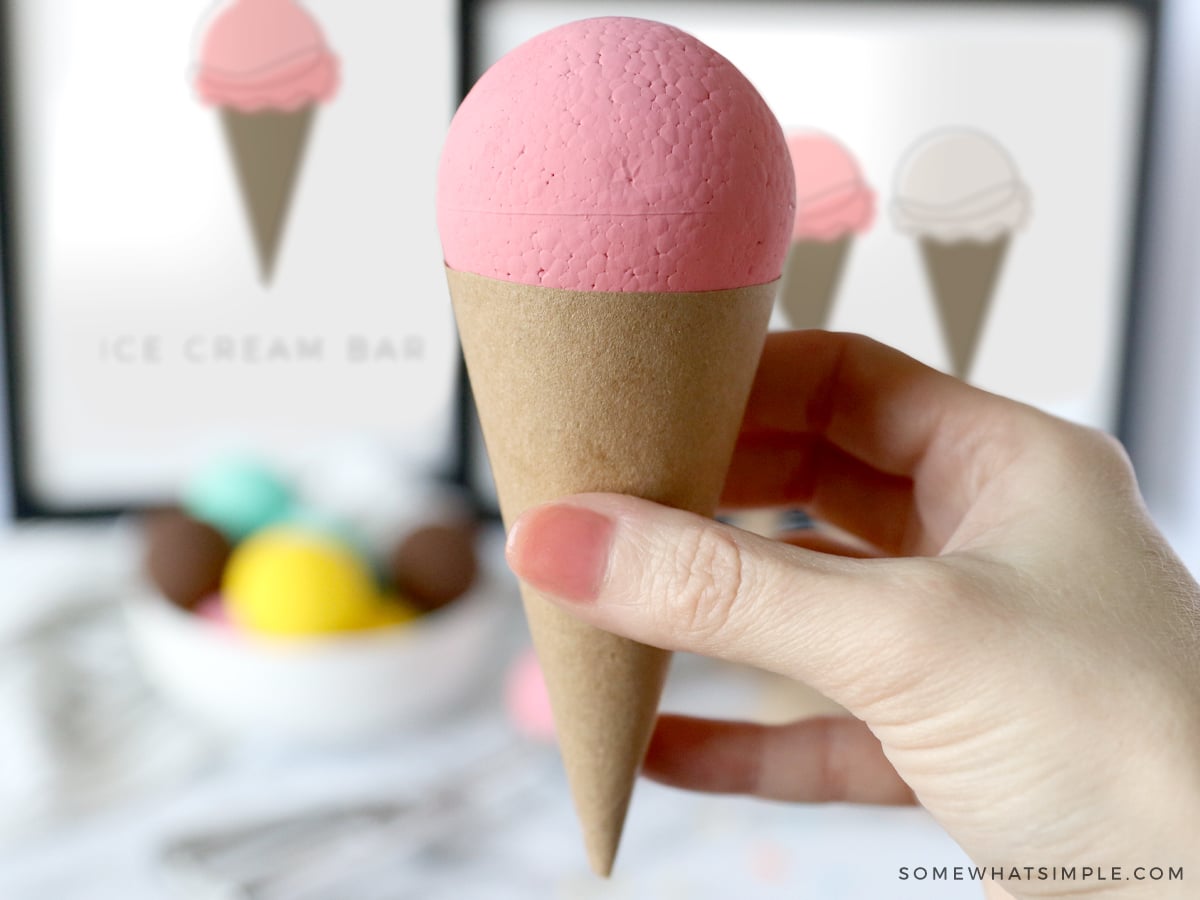 2. Trace the cone stencil onto the brown paper and cut it out.
3. Roll the paper into a cone shape to fit around the bottom third of your foam ball, then tape the outside and inside edges to secure.
Repeat with remaining foam balls until you have several varieties of "ice cream."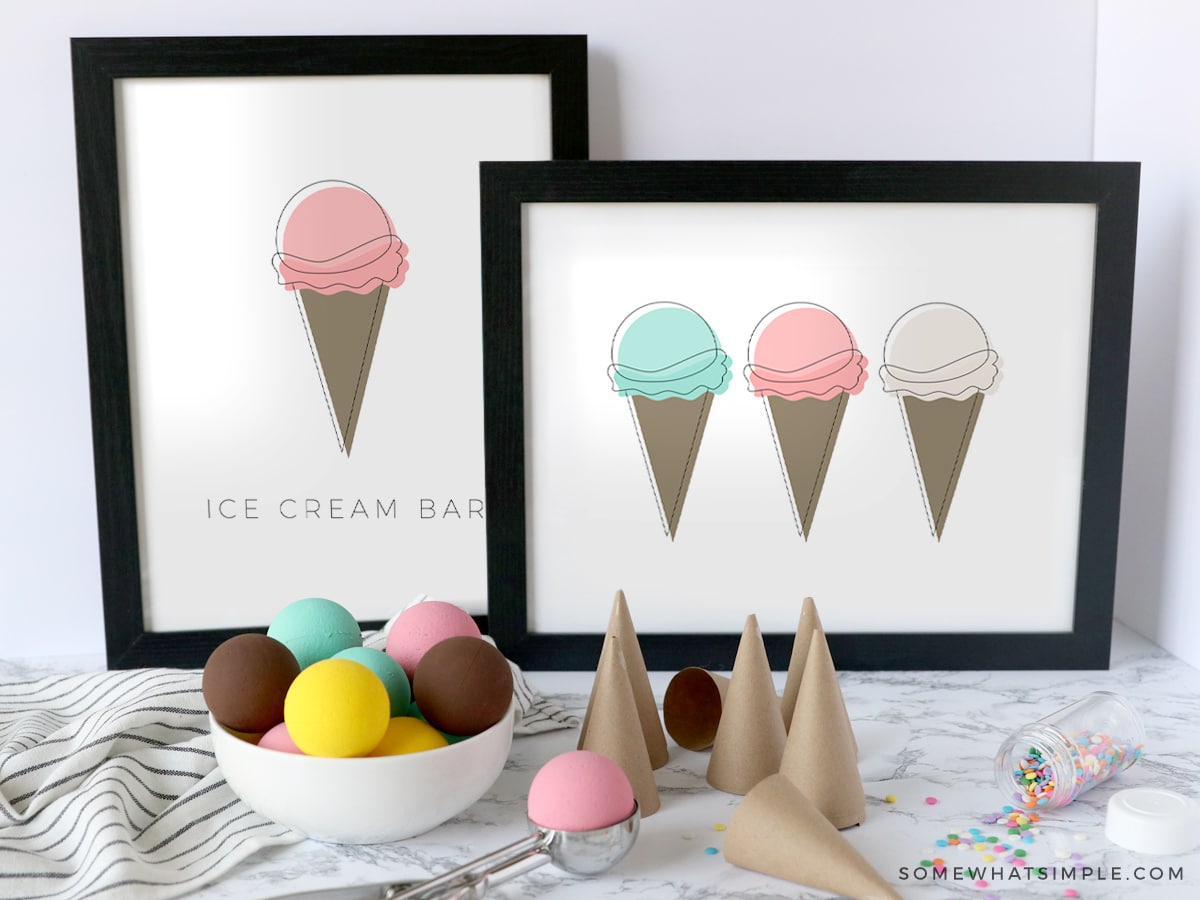 Pretend Ice Cream Shop
After our ice cream cones were ready, I set up a little play ice cream shop in the playroom. I borrowed our sofa table for the counter and framed our ice cream posters to set the scene.
Then I put all the ice cream balls in a bowl with an ice cream scoop and stacked the cute paper ice cream cones on the counter.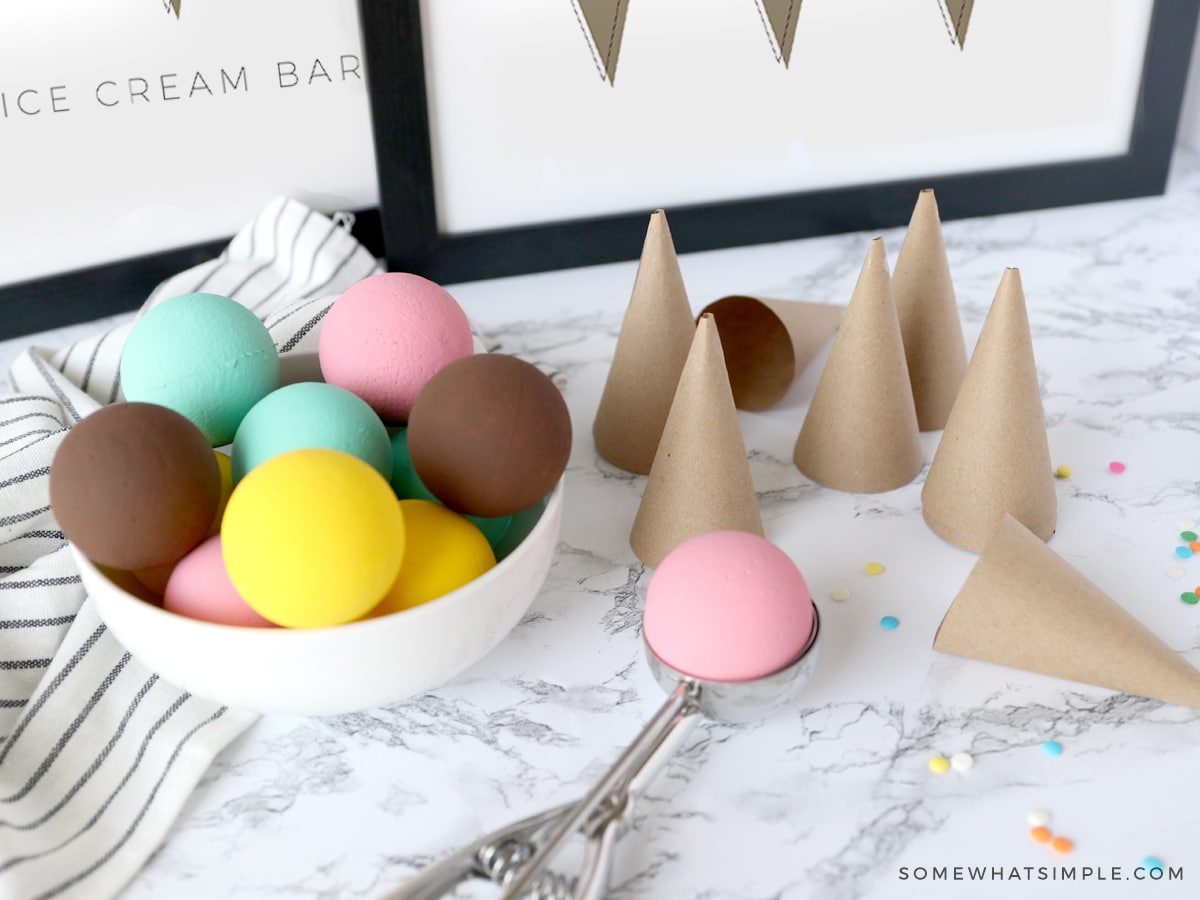 The kids had a blast serving each other! They were thrilled to add scoops of ice cream to the paper cones, and they loved ordering all kinds of interesting flavors and pretending to eat them up.
When you're done playing, bust out some real ice cream or popsicles and have a sweet treat.
They seriously couldn't stop laughing and smiling. They had so much fun with this adorable craft., we'll be playing this again many times 'til the end of summer, I'm sure. 🙂
Ice Cream Shop Printables
To download our free ice cream craft printables, enter your name and email address in the form below.