Create a simple yet darling Christmas Wish List with your kids.  Give them something they want, something they need, something to wear, and something to read.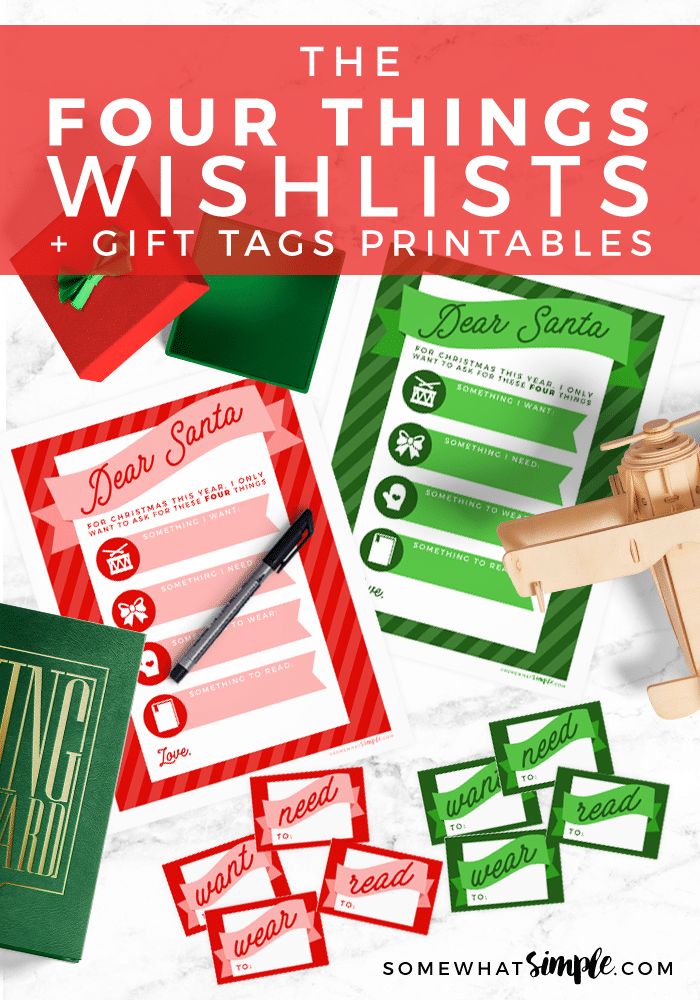 Christmas Wish List Idea
Several years ago, I was introduced to a great method of making a Christmas wish list with the kids that keeps things simple and makes the holidays special. Most of all, it makes them really think about what to ask for. Ever since then, we've been using this idea and I love it! We tell our kids they get to make a Christmas wish list that includes:
Something you want, Something you need,
Something to wear, and Something to read
(I love a good rhyme to keep things easy to remember!)
Making A Christmas Wish List
Heres a quick video explaining this idea –
Our kids will get a big gift from Santa and we buy things for the whole family, like board games and movies. They also buy small gifts for each other and the grandparents always come bearing gifts, but from mom and dad they only get 4 things under the tree and we call it good! Because we love this idea so much, we decided to create a printable that's simple yet darling so each of you could enjoy this awesome idea as well!
Christmas Wish List Printables

Supplies:
Santa letters + gift tags (download below)
pen or marker
scissors or paper cutter
Directions:
First, print of our darling letters and have the kids fill them out.
When it's time to put the gifts under the tree, print off the tags if you'd like, cut them out with a paper cutter or scissors, fill in the name, and attach with tape or ribbon to your gifts!
Stay sane this holiday season. 😉
More Great Christmas Printables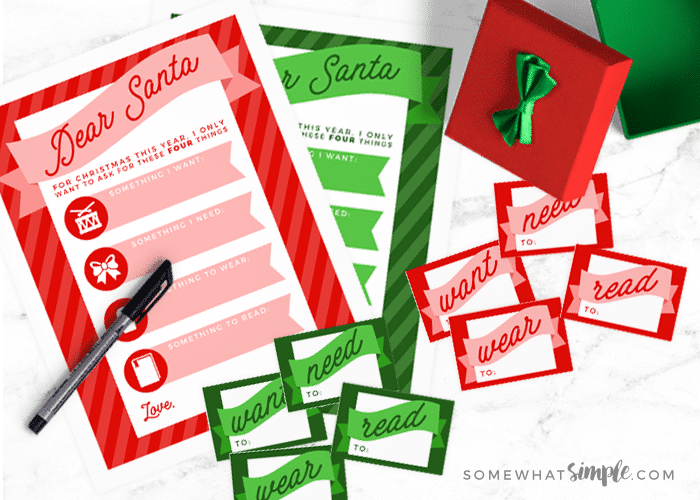 Everything stays organized, simple and fair with this list. Plus, it adds variety to the presents under the tree! Click the links below for the printable(s) you want to use:
Hope you enjoy and HAPPY HOLIDAYS!
This post originally published on Somewhat Simple in December 2012 and was updated in 2017 with new printables and images.