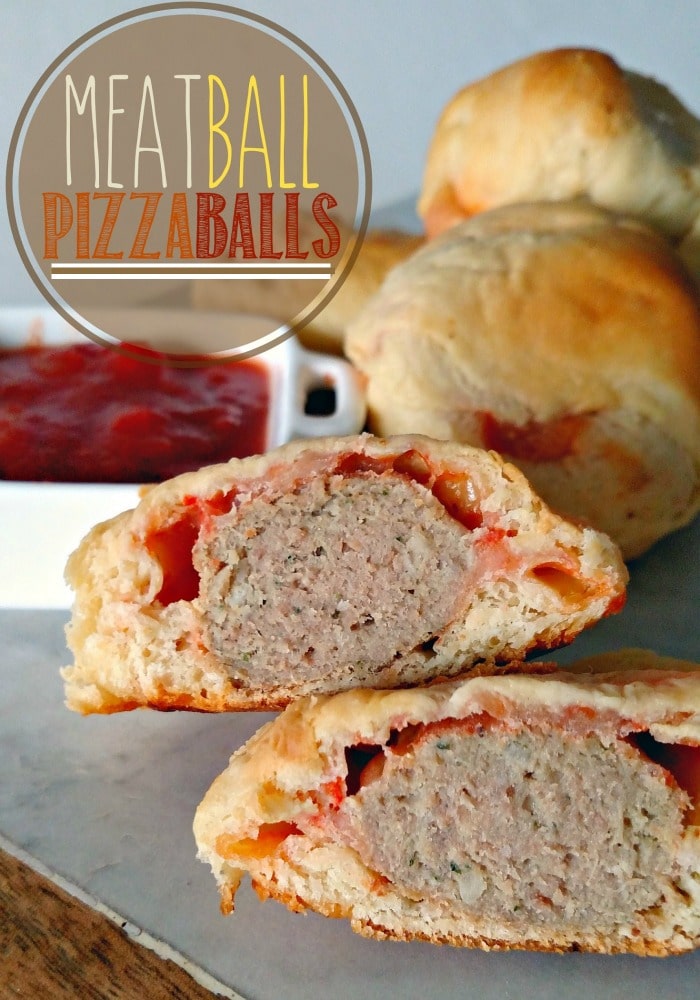 My husband is a good sport in the kitchen. He'll taste test even when he doesn't normally like the ingredients, he'll put things away as fast as I get them out, he'll measure and stir and most of all he's the heavy lifter in the dish department. So tonight I decided to say thank you in the best way I know how: food. Not just any food, I decided to say thank you with flaky, cheesy, gooey, meaty, a little bit quirky Meatball Pizzaballs!
What's a Meatball Pizzaball? To anyone who likes meatballs and cheese and pizza and warm bread it's basically heaven!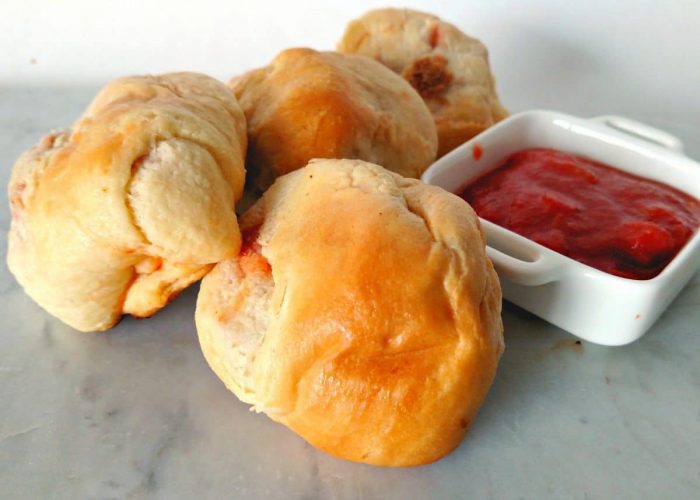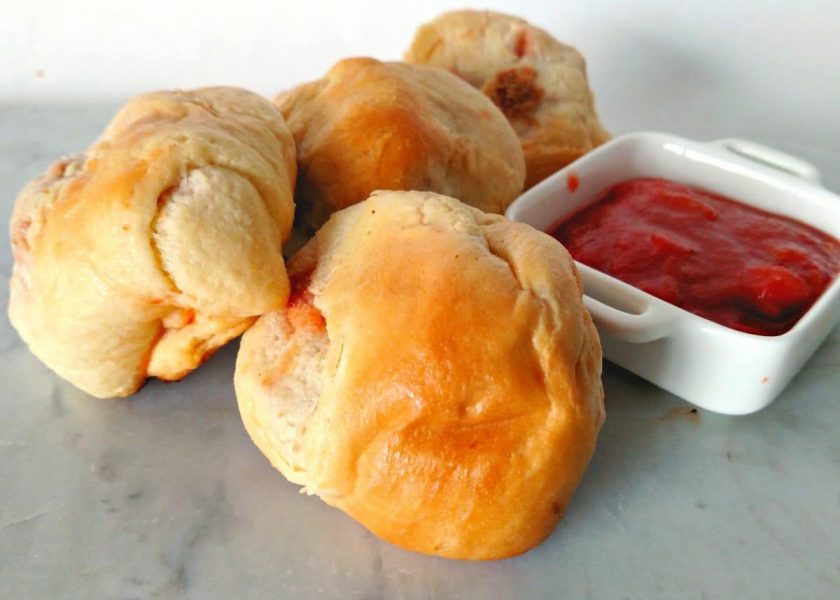 I usually use the basic ingredients for a cheese or pepperoni pizza when I make these, but I decided to switch things up a bit this time and do a meat-lovers version with Johnsonville Classic Italian meatballs. These meatballs not only add amazing flavor, they also make this recipe a snap! They're fully cooked and in the freezer section so all I had to do was thaw and roll them up! My husband absolutely loved them and I loved getting to skip the "make-the-meatballs" step! We only used half the bag in this recipe so he's also getting spaghettiand meatballs, meatball sandwiches, maybe even some meatball omelettes (just trust me on this one, it's good) all week.
For even more convenience I used store bought Crescent Rolls that I pinched into a square-ish shape, topped with our favorite tomato sauce, plenty of mozzarella, and a tasty meatball. Here's how to make it:

My husband loved how the bread soaks up all the tomato sauce and cheese as its baking so they're surprisingly not at all messy. They were best straight out of the oven but for the sake of thoroughness (according to him!) he tried chilling one in the fridge and declared they're great when cold too!
Ingredients:
Johnsonville Meatballs defrosted (I used classic Italian but the 3 Cheese would be great too!)
1-2 cups Mozzarella cheese
2 cans Crescent Rolls
your favorite tomato sauce
Salt
any other toppings your family enjoys!
Directions
Heat the oven to 375. Assemble toppings & line 2 baking sheets with tin foil.
Peel off a crescent roll piece, turn up corner to make it more square-ish and press to seal.
Put 1 spoonful tomato sauce, 1-2 Tablespoons cheese, a small sprinkle of salt, and a meatball in the center of the dough.
Use both hands to lift the sides, pressing the edges together to form a sort of dumpling ball.
Place seal side down on tin foil and repeat.
Bake 15 minutes and serve!
Notes
Adding a little bit of salt really helps lift up the flavor of the mozzarella, you can also blend the mozzarella with other cheeses.
We made the full recipe but these are so easy you could just make a few at a time for a quick dinner or even after school snack.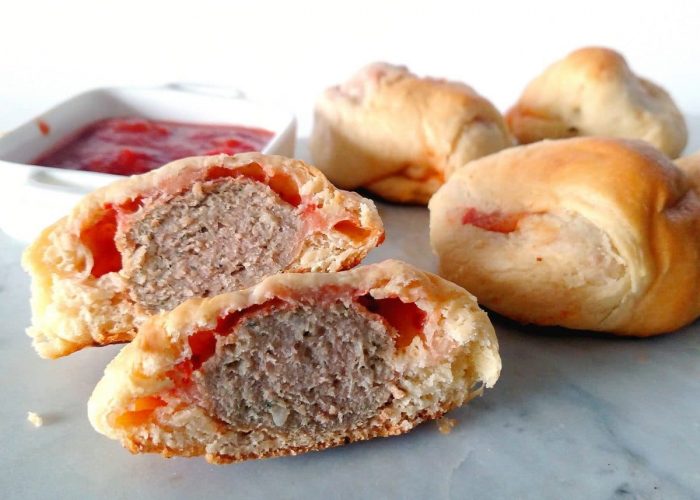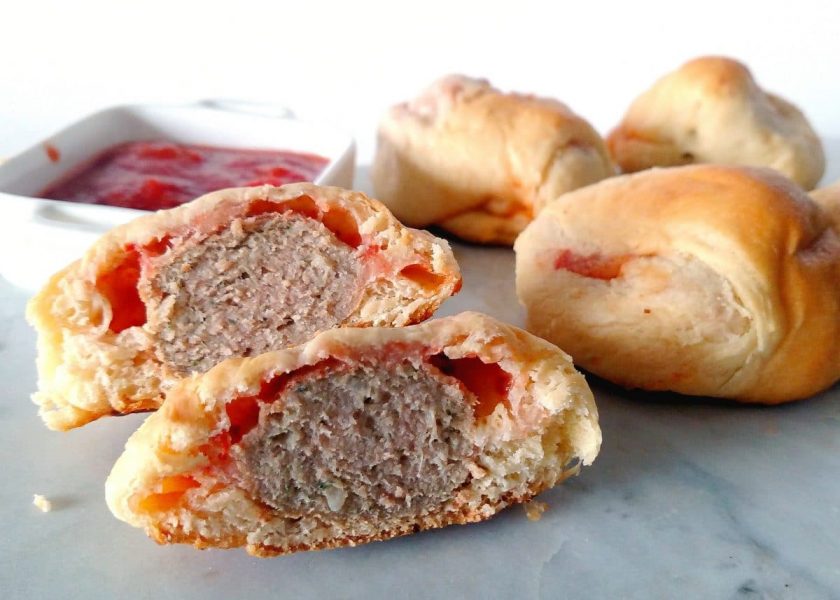 I think these pizzaballs make the perfect meal for a busy holiday season- they are super easy to prepare, they cook in 15 minutes and they are completely customizable! Get the whole family in the kitchen to make their own and everyone will be satisfied!
ENJOY!
This is a sponsored conversation written by me on behalf of Johnsonville Italian Sausage. The opinions and text are all mine.