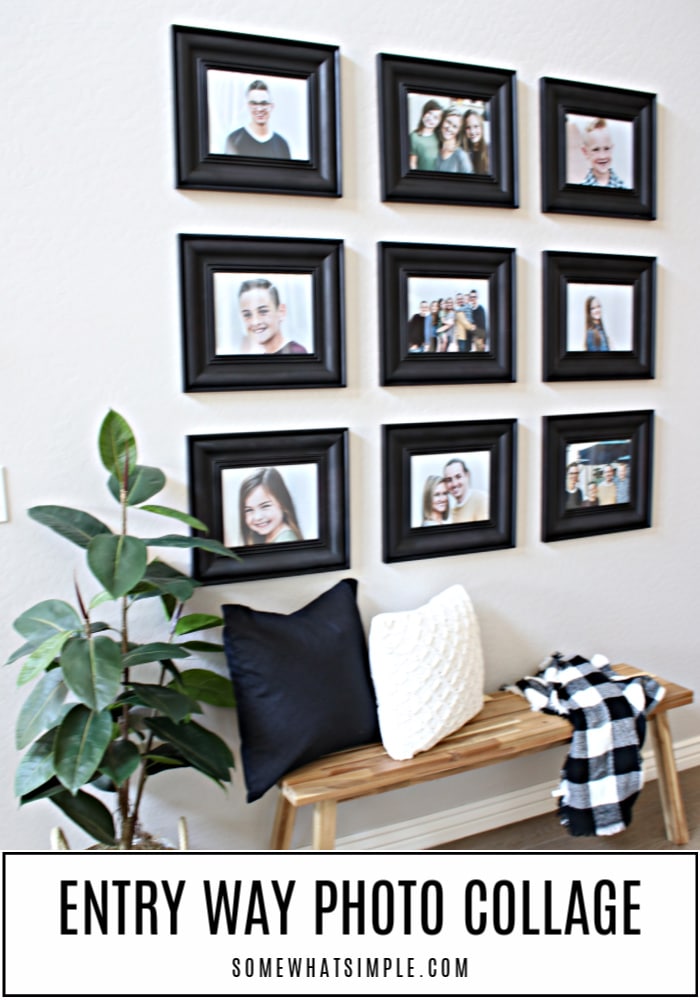 A blank wall in our entry way gets a fresh and affordable makeover using simple decor and a photo collage that really makes a statement!
It's Photo Collage reveal day, and I'm so excited to share the simple transformation of the big empty wall in our entry way! In case you missed the other projects leading up to this, take a peek at our Front Courtyard Refresh, The BEST Gray Paint for our Walls, and our Entry Way Decor. I know I've kept you waiting for much too long to see the final reveal of this space, so without further delay, here it is…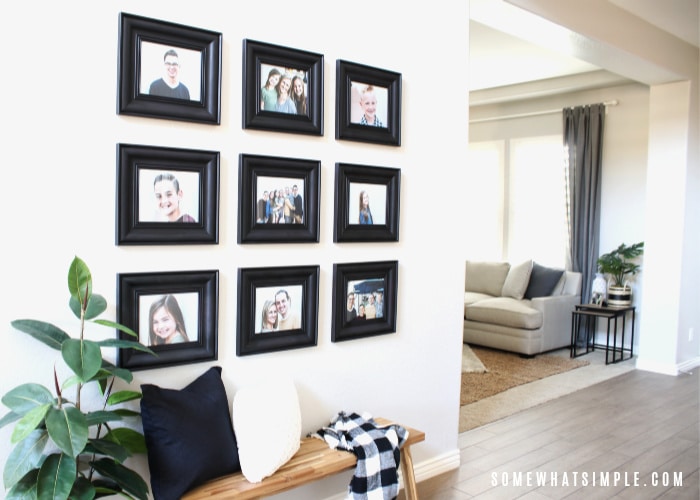 Easy Wall Collage Decor
What do you think??
If you follow me on Instagram, you've had a front row seat behind the scenes with all the planning that went into this project, including the color dilemma of what to paint these frames – perhaps you even voted for your favorite color!
All along I envisioned using white frames, not black. I even bought the white frames and I was ready to go! But then I spotted these chunky frames in the As-Is Section at IKEA for only $2 each and they were PERFECT… minus the fact that they were MAROON!! (Ok, so maybe not perfect but it was nothing a little spray paint couldn't fix!)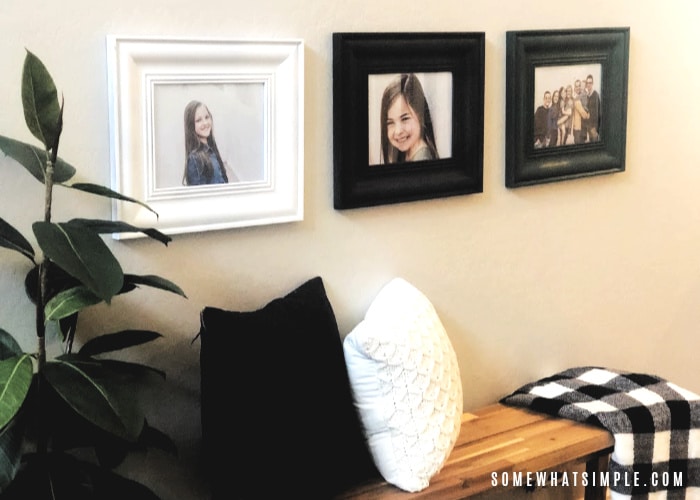 When buying spray paint, I was worried how many coats of white paint it would take to cover the dark maroon. So I bought a couple darker colors (black and hunter green), just in case the white didn't work out. I spray painted 1 frame in each color and then hung them on the wall. The result was surprising, not only to me, but to my IG audience too! The first poll I took for color preferences had white in the lead (I definitely agreed!) Once hung on the wall, the second poll had white DEAD LAST, and black was the clear winner. But you guys were right! On the wall, white was my least favorite option!
I decided to go with black because –
I loved the contrast on my gray walls
the family pictures I want to hang first in this space are on a white background and the black frames really made those photos pop!
1 coat of spray paint was all it took to cover that gross maroon color!
So tell me, do you like the black frames in our gallery wall????
(Because I do!!!)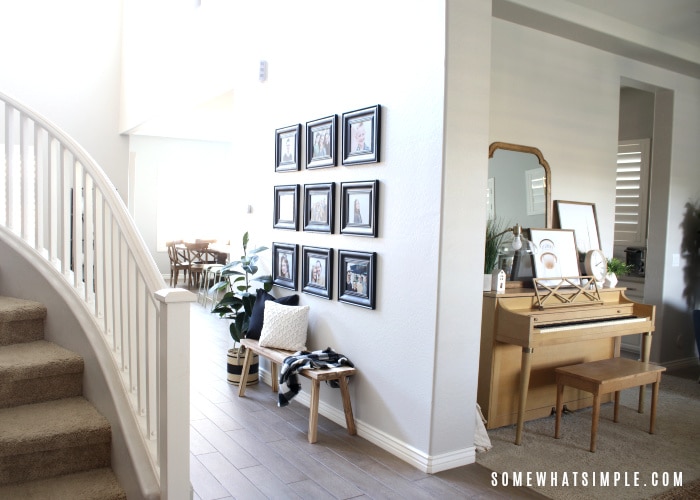 Adding a gallery wall with pictures of your family can really make a space more warm inviting – don't you agree?
Because this space serves as a walkway to our kitchen and family room, I added a small bench that doesn't stick out too far from the wall. A plant + pillows and a cozy throw blanket turned out to be the perfect accessories!
Shop This Space
Bench from IKEA
Frames from IKEA, similar
White knitted pillow from Walmart
Black pillow from IKEA, similar – I died a navy pillow case that I already had black
Throw blanket from Hobby Lobby similar
Create a Photo Collage of Picture Frames
Think of an empty wall as a great canvas to display some awesome family memories! You can do a random placement of frames and include an array of items, but my "clean lines loving heart" wanted straight rows… so that's what I went with!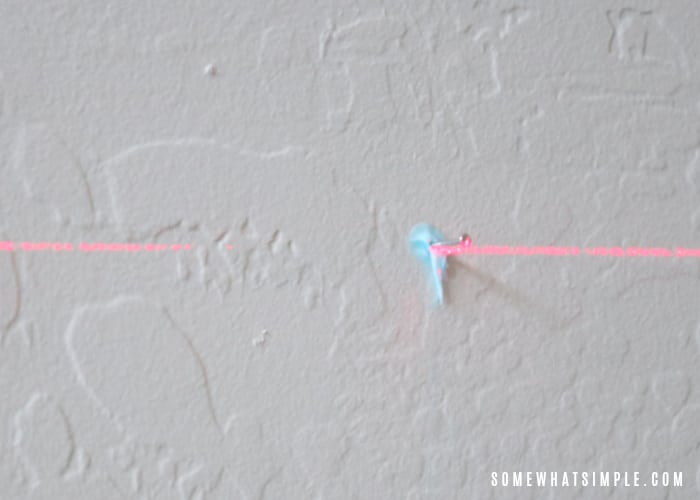 I hung each frame using the toothpaste trick – have you seen this? It's the easiest way I have found to hang a frame on the wall perfectly straight every time, and without adding a billion holes in your wall to get it right! Click HERE to be amazed.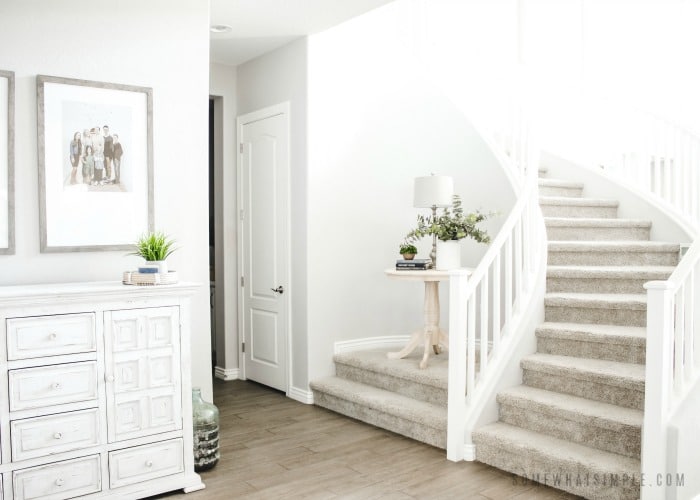 And to see the rest of my entry way with our pretty spiral staircase, click HERE.