Learn how to hang a picture perfectly every time with this one simple and easy tip!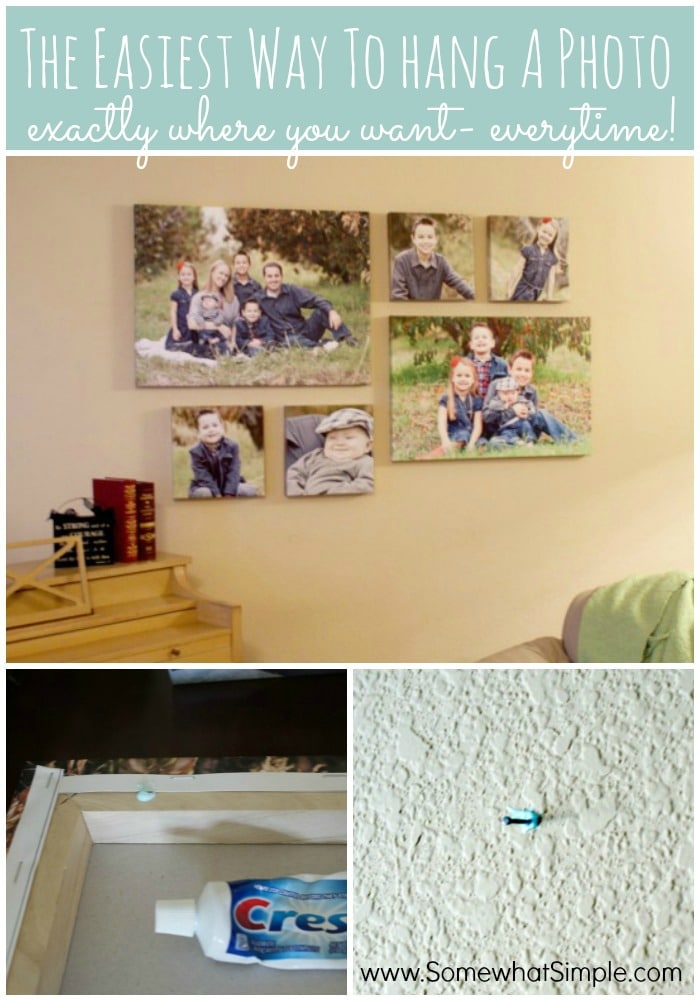 Hanging several pictures in a straight line can seem a bit daunting, but keep reading and your photo hanging fears will flee! I'm going to teach you how to hang a picture collage using a simple method that will have you saying, "Why didn't I think of that??" Ready for it????
How To Hang Pictures
I decided to take our family pictures from this year and put them on canvas. I ordered my canvases here from CanvasDiscount and I absolutely love them!  They look fantastic and they're prices are some of the best I've seen. The sizes I ordered were kind of random.  I didn't think I was going to use all of these together and I wasn't sure what size I wanted the big picture to be.  Then when I put them all together, I actually really liked how they grouped.
(The sizes are 4- 12×12's, 1- 24×32 & 1- 20×30)
Here is where the magic happens- are you still with me???
The Best Picture Hanging Tip
Simply add a small dot of toothpaste to the back of your picture where the nail(s) will go.
(Crest did not pay me for the above picture, though they totally should because it is the only toothpaste I will ever use and I could be a great spokesperson for them!)
Then, press the picture to the wall where you want to hang it.  The toothpaste from the back of your frame will then stick to the wall.
Put your nail where the toothpaste is…
Then hang your picture!
How simple is that?  Now you know how to hang a picture perfectly every time.
Go ahead, you can thank me for saving you time and a bazillion holes in your walls!
This post originally published on Somewhat Simple in February 2012