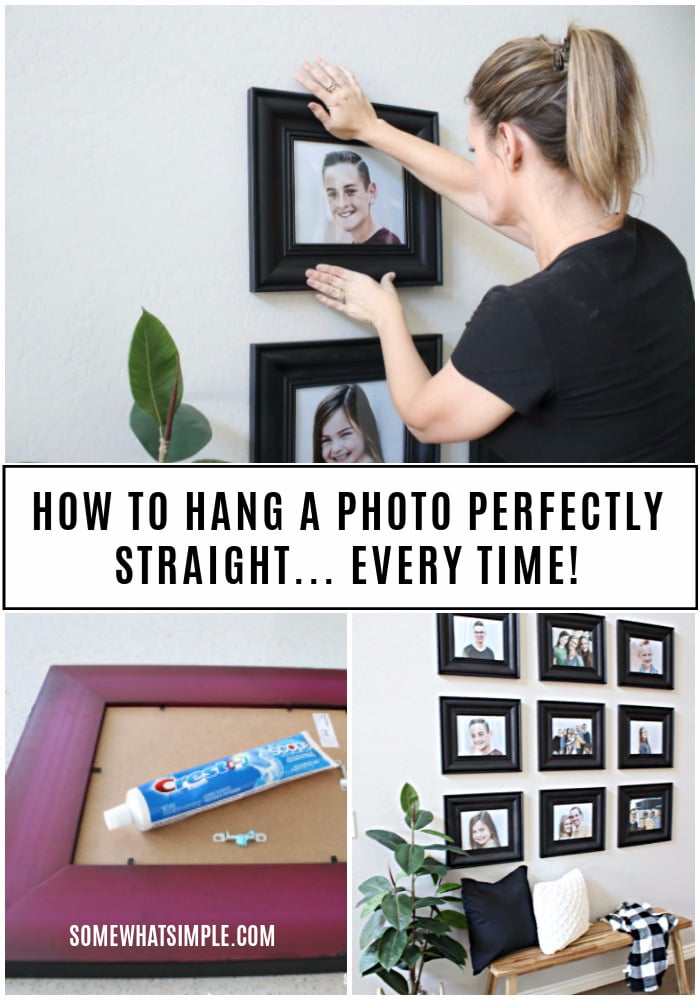 How to hang a picture without making hundreds of holes in your walls! Get it right the 1st time with one simple tip that changes everything!!!
Looking for more ways to decorate your walls? Here are a few of our favorite ideas – How to Decorate a Blank Wall, 48 Printable Wall Hangings, and Adding Color to Your Home.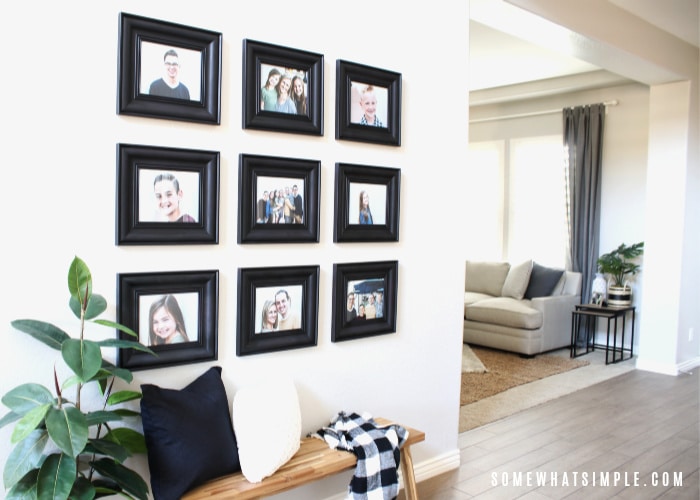 Picture Collage Hallway Decor
Last month for our #SimpleSpacesChallenge, I finally tackled the large wall in my entryway. (For the full reveal on this space with product links, check out our gallery wall blog post.)
Along with a darling bench and minimal decor, I hung 9 framed pictures in a simple collage. I was able to hang all the pictures by hammering just 9 holes in my wall with a simple decor hack that I've been using for years.
When it comes to hanging pictures or collages on the wall, I've seen people go to great lengths to hang a picture straight – they'll use paper patterns or paper templates, they'll use a long piece of painters tape and level that first… each method is so time consuming, and there is still a margin of error that could leave your artwork looking crooked.
But gone are the days of hammering a nail into the wall and then realizing afterward that it's not in the right place. This hack ensures perfectly straight pictures are hung every single time without adding 100 nail holes in your walls.
It is the BEST way I've found to hang a collage with all the pictures lined up perfectly straight. It's also a lifesaver for frames with 2 sawtooth hangers/ hanging hardware that need to be perfectly level. (I wish they'd just include hanging wire on those frames!)
Frankly, I'm surprised more people don't know this trick, but I'm going to show you exactly how to do it.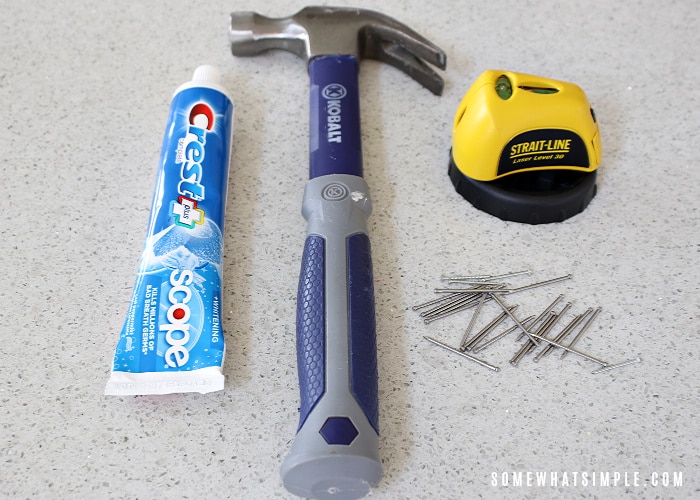 How to Hang a Picture Perfectly Straight
YOU WILL NEED –
Hammer and Nails – Depending on what type of wall you have (drywall, plaster walls, brick walls, etc.) you could also use a screwdriver and screws or picture hangers. For heavy frames, consider using a stud finder to find the wall studs, or use a wall anchor for each piece of wall art you are going to hang.
Laser Level – I got mine from a local hardware store over 15 years ago, but HERE is a similar one on Amazon for only $20 – it's worth every penny!
Toothpaste – Crest did not sponsor this post, although the should have! They are my very favorite toothpaste, and I would be an awesome spokesperson! 😉
INSTRUCTIONS –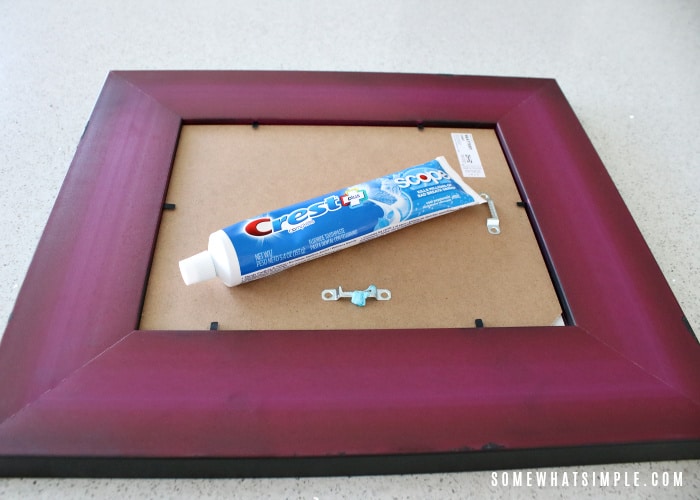 Once you know the layout you want and the placement of all your frames, place a small dab of toothpaste on the back of the frame where the nail(s) will go.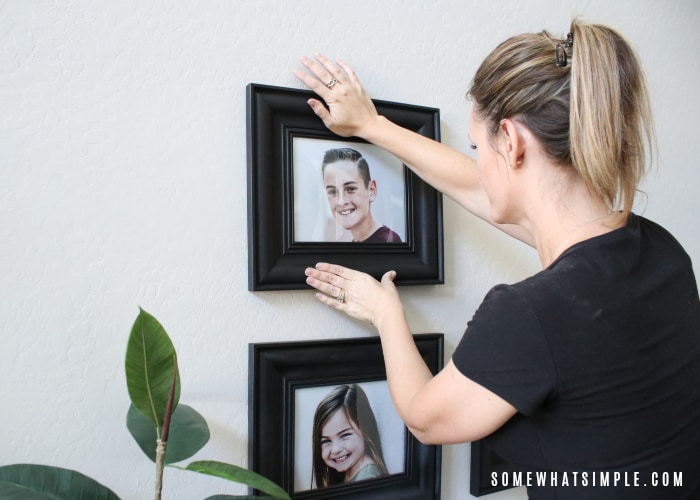 Press the picture frame where you want it on the wall so that the toothpaste leaves a mark on your walls.
The general rule of thumb is that you want the center of your artwork to be at eye level. If you are hanging a gallery wall, the center point of all your pictures or artwork should be eye level.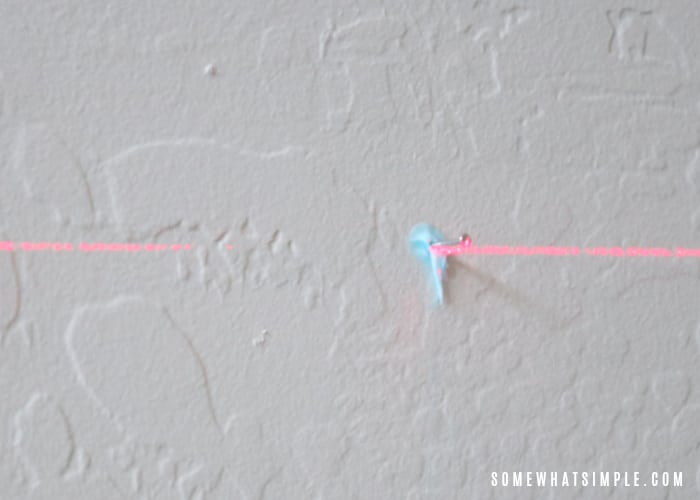 Set your laser level so that the laser points towards the toothpaste on your wall in a straight, level line. Put your nail right where the toothpaste meets the laser.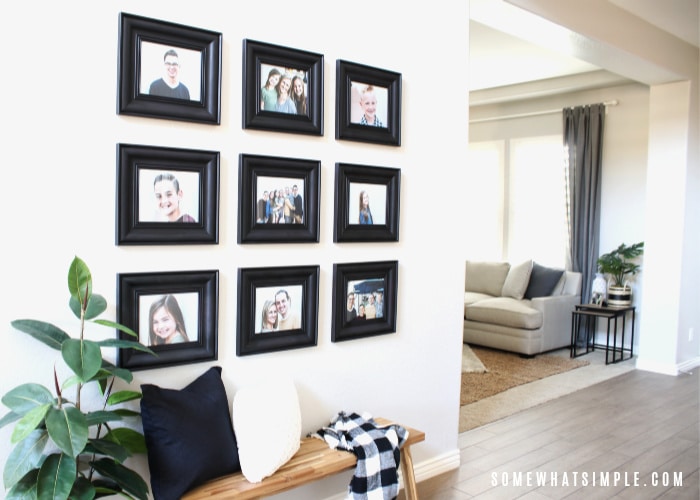 Wipe off any toothpaste from your wall and the back of your frame, then hang your piece of artwork on the nail in the wall and you're good to go!
How simple is that? Go ahead, thank me for saving you time and a bazillion holes in your walls!
More Home Decor Ideas
Here is a printer-friendly version of the entire process so you can hang a picture collage absolutely perfect every single time. Leave us a comment below and let us know what you thought of this easy method.
How to Hang a Picture
Hanging several pictures in a straight line can seem a bit daunting, but today is the day your photo-hanging fears will flee! I'm going to teach you how to hang a picture collage using a simple method that will have you saying, "Why didn't I think of that??" Ready for it????
Instructions
Add a small dot of toothpaste to the back of your picture where the nail(s) will go.

Press the picture frames to the wall where you want to hang it. The toothpaste from the back of your frames will then stick to the wall.

Set your laser level so that the laser points towards the toothpaste on your wall in a level line. Put your nail right where the toothpaste meets the laser.

Hang your picture on the nail, and you're good to go!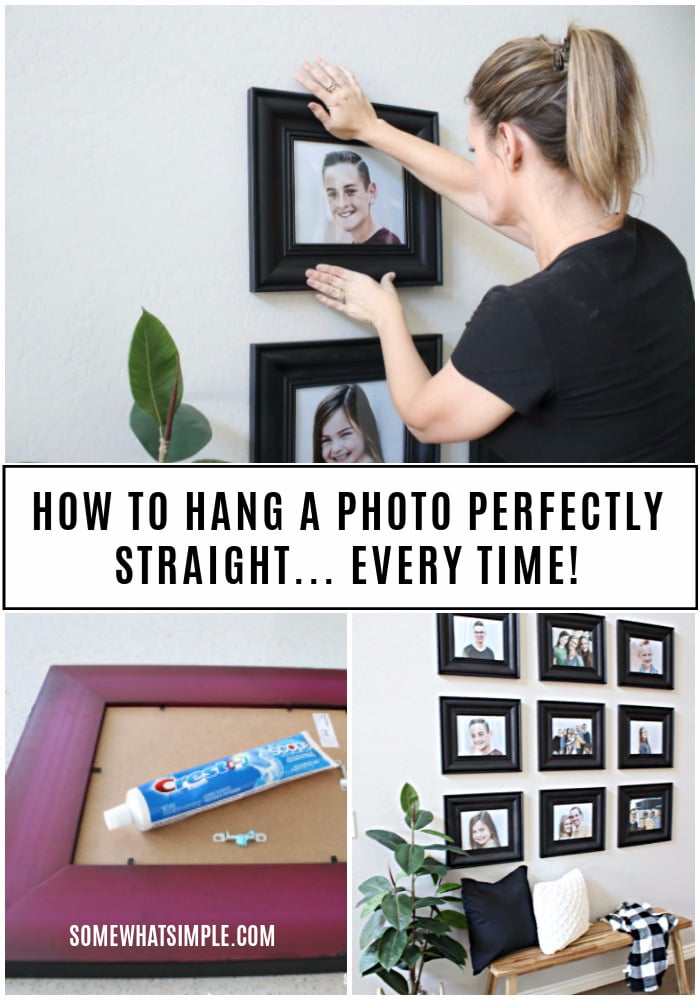 This post was originally published on Somewhat Simple in February 2012