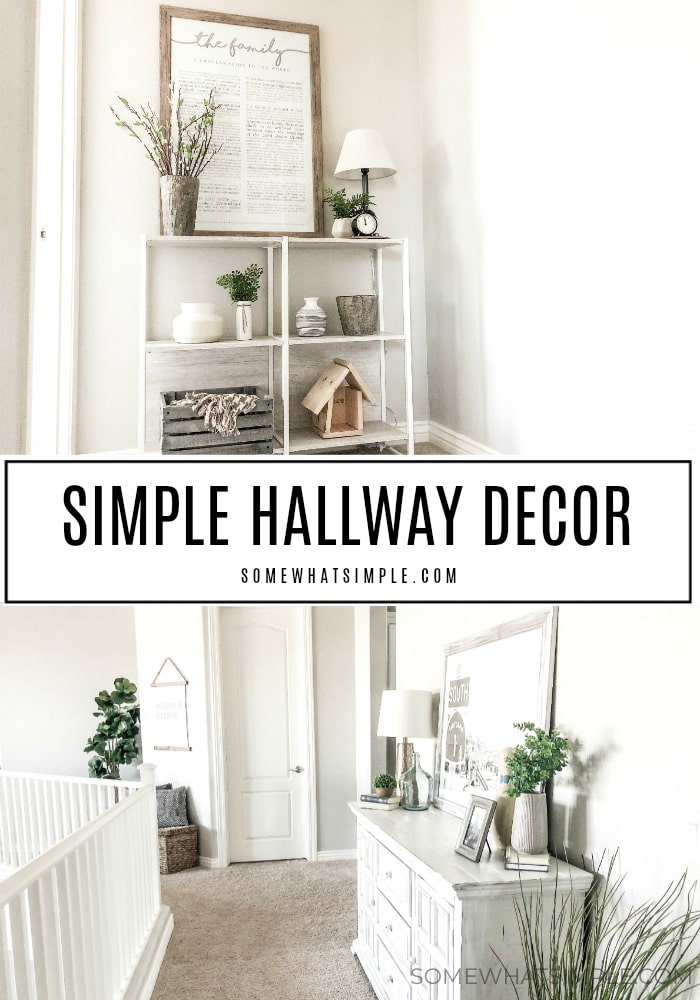 Turn your empty hallway into a fresh and functional living space! Today we're talking about Hallway Decorating Ideas and how to freshen up a space with a little bit of color!
If you love a good "small room makeover" as much as we do, be sure to check out a few of our favorite projects – the upstairs office, the utility closet, and our entry way.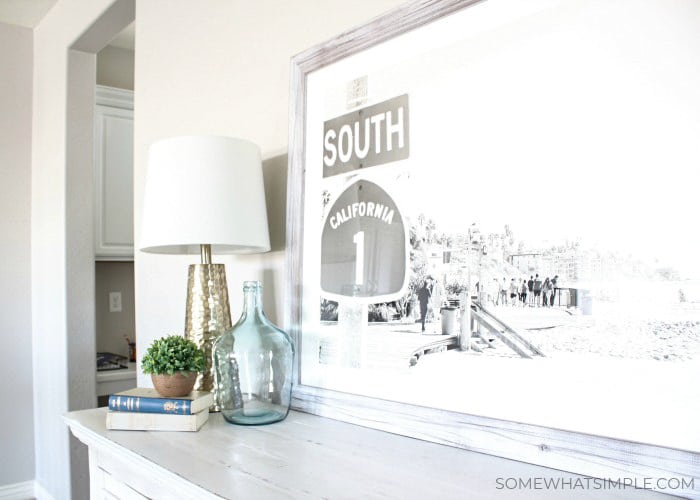 Last month for the #SimpleSpacesChallenge, I decided to tackle my upstairs linen closet. It was a project that had been on my list forever, and it feels so good to finally have it organized! Once everything in the closet was nice and tidy, I realized how dark and drab this hallway was, so I set out to make it look awesome!
THE GOAL – Add some simple decor elements to the upstairs hallway to lighten up the space and make it feel fresh!
THE CHALLENGE – Part of this space is small and hidden, so any bulky decor could make it seem even more crowded. The other half of this space is open to our family room, so the decor of the hallway should match that same look and feel.
THE RESULTS – Take a look for yourself!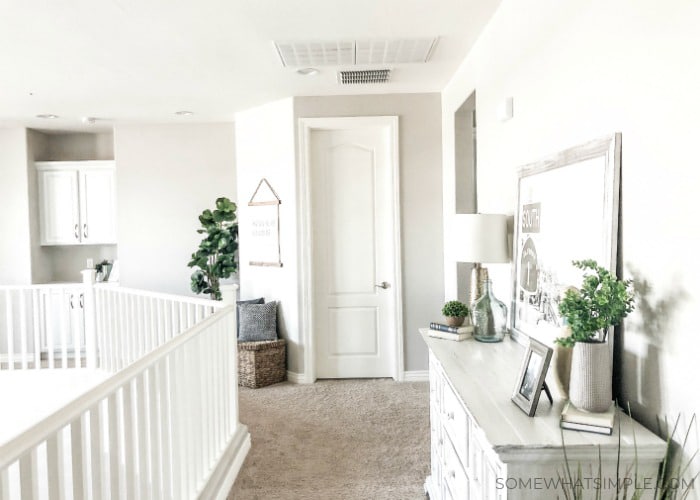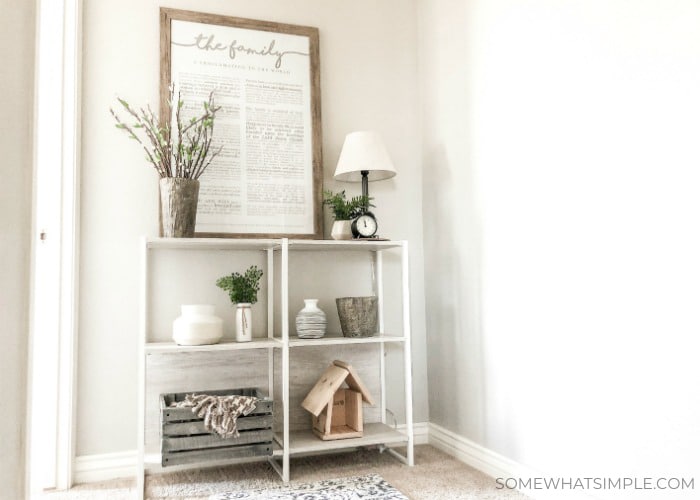 I am in LOVE!
To get this project stated, I got to work on the darkest spot of the hallway, which happened to be directly across from my linen closet.
Hallway Decorating Ideas
***All products used in my hallway will be linked at the end of this post.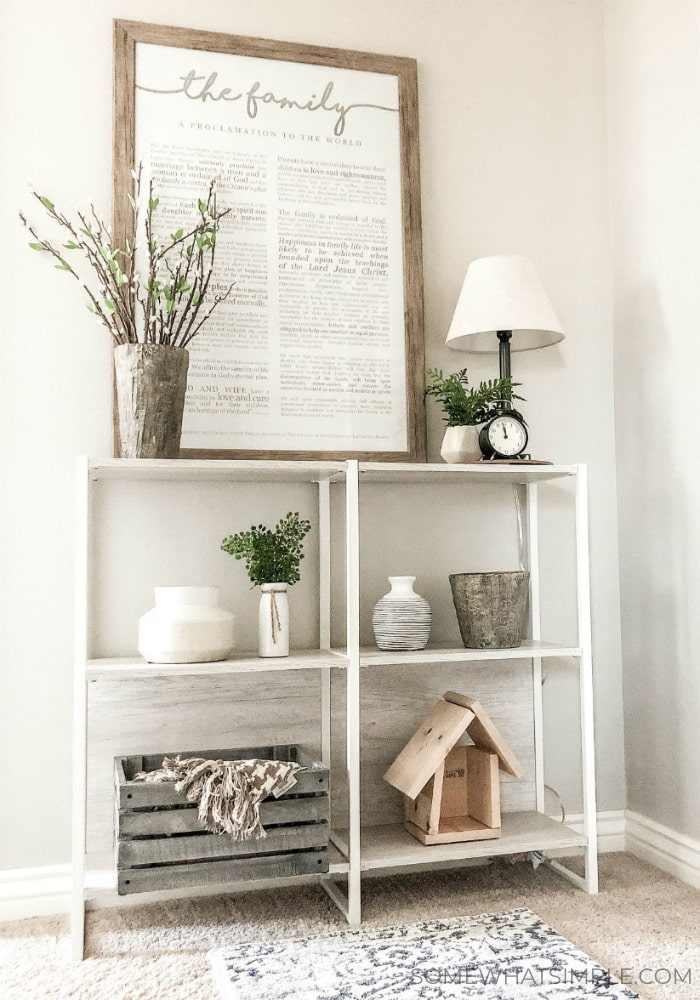 First things first, I added a rug in the prettiest blue/gray color scheme. This set the tone for the entire space and already brought some much-needed color. (More pictures of the rug at the end of this post.)
Next, I added a small shelving unit to the end of the hallway that was originally in my kitchen. This shelf provided the perfect backdrop for some decor pieces that would add color and dimension. My plan for the accessories was to keep it simple. Too many items crowding the shelf would make the entire space look cluttered. I'm so happy with the result – isn't it perfect?!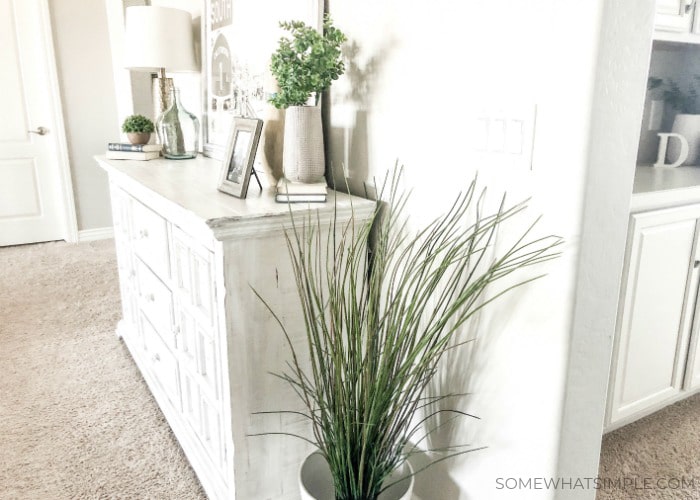 Once this space was looking bright and cheery, I moved onto the last part of the upstairs hallway. This part is actually visible from downstairs and now that is is actually decorated, I find myself looking up at it all the time!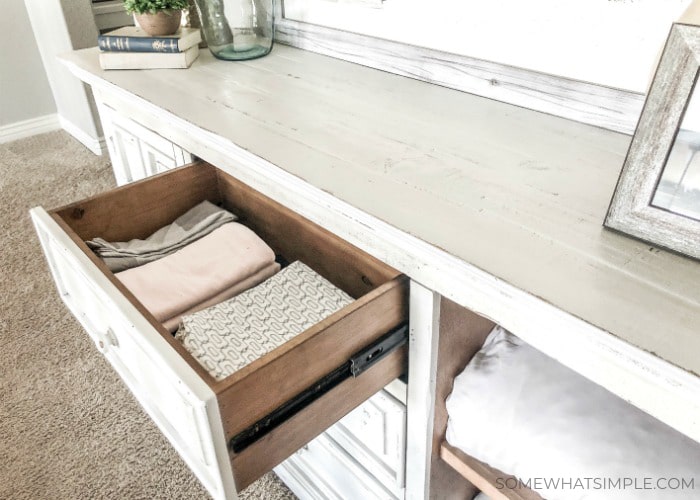 I bought this white dresser from American Furniture Warehouse to act as an extension of my linen closet – it holds all our extra pillows and pillowcases. (I have the tall chest of this same furniture line in my entry way and I absolutely love it!) To finish off the space, I added some simple accessories to the top of the dresser and called it good!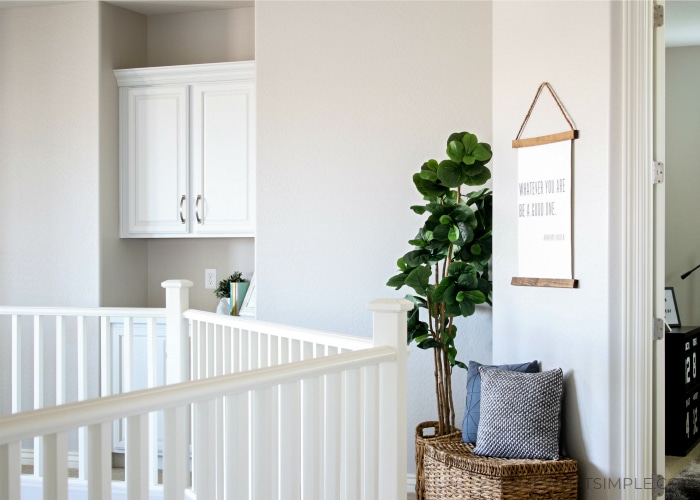 This hallway has a weird curved wall that needed some sort of design element. I grabbed a basket I was no longer using in my office, added some new throw pillows, and hung a sign above it. Next to the basket, I added a faux plant for some more height and dimension.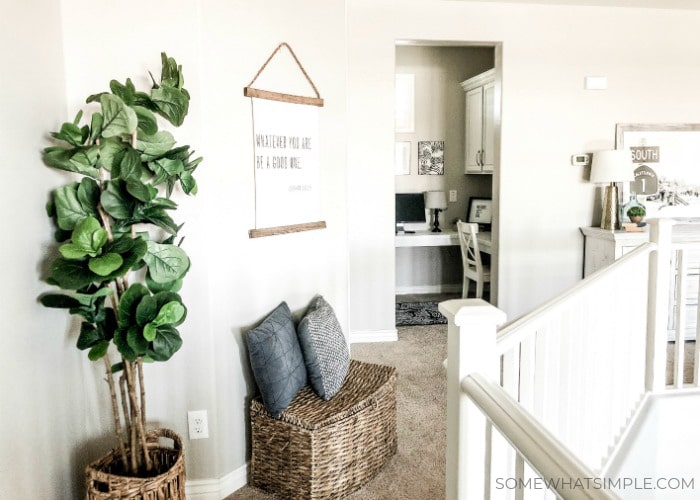 Who knew a hallway could bring me so much joy??
Adding Color to a Space
One great way to bring depth and interest to a room is by adding color. I LOVE color… but I tend to have commitment issues. I go through phases where I love blue or green and then a few short months later I am on a yellow kick. I've learned over the years that for people like me, it is best to have neutral statement pieces and then change things up with non-permanent accessories. That's the approach I took when decorating my upstairs hallway – keep it neutral, add colorful accessories. Here is a short recap of 5 Easy Ways to Add Color to a Room without breaking the bank.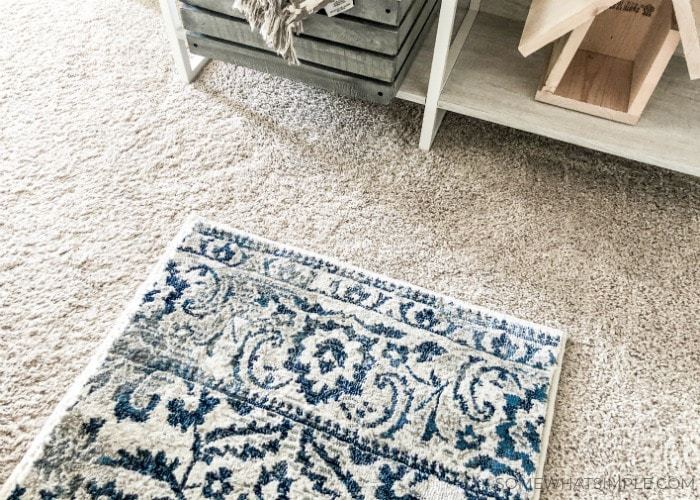 1. Add a rug – Regardless of what my husband might say, a rug is a must when it comes to design and decor. Before I start to decorate any space in my home, I look at rugs first. This will set the entire tone of a room and make everything else come together nicely. It is a great way to add color without adding clutter.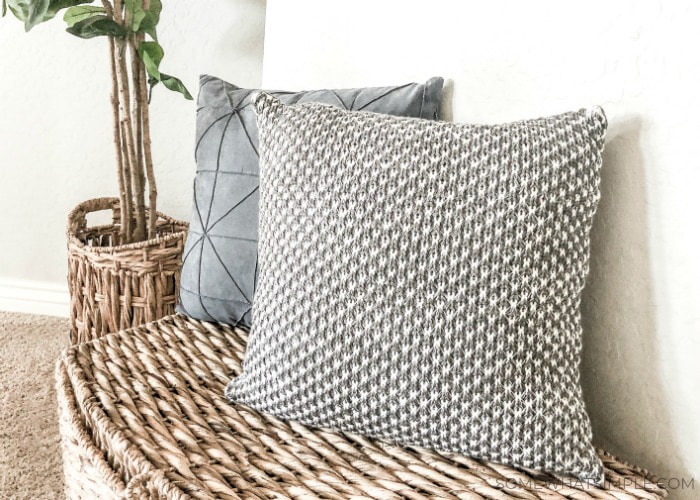 2. Add some throw pillows – While typically seen on beds and sofas, throw pillows can make a statement in any space of the home! Along with adding a punch of color, the 2 throw pillows in my hallway also make that little corner so comfy!
3. Add some accessories – One of the simplest ways to bring color into a room is with accent pieces – framed pictures + artwork on the walls, lamps, vases, etc. This is easy and inexpensive and will make a huge difference!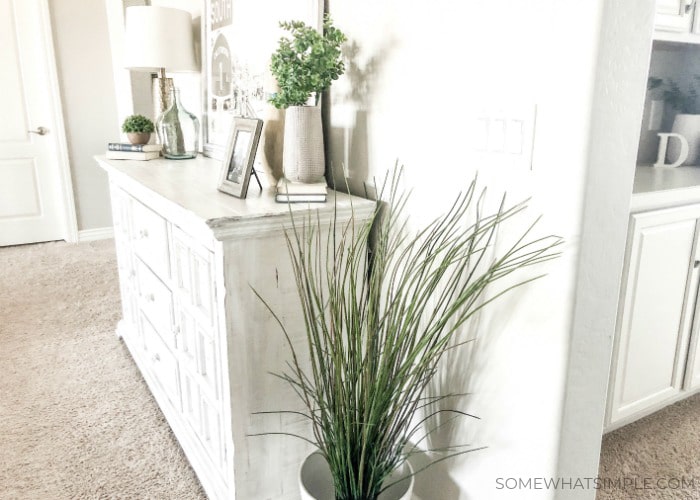 4. Bring in natural elements – One of my favorite ways to add color is by adding plants and other items from nature – a vase of rocks, a bowl of fruit, etc. The green in a plant adds color while still keeping the space neutral.
5. Paint – This is probably the most obvious way to go about bringing color into a room, but I included it last because I rarely paint anything in my home! 🙂 (Remember my color commitment issues?!) Painting your walls is actually relatively inexpensive, but if you really want to save money, try painting an accent wall or a piece of furniture. Not only does painting an accent wall bring instant color into a room, but it also creates a great focal point without spending a lot of money. Painting furniture is also a great idea for those who rent, because quite often painting walls is off limits.
What are some of your ideas for bringing color into a room?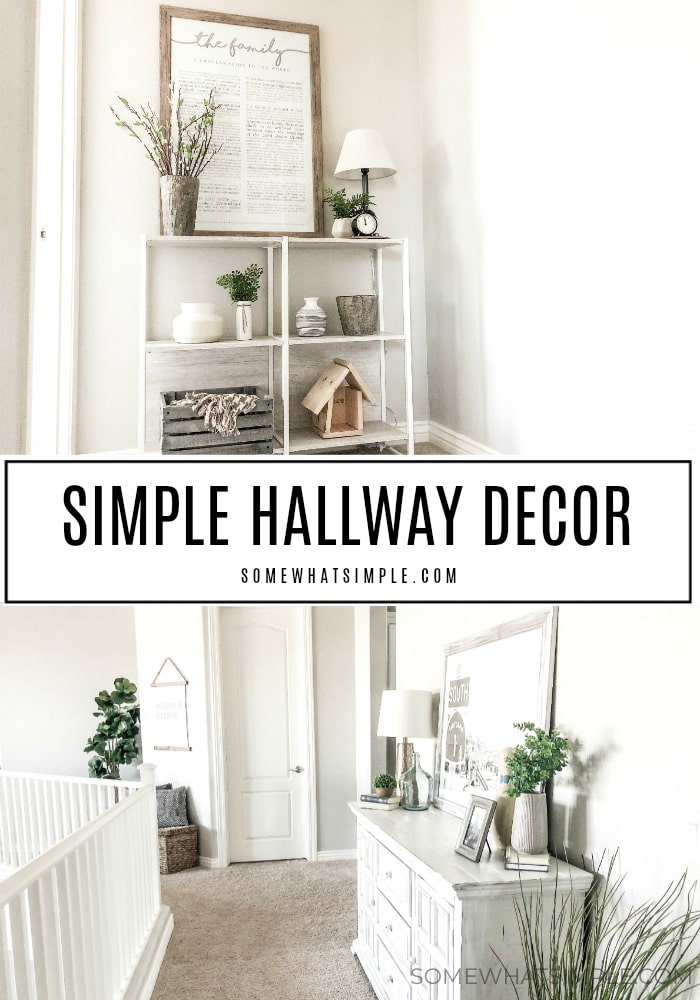 PRODUCT LIST-
Milan Distressed Medallion Runner Rug || $45 American Furniture Warehouse
Paulo 2-Shelf Bookshelf || $80 Target
Framed Family Print || $8 Print It Engineer
White Isabella Dresser || $377 American Furniture Warehouse
Hwy One Black + White Print || $100 Minted
Faux Grass Bush in White Pot || $20 IKEA
Abe Lincoln Quote Wall Hanging || $18 Smallwood Home
Faux Fiddle Leaf Fig Tree || $48 American Furniture Warehouse
Accessories from American Furniture Warehouse-
*Other accessories were collected over the years.