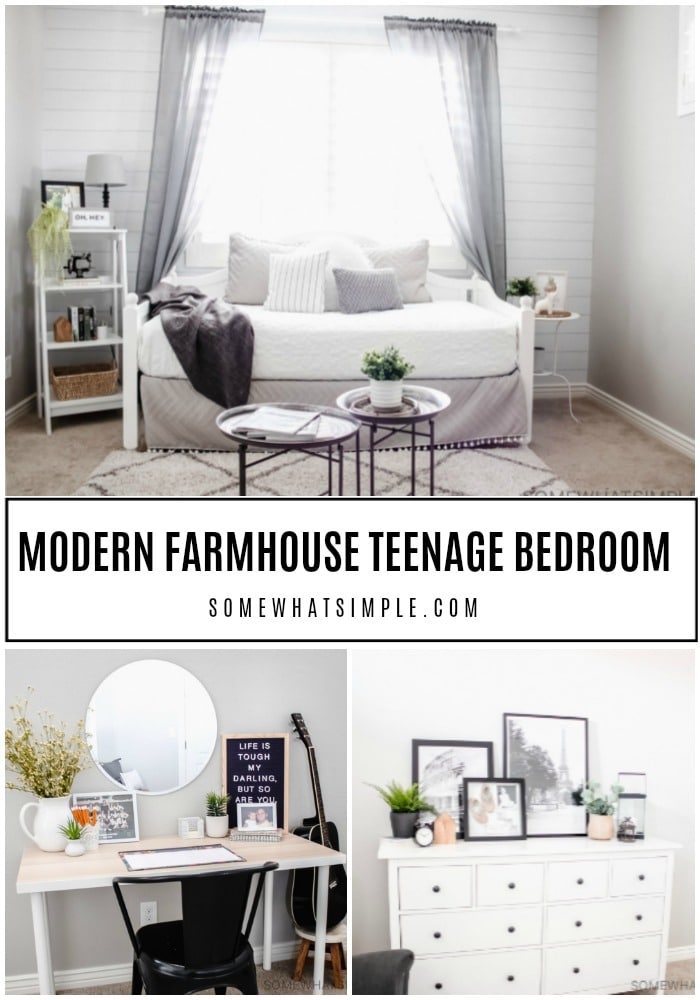 A modern farmhouse design for this teen girl bedroom is both simple and sophisticated. The perfect place to relax, study, and hang out with friends!
The 5th (and final!) bedroom I've designed for my kids is finally finished! If you missed the other 4, take a quick peek – Addison's Creative Art Bedroom, Mason's Vintage Schoolhouse Bedroom, Ryan's Industrial Hockey Bedroom, and Ethan's Teen Boy Bedroom.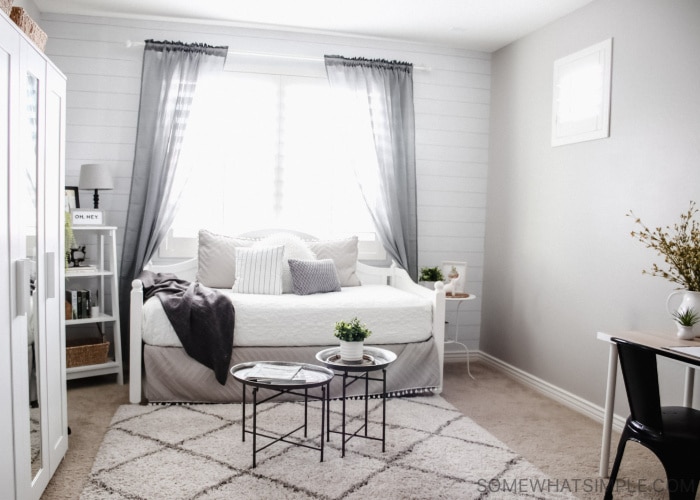 If you've been around here for a while, you might remember the very first completely decorated space in our new home – Leah's tween girl bedroom. Leah and I began planning that room together almost as soon as we signed papers for our home. She was 9 or 10 at the time and her room looked awesome! Fast forward 3 years and she has decided she's outgrown the teal and coral phase and needed a space that was a little more grownup.
This girl is a lot like me in that she enjoys swapping rooms with her siblings. (I did this ALL the time as a kid!) She started off in the bedroom with the balcony but swapped spaces with Mason for the bigger bedroom with a tiny closet. In just a short time, she decided she missed having a walk-in closet, so she swapped spaces with Addie. But once seeing how awesome Addie's room was when I furnished and decorated everything, Leah wanted the big room back and was able to easily convince Addie to trade back with her – a decision Addie will someday regret! So if things in this room reveal look a little familiar, it's because I told Leah she could swap spaces with Addie so long as no furniture was moved! Here is what her teen girl bedroom looks like now… and I don't see her trading spaces anytime soon!
Teen Girl Room Ideas
Let me just say that designing a bedroom for a teenager with an opinion is hard. I feel like Leah had this plan in her head that basically outlined what she didn't want. The good employees at Target just might know me by name as I made so.many.trips to buy (and then return) decor I thought Leah would LOVE!
It wasn't until we ditched school and took a trip to IKEA that she was finally able to show me examples of what she wanted – Modern Farmhouse! She liked the shiplap, neutral, soft look of a modern farmhouse design – not the bold blacks and white that I thought she was after all this time!
With that in mind, I got to work! Let me give you a little tour –
*Affiliate links to products shown here are included below for your shopping convenience.
Little Girls Bedroom Decor
I bought this bed a while ago and it reminded me of the daybed I had when I was a little girl! The 2 round tables were stolen from my living room – I think they look better in this space anyway!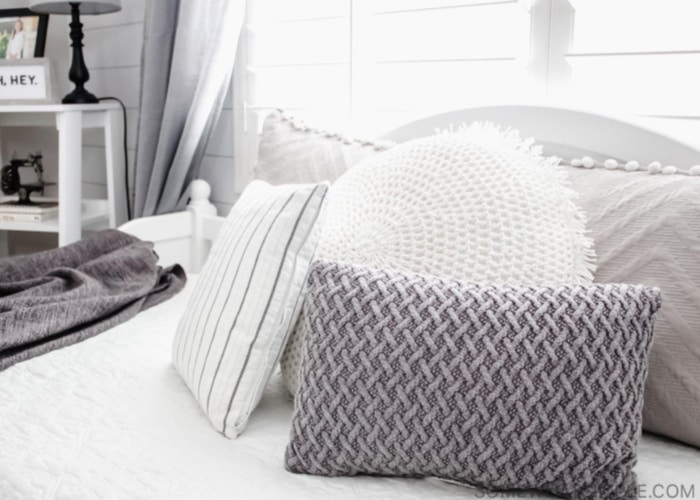 We kept the pillows to a minimum with some solids and texture.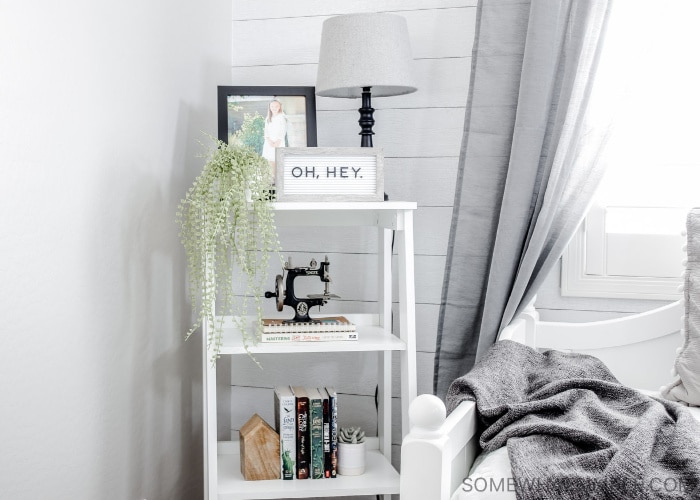 Next to her bed, I added a shelf….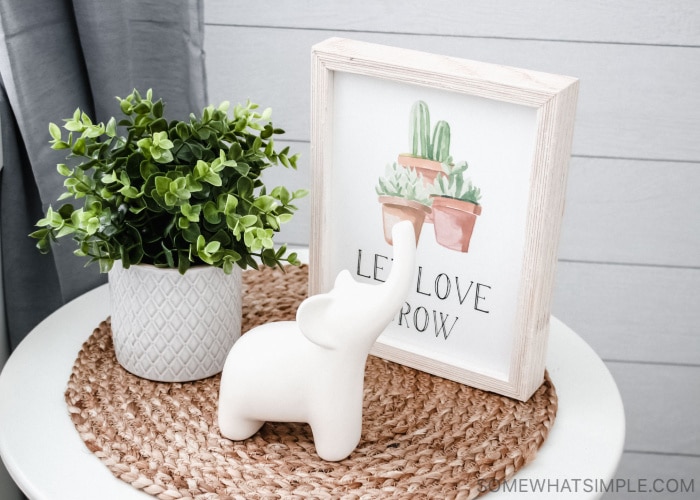 …and a round side table.
I kept both of these pieces very minimal so it doesn't look crowded or cluttered.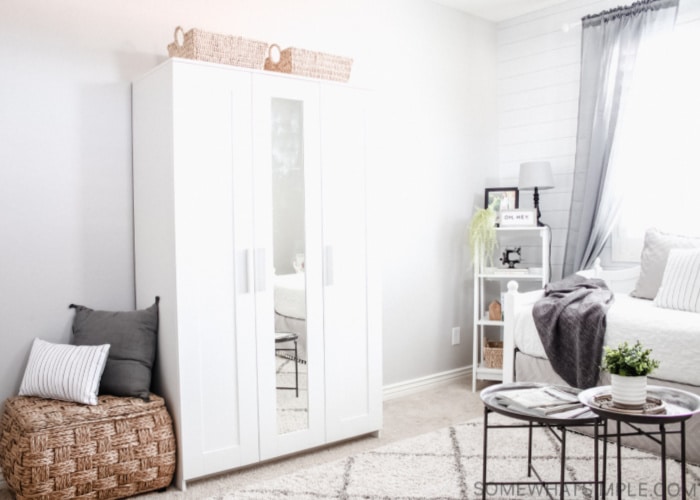 This room is actually considered a media room in the floor plan of our home, so it's a big empty space that's wired for surround sound, but it doesn't have a closet! A quick trip to IKEA fixed that issue with this big wardrobe that works great!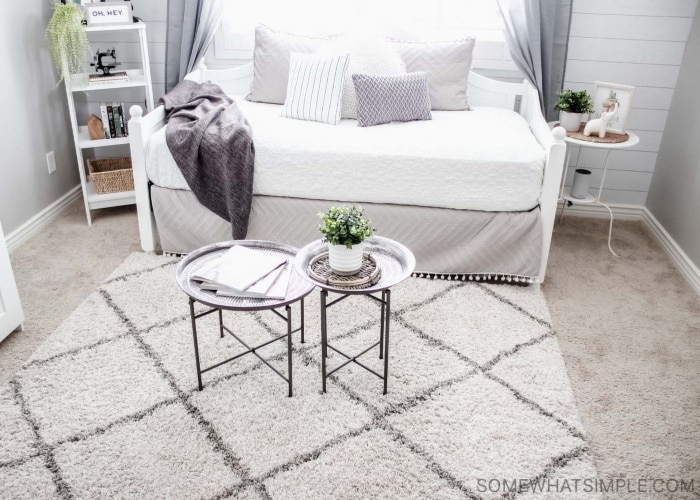 The rug situation was the part we disagreed on most – it was so hard! I tried 3 different rugs in this space that didn't look good at all – that was the only thing we both agreed on.
All along I kept telling Leah that the rug Aunt Megan gave us that wasn't being used would probably be perfect, but Leah insisted she didn't love it. I told her we should just try it out, so last Saturday she finally agreed to see how it would look.
Being stubborn (like her dad, not me!) she still insisted she "hated it".
Not only did I think it looked great, I also loved that this rug was free. But Leah had convinced herself that the rug looked terrible, and there was NO changing her mind…
…until she lived with it for the weekend and finally came around!
On Monday she informed me that she actually really liked it… a lot!
Whew! (And also, I told you so.)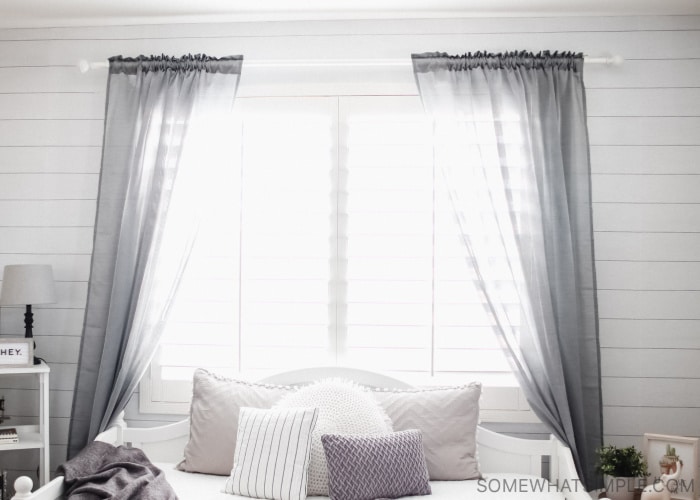 Everything around the bed came together so nicely, but I added some gray curtains to draw the eyes upwards so it wasn't too bottom-heavy. This tied in the gray pillows and turned out to be the perfect finishing touch to this whole bed situation!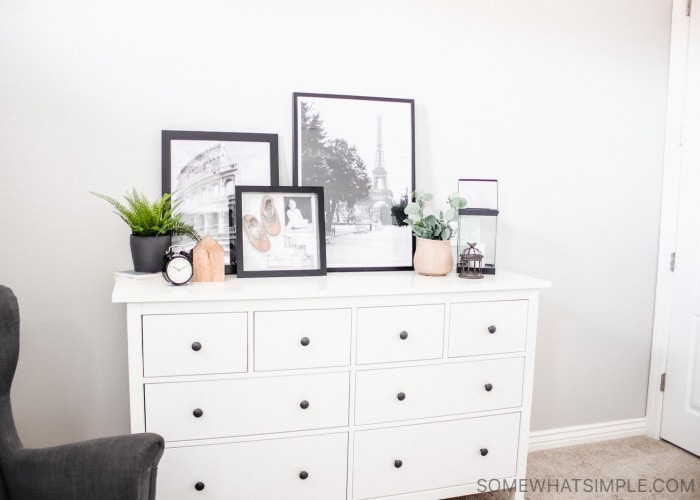 On the opposite wall, I put a dresser from IKEA that you may have seen me put together on IG. It took HOURS! But look how cute it looks, so it was for sure worth it! Leah wanted the frames to have black and white pictures of her 2 favorite cities – Rome and Paris. The shadowbox has her first pair of ballet slippers and some pictures of her in dance class when she was 3.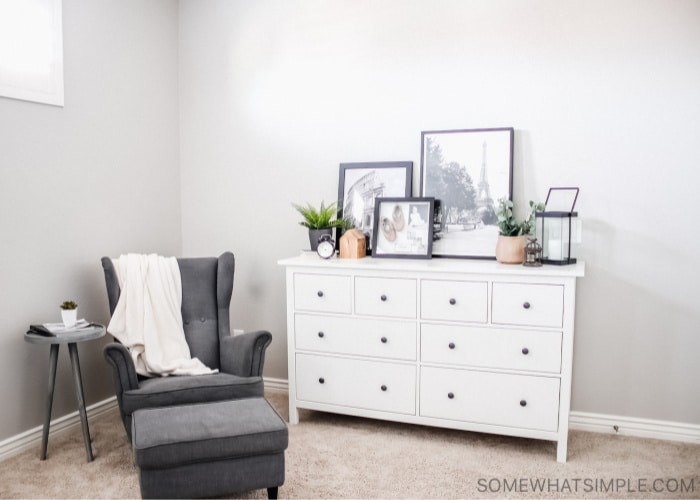 Next to the dresser is Leah's reading corner with some magazines. Because #teenagers.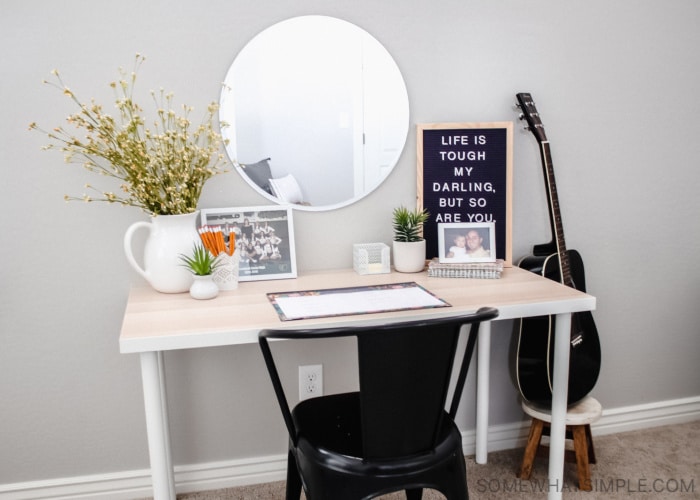 And last, but definitely not least, is Leah's desk. Leah wanted it to be clutter-free and super minimal. Let's see how long that lasts. 🙂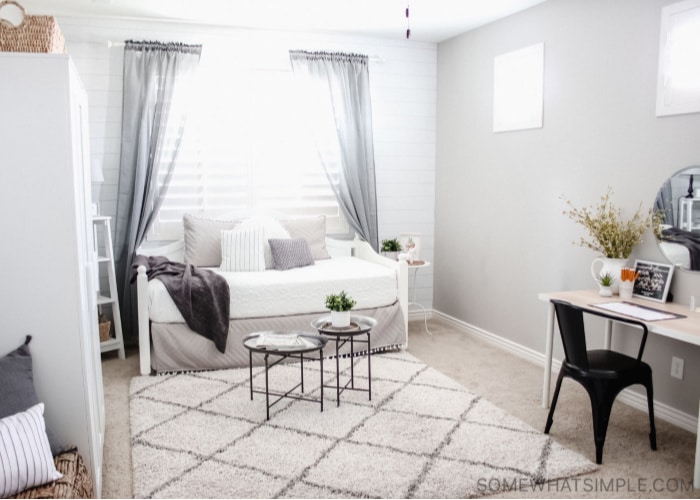 What do you think?
Shop this Space