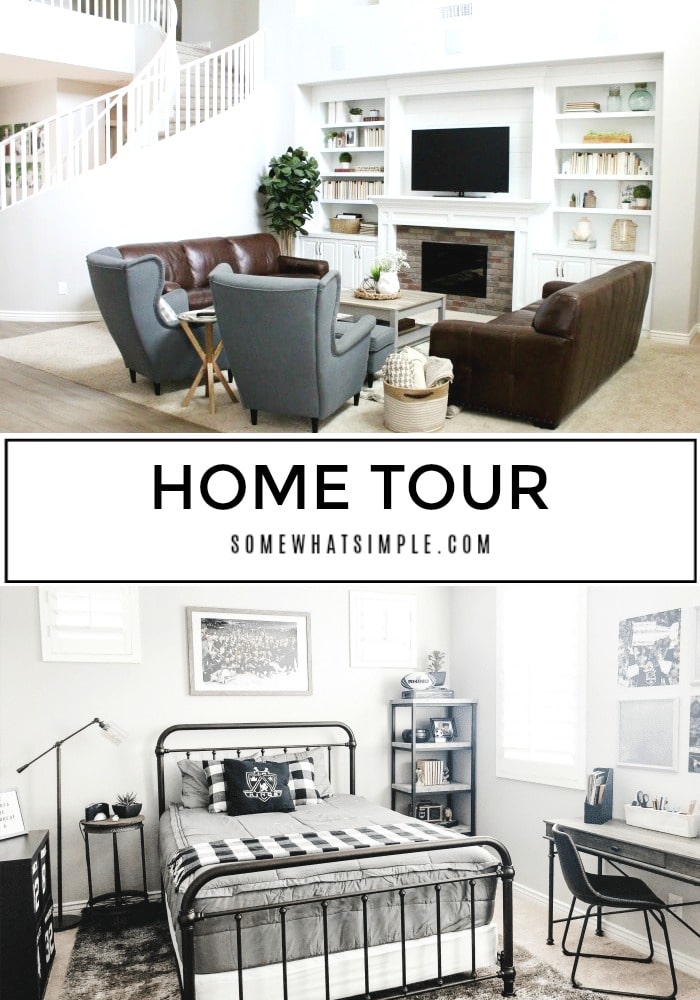 Welcome friends! I'm excited to take you on a little home tour of our house – come on in and have a look!
If I had an unlimited budget, decorating my home would probably be my very favorite thing to do in the whole wide world! But since furnishings and projects all seem to cost money, (imagine that!) I'm working on one room at a time and trying to stay content with empty walls and mismatched spaces. Here is the progress we've made so far –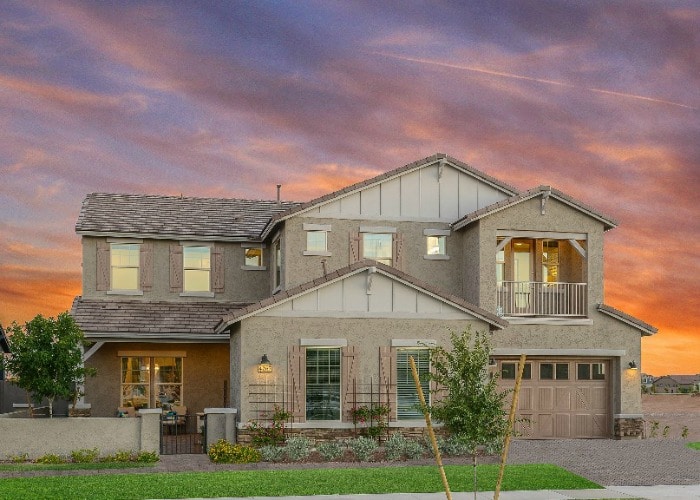 Under Construction – The floor plan + pictures of the model home. (This space is beautiful!)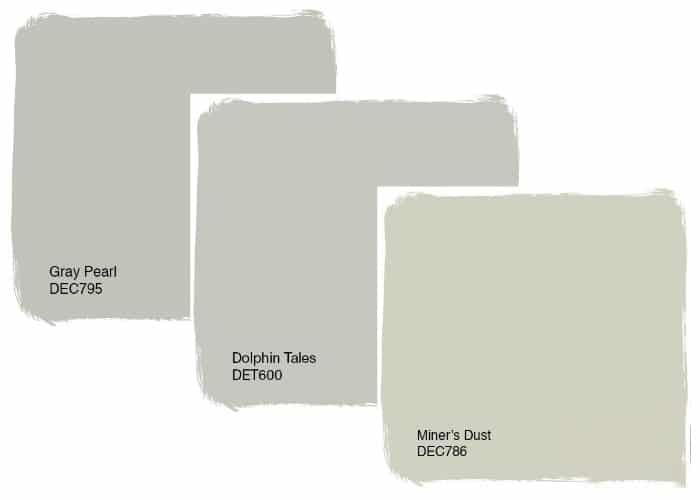 The Best Gray Paint – the color we have on every.single.wall.
DOWNSTAIRS HOME TOUR-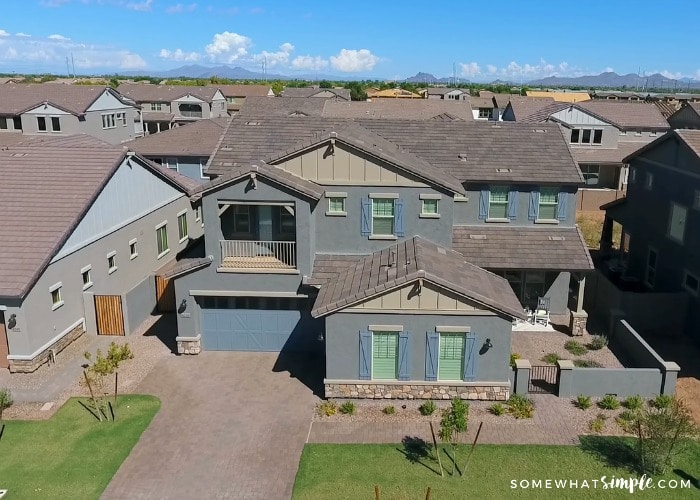 First Floor Sneak Peek – a quick video tour of the downstairs.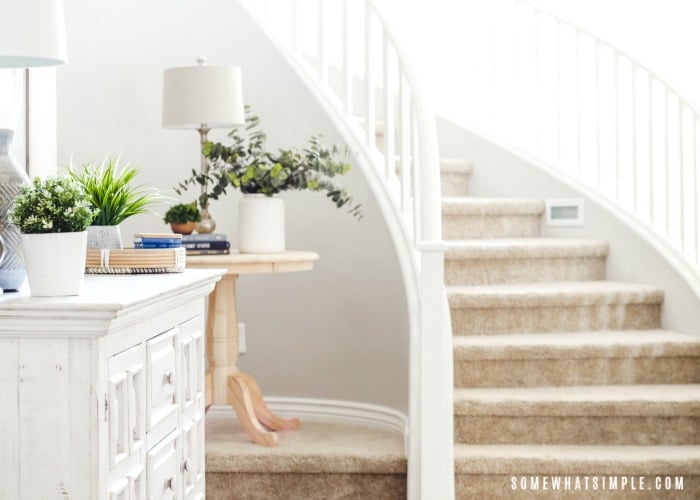 The Entry Way – ALL THE HEART EYES for our round staircase!!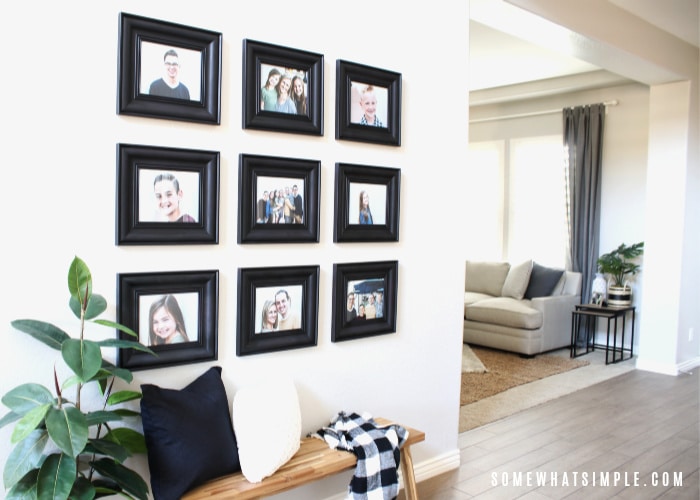 A blank wall in our entryway gets a fresh and affordable makeover using simple decor and a photo collage that really makes a statement!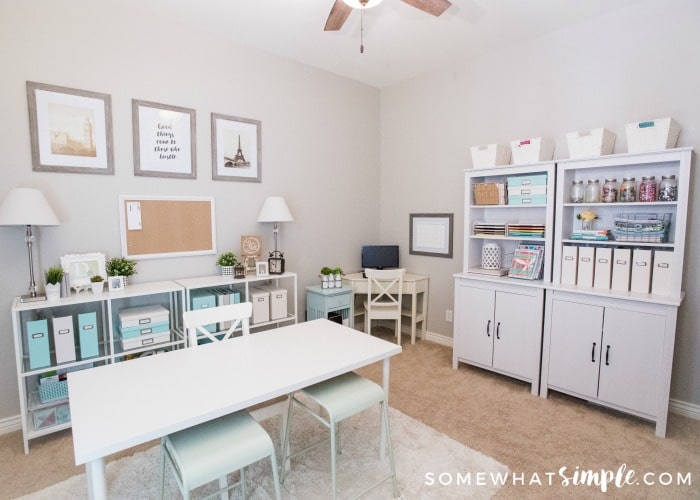 The Home Office – I finally have a place to work and create!! 🙂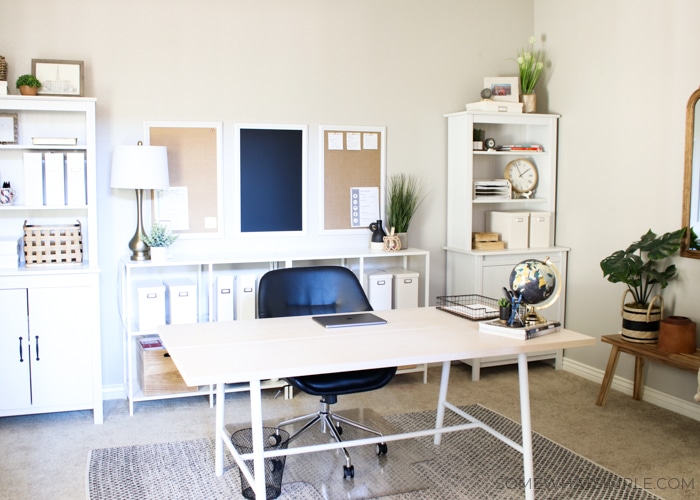 When Rob left his corporate job, we gave the office a much-needed refresh. The result was a less-feminine office space designed for two people to work comfortably.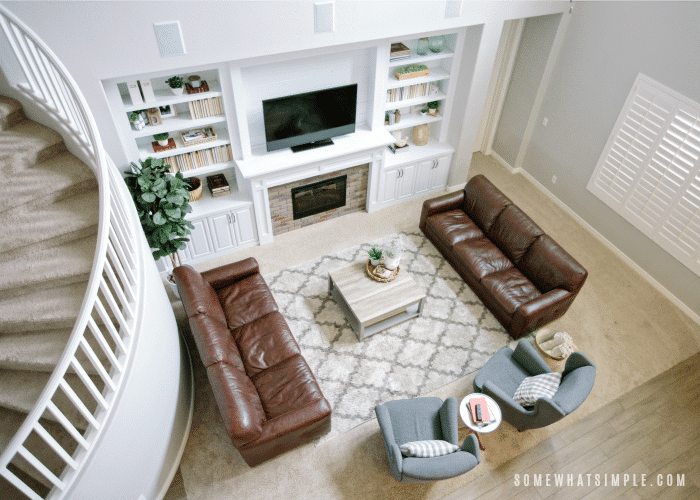 Our Family Room is one of the most-used spaces in the house. It seriously took us a whole year to decide what to do with this space, and I love how our entertainment center turned out!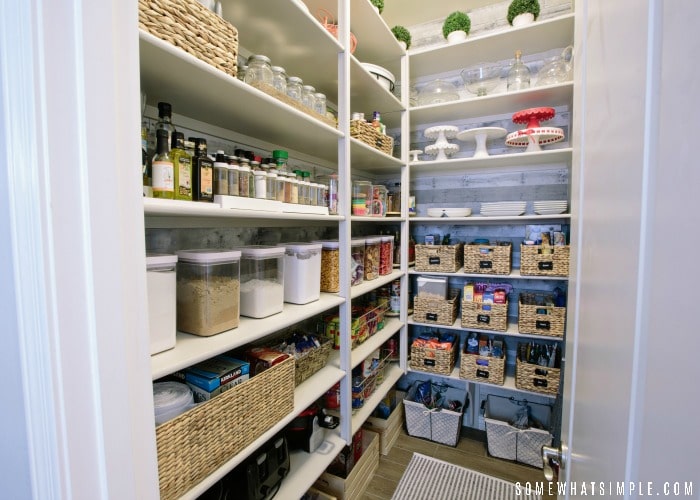 My favorite spot in the house is our kitchen pantry!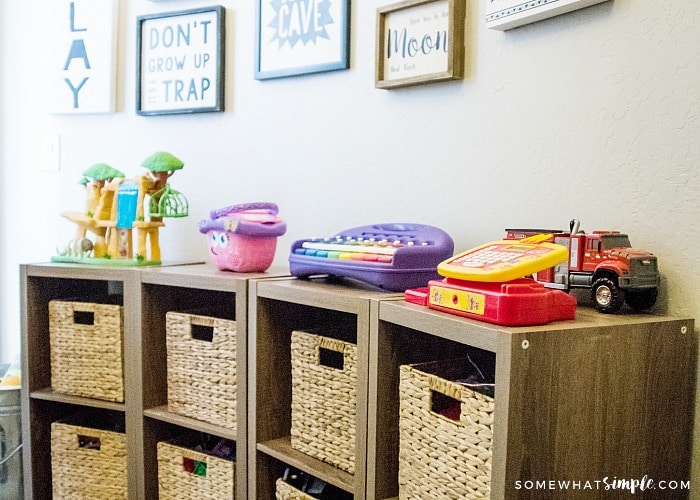 Our playroom under the stairs was such a fun space to decorate!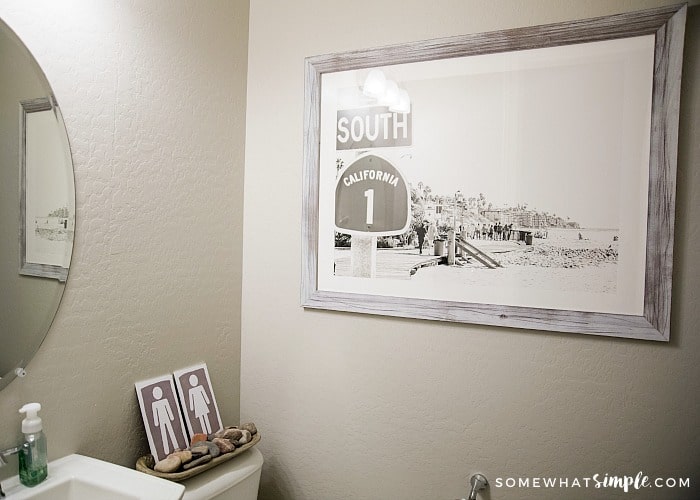 It is small, but it is pretty! The downstairs bathroom that we use the most needs to look pretty too!!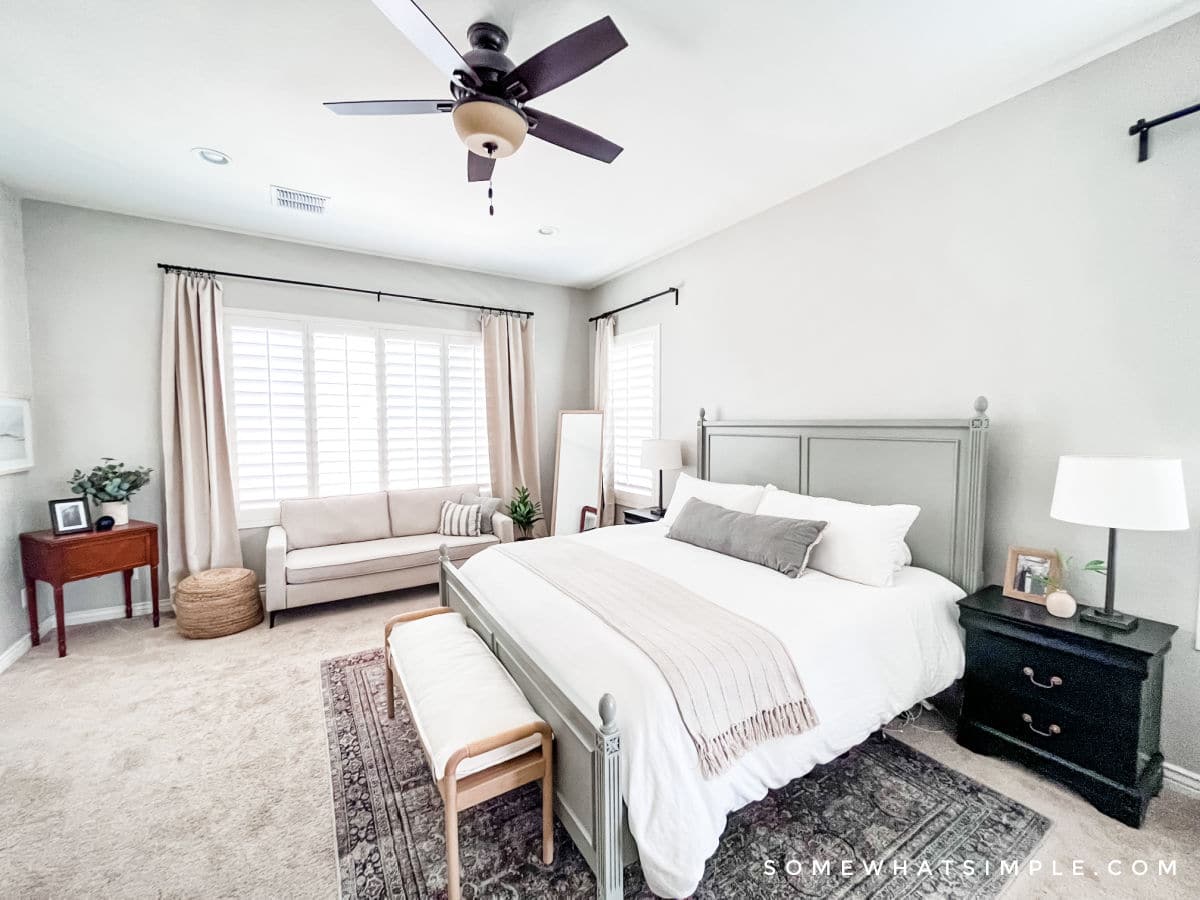 It took me 5 1/2 years to finally design our Primary Bedroom, but now that it's done, it's my favorite place to hang out and chill!
UPSTAIRS HOME TOUR-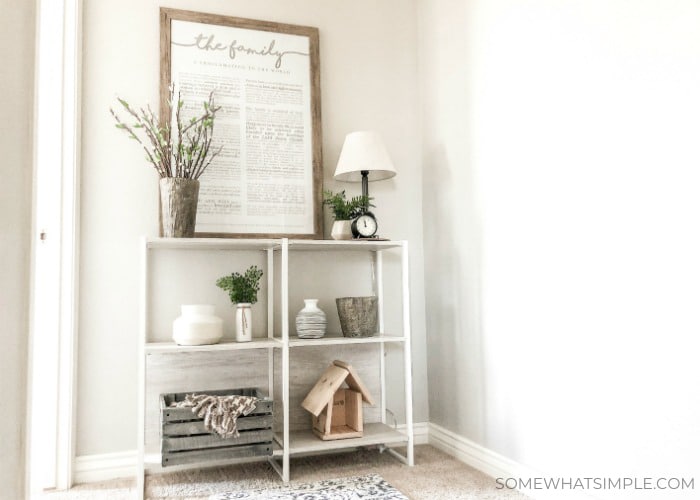 We turned our upstairs hallway into a fresh and functional living space!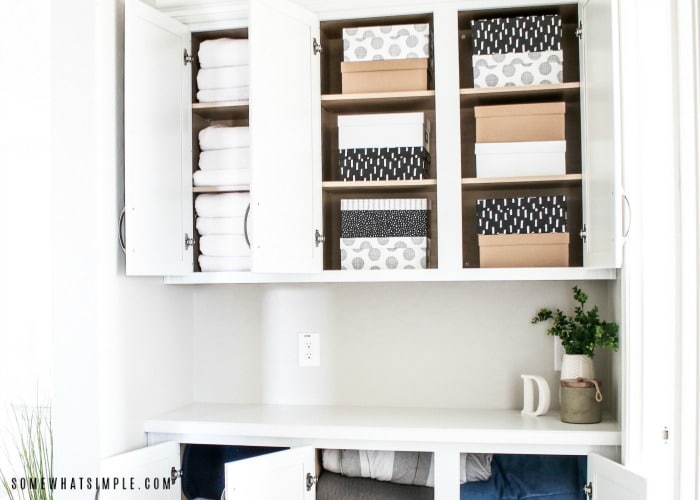 Our upstairs linen closet is where we store all the extra sheets and bedding for our guests. We have an amazing cupboard area that should have been plenty of room for all of these things, but it lacked an organization system… BIG TIME. I was able to turn this entire space into something that looks amazing in just a couple of hours one afternoon, and I absolutely love it!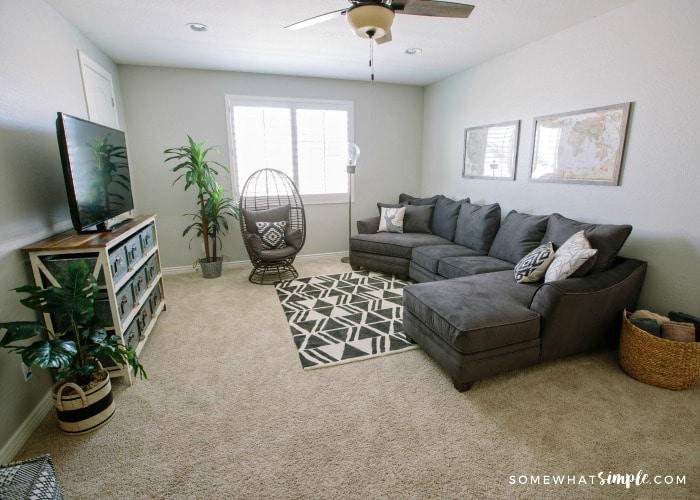 We turned our loft into the perfect teen hangout for our older kids. I love having a space for them and their friends!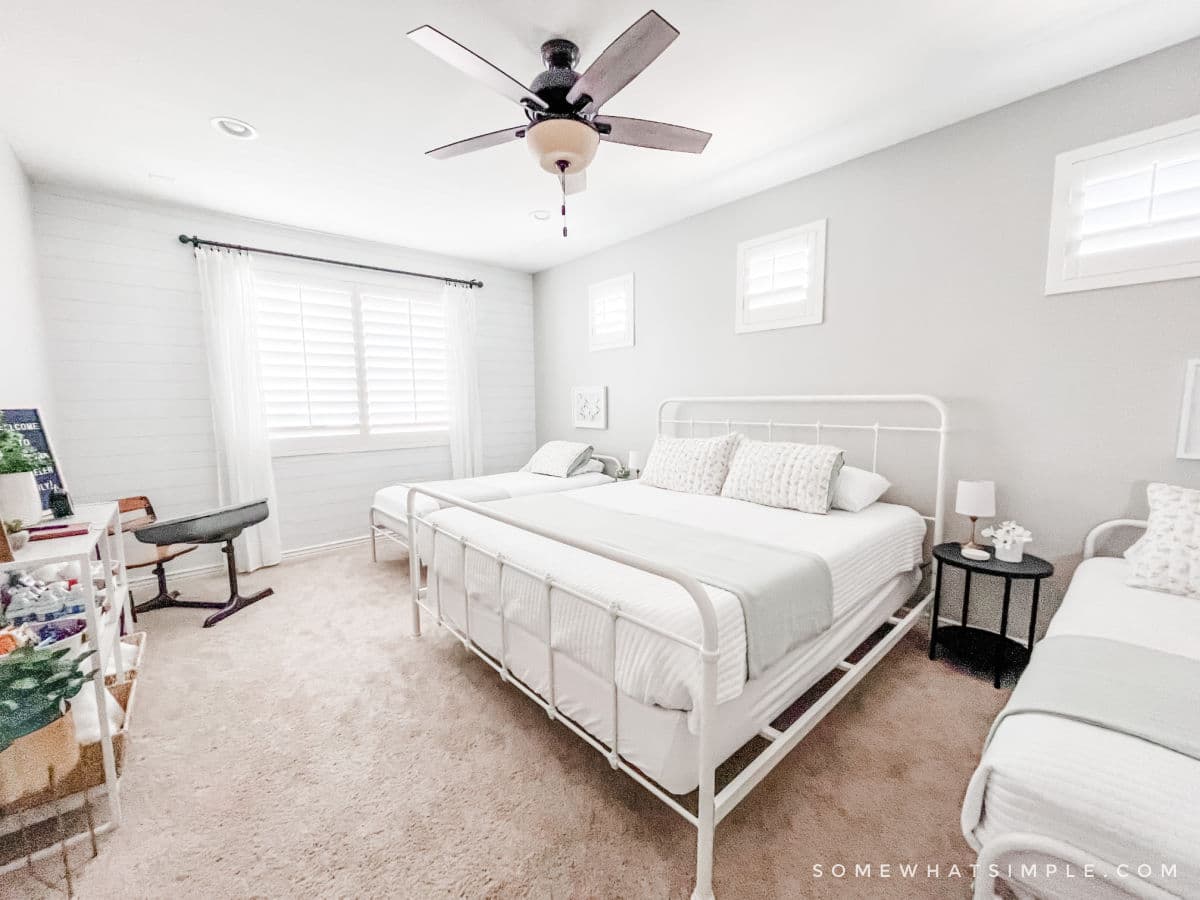 When Ethan moved out for college, we turned our extra bedroom into a comfortable guestroom so he (and all our other friends) have a place to stay when they visit.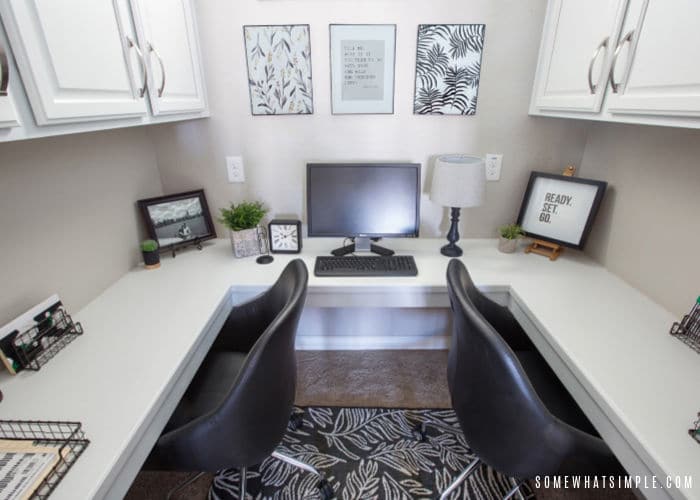 Our upstairs office is the perfect place for our kids to study and work on homework.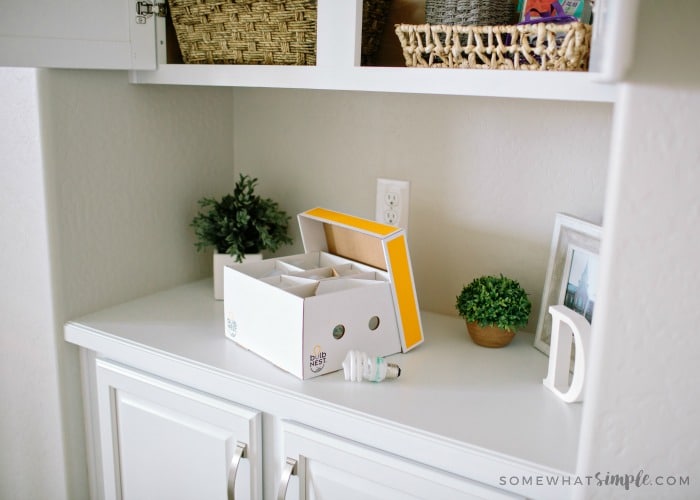 Our upstairs utility closet got a much-needed facelift! It is the best place to store all those random household items.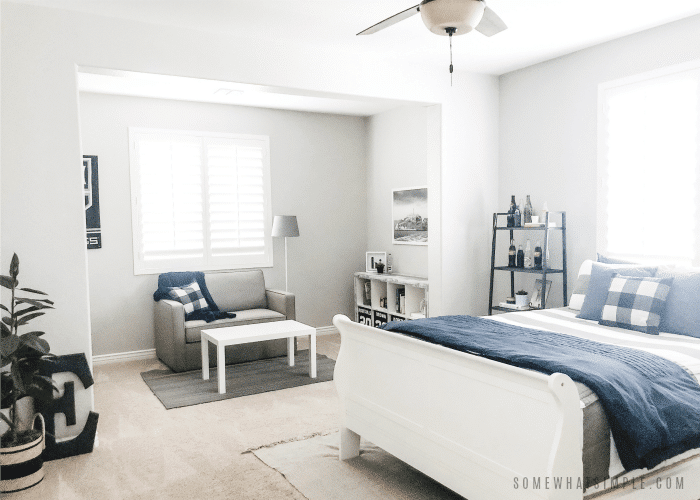 Our teenage son was too cool for any sort of themed room, so this Teen Boy's Bedroom was the perfect compromise for the 2 of us. Everything is coordinating (for me), but not too matchy (for him.) 🙂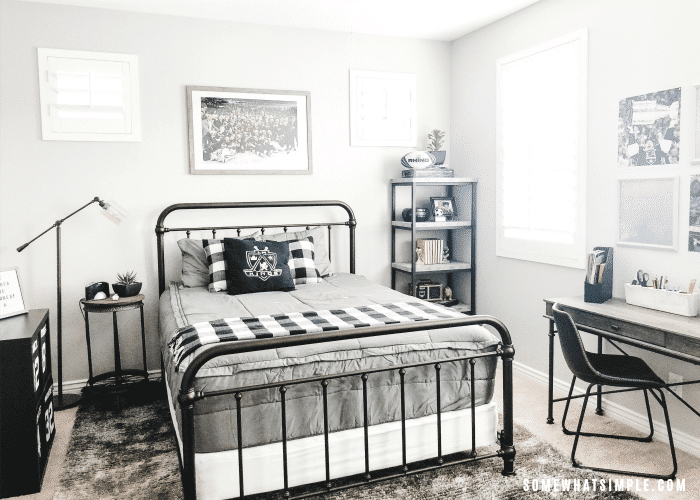 Ryan wanted to keep a lot of the elements in the Hockey Room he has had since he was a toddler, but we gave him an updated space that is a lot more grown-up! His Industrial Boy's Bedroom is simple, practical, and totally his style!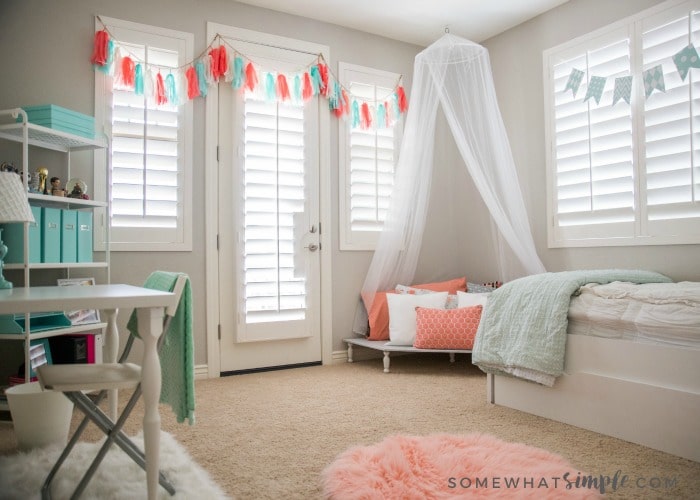 Leah's Tween Girl Bedroom is bright and beautiful!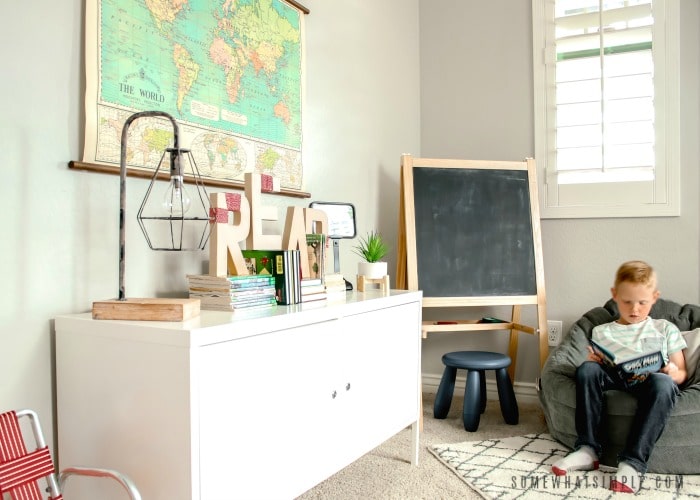 After living here for 2.5 years, Leah's Tween bedroom was repurposed and made into a sweet vintage bedroom for Mason, It is the perfect place for him to let loose and showcase his creative personality!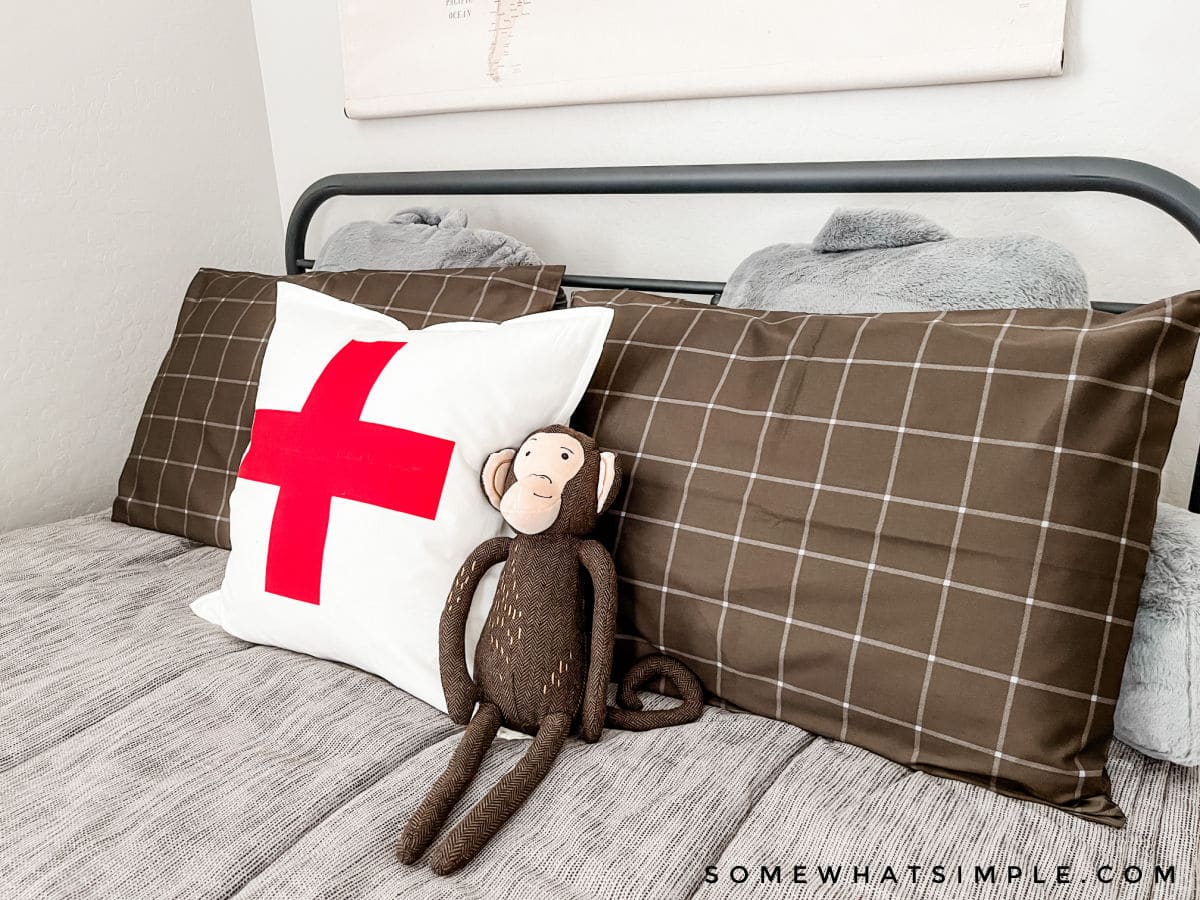 In our biggest room-shuffle yet, Mason needed a room refresh, so we came up with this Modern Industrial Boy's Bedroom… and it is absolutely perfect!!!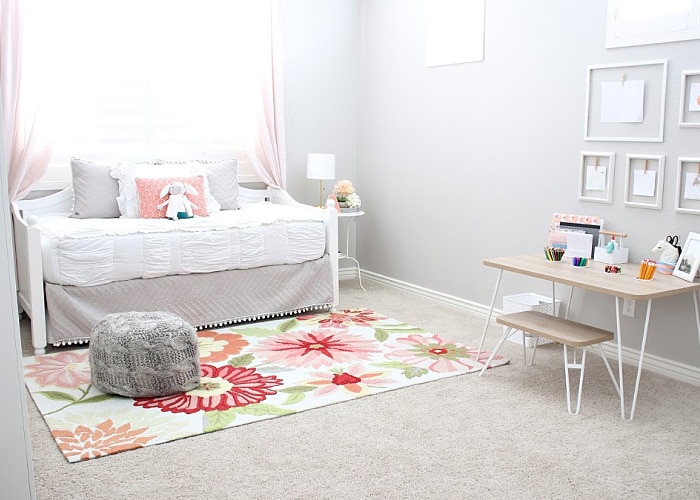 A darling daybed and brightly colored rug, plus a simple art station and reading corner – Addison's Little Girl's Bedroom is the perfect place for her to play, relax, and be creative with her little friends!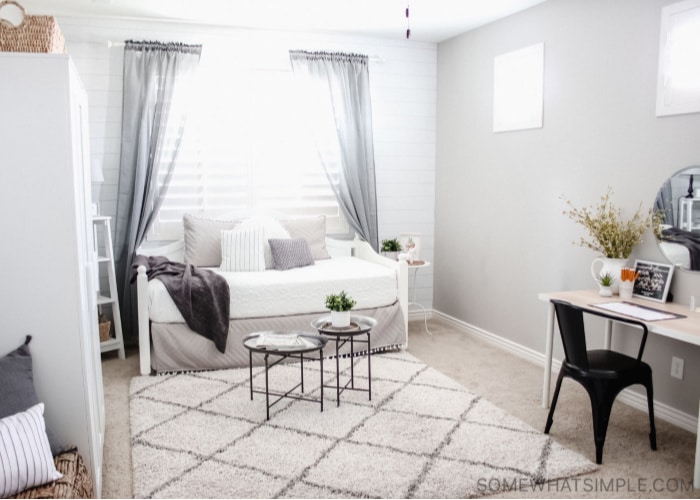 And no, your eyes are not deceiving you! After seeing how great Addie's room looked, Leah decided she wanted the bigger bedroom after all, and she was able to easily convince Addie to swap spaces with her! (A decision Addie will totally regret one on these days!) So all of Addie's decor was moved into Leah's old room, and we gave this space a more mature makeover. It became Leah's Modern Farmhouse Teen Bedroom.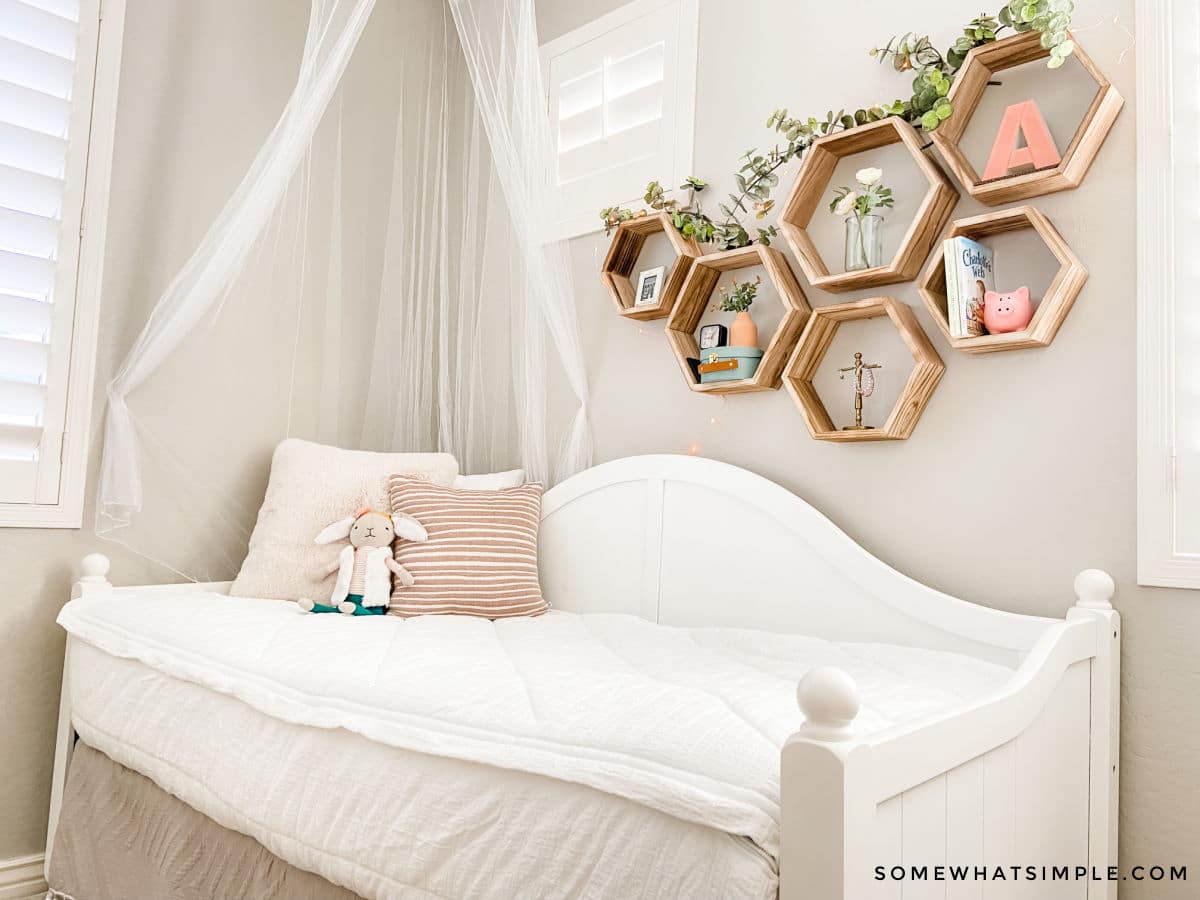 After a few years, Addie wanted an update, so we softened it up a bit and made a little girl's room she absolutely LOVES!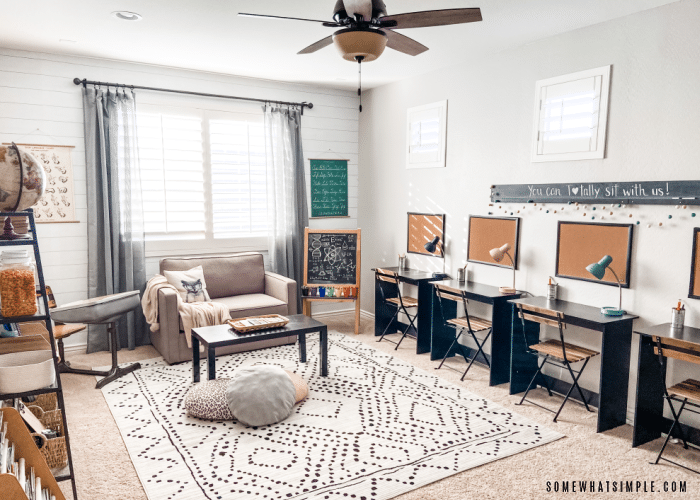 When Covid hit, we swapped rooms around and made this space our Homeschool room. (It's one of my favorites!)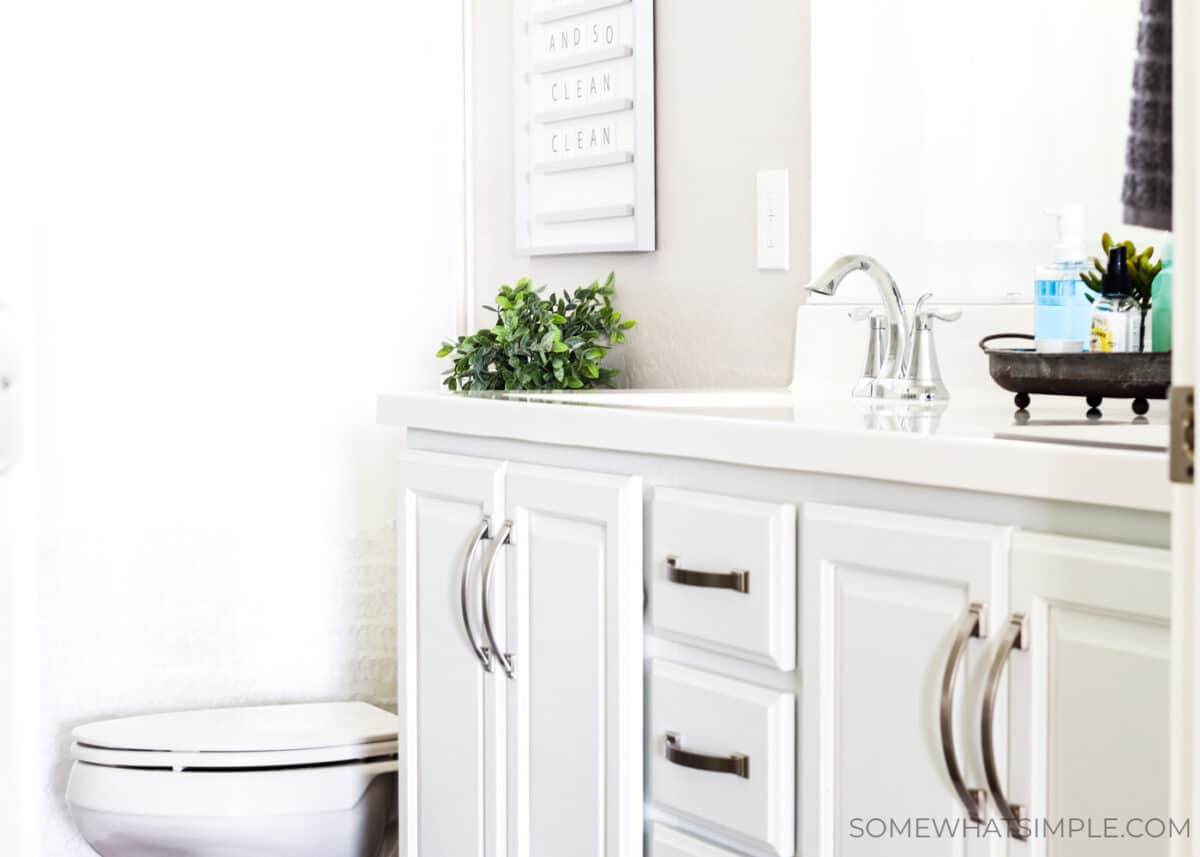 Our kid's bathroom got a simple gray and white makeover that is clean, comfortable, fresh, and fun!
When Ethan grew up and moved out (insert cries here!) we did another room swap! Mason and Addie ended up sharing a bathroom, which meant it needed a little more masculinity in it. Here's how their bathroom looks now!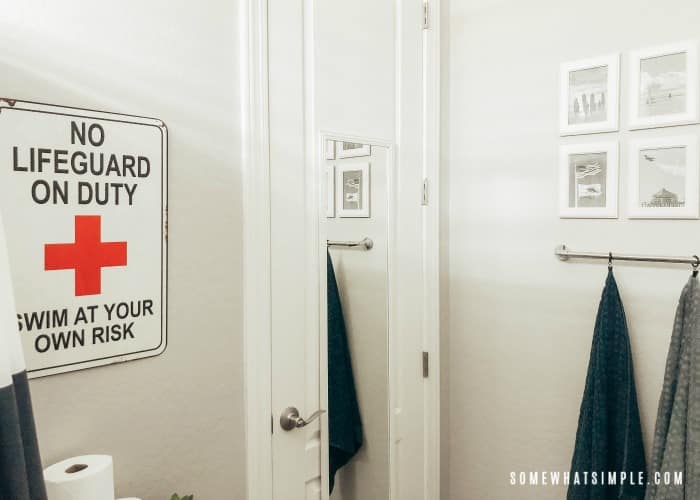 Ryan and Ethan's Jack-and-Jill beach bathroom was a simple project that only took a few hours to put together!
OUTSIDE –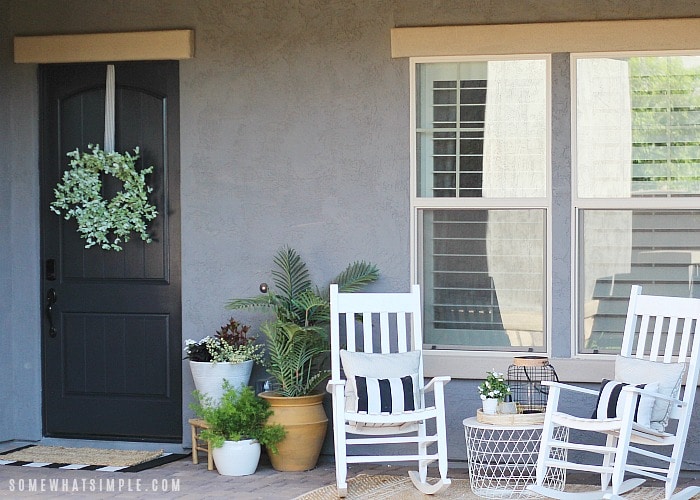 Our front courtyard is a great place to spend the evenings… when it isn't 300 degrees outside! (Arizona life!)
. . . . .
AND COMING SOON –
Our not-so "formal" living room
My very favorite kitchen ever
Our beautiful backyard
ALSO IN PROGRESS –
The Master Bedroom
Our laundry room
Stay Tuned….