This simple and savory southwest chicken noodle soup is delicious and filling, and ready in less than thirty minutes. A quick and easy cold weather meal!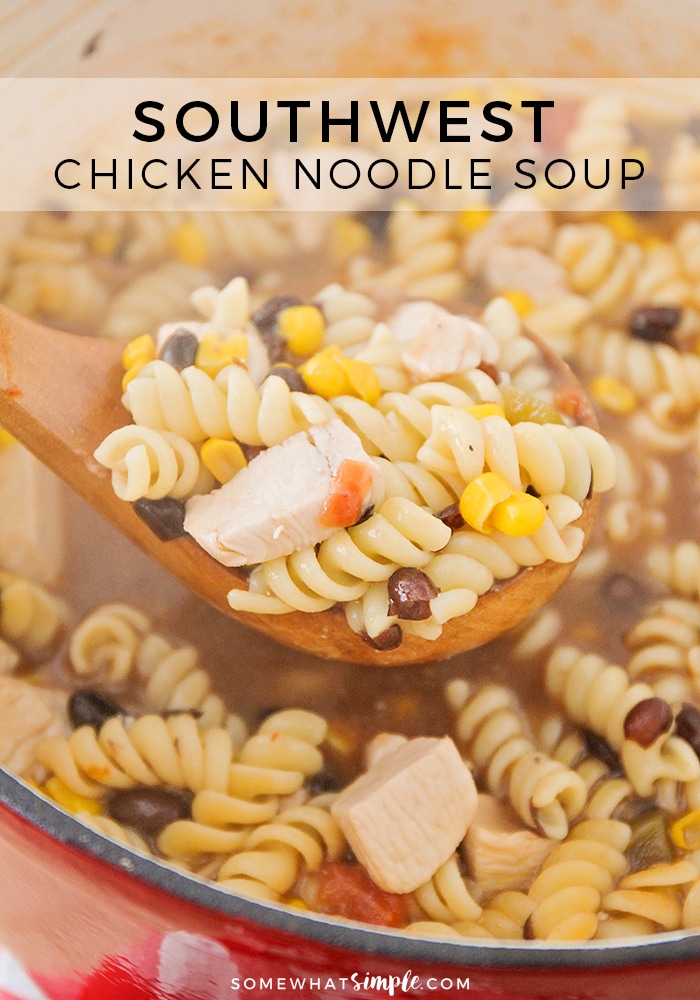 Fall is definitely my favorite time of year! I love the cooler weather, the changing leaves, and the sudden need to wear cozy sweaters everywhere. One thing I don't love, though, is the start of cold and cough season! I feel like my kids just started school and we've already had a few cases of the sniffles!
When someone in my family isn't feeling well, this southwest chicken noodle soup is a lifesaver! It's so simple and quick to make, which means I can tend to the sick kid (or husband) instead of spending hours cooking. It's also delicious, nutritious, and a favorite with everyone in my family.
I found everything I needed to make this soup in the O Organics® line, available in my area exclusively at Safeway and Albertsons stores. O Organics® makes buying organic food both convenient and affordable, which is such a help during cold season! I buy my O Organics products at my local Safeway and Albertsons, and you can also find them at all Albertsons Companies family of stores, including ACME Markets, Jewel-Osco, Vons, Pavilions, Tom Thumb, Randalls, Shaw's, Star Market, United Express, United and Carrs/Safeway.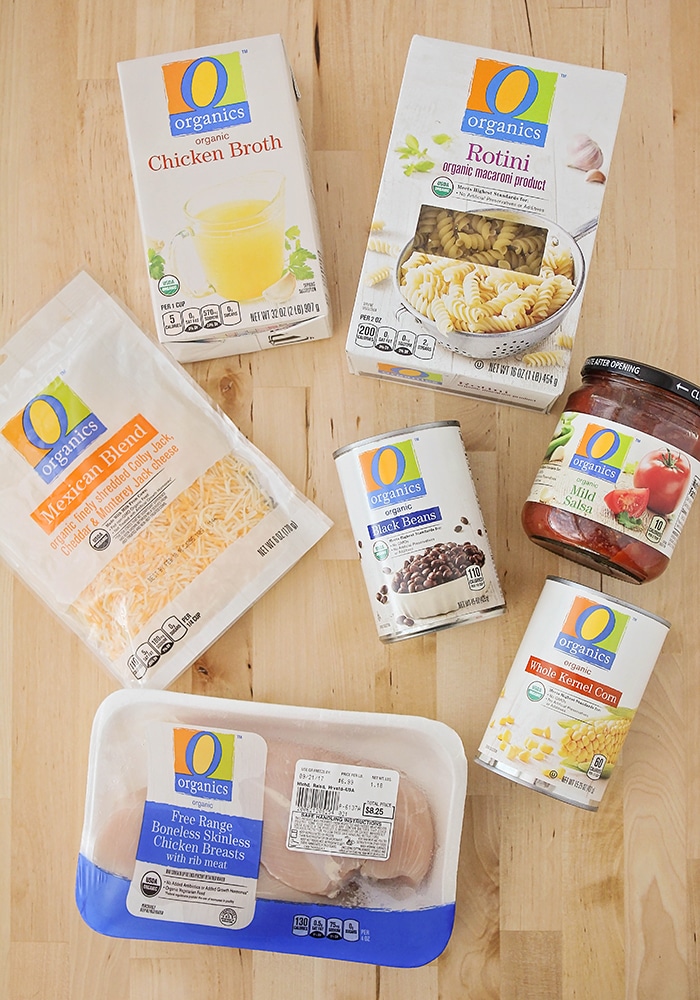 Shopping at my local Safeway store is always a good experience. The store is always clean, and products are neatly organized and easy to find. I also love that the staff are so friendly and helpful! We had an experience at Safeway a few weeks ago when my youngest child, worn out after a long day, was working her way up to having a meltdown in the store. We had been waiting in line to check out, and she was losing her patience. A store employee saw my distress, and opened up a new lane for us to check out. Not only did he get us through checkout quickly and efficiently, he also told my daughter jokes as we were checking out, and got her smiling and giggling again. It was a small kindness that went a long way in making our day better!
This southwest chicken noodle soup is so quick and easy to make, plus it totally wins over even the pickiest of eaters. It's both nourishing and tasty, too!
Southwest Chicken Noodle Soup
Ingredients for the soup:
1 pound

O

Organics®

Boneless Skinless Chicken breasts, diced
4 cups O Organics® Chicken Broth
2 cups water
1 can O Organics® black beans, rinsed and drained
1 can O Organics® corn, drained
1/2 cup O Organics® mild salsa
1/2 pound O Organics® rotini
1 teaspoon salt
1/2 teaspoon pepper
for topping: O Organics® Mexican Blend shredded cheese, O Organics® White Corn Tortilla Chips
Directions to make the soup:
Add the chicken to a large pot over medium heat. Cook, stirring frequently, until lightly browned.
Add the chicken broth, water, black beans, corn, and salsa to the pot, and mix to combine. Stir in the rotini and bring to a simmer
Simmer 10-15 minutes, or until the pasta is tender. Add the salt and pepper, taste, and adjust seasonings as needed.
Serve hot topped with shredded cheese and crumbled tortilla chips.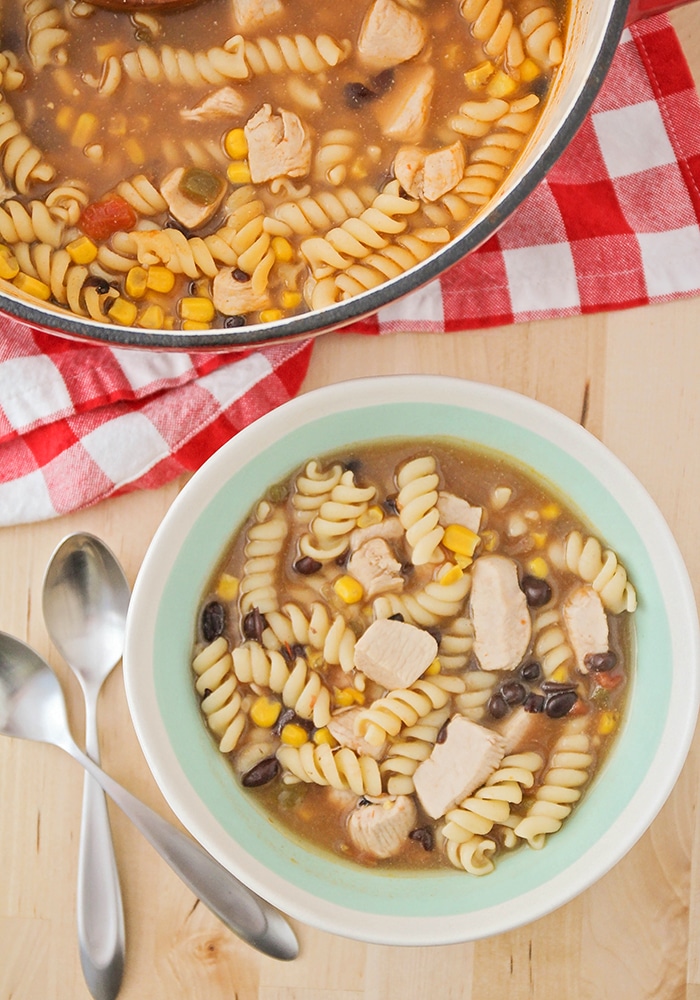 Now that your southwest chicken noodle soup is ready, it's time to add your delicious toppings! I love sprinkling the O Organics® Mexican Blend shredded cheese on top. It's a delicious and flavorful blend of cheeses that melts beautifully in the soup. I also like to crumble up some O Organics® White Corn Tortilla Chips over the top to add a bit of crunch.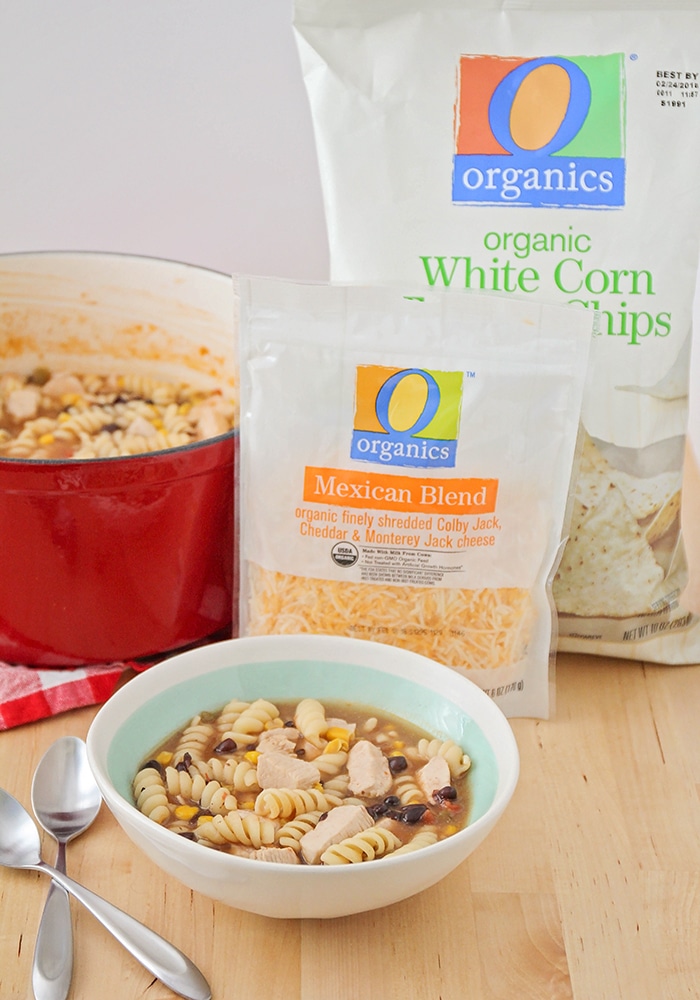 This soup is such a fun blend of flavors, and so delicious! It's one of my favorite comfort foods, and I love the southwest twist.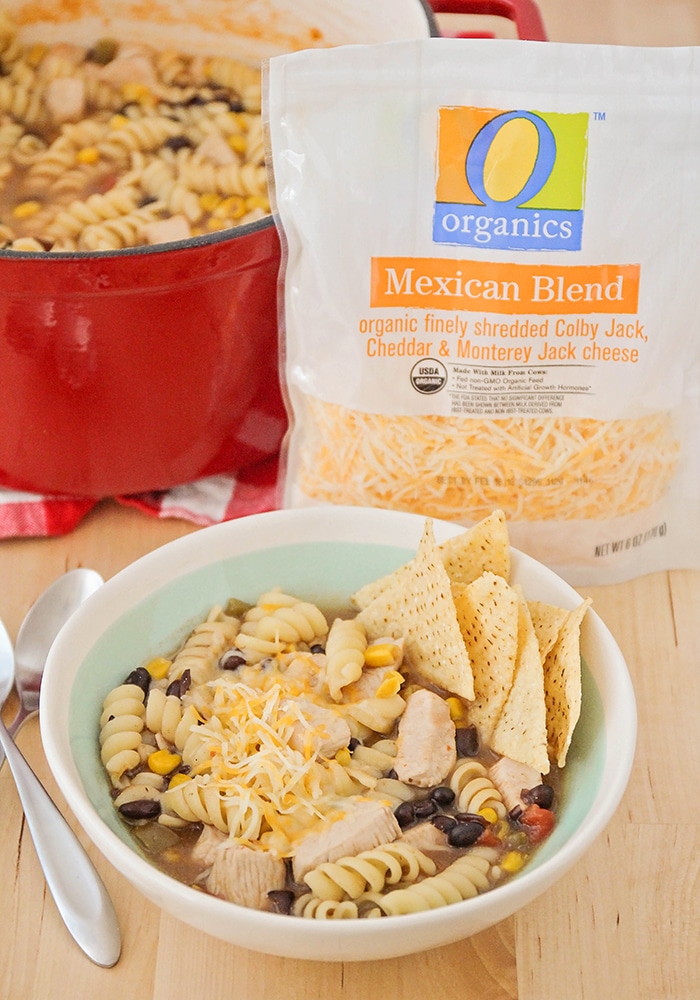 If you are planning to make this soup in advance, it's a good idea to cook the noodles separately. Then you can just store the soup and the noodles in the fridge, and put together servings of soup as needed. The noodles won't get soggy, and you can have something filling and comforting on hand for when your little patient is ready to eat.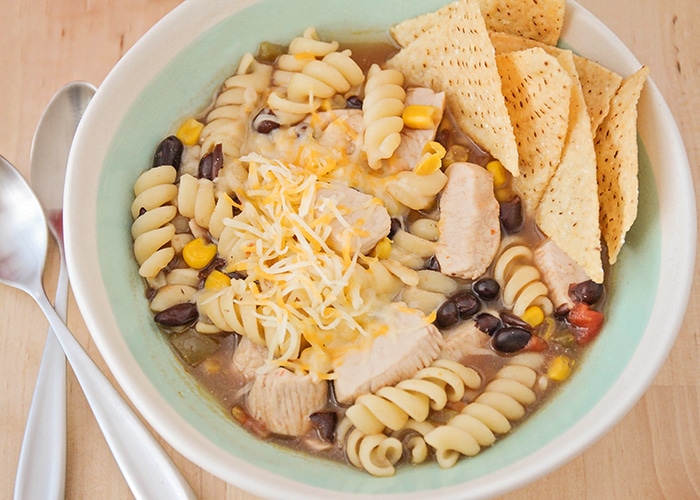 When chicken soup isn't enough, Albertsons and Safeway stores also have an exclusive line of effective and affordable wellness products known as Signature Care™. They provide the same quality and relief that national name brands do, but at a better value. Signature Care products contain the same active ingredients & are subject to the same manufacturing standards mandated by the FDA as national brands. They're also pharmacist recommended, and have a 100% satisfaction guarantee. Some of my family's favorites are the Signature Care™ Nasal Decongestant Tablets, Signature Care™ Cold/Flu Relief Daytime Softgels, and the Signature Care™ Honey Lemon Cough Drops.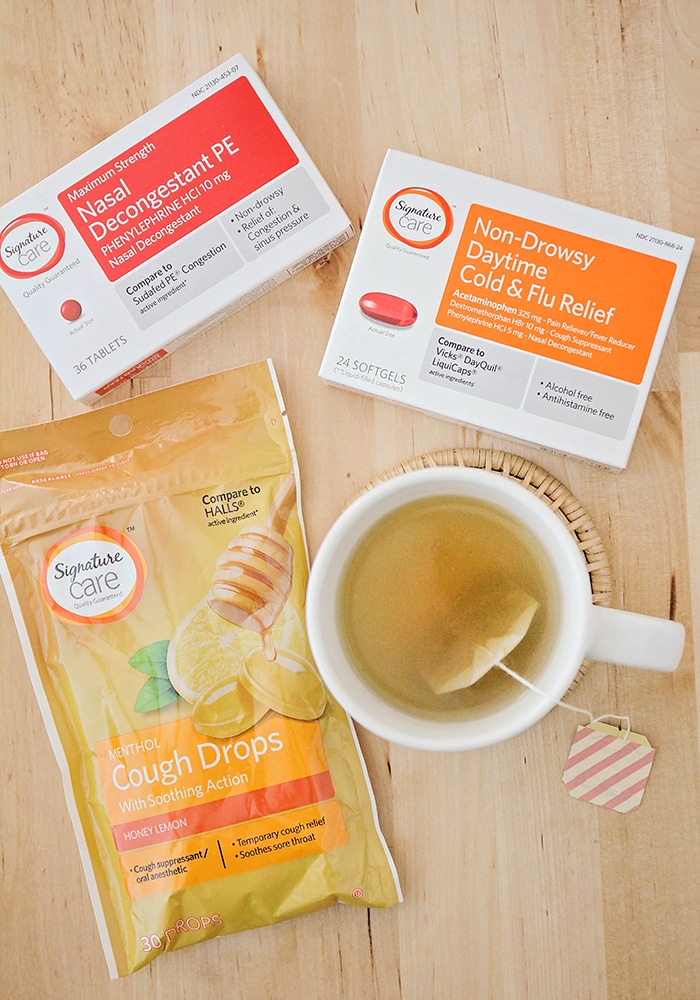 I love that I can find everything I need to keep my family healthy and well during cold and cough season at my local Safeway and Albertsons stores. From healthy ingredients to wellness products, they've got you covered!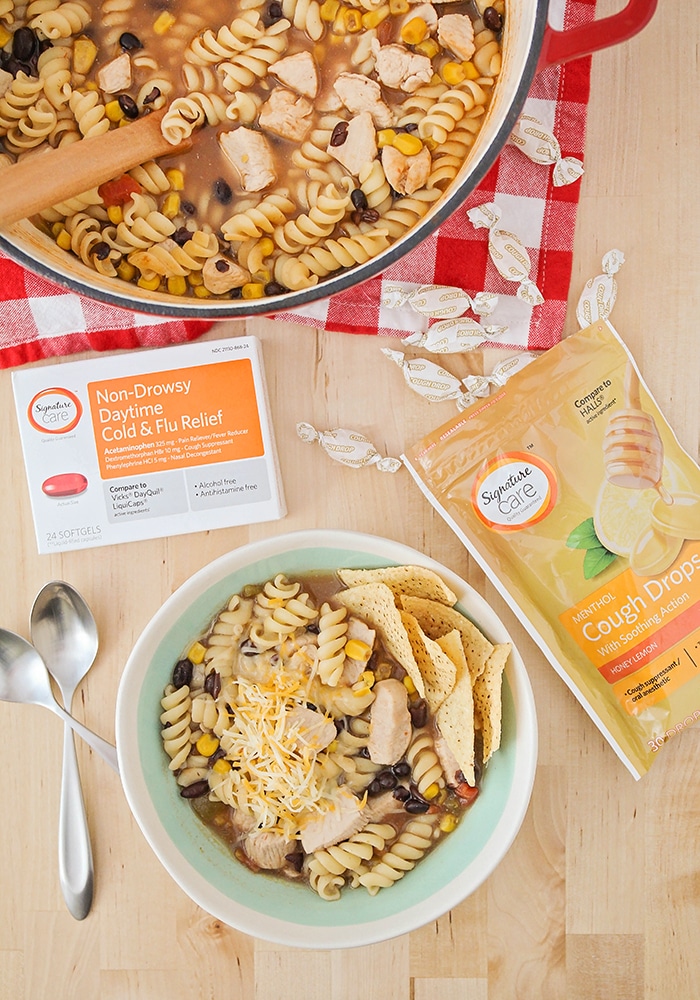 For more information about Albertsons and Safeway, be sure to follow them on social media:
Albertsons: FACEBOOK, INSTAGRAM, PINTEREST, and TWITTER
Safeway: FACEBOOK, INSTAGRAM, PINTEREST and TWITTER
This is a sponsored conversation written by me on behalf of Albertsons and Safeway. The opinions and text are all mine.