This DIY stenciled monogram is an easy craft that is perfect for all ages to create!
Here are some monogram projects I think you might enjoy – Striped Monogram Birthday Cake, Crow Monogram, Framed Fabric Monogram, Monogram Wreath, and Framed Paper Monogram.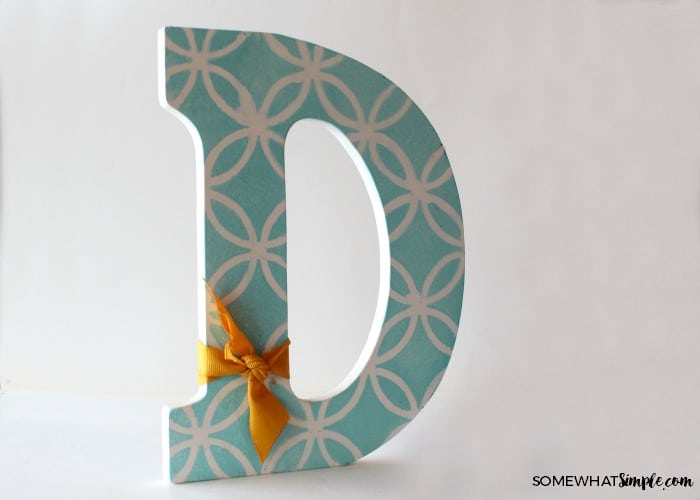 It's time to plan a crafternoon with the girls! Monogram projects are quite popular right now, and today's tutorial is one of our very favorites! This easy stenciled monogram is a fun project that uses very little supplies. The best part is, it costs just a couple dollars to create and you probably have most of the materials on-hand already! These stenciled wood monograms make a fun gift too – birthdays, weddings, teacher appreciation etc. I just love the fun pop of color it adds to any space – such an affordable piece of decor that brightens up the room. Here is the simple tutorial:
Stenciled Monogram
MATERIALS:
paint
paint brush
stencil
wood monogram
tape
ribbon
DIRECTIONS:
Paint a solid color all over your monogram and let it dry completely. (My monogram was white, so I skipped this step.
Once dry, secure your stencil to the wood monogram with some tape.
Paint over the monogram with a different color and let it dry.
Once dry, remove the stencil and touch up as needed.
As a finishing touch, add some ribbon.
…and that is it!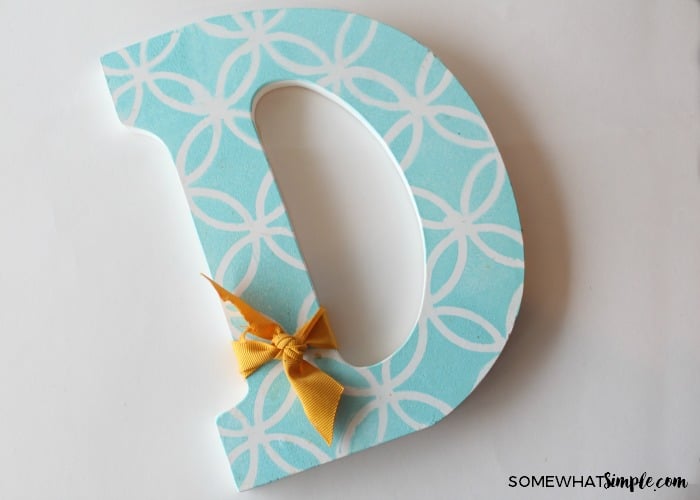 Such an easy craft that is colorful and fun!
I currently have this monogram sitting in my entryway, but I tried it in my kitchen and it looks darling there too! So many options!
Do you have any stencil projects or monogram projects you love?
Leave me a link in the comments below – I'd love to see them!
Have fun creating everyone!