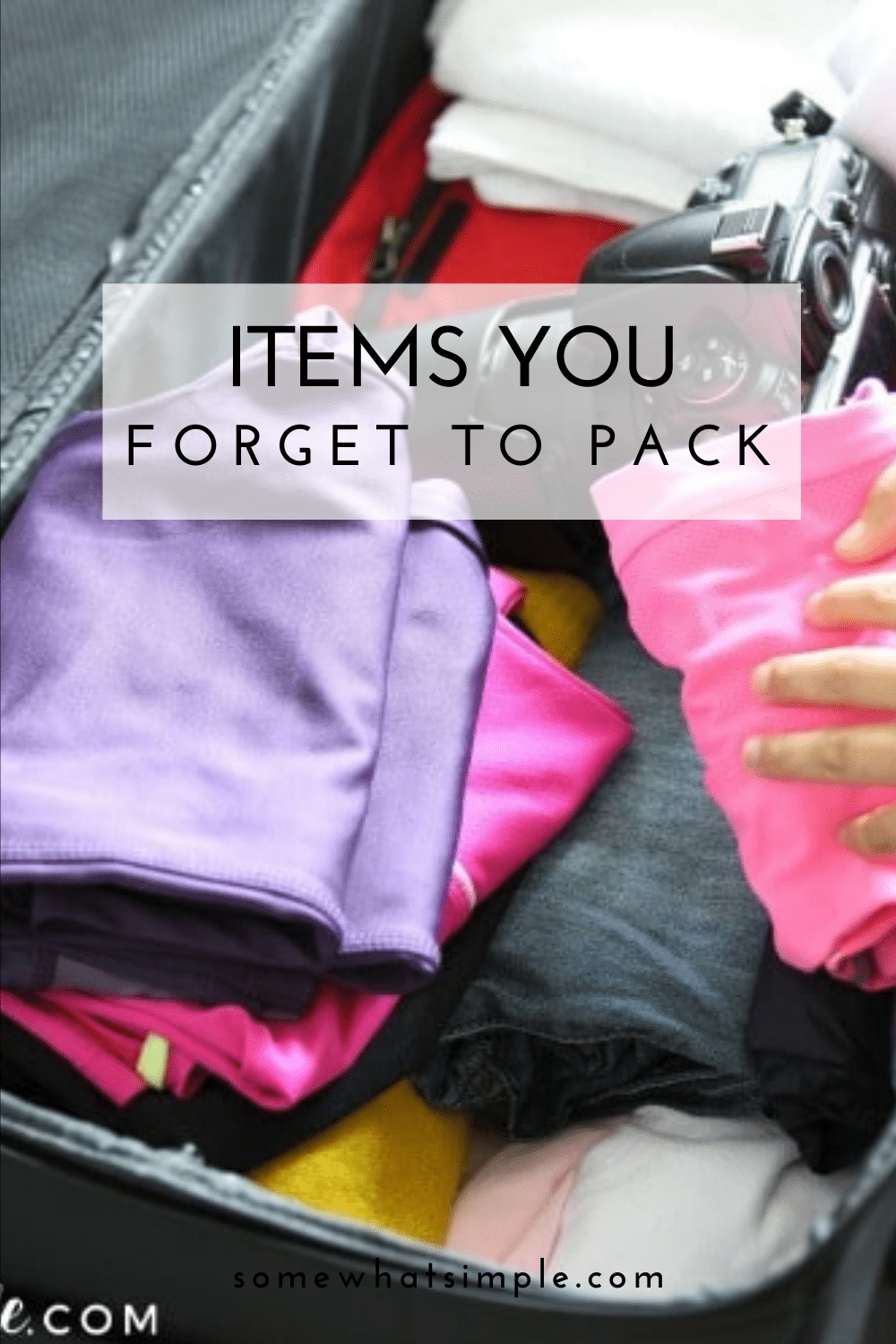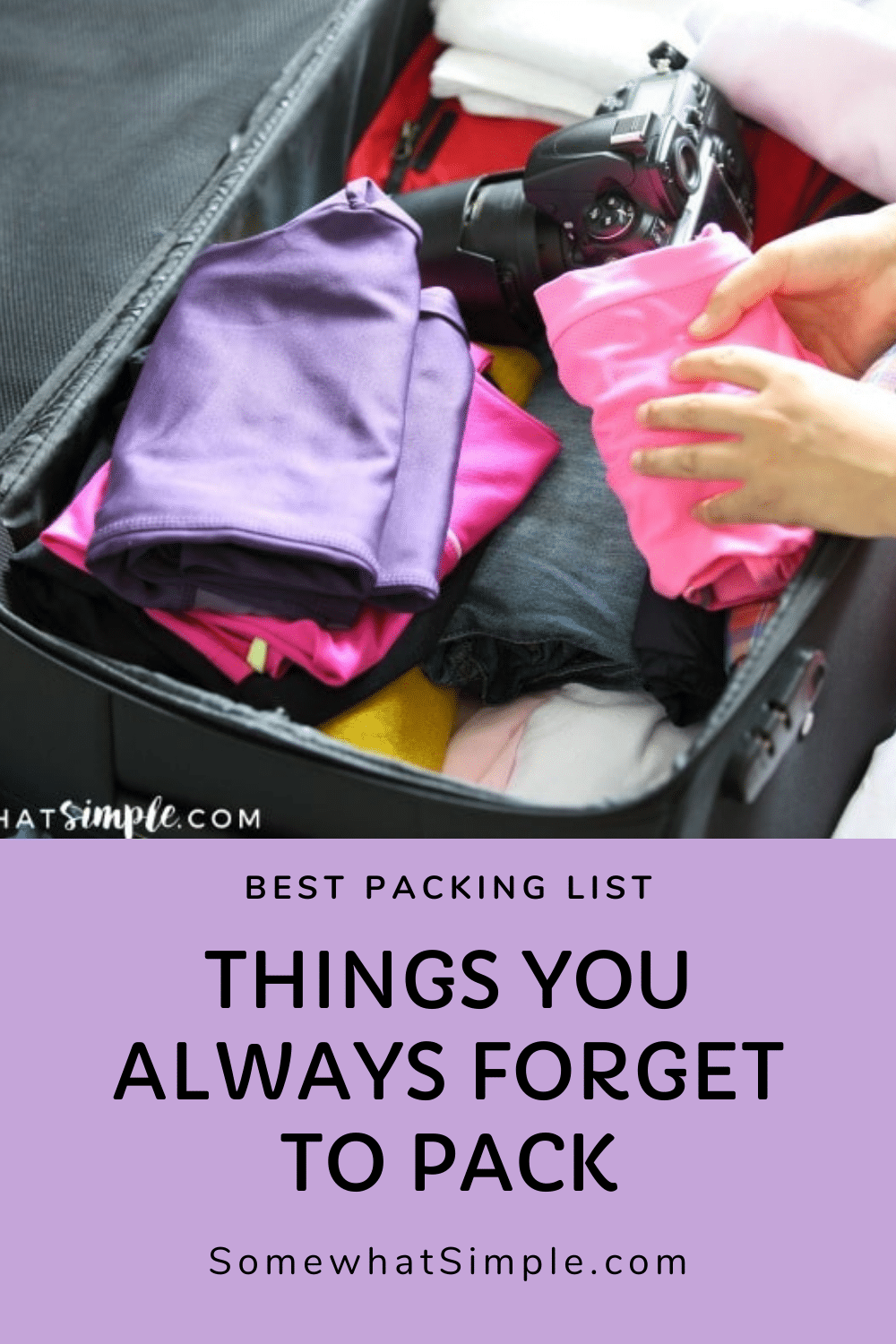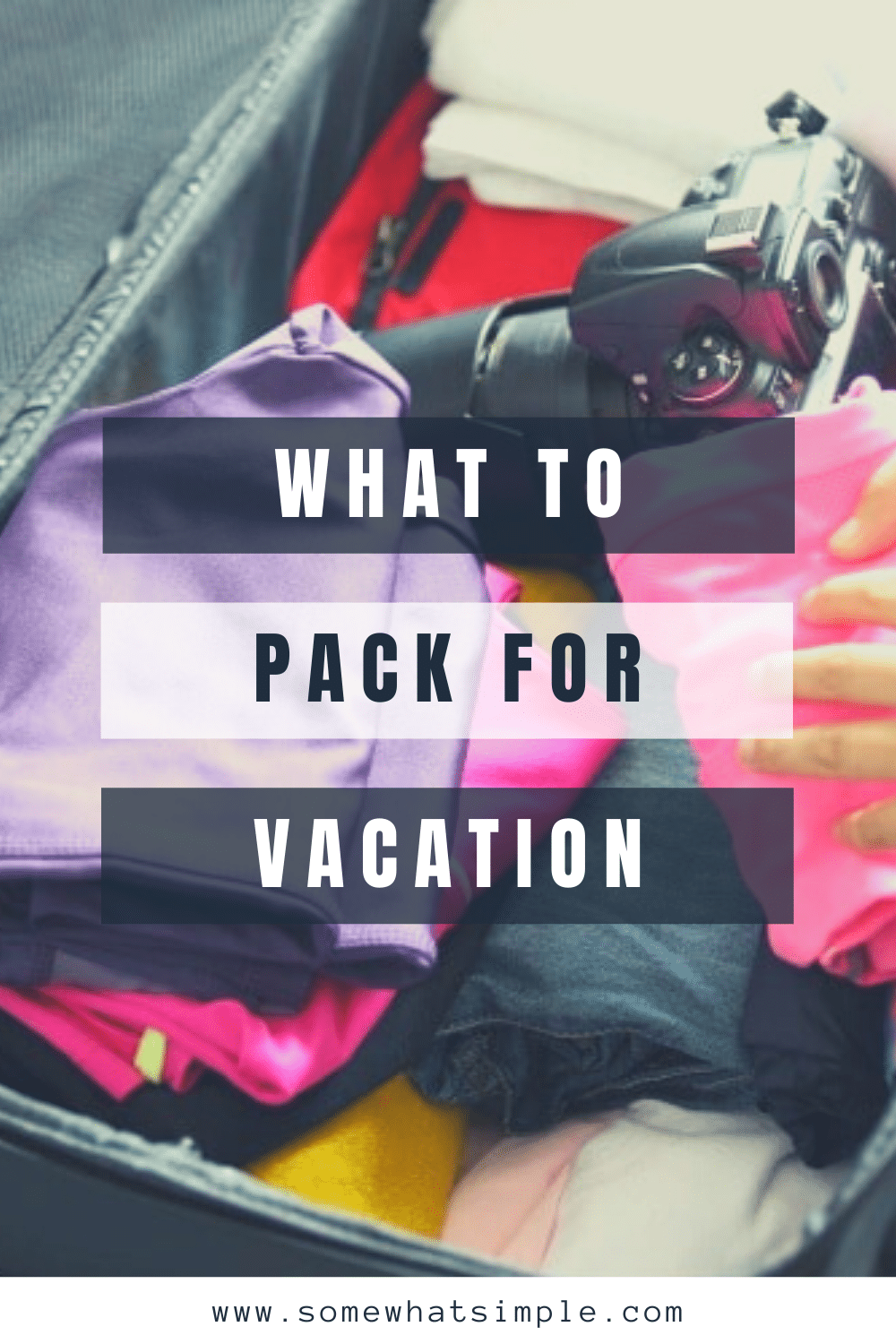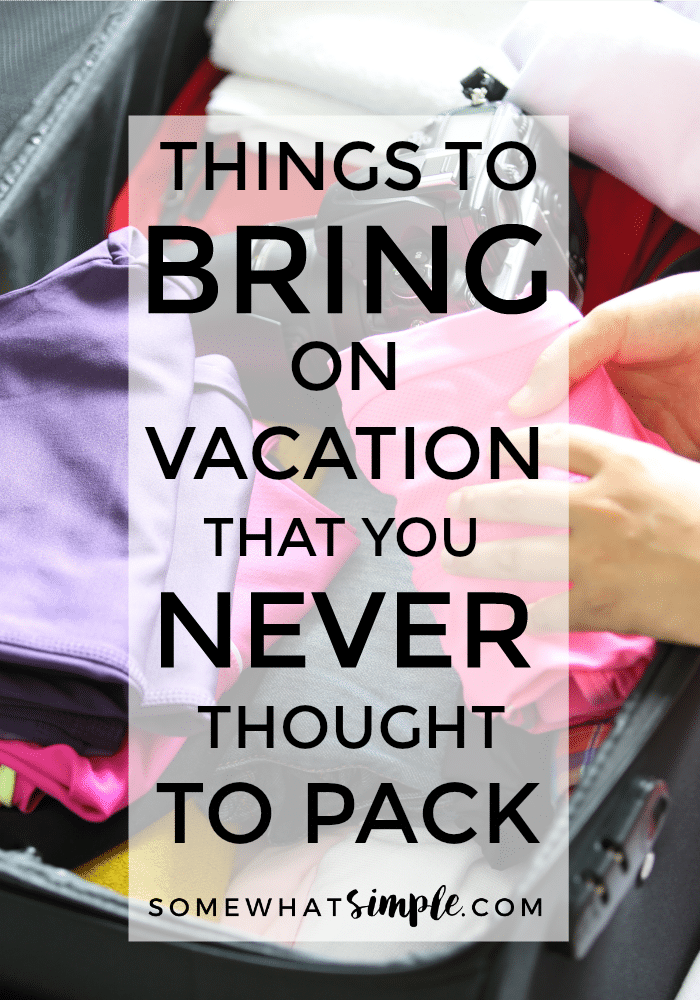 Trash bags, duct tape, power strip and more! Here is a list of things to pack in your suitcase that could save you some time and sanity on your next vacation!
Whether you're traveling to Europe, Niagara Falls or the Cayman Islands, these packing tips will help you no matter where you're going!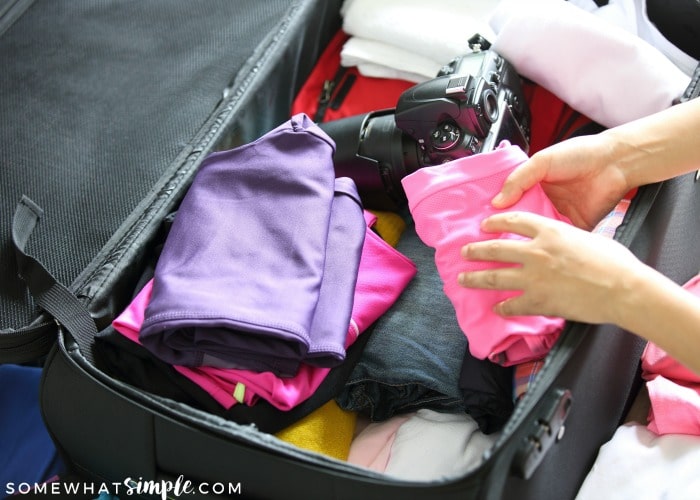 Somewhat Simple has partnered with CardRatings for our coverage of credit card products. Somewhat Simple and CardRatings may receive a commission from card issuers. Opinions, reviews, analyses & recommendations are the author's alone, and have not been reviewed, endorsed or approved by any of these entities.
Things You Never Thought About Packing But Should
We love vacation but the one thing we hate? Packing! It always seems like you pack to much or too little. Then you always find out you forgot something. Or you didn't pack something you desperately needed because you didn't think you would need it! No lists in the world can prepare you for packing on vacation because everyone is different and needs different things. Plus there are some things you should pack that you never thought about.
We know that space in the suitcase is like prime real estate at a luxury destination but with a little planning you can fit all these items. That way you can always be prepared and when something happens you will be able to say "I am so glad I packed that!" Take a look at our list and let us explain.
Items You Need To Bring
1. Copy of Important Documents
You would think this would be a given but a lot of people forget about it. If your purse or wallet is stolen it could cause a nightmare if you don't have copies of your important documents. (Especially your passport if you are in a foreign country!) It is best to make copies of everything and put them in your carry on. When you arrive at your destination, put them in the safe. If the unthinkable happens you will be prepared!
2. The Right Credit Card
If you think all credit cards are created equally, think again. Having the right credit card can save you a ton of money while you're traveling! If you're vacationing overseas, you'll want to make sure you have one that won't charge you a foreign transaction fee. Or, if you're planning on checking bags, having the airline's credit card can save you from having to pay to check those bags.
My favorite credit card to use while I'm traveling is the Chase Sapphire Preferred. This card doesn't charge you a fee when you make purchases outside of the country and you get great travel insurance when you book travel with the card.
Some countries require credit cards to have the chip feature (no swiping allowed) while others require your cards to have raised numbers. So double-check before you go to make sure you bring the best method of payment.
3. Duct Tape
No one really thinks they need a roll of duct tape for their vacation. It can be surprisingly useful though. Especially when you need to make an unexpected repair to your suitcase, handbag, or anything else. It is light, so it won't add much weight to your suitcase.
4. Scissors
Another item that you just don't think you need. Until you're trying to find something to cut that duct tape with. Or that wristband, loose thread, or even the price tag off a new shirt. Plus, most hotels or places don't have scissors in the room. Just make sure to put them in your checked bag because airlines do have rules about scissors being in carry-ons.
5. Garbage Bags
These can be used to hold damp bathing suits, or dirty clothes. At the end of your vacation, they can become extra padding for breakable souvenirs.
6. Power Strip
If you are traveling alone you may not need this, but if you are traveling as a family, this is a must. Everything needs to be charged nowadays, and this will save you a lot of headaches because you can plug in multiple devices at one time. If you are traveling abroad make sure the one you purchase will work with the outlets.
Also, check with where you are staying because some places have rules about power strips. For instance if you are traveling on a cruise ship you can't have a power strip that has a surge protector. It can short out the electrical wiring and cause a fire.
More Helpful Packing Ideas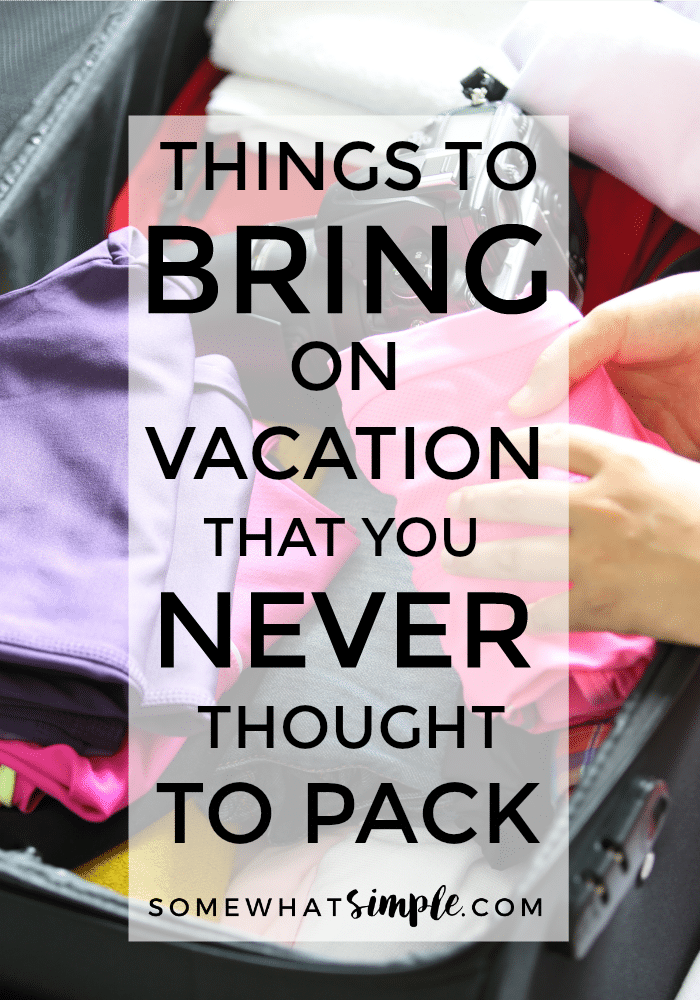 Somewhat Simple has partnered with CardRatings for our coverage of credit card products. Somewhat Simple and CardRatings may receive a commission from card issuers.
Responses are not provided or commissioned by the bank advertiser. Responses have not been reviewed, approved or otherwise endorsed by the bank advertiser. It is not the bank advertiser's responsibility to ensure all posts and/or questions are answered.