Valentine's Day got a whole lot cuter with these punny Valentine's Day Cards!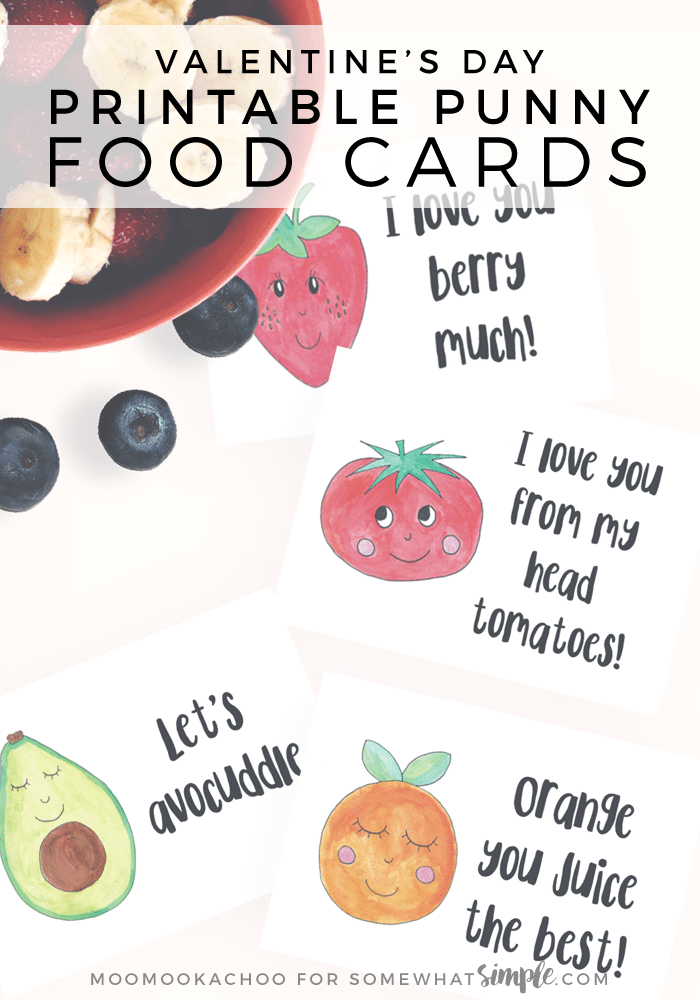 These cute + punny Valentines Day cards are a sweet way to make Valentine's Day special for your little ones. Send the cards to school with your kiddos with a related lunchtime treat, or make a fun snack platter incorporating the different items.

Punny Valentine's Day Cards
Supplies –
punny Valentines Day cards (click here to download)
scissors
pens
Directions –
Print the cards onto card stock.
Cut along the dotted lines and then fold the cards in half.
Write some sweet love notes inside the cards, then give the cards out to brighten someone's day, or incorporate them into a fun snack platter (check out our ideas below!)

The Ultimate Punny Valentine's Day Snack Platter
If you really want to embrace the pun cards wholeheartedly, create a cute snack platter! Check out our favorite ideas below to get you started!
Let's avocuddle our number one pick for this is a delicious guacamole served with corn chips – yum!
I love you berry much in our house berries are so loved, they're a considered a treat eaten straight from the punnet! However, there are also so many delicious recipes you could incorporate. A couple that we can't wait to try are these Strawberry Lemonade Frozen Yoghurt Pops, and these cute-as-a-button Chocolate Covered Strawberry Hearts!
I love you from my head tomatoes if your kids are anything like mine, they think that anything on a stick will taste 100 times better! So you could try these bite-sized caprese bites for an easy way to impress!
Orange you juice the best and of course, make sure to wash everything down with a lovely glass of OJ.

Here are a few Valentine's Day snack ideas that you might enjoy: