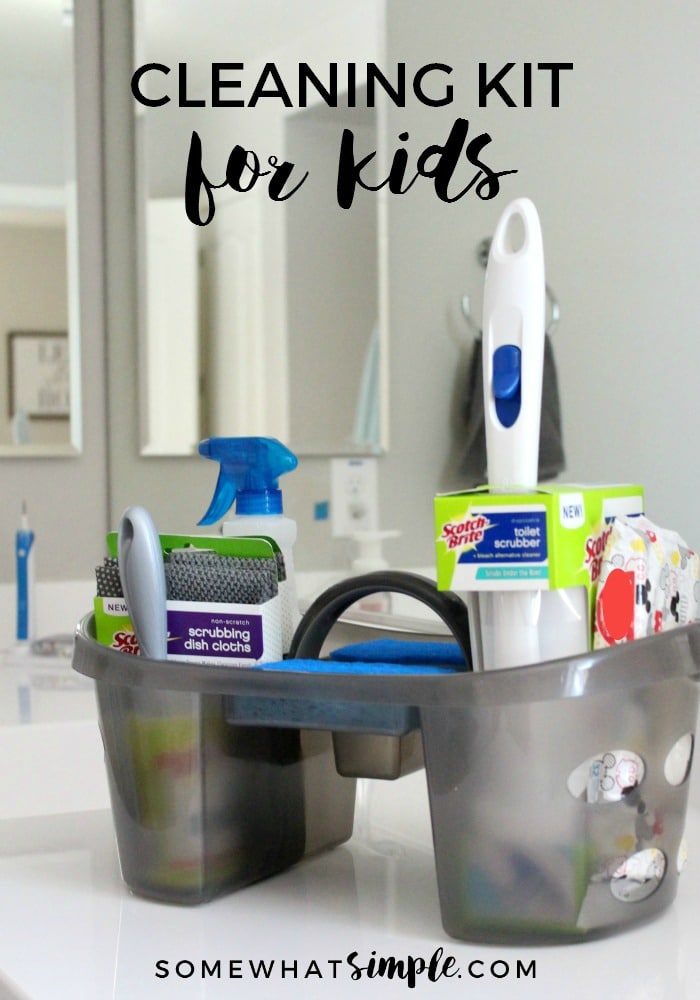 This Cleaning Kit for Kids idea is in partnership with Scotch-Brite™ Brand. I've spent the last few months evaluating some of the Scotch-Brite™ products and I'm sharing all about my tips and successes on Somewhat Simple, because #CleanFeelsGood! As always, the opinions expressed here are my own and the results you see in the post are 100% accurate.
A Cleaning Kit for Kids is the perfect way to get your children excited about completing their chores!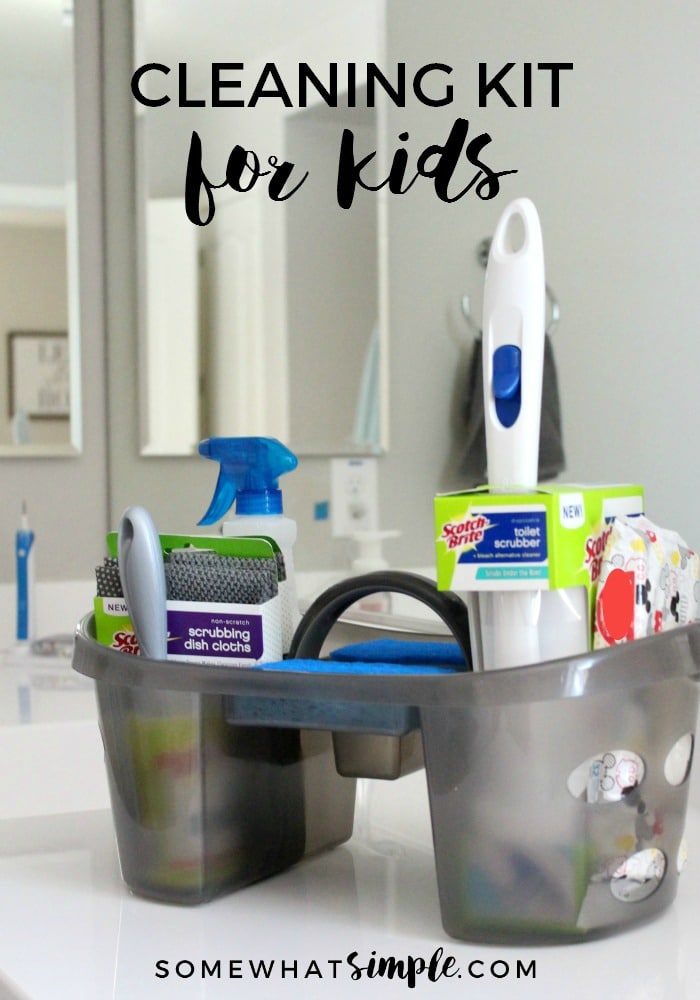 Last week while the kids and I were doing our morning chores, I noticed quite a bit of frustration in them as they searched for various cleaning supplies. I like to keep all of our cleaning products in one cupboard, but when you have several people using those items each day, things aren't always put back where they belong!
To alleviate some of their frustrations, I decided to make each of my kids their own cleaning kit, complete with everything they need to get their chores done – minus the broom and vacuum! It is working wonderfully for us so far; I can hardly believe it! Last week the mere sight of cleaning supplies would make them wince with dread! Now that they have their own cleaning buckets, they have a sense of pride and ownership and they were actually in pleasant moods all morning.
Did I just discover the secret to getting kids to clean up after themselves?! I will let you know if this excitement continues longer than a week, so stay tuned! 🙂
Whether their excitement stays or dwindles, a cleaning bucket for kids is a great way to make the task of doing chores a bit easier on them and you!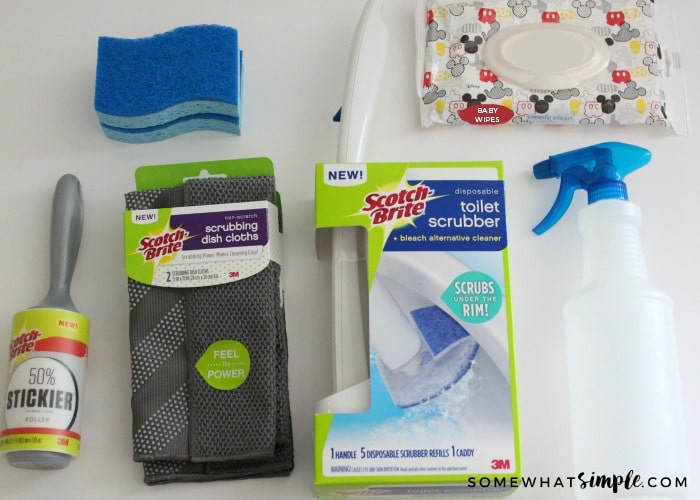 Make Your Own Cleaning Kit for Kids
SUPPLIES:
bucket
baby wipes
Scotch-Brite 50% Stickier Lint Roller
Scotch-Brite Disposable Toilet Scrubber
spray bottle with water and/or vinegar
Scotch-Brite Non-Scratch Scrubbing Dish Cloth
Scotch-Brite Heavy Duty Scrub Sponge
DIRECTIONS:
Gather your supplies and put them in a bucket. You can label the buckets with their names, or grab different color buckets. Just pick a way that makes it easy to distinguish whose bucket is whose.
Keep these buckets where the kids know exactly where to find them, so when it comes time to do chores, there are no excuses! I have my kids line them up in an extra cupboard by the laundry room. This way, I can wash their wash cloths and refill items in their bucket as needed.
Once your buckets are filled, it's time to start cleaning!

TIPS/NOTES:
I have 5 kids- ages 13, 10, 8, 5 and 2. All five are in charge of making their beds, tidying their rooms and picking up their bathrooms every day. Since they do clean their own bathrooms, it important to note that we do not use chemicals in our cleaning products. My kids use baby wipes to clean the counters and bathtub. We also use the Scotch-Brite Disposable Toilet Scrubbers in my home because of the "no-touch" feature that allows my kids to easily and safely scrub their toilets, under my supervision.
A cleaning bucket can be great for kids of all ages! My two youngest kids are given "chores" that make them feel like they are helping, though they will mostly wipe surfaces with a baby wipe. This gives them a sense of pride in our home, even at their young age. It's never too early to start helping around the house, in fact, the younger they are, the more fun they think cleaning can be! Come up with some easy tasks for them and adapt their chores as they get older and can handle more responsibility.
The Scotch-Brite 50% Stickier Lint Roller is used in my home to dust our lampshades and bedspreads. My kids LOVE using this roller on their neatly made beds. It cuts down on the amount of laundry I have to do too- win/win!
In addition to their rooms and bathrooms, the three older children are given a daily responsibility that rotates weekly. Cleaning, dusting, vacuuming the family room, taking out the trash, etc. Regardless of the task, I fully supervise and help them along the way!
. . . . .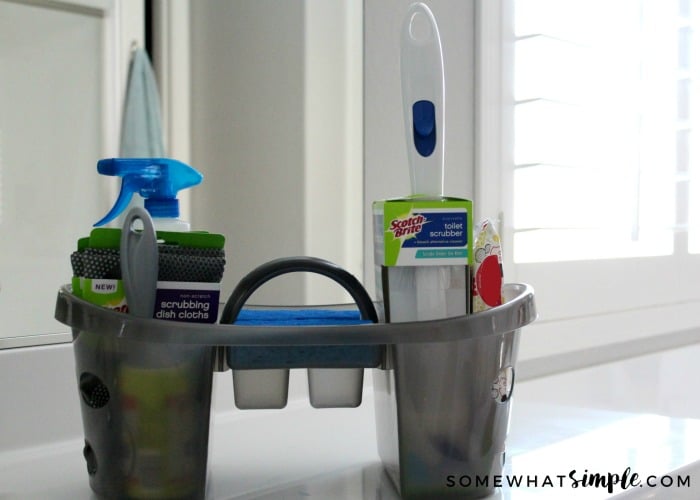 Whether you need to scrub it, wipe it or lift it away, Scotch-Brite™ Brand's broad range of cleaning tools make it quicker and easier to keep your home comfortable, inviting and clean, so you have more time to enjoy the moments that matter.
Visit Scotch-Brite.com to find a retailer near you and join the conversation using #CleanFeelsGood.
Facebook || Twitter|| Instagram || Pinterest
Do you have any cleaning tips that help kids complete their chores?
I'd love to hear all about it!
Leave me a comment in the section below and let's chat!
This is a sponsored post in partnership with Scotch-Brite™ Brand. Thanks for supporting our sponsors so we can continue to provide creative content to Somewhat Simple.