These easy summer rolls make a great lunch or dinner!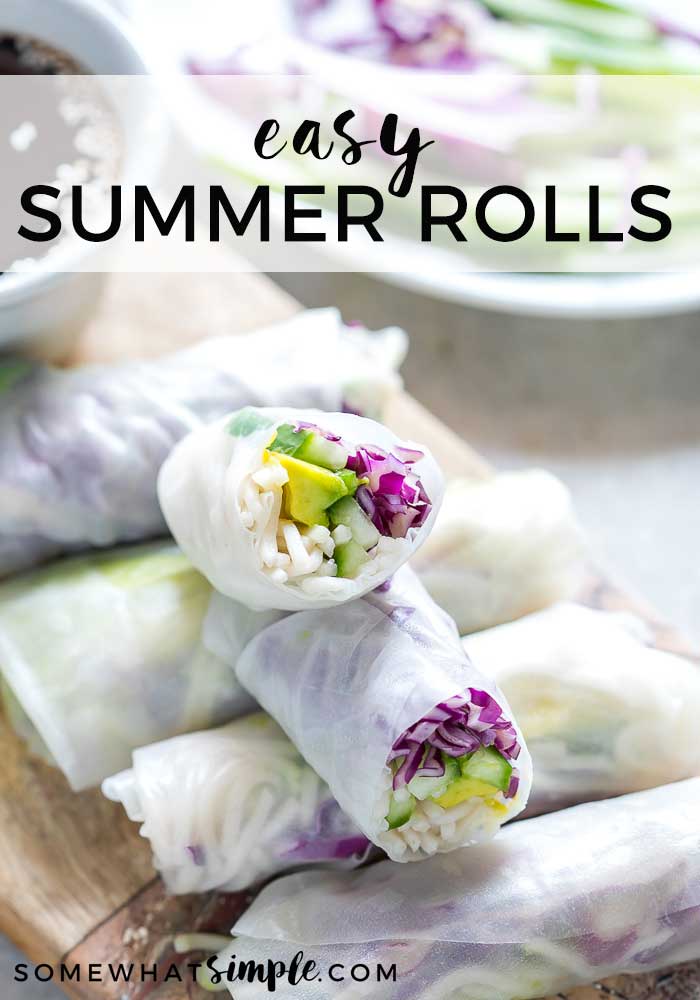 Summer rolls are one of my favorite ways to include more veggies into our diet, while keeping it simple, light and healthy. These vietnamese summer rolls are made with rice paper filled with whatever you like – chicken, shrimp, vegetables or even fruit. They are flavourful and crunchy, and if you make a tasty dipping sauce, you've got yourself a delicious meal in no time at all!
I usually like to make them ahead of time and store them in an airtight container in the fridge. They easily stay for a few hours as long as they are covered.
How to Make A Summer Roll – Tips
Rolling your summer rolls can take a little practice but trust me, you'll be wrapping them up like a pro in no time! Here are a few tips to get you started:
Don't over soak the wrapper. You just need to place them in a pan of water, and flip them once to make sure both sides are soaked in water. Take them out in 10 seconds. Anymore than that, and your rice paper will get too soggy and difficult to handle.
If you're gentle with the paper it won't stick to your surfaces but it WILL stick to itself so be careful with it, and lay it down before it's fully soft.
Have all your toppings chopped and ready to go for speedy rolling!
It's important to wrap them tightly so that when you cut them the filling doesn't just fall out. Think of them like a tightly wrapper burrito.
Don't over-stuff your wrapper, keep at least an inch margin around all sides so that you have plenty of room to roll.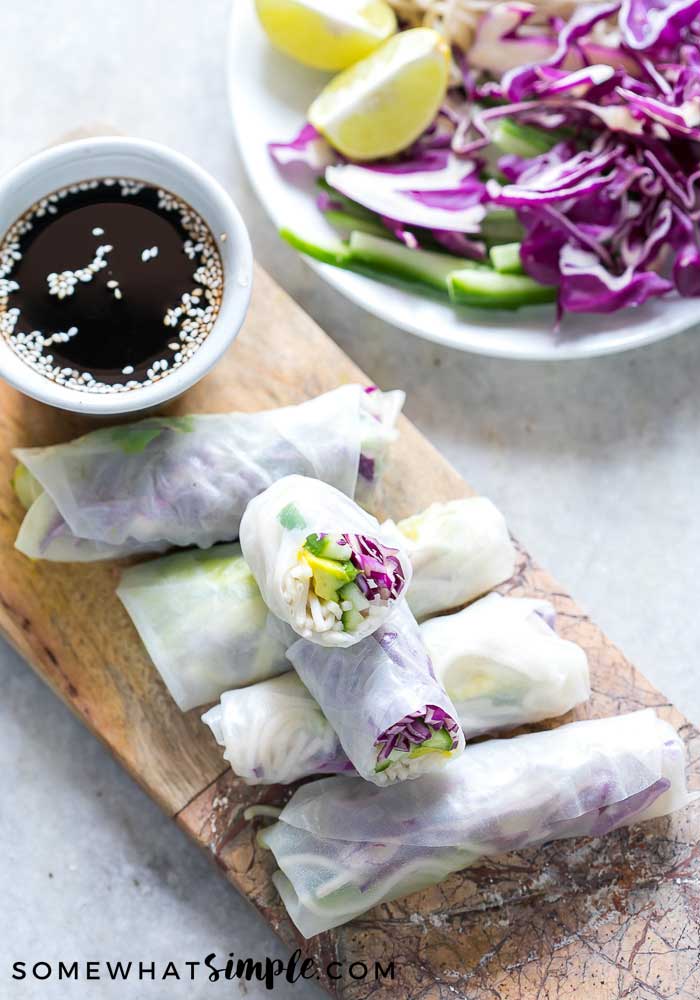 I also have to tell you about the dipping sauce because thats a must-have when you are making these vietnamese summer rolls. I usually like to mix together soy sauce and toasted sesame oil which is an amazing two ingredient sauce that goes well with these rolls. But you can also serve these with peanut sauce or a sriracha mayo. Pick the sauce that works for you!
Doesn't that sound easy enough? Trust me, once you start making your own summer rolls, you'll never look back!
Easy Summer Rolls
These rolls are vegan, gluten free, nut free, and so customizable so go ahead and make them your own!
This recipe makes 10 rolls but I make 2 at a time to pack with me for work. You can prepare all the toppings in advance then easily roll these up the night before. Make sure to store them in an airtight container to avoid them from drying out.
INGREDIENTS – 
2 cups cooked Soba noodles (or regular noodles)
1 cucumber, peeled and cut into thin strips
1 large avocado, peeled and cut into slices
1/4 head purple cabbage, chopped or shredded
10 sheets rice paper
DIRECTIONS – 
Fill a shallow dish with water. Immerse the rice paper in the water and flip so that both sides are soaked. Remove it within a few seconds and place it on your kitchen board or clean kitchen counter.
Start layering your toppings in such a way that they are log shaped on the side closest to you after leaving an inch from the edge.
Fold the sides in. Gently lift the edge closest to you and tuck it over the toppings. Continue rolling until you get to the end of the sheet.
Cover the roll with a wet paper towel so they don't dry out.
Repeat till all the fillings are divided between the rolls.
Serve with your favorite dipping sauce and ENJOY!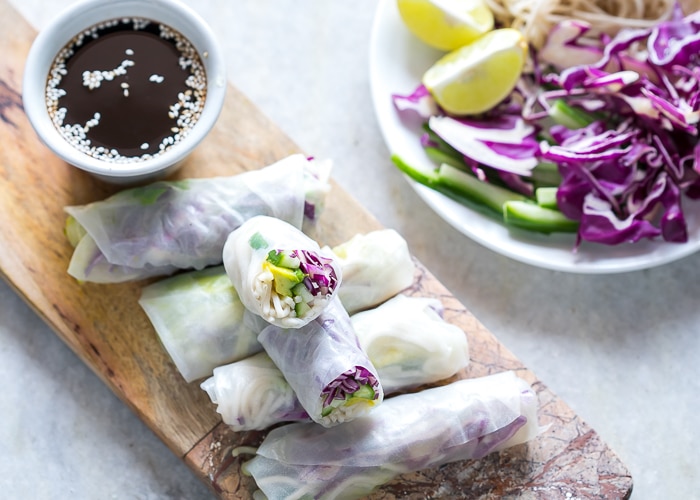 This post originally published on Somewhat Simple in October 2015. It was updated in July 2017.