This flavorful and savory green enchilada sauce is so easy to make, and tastes so much better than store-bought sauce!
We eat some form of Enchiladas in my home ridiculously often… and they are always delicious! Enchilada Puffs, Enchilada Lasagna, and Chicken Enchilada Dip are some of our favorite variations. This homemade Green Enchilada Sauce Recipe is a great way to swap out the store-bought version!
Homemade Green Enchilada Sauce
One of my absolute favorite go-to meals that I know my family will always eat happily is enchiladas! I keep my freezer stocked with cooked shredded chicken and my pantry stocked with black beans, corn, and green chilies, so it's pretty easy to whip up enchiladas at a moment's notice.
Until recently I had always used store-bought enchilada sauce for my enchiladas, but I decided to branch out a little and try making my own sauce. The result was this fabulous green chili enchilada sauce, and it totally blew me away with its deliciousness! It's so much better than the store-bought sauce that I'm not sure I can ever go back!
Green Chili Enchilada Sauce
This green enchilada sauce recipe really is the best! It gets its flavor from a combination of onions, garlic, a few spices, and green chilies. If you were to ask me on any given day whether red enchilada sauce or green enchilada sauce is my favorite, my answer would change, but lately I have been on a big green sauce kick. I love that it's savory and salty, and has just a little kick of sourness from the green chilies. I could seriously just eat this stuff with a spoon!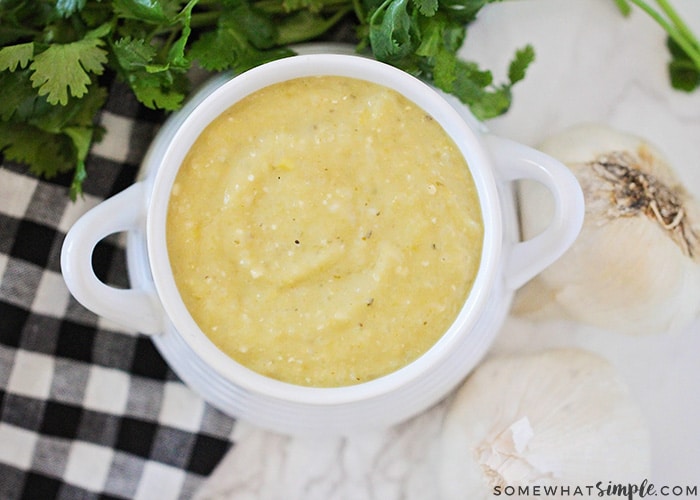 How to Make Green Enchilada Sauce
This green chili enchilada sauce is surprisingly easy to make! It's cooked on the stovetop, and then pureed until it's silky smooth and easily pourable. It makes about 2 cups of enchilada sauce, so it's the perfect amount for a 9 x 9 or 9 x 13 pan of enchiladas. If you like things a little spicier, you can throw in a jalapeño or two, or add some sriracha to the sauce. My kids like things pretty mild, so just the green chilies were perfect for us. If you're not going to use it right away, you can store the sauce in the fridge, and it will keep for at least a week. It thickens a little as it cools, so be sure to heat it up when you're ready to use it so it will be easy to pour and spread.
More Easy Enchilada Recipes –
Green Chili Enchilada Sauce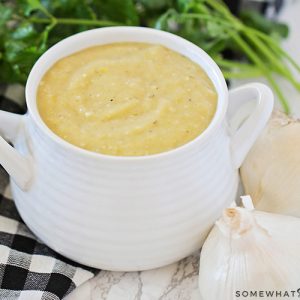 Green Chili Enchilada Sauce
This flavorful and savory green enchilada sauce is so easy to make, and tastes so much better than store-bought sauce!
Ingredients
2

tablespoons

olive oil

1

medium onion

chopped

2

teaspoons

minced garlic

2

tablespoons

flour

1

teaspoon

cumin

1/2

teaspoon

chili powder

1

teaspoon

garlic powder

1/4

teaspoon

black pepper

1/2

teaspoon

salt

1 1/2

cups

chicken broth

1

can (8 ounces)

diced green chilies
Instructions
Heat the olive oil in a large skillet over medium heat. Add the onion and garlic, and cook until softened and fragrant. Whisk in the flour, cumin, chili powder, garlic powder, black pepper, and salt, and cook until golden and bubbly.

Slowly whisk in the chicken broth, stirring constantly to prevent lumps. Whisk in the green chilies. Bring the sauce to a simmer, and simmer 10 minutes, or until thickened slightly.

Puree the sauce using an immersion blender, or a blender or food processor (with the top open to let steam escape), until smooth.