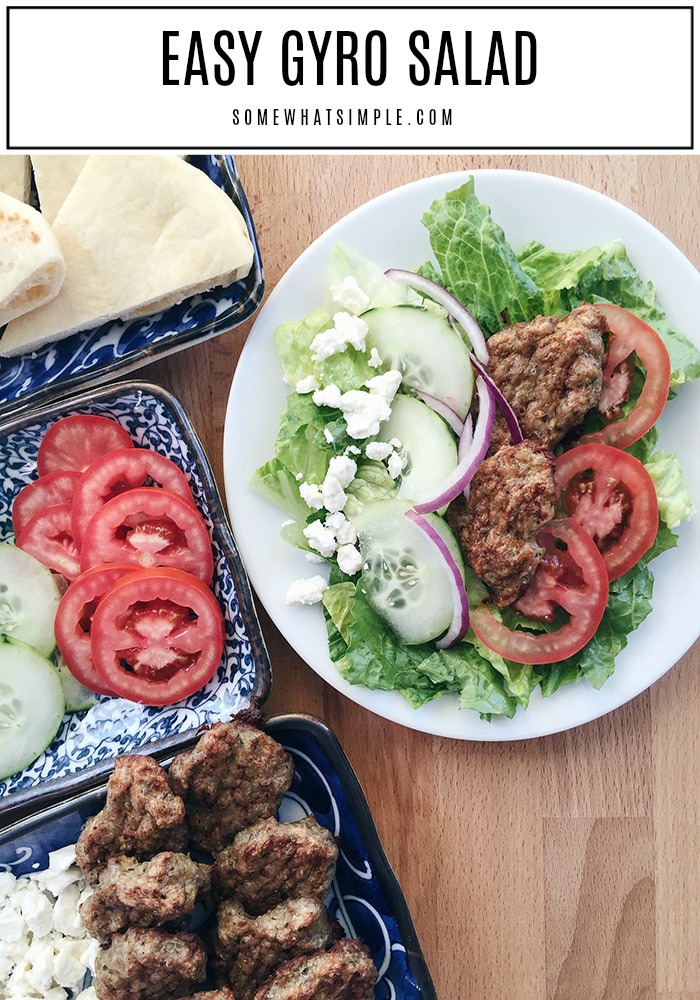 Gyro salads are a delicious taste of the Mediterranean you can enjoy all year long. Made with meat packed with flavor, fresh crunchy veggies and a creamy tzatziki dressing drizzled on top.
I love the flavors in Mediterranean dishes and this salad is full of them. Some of my other favorite dishes from the region are these Caprese Sandwich, Pasta Salad and Rosemary Skewers recipes.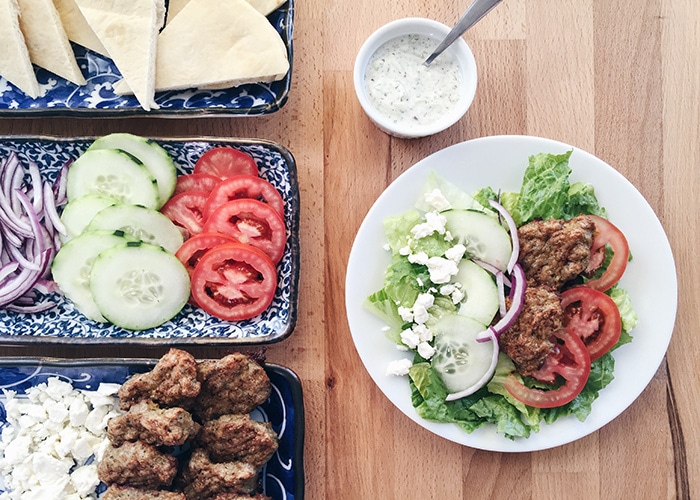 Authentic Greek Salad
Hands down, Gyros are one of the top favorite take-out foods in our house. (All those delicious flavors – what's not to love?) And while it's great to grab a few gyros and bring them home, we, like many others, try to limit our take-out nights. Of course we don't stop craving those flavors, so I love to try and recreate them at home.
That's how this gyro salad was created… and it is AMAZING! This salad has all of the fantastic flavors and elements of your favorite Gyros, right down to that tzatziki sauce. (It's really the cherry on top of the delicious sundae.)
How To Make A Gyro Salad
Prep – Preheat the oven to 375 degrees. You'll also want to line a baking sheet with foil and spray it with cooking spray.
Mix – In a mixing bowl, combine the ground pork, Greek seasoning, mint, olive, oil, milk and egg. Once it's fully mixed, place spoonfuls of the mixture onto the baking sheet.
Flatten & Bake – Flatten each of the balls into an oval shape using a fork. Bake the meat in the oven for 20-25 minutes. After it has finished cooking, switch the oven to broil and then brown the meat for an additional 3-5 minutes. Once the edges of the meat are dark and crispy, they're done.
Make The Tzatziki Dressing – While the meat is cooking, add the yogurt, grated cucumbers, dill and oregano into a bowl and mix until combined. You'll also want to add some salt and pepper to taste. Cover the sauce and place it in the fridge until you're ready to serve it.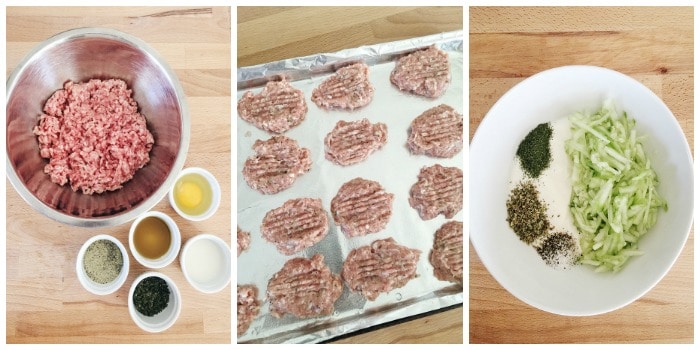 Recipe Tips
Consistency – As you let the Tzatziki dressing sit before serving, it can become a little thinner due to the water in the cucumbers. It will be perfect for pouring on the gyro salad but if you like it a little thicker, just add a little more yogurt to the bowl and give it a good mix before serving.
What Goes On A Gyro Salad – I like to make my salads with lettuce, tomato, cucumbers, red onions and crumbled feta cheese. For an extra touch, I like to cut up pita bread into wedges and serve those warm with the salad.
More Summer Salad Recipes
Let us know if you make this salad by leaving us a comment below or any tagging us on social media.
Gyro Salad Recipe
Pillowy soft bread, juicy and flavorful meat, and fresh crunchy veggies drizzled with creamy, dreamy tzatziki sauce. Delicious Gyro Salad, coming right up!
Ingredients
For the Meat
1

lb.

lean ground Pork

3

Tablespoons

Greek Seasoning

1

teaspoon

dried Mint

,

crushed

1

Tablespoon

Olive Oil

1

Tablespoon

Milk

1

Egg
For the Tzatziki Sauce
1/2

cup

Greek Yogurt

,

unflavored

1/2

cup

grated Cucumber

1

teaspoon

dried Dill

,

crushed

1

teaspoon

dried Oregano

,

crushed

Salt and Pepper to taste
You will also need:.
Romaine Lettuce

sliced Tomatoes

sliced Cucumbers

sliced Red Onion

crumbled Feta cheese

Pita wedges

,

for serving
Instructions
Preheat oven to 375 degrees. Line a baking pan with aluminum foil and spray with nonstick cooking spray. Set aside.

In a medium bowl, combine ground pork, Greek seasoning, mint, olive oil, milk and egg. Mix well, and place by spoonfuls onto prepared baking sheet.

Using a fork, flatten into oval shapes, leaving ridges with the fork. Place in preheated oven and bake for 20-25 minutes. Switch to the broiler and brown the meat for 3-5 minutes, or just until the ridges on the meat become darker and crispy. Remove from oven.

Meanwhile, combine the yogurt, grated cucumber, dill, and oregano in a bowl. Salt and pepper to taste. Cover and refrigerate until ready to serve. The sauce will become a bit thinner as it sits due to the water content of the cucumber. This is fine, as it makes it a good consistency for drizzling over the salad.

To serve, pile lettuce, tomato, cucumber, red onion, and crumbled feta on plates. Top with the gyro meat and tzatziki sauce. Serve with warmed pita wedges, and marvel at the flavor of take-out in your own home!
Nutrition
Other Notes
ENJOY!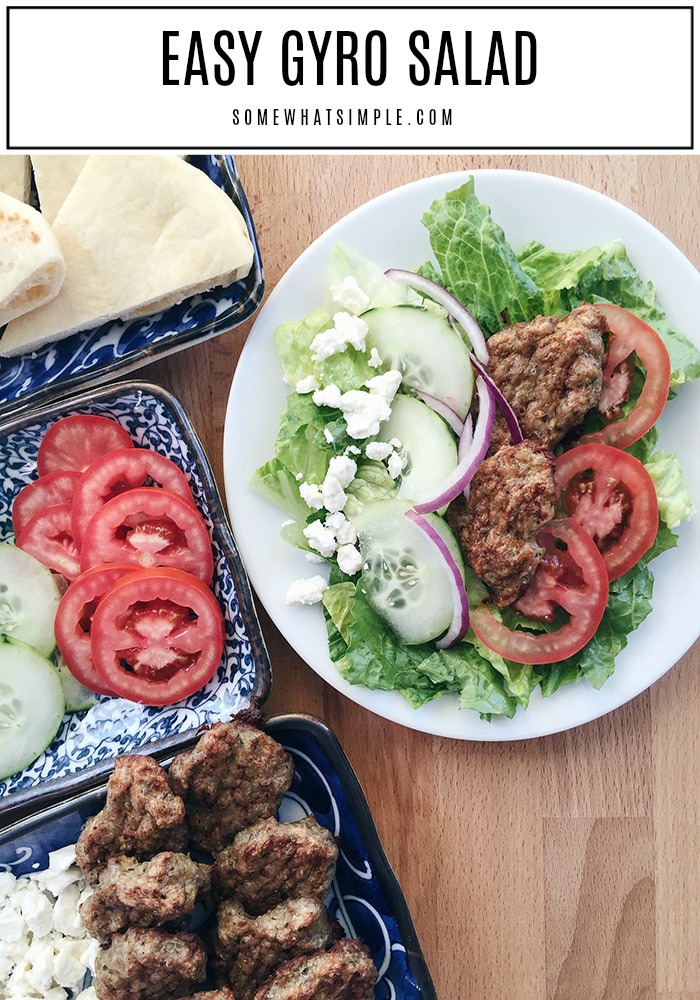 ABOUT THE AUTHOR – Kathrina is the author of Eclectic Yellow House, and food and lifestyle blog. Kathrina was on the Somewhat Simple Creative Team in 2016.