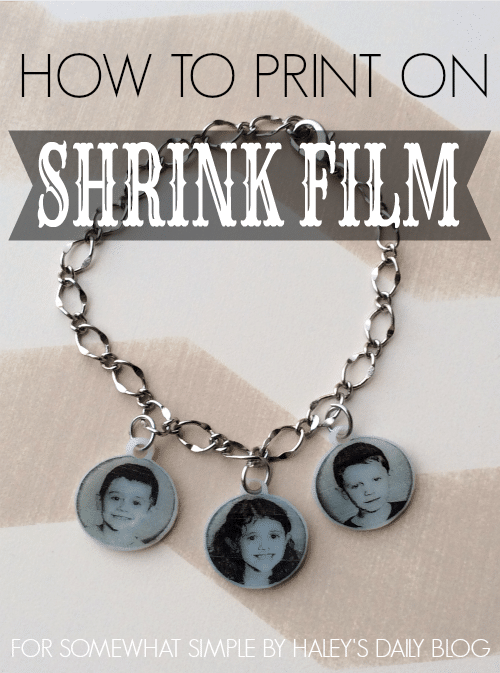 This easy tutorial will show you how to print on shrink film. You can use this to make bracelets, key chains, party favors or anything else you can think of!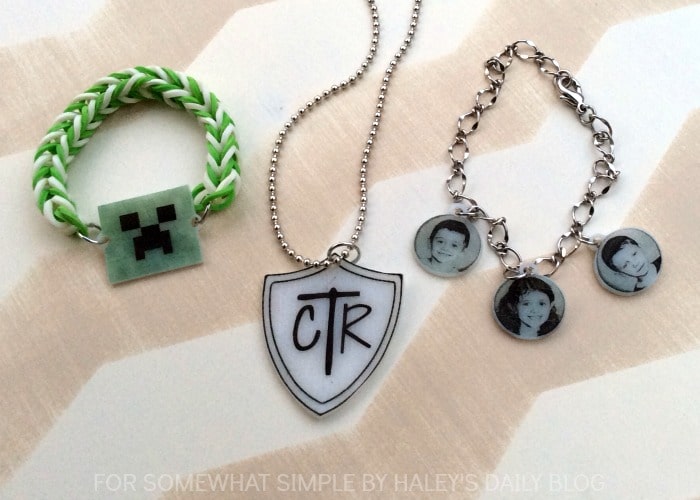 Can I Print On Shrink Film
Last winter I agreed to help someone at my church make ornaments for all the kids. I made a cute design, printed it out and started tracing away on Shrink Film. Now, let me stop here and answer the question some of you might be having – yes, they do sell shrink film for the printer. BUT printer-friendly shrink film is a lot pricier than regular shrink film, and I am all about saving money, especially when you are making several dozen ornaments- the cost adds up!
Anyway, after about a dozen ornaments traced, my hand was tired. Really tired. I knew I needed to come up with a better solution, so I discovered how to print on Shrink Film – and it worked great! I was able to knock out the remaining dozens of ornaments in a fraction of the time the first few- YAY!
Today I am going to show you how the kids and I made some charms using this same technique. These charms can go on loom bracelets, key chains, party favors….you name it and you can probably make it with Shrink Film!
Items Need To Print On Shrink Film
inkjet printer
hole punch
scissors
super fine grit sand paper (220 or higher)
parchment paper
baking sheet
an oven
How To Print On Shrink Film
Choose your images. For charms, your printed images should be around 1″-4″ in size. You may want to save the images to your computer and change the size by using PicMonkey or even a word document.
Lightly sand one side of the Shrink Film using 220 or 320 grit sand paper and then wipe away the dust.
Print your image onto the sanded side of the Shrink Film using your printer's lowest image quality- the one that uses least amount of ink possible. (I use the fast/economical setting.) Also, you may want to print a test run on paper.
Once printed let dry for a few minutes, and be careful not to touch the ink because it will smear.
Carefully trim around the image and punch a hole, if necessary, for your project.
Heat your oven to 350 and sandwich your design between 2 sheets of parchment paper.
Bake on a baking sheet for 2-3 minutes. Remove from oven and let cool. The film should be thick and hard, and a lot smaller. If the design curls or wrinkles you can flatten it out and heat again for a minute.
Now your Shrink Film designs are ready! Add a jump ring and make a necklace or charm bracelet, add to a loom band bracelet, make a key chain, add a magnet, or whatever you want.
More Fun Kids Crafts
This craft is so fun and easy, you should try it! I have to say, the photo charm bracelet is my favorite. If you're looking for more fun things to make with your kids, here are a few of our favorites.