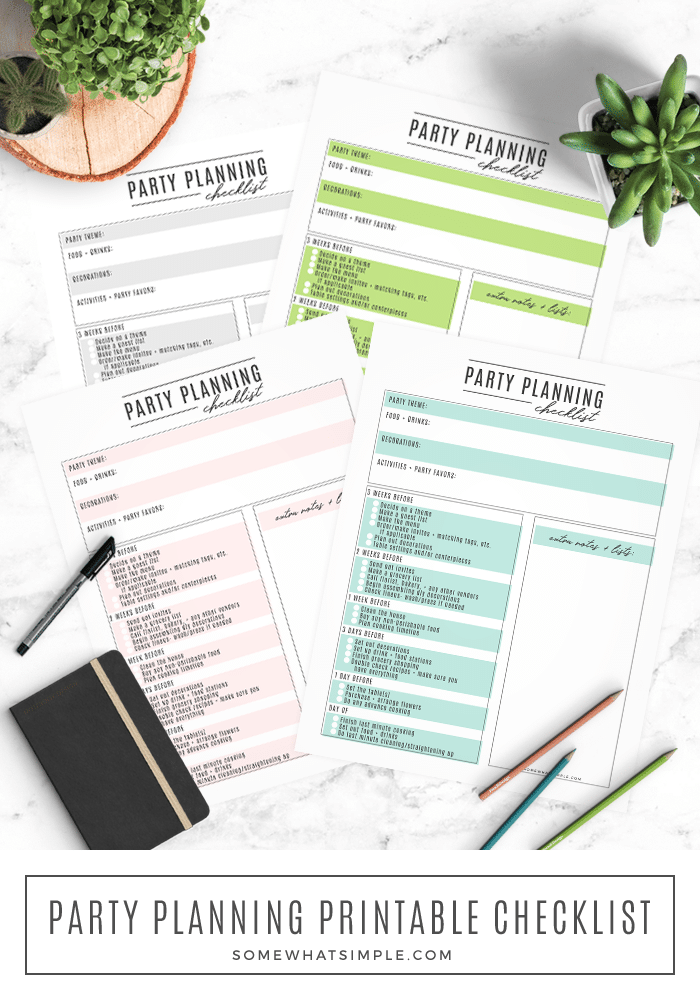 3 steps to hosting a fantastic party + a FREE party planning checklist! (Your next event is going to be amazing!)
Now that the holidays are over, you can sit back, relax… and start planning your next party! We have some EASY party ideas we've shared over the years – from the BEST adult party games, to a simple party invitation your kids will LOVE. But today I wanted to talk about the planning process of every gathering, big or small, and how you can save time, money and stress all at the same time!!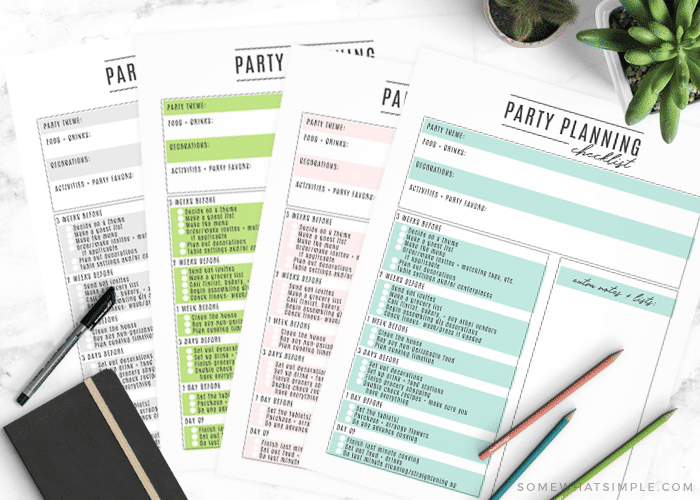 How to Plan a Party
When it comes to throwing a party, organization is the key! Don't wait 'til the last-minute to plan – get started today! We'll walk you through the steps to planning a party and give you a free party planning checklist so you can enjoy the shin-dig as much as your guests do!
Steps to Planning a Party
Organizing your entertaining supplies and planning in advance will make the entire process much easier and smoother! Here is how –
1. Get out your calendar
Need a printable calendar? Here is a FREE PRINTABLE CALENDAR we made that matches our party planning checklist.
Look through your calendar for upcoming birthdays and special events and pencil in a date for the big celebration. Establishing a date far enough in advance will give you ample time to plan
Take note of any events that fall only a few weeks apart. (ie. If your child's birthday is just one week before Easter this year, having an advance warning will keep the events from overwhelming you.)
If you've always wanted to host a certain type of party, such as a Derby Party, but have never had the chance to do so, this is a good time to set a date on your calendar.
2. Start searching for inspiration
Knowing which parties you have planned for the upcoming year will also allow you to start brainstorming for party ideas.
Magazines, blogs, and books all provide great inspiration for party decorations and recipes. (You follow Somewhat Simple on Pinterest, right?!)
Once you decide on a few decorations or centerpiece ideas for a party, you can begin to shop around for the items you will need.
3. Start Shopping in Advance
It is a good idea to examine your existing linens, serving dishes and drink ware. Throw out any stained or ripped linens or donate ones you no longer use. Make a note of any items that need to be replaced. Since stores often offer discounts on home goods at the beginning of the year, now is a great time to look for new items.
Once you have a list of your upcoming events and items you will need, be on the look out for good deals.
Looking for party supplies in advance will also allow you to compare prices, avoid last minute purchases, and score better deals on the items you need.
After holiday sales are a great time to purchase items for parties. For example, pink and red items are always on clearance after Valentine's Day. It's a perfect time to shop for upcoming birthday parties or play dates for little girls.

Party Planning Checklist
For even more party planning help, you can download our free Party Planning Checklist. It has everything you need to do to plan a party with a deadline of when to do it!
3 Weeks Before –
Decide on a Theme
Make a guestlist
Make the menu
Order/make invites
Plan the decor & table settings
2 Weeks Before –
Send out invites
Make a grocery list
Call the florist, bakery, or any other vendors
Make / assemble any DIY decorations or party favors
Wash and press any linens
1 Week Before –
Deep clean your house (be prepared to pick up and wipe down as your party gets closer. Because #kids.)
Buy non-perishable food
Plan your cooking timeline
3 Days Before –
Set out decorations
Lay out food + drink stations
Finish grocery shopping
Double check recipes – make sure you aren't forgetting anything
1 Day Before –
Set the table
Purchase + arrange flowers
Do any advance cooking
Day of –
Finish cooking
Set out food
Do last-minute cleaning / straightening up
Here is a printable version of our party planning checklist –
We hope you have a fun and successful party!
Cheers!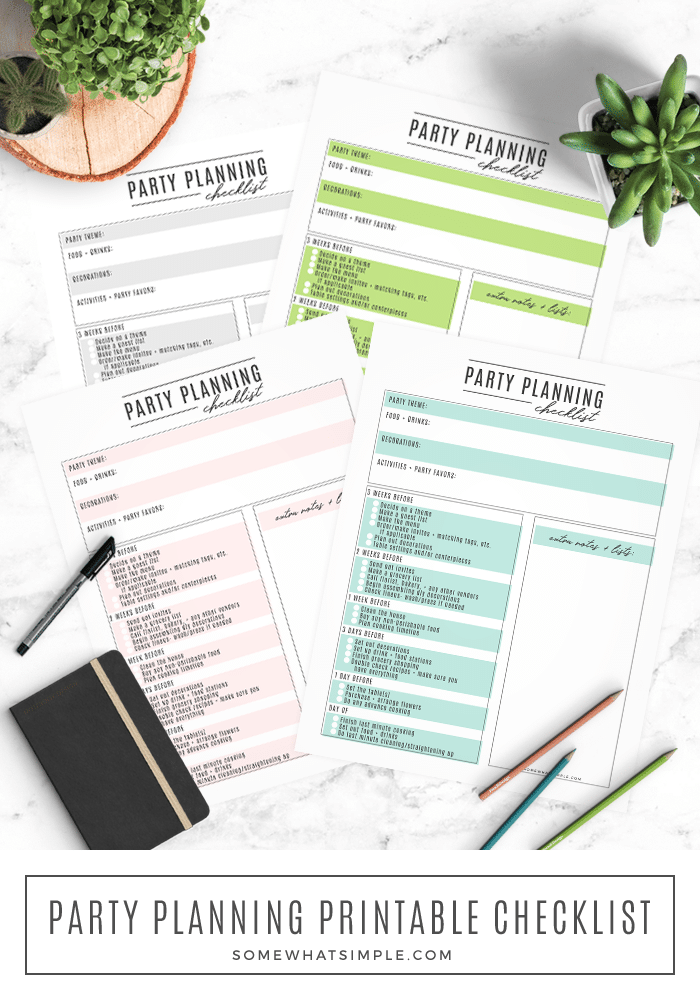 ABOUT THE AUTHOR – Deanna is the creative mom and blogger from Mirabelle Creations. Deanna shares personalized, thoughtful party designs to help others celebrate life's special occasions. Mirabelle Creations specializes in colorful, stylish paper goods for the modern hostess.
This post originally published in 2014. It was updated in 2018 with new printables.