This is the easiest "no sew" paper rainbow garland you'll ever make!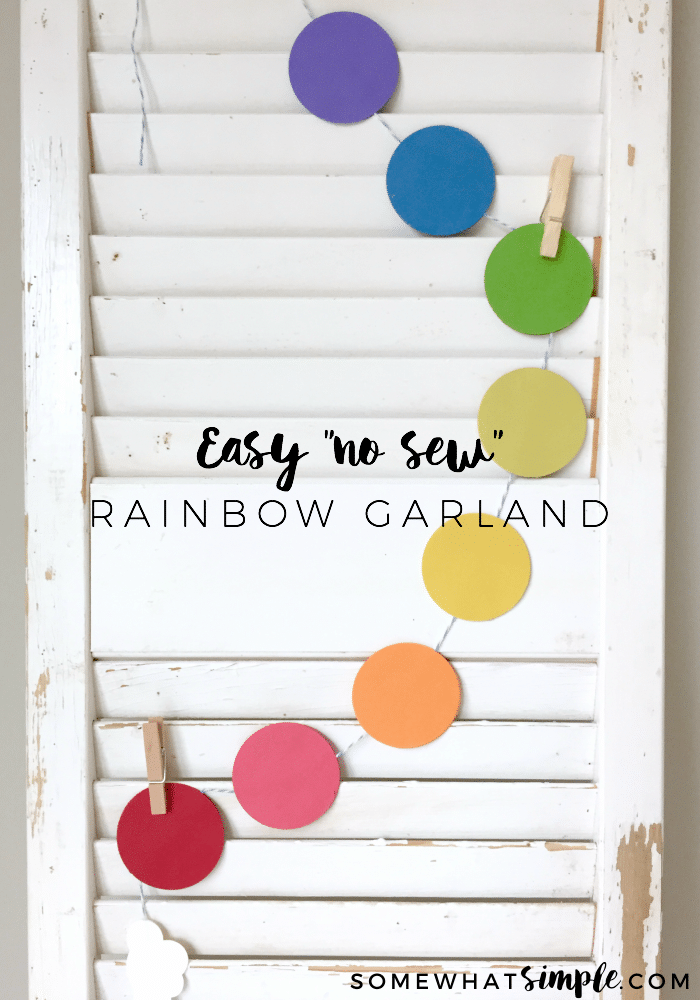 I don't bake, and I don't sew.  It's not that I have anything against either, it's that if I owned a sewing machine, my husband and kids would never see me again!  This makes some craft projects challenging.  However, I'm sharing my favorite way to make a "no sew" paper garland with you – and all you need is your glue gun and a theme!
In preparation for St. Patrick's Day, I made a rainbow garland with clouds and a random pop of gold. You can obviously use this tutorial to make your own garland in whatever color palette and length you need! They are a great decoration for a party, baby shower, or in your child's room or nursery.  So colorful and somewhat simple!  (See what I did there?)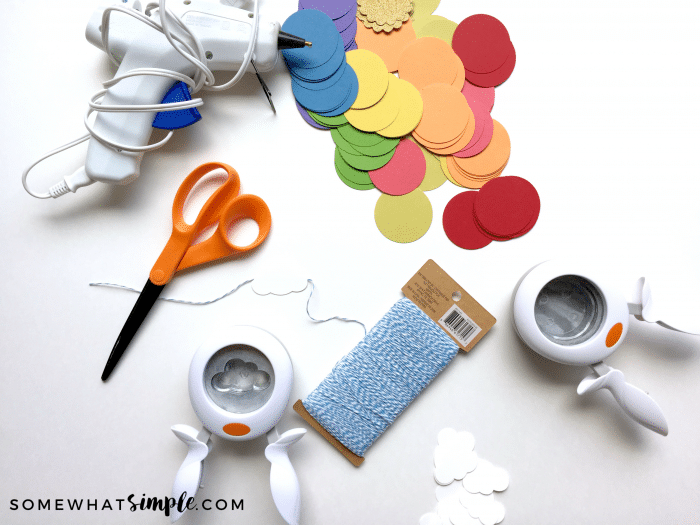 EASY "NO SEW" PAPER RAINBOW GARLAND
SUPPLIES –
hot glue gun, loaded and ready for business
2 inch hole puncher
cloud shaped hole puncher (or other desired shape)
rainbow colored card stock (this is a good project to use up some scrap paper from other projects)
baker's twine in the color of your choice
scissors
DIRECTIONS –
Measure and cut your baker's twine to desired length.
Punch out circles in your card stock in even amounts, as you'll glue 2 circles onto each other along your twine…
Glue a nice amount over the surface of a circle and place the twine in the middle of that shape.  Quickly apply glue to it's "partner" and slap that baby right on top!
Continue on down your twine in a pattern.
Hang and enjoy!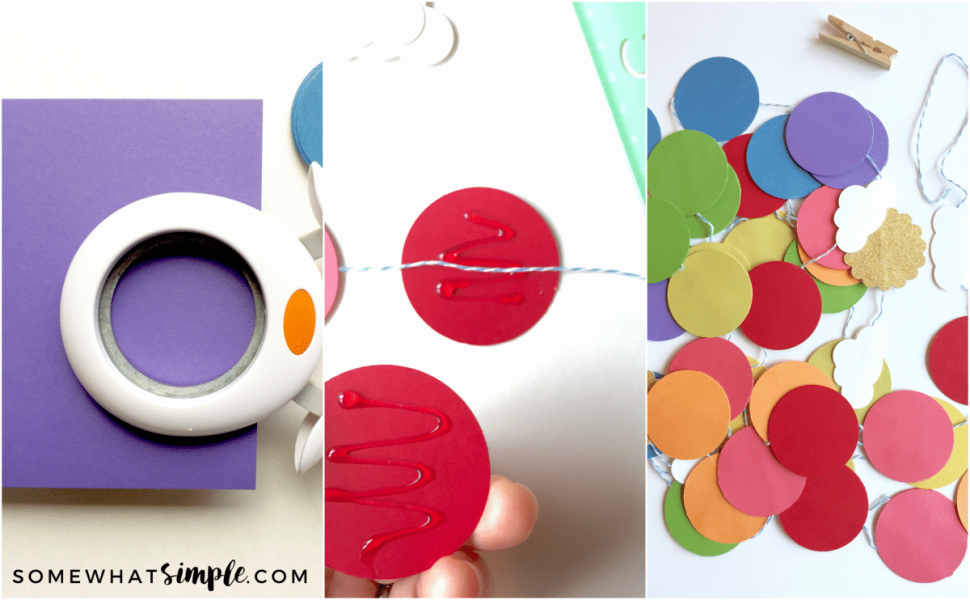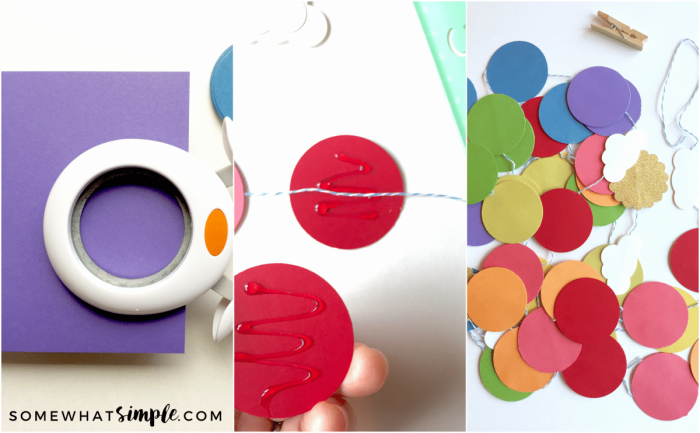 Tips:
Punch out extra circles because hot glue can be a hot mess!
You can rip off any circles you don't like, and quickly replace them.
If working with shapes, such as the cloud, make sure you match up the "partner" cards before placing the glue in between, so the shapes come together nicely.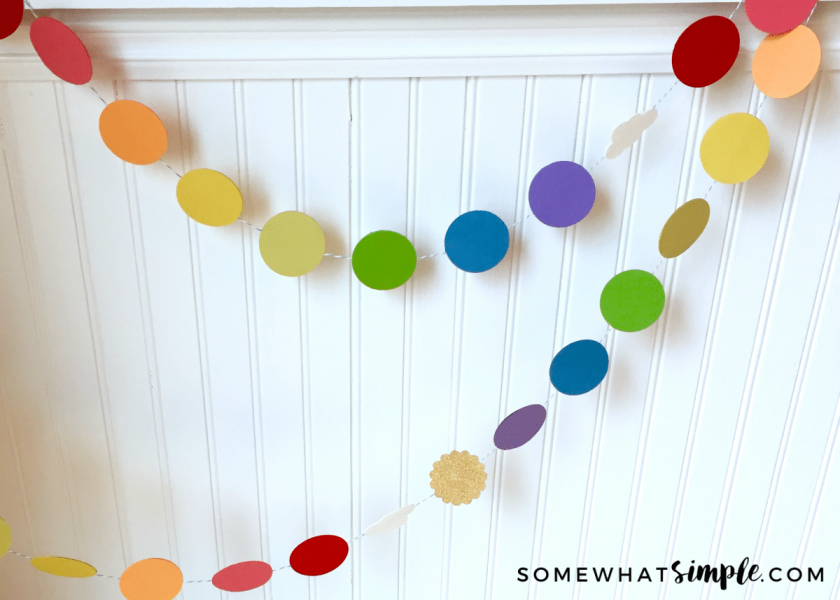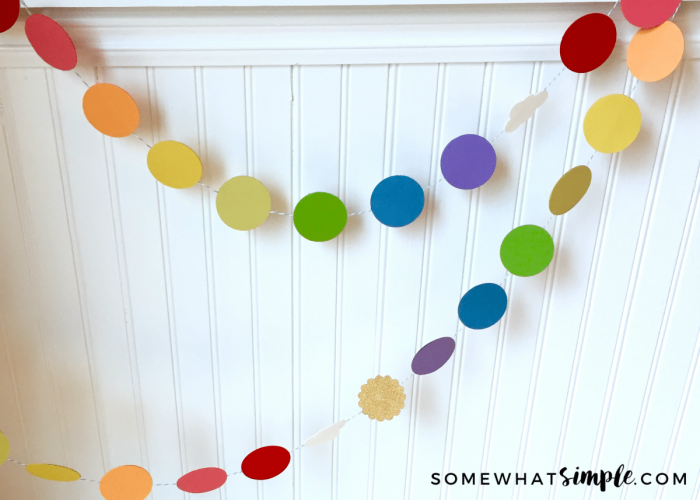 Here are a few more colorful creations you may like:


 Popsicle stick flower pots // Xylophone craft // Balloon invitations