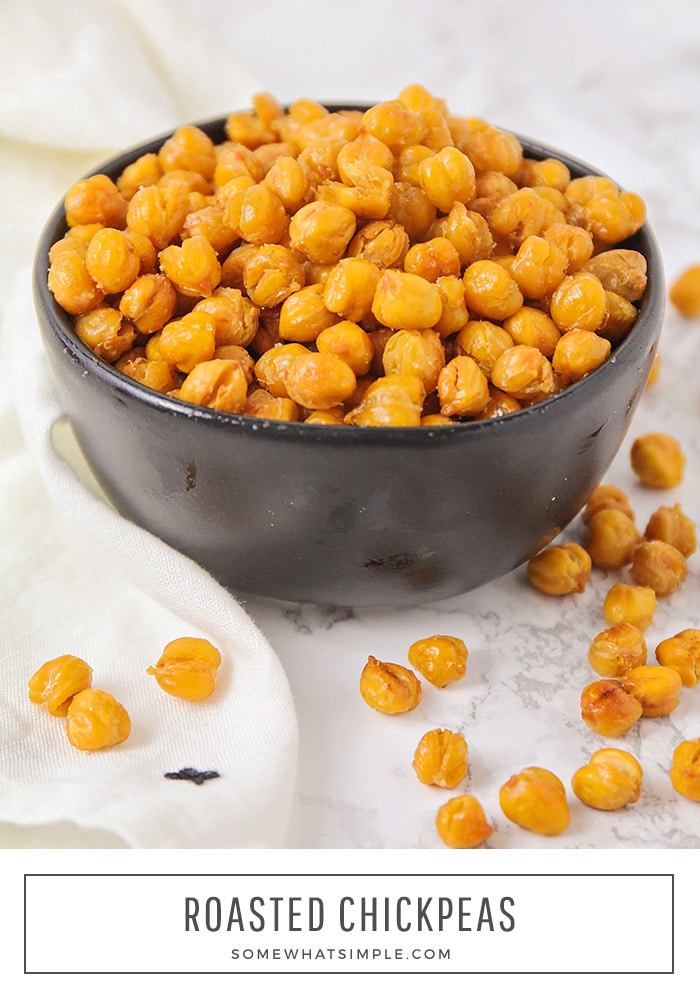 Chickpeas are an absolutely fantastic, super healthy snack. These salt and vinegar chickpeas are roasted to perfection and simply delicious!
Looking for a few more healthy snacks? Here are some of our favorites – Antipasto Skewers, Homemade Fruit Roll-Ups, Skinny Cheesecake Bites, and Homemade Granola Bars.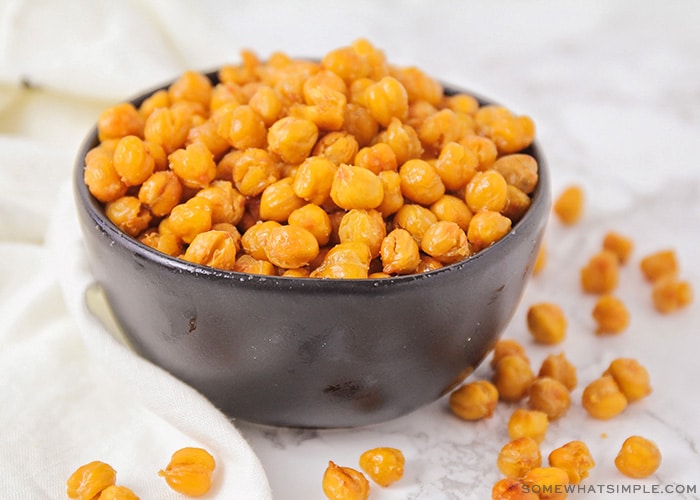 An Easy Version
We all have those irresistible foods, the ones we just have to have a few bites of whenever we see them. For me, the worst craving culprits are salt and vinegar chips. (My husband can't stand them, which is fine. More for me!) I first saw Alton Brown whip up these crunchy, tangy salt and vinegar chickpeas on Good Eats a few years back, but his version involved hours of soaking and marinating.
And you know me – I love food, but it has to be easy to make or I'm not interested. I got to work trying to replicate and simplify this recipe. I am happy to say that after a couple dozen batches of trial and error, I nailed it. I came up with the perfect technique for roasting up the best, crunchiest chickpeas no matter what flavor profile I'm going for and I'm going to show you how to do it.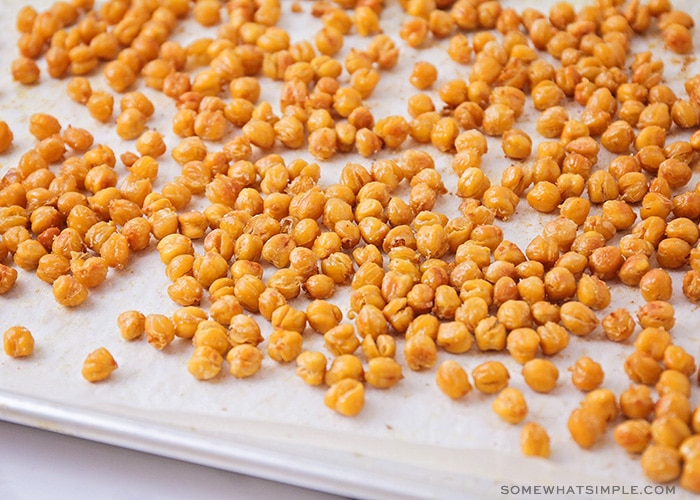 How to Make Salt & Vinegar Chickpeas
Prep – You'll want to give the chickpeas a good rinse. Next, you'll toss them in olive oil and a sprinkle of salt.
Roast – Bake them for 25-30 minutes in a 400-degree oven until crisp. During this time you'll want to make sure you stir things around once or twice.
Final Touches – Take the pan out of the oven and pour vinegar over the batch and add a sprinkle more of salt. Toss to coat, and then return them to the oven for another 10-15 minutes until the chickpeas are crunchy.
Serve – Let cool completely and enjoy!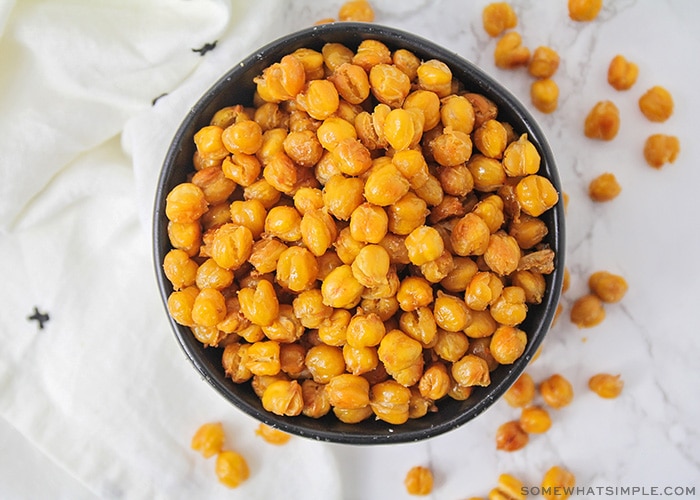 Recipe Tips
A Little Extra Heat – The trick that really makes these salt and vinegar chickpeas so perfect is the second round of roasting. You get them almost done the first time then add the vinegar, then pop them back in to re-crisp up that tangy coating!. If you don't do the second roasting, they get soft and soggy quickly.
Other Flavors – If you're trying a different flavor that doesn't use vinegar or another liquid/sauce, you don't need to bother with the second roasting.
Fresh Air – You might want to open your kitchen windows while roasting if you don't like the smell of vinegar in your oven.
Easy Snacking – I like to roast up big batches of them and put them in mini ziplock bags or a small deli containers for easy grab and go snacking.
A Salad Topping – It's a little unconventional, but these chickpeas also make a great as easy gluten-free croutons on salads!
Salt and Vinegar Chickpeas Recipe
Chickpeas are an absolutely fantastic, super healthy snack and these Salt and Vinegar Chickpeas are simply delicious!
Ingredients
2

15 oz

cans chickpeas

1

Tbsp

olive oil

1/4

cup

red wine vinegar

salt or flake salt
Instructions
Heat oven to 400* and rinse chickpeas well

Toss chickpeas with olive oil and a sprinkle of salt, roast 25-30 minutes until getting crisp. Make sure you stir things around once or twice

Take the pan out, pour over vinegar and a sprinkle more of salt, toss and return to the oven for 10-15 minutes until chickpeas are crunchy

Let cool completely and enjoy!
Notes
Note: if you want the more authentic flake salt put that on after they are completely done (after step 3), otherwise the vinegar will start to dissolve the salt.
Nutrition
Calories:
69
kcal
·
Carbohydrates:
1
g
·
Protein:
1
g
·
Fat:
7
g
·
Saturated Fat:
1
g
·
Sodium:
3
mg
·
Sugar:
1
g
·
Iron:
1
mg
Other Notes